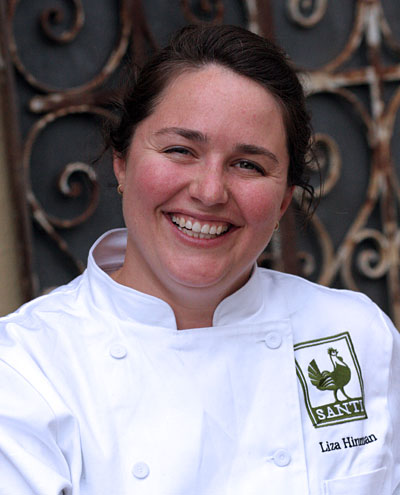 It's a bittersweet departure for Chef Liza Hinman, who will leave Fountaingrove's popular Santi Restaurant after New Year's.
The mom-to-be is expecting a child in March and will turn over her toque in January to Sous Chef Doug Richey. Hinman has been with the restaurant for years, taking over the role as exec chef after Chef Dino Bugica transitioned to Santi's sister restaurant, Diavola.
Hinman is not anticipated to return to the restaurant's kitchens, though Santi owner Doug Swett says, "Never say never."
"Doug is our sous chef from the Geyserville days and the food won't miss a beat," Swett said. "There will be different roles for everyone, but I have every faith in him."
Hinman, however, is going out with a bang. Santi's New Year's Eve menu is a whopper, with plenty for the whole kitchen to take on, including brown butter crepes with Dungeness crab; foie gras terrine; cauliflower soup with sea urchin; tortellini with black truffles; calves liver; linguini with lemon cream and salmon caviar; osso buco; whole branzino; braised guinea hen and meyer lemon tart. $85 to $100 per person. (707) 528 1549. The restaurant has also recently started serving weekend brunch.
Editor's Note: Travel, dining and wine tasting can be complicated right now. Use our inspirational ideas to plan ahead for your next outing, be it this week or next year. If you visit restaurants, wineries, and other businesses during the pandemic, remember to call ahead, make reservations, wear a mask and social distance.