Christian Dake was barely in elementary school when he asked his parents if they could start growing food and edible flowers.
"We started planting basil and tomatoes, and my first flower was a green zinnia," said the St. Helena native. "We had three-quarters of an acre in front of the house, and I had an honor farmstand."
More recently, the 32-year-old gardener grew tomatoes with "Tomato Guy" Brad Gates of Napa's Wild Boar Farms, raised 2,000 heirloom squash and melons for Gere Gettle of Baker Creek Heirloom Seeds of Petaluma, and started working with seed savers around the globe to preserve and produce heirloom seed.
So when the Culinary Institute of America at Greystone came knocking on his garden gate last spring, looking for a culinary gardener for its new Farm-to-Table Cooking program, Dake jumped in with both boots.
"We're training these chefs to work closely with a garden or create their own garden," Dake said. "If they can see what's possible here, they know it's possible for them."
The farm-to-table students care for the garden and harvest the fruits of their labor under the guidance of Larry Forgione, a legendary chef who pioneered seasonal, local American cooking in the 1980s.
With Forgione's help, they also create a prix-fixe, five-course menu they serve on weekends at The Conservatory, a pop-up restaurant on the St. Helena campus.
"If you don't start with great ingredients, you're not going to have great food," Forgione said, summing up his farm-to-fork philosophy.
Although the Napa Valley was originally planted to grain, nut and fruit trees, most of those food crops disappeared long ago in favor of wine grapes.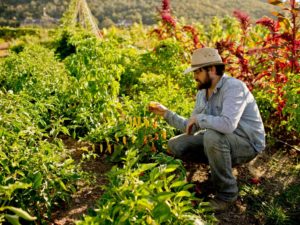 For Dake, who has a botany degree from Humboldt State University, growing grapes was not an option. Instead, he always dreamed of creating the most beautiful garden in Napa Valley. With the 6-plus acres provided by Charles Krug Winery across from the CIA campus, that dream has become a reality.
The production garden, which supplies the restaurants and the teaching kitchen on campus, doubles as a demonstration garden for Charles Krug Winery. It's also a model of sustainability throughout the valley.
"I hope a lot of vineyards will do this as well," Dake said. "Napa Valley is a wonderful place to grow a wide range of crops, especially fall-ripening crops like tomatoes."
Dake came onboard in April 2013 and hit the ground running. Luckily, he already had seedlings started in a Calistoga greenhouse.
"I had all the plants ready to go," he said. "The first year was a whirlwind."
After clearing the soil of rocks and cement, Dake and the students amended it with compost and set about growing zinnias and calendulas, heirloom tomatoes and cucumbers, eggplant and New Zealand spinach.
He also created an experimental garden planted with aromatic herbs such as lemon verbena, subtropical fruits like lemon guava, and extreme chile peppers including the Diablo Grande from Oaxaca, Mexico.
"Peppers are my big thing: chocolate habaneros, aji amarillo and aji limo," he said. "The students make a lot of hot sauce."
But tomatoes also tug at his heart, especially heirlooms such as the Amos Coli paste tomato and the Blue Beauty tomato developed by Gates.
"The blues take a longer time to ripen," he said. "But they have a thick skin and they keep well."
This season at the garden, Dake has built a plastic greenhouse with retractable roof panels that will allow the students to grow crops year-round. He also is excited about the garden's new fields of grain, having planted 3 acres to Sonora and Blue Tinge Ethiopian wheats.
"We're going to thresh it and grind it at the Bale Grist Mill, to be used in breads and pasta," Dake said. "The Sonoran wheat has high gluten, but it's more digestible, and it makes incredible pastries."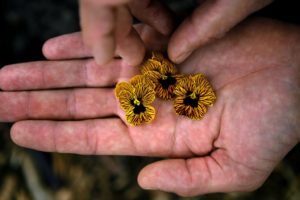 Along with a flock of Silver Spangled Hamburg chickens, the garden also welcomed four Red Wattle sows.
The chickens will fertilize the garden, and the pigs will eat excess from the farm and campus. Like people, the animals are smart. They know a sweet, vine-ripened tomato when they taste one.
"It's hilarious to see the pigs eating," Dake said.
K-J gardener grows into new role A straw-hatted Tucker Taylor surveys the tidy rows of winter vegetables growing at the Kendall-Jackson Wine Estate and Gardens, then moves into the warm, slanting rays of late afternoon.
It's obvious that the shy, laconic farmer is more comfortable in the sun than the spotlight. Still, he relishes his role as ambassador for the Santa Rosa-based winery, which has unusually deep roots in the soil.
"My focus is to educate our guests, and hopefully inspire our guests, to expand their own gardens or just become aware of the local food movement," the estate's culinary gardener said. "The beauty of Sonoma is how diverse it is agriculturally."
Taylor worked at organic farms across the country before spending five years as culinary gardener for The French Laundry restaurant in Yountville.
"I've always had an intimate relationship with chefs," he said. "That's the exciting part, entertaining their ideas and needs and bringing my own experience to the table."
Justin Wangler, executive chef at Kendall-Jackson, describes Taylor as incredibly detail-oriented with a deep knowledge of gardening and food.
"The quality of the stuff he grows is ridiculous," said Wangler, who showcases the pristine produce in food-and-wine pairings at the winery and at Partake eatery in Healdsburg. "He's very sincere about his vegetables and food, and about the people in his relationships."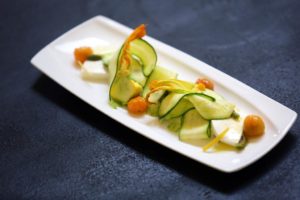 Since he was hired in April 2013, Taylor, 43, has been busy upgrading the 3-acre vegetable garden, launching a redesign that promises to yield more produce and pleasure.
After amending the soil, Taylor rotated crops, eliminated pathways, widened the beds and introduced an intensive style of gardening that requires hand tools rather than tractors.
"It gave the garden more balance, created more sun and a nice pathway," Taylor said. "Intensive gardening increases the productivity. … There is less weed pressure, less evaporation."
The central pathway through the garden, which will be lined with golden decomposed granite, will serve as a gathering spot for alfresco dinners.
"The trees will be lit up, and a long table down the center of the garden will sit 600 people," Taylor said. "We have a lifestyle and a wine and food culture here."
This year, Wangler said, the winery plans to offer garden tours that include harvesting with Taylor, a cooking class and a meal. Produce from the estate is served at local restaurants such as the Farmhouse Inn in Forestville. A new wine and food club in the works will allow guests to take vegetables home, along with recipes from Wangler.
In addition to the winery garden, Taylor is redesigning the 8-acre farm at the Jackson family estate in Alexander Valley. After that, the sky's the limit, as he turns his artistic eye to the company's other estates in Oregon, France, Italy, Australia and Chile.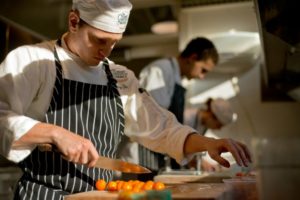 It's an impressive trajectory for a Southern boy from Jacksonville, Fla., who first sank his hands into the dirt in his family's summer garden.
Taylor got a degree in business administration at the University of Florida but decided that working in a bank was not for him. So he went back to school for another degree in environmental horticulture.
After graduating in 1998, he started an organic farm outside of Portland, Ore., then managed an organic farm in Athens, Ga., for six years, where he fine-tuned the art of growing for chefs.
Borrowing ideas from mentors such as farmer, author and educator Eliot Coleman of Maine, Taylor is building three plastic greenhouses, known as hoop houses, for year-round harvesting at the Kendall-Jackson gardens.
"We can do an early crop of tomatoes, growing them vertically up strings," he said. "Same with seedless cucumbers, peppers and eggplants."
For the past two years, Taylor has shared his intimate views of gardens with 40,000 followers by posting daily photos on Instagram, a feat that has made him "Instafamous."
Although reluctant at first, his success at social media has allowed Taylor to connect with chefs and farmers around the world he never would have met otherwise.
"I didn't get into gardening for my love of communication," he said. "But a picture speaks a thousand words."