It's not officially summer until June 21, but wineries go into summertime mode in May, opening their patios, holding special events and firing up the grill. Virginie Boone recommends these wineries for May-June; they're open to the public, typically from 11 a.m. to 4 p.m. Contact individual tasting rooms to confirm.
B Cellars, 400 Silverado Trail, Calistoga, 877-229-9939, bcellars.com. Book ahead for special tasting experiences at this expansive winery with its welcoming patio off the Silverado Trail. Single-vineyard tastings and a production tour and tasting are particularly popular; the winery has its own chef to showcase its red blends, Syrah, Sangiovese and Petite Sirah with food.
B.R. Cohn Winery & Olive Oil Co., 15000 Sonoma Highway, Glen Ellen, 800-330-4064, brcohn.com. Surrounded by olive trees and meandering gardens, B.R. Cohn is a peaceful place to enjoy a sunny day, taste Pinot Noir, Cabernet Sauvignon and other varietals, and sample the estate's olive oils and vinegars. The lovely grounds are ideally suited for picnics and afternoon naps, and double as a stage from time to time for classic cars and founder Bruce Cohn's life in rock and roll.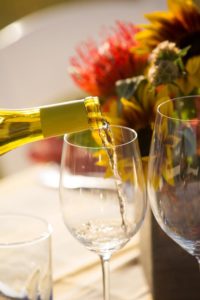 Buena Vista Winery, 18000 Old Winery Road, Sonoma, 800-926-1266, buenavistawinery.com. Historic Buena Vista has refashioned its wine caves into a glittery romantic spot for barrel tasting and touring, and a section of the cave can be reserved for private, by-appointment tastes of library wines and barrel samples. Don't miss the Champagne Cellars (kid-friendly and there is no charge) where the winery's history can be further explored.
Charles Krug-Peter Mondavi Sr. Family Vineyards, 2800 Main St., St. Helena, 707-967-2200, charleskrug.com. Where Peter and Robert Mondavi got their winemaking start, Charles Krug is an impressive blend of old and new, with its historic Redwood Cellar now ready for tastings of crisp Sauvignon Blanc and elegant Cabernet Sauvignon. Enjoy a slew of tasting options and tours, or take a bottle and ponder life with it on the Great Lawn.
Chateau Montelena, 1429 Tubbs Lane, Calistoga, 707-942-5105, chateaumontelena.com. A wonderful place to picnic, with a Chinese garden, lake and views of Mount St. Helena, Chateau Montelena remains a Napa Valley stalwart, the Chardonnay winner of the famous Paris Tasting of 1976, which put California wines on the map. Elegant Chardonnays, Cabernet Sauvignons and Zinfandels are consistently good. Special tastings and tours abound.
Chateau St. Jean, 8555 Sonoma Highway, Kenwood, 707-833-4134, chateaustjean.com. With a sprawling picture-perfect lawn and bocce courts, this venerable winery's gorgeous location is perfect for the 40th-anniversary celebration of Cinq Cepages, Chateau St. Jean's proprietary Bordeaux-style red blend. The tasting room also carries a selection of picnic goodies.
DRNK Winery, 3637 Frei Road, Sebastopol, 707-889-1000, drnkwines.com. Contact the winery to set up a tasting and tour with winemaker Ryan Kunde, who crafts small-lot Chardonnay and Pinot Noir from grapes grown throughout the Russian River Valley, as well as a delightful Pinot Gris "orange wine" from Sonoma Mountain. The winery overlooks the Laguna de Santa Rosa.
Duckhorn Vineyards, 1000 Lodi Lane, St. Helena, 888-354-8885, duckhorn.com. Still a premier name in Napa Valley Merlot, Duckhorn also makes lovely Sauvignon Blanc: the right wine to enjoy at tableside with charcuterie and a fine view of the winery's gardens.
Frank Family Vineyards, 1091 Larkmead Lane, Calistoga, 800-574-9463, frankfamilyvineyards.com. Frank Family is a popular Napa Valley stop because of its gardens, picnic spots and reasonable tasting fees. A tasting of four wines, which might include a bubbly, Cabernet Sauvignon and age-worthy Petite Sirah, is $20. It also inhabit a historic site, the former home of Larkmead Winery, the third-oldest in the valley.
Freemark Abbey, 3022 St. Helena Highway, St. Helena, 800-963-9698, ext. 3721, freemarkabbey.com. Established in 1886, Freemark Abbey is a peaceful place to enjoy a traditional tasting of a wide range of its wines, or a one-hour Cabernet Comparison Tasting ($30) that demonstrates the range of vineyard sites sourced for the wines.
Gundlach Bundschu, 2000 Denmark St., Sonoma, 707-938-5277, gunbun.com. This 1860s winery, still family-run, offers a courtyard tasting menu in good weather, with flights of five current-release wines, and the option to indulge in five library Cabernet Sauvignons. A board of local cheeses, hummus and almonds might accompany the wines. Vineyard excursions start in May.
Hartford Family Winery, 8075 Martinelli Road, Forestville, 707-887-8030, hartfordwines.com. Tucked away in the woods, Hartford is a consistent high-quality producer of Pinot Noir, Chardonnay and old-vine Zinfandel, sourcing grapes from the Green Valley sub-appellation of the Russian River Valley, and from other cool locales such as Anderson Valley. Seated in-depth tastings, including some with food pairings, can be arranged by appointment.
J Vineyards & Winery, 11447 Old Redwood Highway, Healdsburg, 707-431-5400, jwine.com. A glass of bubbly is always a good thing, and this is a well-appointed spot at which to have it, as well as taste J's Pinot Noirs and Chardonnays. Also don't miss having a sip of Pinot Gris, among its most popular, springtime-perfect wines. The J Bubble Room pairs wines with exquisite, locally sourced dishes.
Jordan Vineyard & Winery, 1474 Alexander Valley Road, Healdsburg, 800-654-1213, jordanwinery.com. By appointment, Jordan welcomes visitors for walking tours through its beautiful compound, which includes the estate gardens from which executive chef Todd Knoll sources a cornucopia of produce for winery meals. Tours and seated tastings are available Monday through Saturday throughout the year, and on Sundays from mid-April through early fall. Jordan also makes an exquisite estate extra-virgin olive oil.
Landmark Wine, 101 Adobe Canyon Road, Kenwood, 707-833-0053, landmarkwine.com. In the shadow of Sugarloaf Ridge State Park, Landmark makes Chardonnay (including the famous Overlook bottling) and Pinot Noir, and is increasingly becoming known for its Rhone-inspired reds, including Syrah and Grenache. In addition to its tasting room, the winery offers picnic spots and bocce courts.
Merry Edwards Winery, 2959 Gravenstein Highway N., Sebastopol, 707-823-7466, merryedwards.com. Winemaker Merry Edwards is a pioneer in Russian River Valley Pinot Noir, excelling at coaxing rich berry flavor and voluptuous texture from the grapes. She also produces some of the best Sauvignon Blanc in the state, and has recently added Chardonnay to her lineup. Don't miss the opportunity to discover her skill and view some of the estate vineyards surrounding the winery.
Navarro Vineyards, 5601 Highway 128, Philo, 800-537-9463, navarrowine.com. The wide selection of crisp white wines and bright, mellow reds is worth the drive to Philo, where Navarro's homey picnic grounds inspire taking one's time. Plenty of picnic goodies are stocked in the tasting room, including winery principal Sarah Cahn Bennett's fine farmstead goat cheeses made down the road at Pennyroyal Farms. Tours of the vineyard happen twice a day, by appointment; picnics are encouraged.
Odette Estate, 5998 Silverado Trail, Napa, 707-224-7533, odetteestate.com. Owned by the PlumpJack Winery guys (Gordon Getty, Gavin Newsom and John Conover), Odette is in Napa Valley's Stags Leap District and on the path to becoming LEED-certified. With 18,000 square feet of caves, some of the first modern versions dug in Napa Valley, Odette makes for an intriguing visit, with great Cabernet Sauvignon-based wines on offer.
Portalupi Wine, 107 North St., Healdsburg, 707-395-0960, portalupiwine.com. Located in downtown Healdsburg, this is a fine stop before or after lunch or just before dinner, and an easy walk from many hotels. Portalupi focuses on Italian-heritage wines, from Vermentino to Barbera to Vaso di Marina, a jug wine sold in a reusable milk bottle.
Pride Mountain Vineyards, 4026 Spring Mountain Road, St. Helena, 707-963-4949, pridewines.com. Straddling Napa and Sonoma counties, Pride makes fiercely age-worthy Cabernet Sauvignon, Merlot, Cabernet Franc, Syrah and Sangiovese. This time of year, its Viognier shines, a deliciously bright taste of spring. Make an appointment for a tour and tasting, offered daily (except Tuesdays) at 10 a.m., or take on the Summit Experience ($75), with time spent in the winery caves.
Ram's Gate, 28700 Arnold Drive, Sonoma, 707-721-8700, ramsgatewinery.com. Ram's Gate was designed for lingering, with a host of spacious sitting areas. Then there's the food, prepared to order by the on-staff chef for seated, guided tastings. Order a picnic lunch to take into the vineyard or out by the pond. The wines alone are a reason to stay, a collection of single-vineyard Pinot Noirs, Syrahs, Chardonnays and even a brut bubbly.
Ridge Vineyards / Lytton Springs, 650 Lytton Springs Road, Healdsburg, 707-433-7721, ridgewine.com. Revered, Ridge is a worthy stop no matter the time of year for its structured Zinfandels and Cabernet Sauvignons, but its location on a Dry Creek Valley side road is also a pretty way to travel. The tasting room is open daily, but reserve ahead for a Century Tour and Library Tasting, which might include an older vintage of Monte Bello Cabernet Sauvignon, Ridge's most famous wine.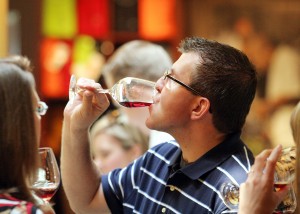 Rodney Strong Vineyards, 11455 Old Redwood Highway, Healdsburg, 800-678-4763, rodneystrong.com. For a comprehensive taste of Sonoma County and expansive vineyard views, visit Rodney Strong, which offers an estate wine tasting daily as well as the option to try single-vineyard and reserve wines. From its staunch Alexander Valley Cabernet Sauvignons to Davis Bynum Pinot Noirs and Chardonnays, there's a lot to like. Picnickers are also welcome on the winery's lawn or vineyard terrace, with food items available for purchase inside.
Schramsberg Vineyards, 1400 Schramsberg Road, Calistoga, 800-877-3623, schramsberg.com. Among the first in California to specialize in sparkling wine, Schramsberg occupies hallowed, historic ground and is home to the oldest hillside vineyards in Napa Valley and some of the first excavated aging caves. Take a tour by appointment, and don't miss the Mirabelle Brut Rosé and other gorgeous sparklers before moving on to taste the J. Davies Estate Cabernet Sauvignon and Pinot Noir.
St. Francis Winery & Vineyards, 100 N. Pythian Road, Santa Rosa, 707-538-9463, stfranciswinery.com. Named the No. 1 restaurant in America by Open Table, St. Francis does indeed offer a gourmet food and wine experience worth having, as well as a monthly interactive experience in its tasting room called Sonoma Tastemakers, whereby the best bites from Sonoma County producers and purveyors are paired with St. Francis wines. Past months have featured cheese, savory and sweet jams, and pie.
Stony Hill, 3331 St. Helena Highway N., St. Helena, 707-963-2636, stonyhillvineyard.com. A historic Napa Valley winery celebrating its 60th anniversary this year, Stony Hill makes incredibly elegant white wines, as well as Cabernet Sauvignon. Family-owned, it has recently begun a series of family-style cooking classes for parties of four, by appointment only, offering a chance to cook, enjoy wines and take a tour of the winery. Open by appointment for tours and tastings Monday through Saturday, 9 a.m. to 3:30 p.m.
Tamber Bey Vineyards, 1251 Tubbs Lane, Calistoga, 707-942-2100, tamberbey.com. Newly opened, Tamber Bey is located within the grounds of Sundance Ranch, a 22-acre equestrian facility with horses galore and a tasting room fit into a former barn clubhouse. Taste and hang with the horses at the same time. Open daily from 10 a.m. to 5 p.m., by appointment, for tours and tastings of Sauvignon Blanc, Chardonnay, Pinot Noir, Merlot and Cabernet Sauvignon.
Twomey Cellars, 3000 Westside Road, Healdsburg, 800-505-4850, twomey.com. Owned by the same family that's behind Silver Oak Cellars, Twomey specializes in Pinot Noir with two tasting locations, one in Calistoga and this tasting room outside Healdsburg, the former site of Roshambo winery. Along with the beautiful views of Mount St. Helena and beyond, visitors can enjoy a tasting of current-release wines or take a tour, by appointment. House-cured salumi and cheese boards can be ordered ahead of time.
Ty Caton Vineyards, 8910 Sonoma Highway, Kenwood, 707-938-3224, tycaton.com. Winemaker Ty Caton works with a variety of vineyard sites throughout Sonoma County, blending grapes from many of them into his flagship red wine, TyTanium. He's also got a crisp Riesling and Rosé of Syrah that are just right for a sunny afternoon.
Vigilance Winery, 13888 Point Lakeview Road, Lower Lake, 707-994-9656, vigilancewinery.com. Sustainably farmed by longtime vineyard manager Clay Shannon and his team of grass-fed sheep, Vigilance offers gorgeous vistas of Clear Lake and Mount Konocti and access to the Anderson Marsh sanctuary. A day at Vigilance isn't complete this time of year without a glass or two of Sauvignon Blanc.
Viszlay Vineyards, 851 Limerick Lane, Healdsburg, 707-481-1514, viszlayvineyards.com. New to Russian River Valley is this producer of fine Pinot Noir. Visits by appointment can be made (daily from 11 a.m. to 5 p.m.) to taste, enjoy a cheese and wine pairing, or take a group pasta-making class. Viszlay also makes a dry, estate-grown Prosecco-style bubbly, Brut Cuvee, perfect for sipping in late spring through summer.
VJB Vineyards & Cellars, 60 Shaw Ave., Kenwood, 707-833-2300, vjbcellars.com. In an Italian-inspired, courtyard-centered villa in the heart of Sonoma Valley, VJB serves steamy coffee and pastries in the morning, panini, pasta and pizza during the day, and samples of its Italian-inspired wines. The winery also stocks co-proprietor Maria Belmonte's line of sauces, pestos and tapenades, and houses a shop for gelato and specialty chocolates.