Hotel Chauvet has graced the village of Glen Ellen for more than 100 years and is once again so grand that its guests pay a handsome sum to experience its historic luxury. Joshua Chauvet, who established this and other businesses in the bustling burg of yore, would be proud that his 1906-vintage hotel has dodged the wrecking ball.
Today this National Register of Historic Places landmark, now called The Chauvet, is a six-condominium vacation rental venue housed within the mostly original exterior. Each 2,000-square-foot, three-bedroom, two-bath condo whispers of its past with exposed brick walls and repurposed tie-rod plates covering old flue vents. The kitchens shimmer with stainless steel and granite, while gas fireplaces warm the living rooms, each furnished with a contemporary flair. An inviting pool long enough for lap swimming has been added amid a gorgeous lounge-chair-laced garden.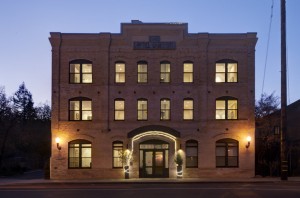 Frequented by weekend escapists, wine tasters and wedding parties, The Chauvet, which once had a top-floor ballroom and ground-level tavern frequented by famed author Jack London, has returned to life, attracting people from places as diverse as San Francisco, Florida and France. Marketed mainly online, its charms entice those looking for the modern pop of orange armchairs nestled in a stately edifice that's welcomed generations of visitors.
The rebirth of The Chauvet is a saga of financial challenges, permit hurdles and a collapsed roof that nearly doomed the project. Yet the outcome is heritage preserved and a building that is now bliss.
"The building ultimately has its own spirit and it speaks for itself," said Christine Hansson, the manager and a principal owner. "It is still here because it wanted to be. It really is a special place and we are just the caretakers."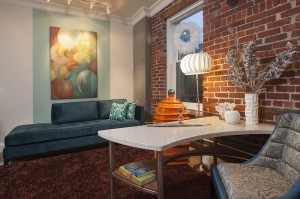 Hansson and her husband, Hans, along with project architect Larry Paul and other investors, purchased the boarded-up property on Arnold Drive in 1996 as an investment. "We were supposed to be in and out in two years and we're still here," she said, noting that the current owners are herself, Hans, and the project's general contractor, Mike Allen. "We could have given up the ghost, but we didn't."
They acquired the abandoned property from George Siebert, who had operated George's Three Nations restaurant, bar and arcade at the site from 1971 until 1987, when the eclectic spot that offered 42 beers on tap closed for good. The structure, begun before the 1906 San Francisco earthquake and completed in 1907, became a hazardous eyesore.
"The county wanted to tear it down," Hansson said. She and her team bought the building with a plan of turning it into condos and immediately selling them. "It was always our intention to save it."
After many months in the planning and permit process, they were given permission to renovate, only to discover they could not secure financing. "Construction costs were escalating faster than property values at the time," Hansson said. "Everybody was afraid of it. It was unreinforced masonry and all the seismic requirements were kicking in."
Dreams dashed, the investors launched a new scheme to return The Chauvet to its true roots, as a hotel. They purchased the adjoining property to the south, which was originally part of the Hotel Chauvet site, and drew renderings that added two additional wings, resulting in a blueprint for 45 rooms.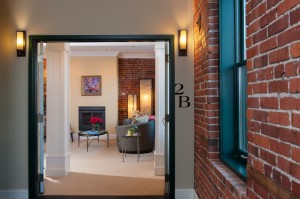 "The county didn't say no to a hotel. They were looking at it in a positive light. They didn't slam the door on us," Hansson said. But many Glen Ellen residents were not on board, concerned about the size of the hotel, parking and traffic. "I understood where they were coming from and I didn't have the stomach for a fight," she explained. "With community opposition, it makes it tough."
While the partners needed a large number of rooms for the project to make financial sense, they also didn't want to change the character of Glen Ellen. In 2004, eight years after they purchased the building they revisited the condo plan, found financing, paid off the original investors and renewed the building permits for the current six-unit venue.
Two weeks before construction began, an old beam broke and the entire roof caved onto the third floor, pushing out the south wall. Arnold Drive was closed in front of the building for four days. "I was outside on the street listening to people say, 'They should take it down,'" Hansson recalled. Still, she knew that somehow it would survive. A stabilization team shored it up and removed the debris. Once the weight was removed, the bowed wall shifted back inward, making it possible to repair it and save the building from demolition.
Hansson made it her mission to salvage as much as possible, and with help from her two sons, hand-washed 3,000 bricks that ultimately went back into The Chauvet along with the tie rods and some fir beams that had fallen.
The condos were completed in 2007, just as the real estate downturn began. Priced at $1.1 to $1.3 million, they didn't draw any buyers. Hansson and her husband purchased unit 2B to jump-start interest, an idea that failed. They then tried to sell the condos at auction, which was canceled when registered buyers failed to show.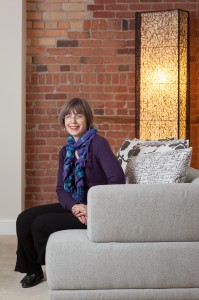 The vacation rentals began in summer 2008. The Chauvet finally opened its doors to guests again, calling itself "Sonoma Wine Country's Most Unique Lodging Experience." The Chauvet is now a hot spot with a high occupancy rate, commanding $645 a night for a three-night minimum and $3,850 a week.
For Hansson, who learned along the way that she shares a birthday, July 20, with Joshua Chauvet, the building is now part of her soul. She loves catering to her guests, adorning the rooms with fresh flowers, local wine, chocolates and homemade cookies. She encourages them to use the Glen Ellen Village Market across the street and shares tips for visiting nearby restaurants and wineries.
Two of the condos are now back on the market, but Hansson, who splits her time between a home in San Francisco and The Chauvet, said she will never sell 2B. "There's too much of me in this building. I'm attached."
Without her, The Chauvet would not be historic. It would be history.