Just when families are looking for affordable late-summer entertainment options they haven't already exhausted, the Santa Rosa Parks and Recreation Department is rolling out its popular annual outdoor series of free kid-friendly films, including the recent hits "Inside Out," "Zootopia" and "The Good Dinosaur."
"Movies in the Park," now in its 10th year, will show family movies every Friday night from Aug. 12 through Sept. 16 in Howarth Park. Screenings start at dusk, approximately 8 p.m. in August and 7:45 p.m. in September.
"Our movie nights in recent years have been wildly popular," said Adriane Mertens, marketing and outreach coordinator for the recreation and parks department. "Two years ago, when we showed 'Frozen' and it had just been out in theaters, that was pretty crazy, but definitely adorable when all the little kids started singing along to all of the songs."
Attendance at the films averages between 700 and 1,000, depending on the film, Mertens said.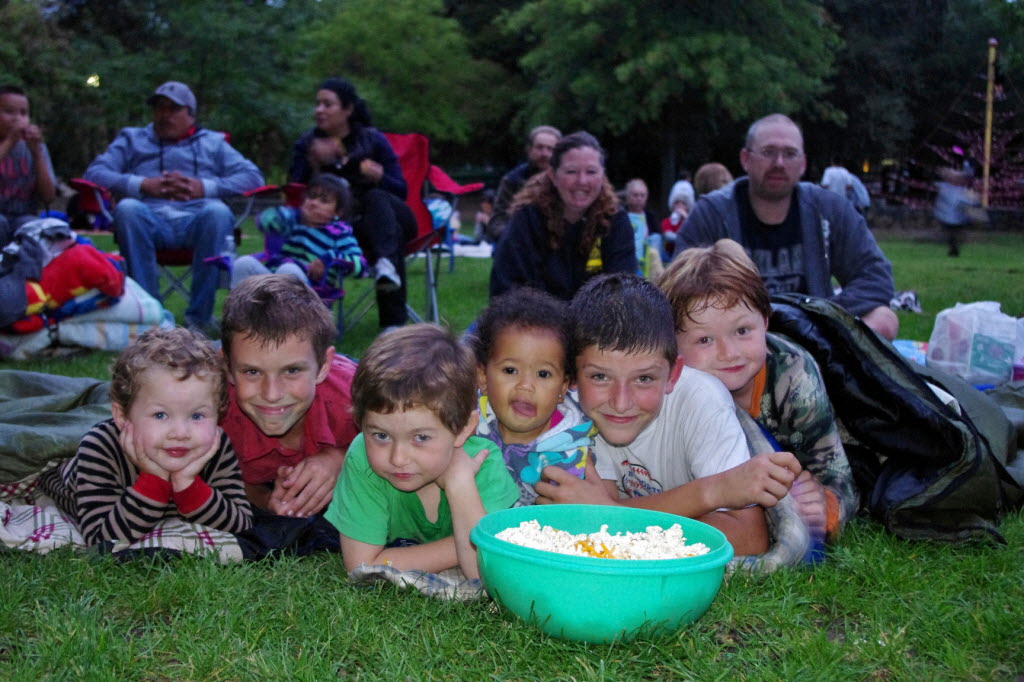 "Some families show up a couple of hours in advance of the movie start time to reserve their space in the lawn," she added.
Families can bring blankets to sit up front and in the center, or chairs for the back of the crowd or the sidelines. Several vendors serve food and drinks at each event.
"We like to come up with experiences that people can enjoy outdoors in the parks," Mertens said. "It creates a gathering place for families to come together."
---
This year's "Movies in the Park" films are:
Aug. 12 — "Hotel Transylvania 2," a sequel to the 2012 animated film about a remote high-end resort operated by Dracula (voice by Adam Sandler) and his friends.
Aug. 19 — "Inside Out," Pixar's 2015 animated hit about a young girl struggling with her own emotions when her family moves cross-country. Each emotion is personified by a different character in her mind.
Aug. 26 — "The Good Dinosaur," another animated Pixar film from 2015, imagines a world in which dinosaurs never became extinct.
Sept. 2 — "Minions," 2015, another animated film that spins off the supporting characters from the "Despicable Me" films, featuring the voices of Sandra Bullock, Jon Hamm of "Mad Men," Allison Janney of "West Wing" and Michael Keaton.
Sept. 9 — "Hook," 1991, the one live-action film in the series, stars Dustin Hoffman as Captain Hook and Robin Williams as Peter Pan.
Sept. 16 — "Zootopia," the fast and funny Disney animated adventure from earlier this year, takes a different look at the cop buddy film formula.
Information: 707-543-3276, howarthpark@srcity.org.
---
More Family Movies in Sonoma County: 
"Movies in the Park" in Santa Rosa is not the only local family film series this summer.
The popular Windsor Town Green series ended in July, but here are a couple of other choices:
Moonlight Movie Madness presents free outdoor films some Friday nights in the Alex Thomas Plaza in downtown Ukiah, with the "Peanuts" movie showing Aug. 12 and "The Good Dinosaur" Aug. 19. 463-6231. Find more information here.
Reel Kids Love Movies presents family films indoors at the Rohnert Park 16 theater, 555 Rohnert Park Expressway W., Rohnert Park. Admission: $1. The series concludes with "Hotel Transylvania 2" at 10 a.m. Aug. 10-11. Find more information here.