Dry Creek Kitchen was a long shot when Charlie Palmer opened the restaurant 20 years ago in Healdsburg.
Long before it became a culinary mecca, the rural town was considered too far from Santa Rosa, where headliner chefs like Josh Silvers at Syrah and John Ash at his namesake restaurant were the star attractions.
And Palmer was a wild card from the East Coast whose most recent project was a Las Vegas-based outpost of his lauded New York City restaurant, Aureole. The highlights were "Wine Angels," bodysuit-clad women levitating on wire harnesses inside a four-story glass tower filled with 10,000 bottles of wine. Named one of the Best Chefs in America by the James Beard Foundation in 1997 and featured in Julia Childs' Cooking With Master Chefs program in 1993, Palmer wasn't afraid of the limelight.
But soon after Dry Creek Kitchen opened, longtime restaurant critic and current Press Democrat contributor Jeff Cox blessed the fledgling eatery.
"Dry Creek Kitchen is a major restaurant for this region. It adds to the cachet that makes the Wine Country a tourist destination," he wrote in 2001. Cox was peevish, however, about Palmer's slogan, that using fresh, local products prepared with classic French technique was "progressive American cooking."
Wine Country cuisine was founded on those same pillars and already pervasive in the region. "This isn't anything new for the fine restaurants of Sonoma and Napa counties. John Ash started doing this nearly 20 years ago," Cox wrote.
Even so, the seed-to-table ethos aligned with Palmer's agricultural upbringing in a small upstate New York town. California chefs like Ash and Alice Waters, who were obsessively sourcing from local farms and artisan producers, intrigued him. Palmer's vision — whether called progressive American or Wine Country cuisine — is a through line for Dry Creek Kitchen.
Since opening the Healdsburg restaurant, Palmer has built a culinary empire with restaurants in New York; Las Vegas and Reno, Nevada; and Washington, D.C. He's earned more than a dozen Michelin stars. Though he's remained a guiding light at Dry Creek Kitchen, a litany of talented chefs including Dustin Valette (of restaurants Valette, Matheson and Roof 106); Mateo Granados (of the now-closed Mateo's Cocina Latina); and Scott Romano (of Spago and Aureole) executed — and often put their spin on — Palmer's vision.
But as Healdsburg's restaurant scene exploded with exciting new players like SingleThread, Cyrus and Brass Rabbit (which closed in 2020) and its notable executive chefs moved to other projects, Dry Creek Kitchen's light dimmed. Though its award-winning wine list and classic menu rarely disappointed, it seemed staid compared to higher-profile restaurateurs and shiny new kitchens. Diners can be a fickle lot.
That's changing with a significant renovation to the dining room and the recent addition of Executive Chef Shane McAnelly.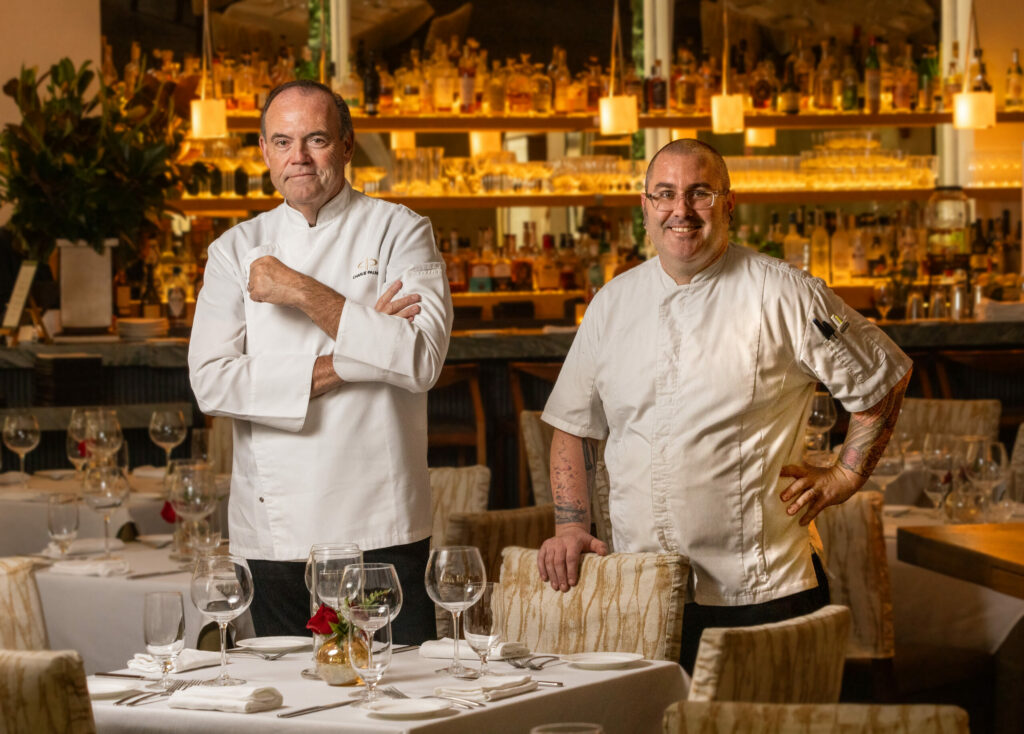 New vision
Palmer, who now spends much of his time at home in Sonoma County, wants to raise the restaurant's profile and reinstate some of his original vision, which has faded over the years. He's also bringing in fresh, new ideas from McAnelly.
After a brief detour east, McAnelly has returned to his old stomping grounds in Healdsburg. He led the kitchens of Chalkboard and Brass Rabbit (both backed by wine mogul Bill Foley) and then joined the Bricoleur Vineyards' culinary team. Throughout that time, he developed strong relationships with area farmers and producers, something he missed while working in North Carolina.
"The most important thing for me is that our chefs want to be where they are," Palmer said. "Healdsburg is a sleepy town, and that's always been a challenge. Shane has a lot of history here, and his knowledge of the area is far above anyone who's started here."
After several phone calls between the chefs, McAnelly returned to Sonoma County. "I guess I was convincing," Palmer said.
"I'm just happy to be back and working with Charlie and back in the community," McAnelly said. "I'm at a place in my career where I have a fresh outlook on things, and I'm pushing our team and the best dining experience I can deliver."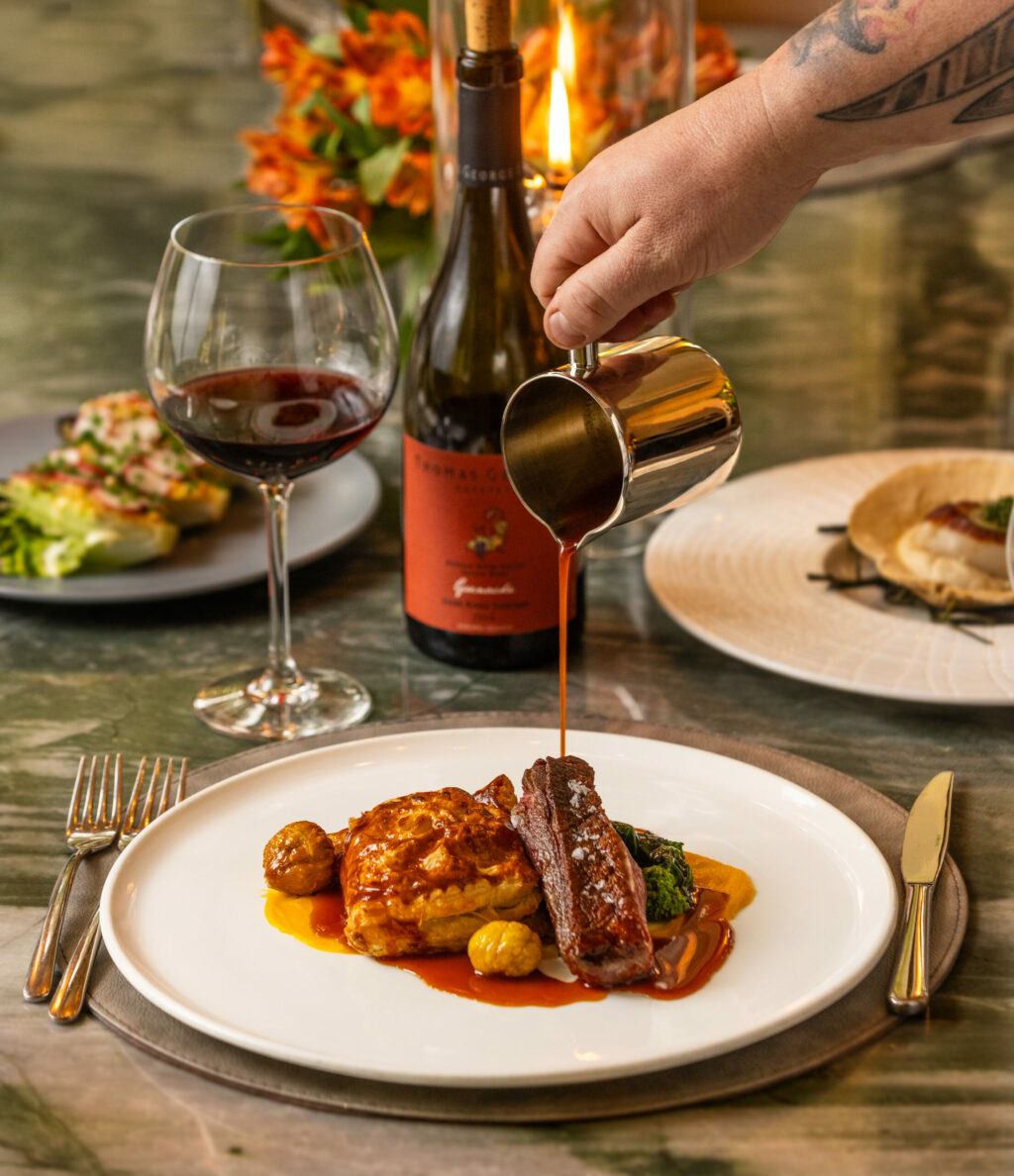 Two years ago, the restaurant moved from a traditional menu to three- and five-course prix-fixe menus. The three-course menu is $75 per person; the five-course tasting menu is $135, with wine pairing an additional $80. The restaurant offers a three-course Sonoma Neighbor menu on Thursdays for $55. The change allows chefs to focus on a set menu and diners to have a congruent experience with specific wine pairings and set courses.
That style seems to work for McAnelly, as it allows creativity around clear parameters. When he arrived in September, the changes to the Dry Creek Kitchen experience were already apparent.
On a recent visit, a Pacific halibut with tiny slices of zucchini painstakingly laid like scales atop the fish was stunning. But the preparation is more than tweezer acrobatics; the thin dimes of squash hold in the moisture of this lean fish. McAnelly surrounds the sous vide-poached protein with a rich beurre blanc, butter-braised leeks, saffron-fennel puree and petite end-of-summer vegetables. Already, the fish course has switched up to salmon with red wine-braised cabbage and honeynut squash with a mustard emulsion. By the time this story is published, it may have changed again.
"I only bring in ingredients I'm passionate about," McAnelly said. On the day of our interview, he had been to Russian River Organics and went to Seven Moons farm in Sonoma later in the day.
"It's important to think of the menu as ever-changing," Palmer said. "It will always be presented differently; as it gets colder — braised duck or confit. In summer, it's nice to let the protein shine and pair with something that makes sense."
Expect some preparation of duck, beef and fish on the menu perennially, along with pasta — a passion of McAnelly's.
Vegetarian options are plentiful and include dishes like radish toast with black truffle yogurt butter, roasted beet salad with burrata, squash agnolotti with brown butter and mushrooms or cauliflower a la plancha. A matsutake mushroom dish with umami broth was another stunner that, despite its simple presentation, was savory and rich with flavors amped up like a Metallica concert.
Pastry chef Taylor Kelley creates whimsical desserts like a pumpkin spice mousse bomb with vanilla beans, espresso chantilly and ginger crème Anglaise.
Only one dish remains unchanged on the menu: the Chocolate Peanut Butter Bar, made with dark chocolate, peanut butter mousse and chocolate praline sauce.
"We've taken it off a couple of times, and there is a revolt," Palmer said.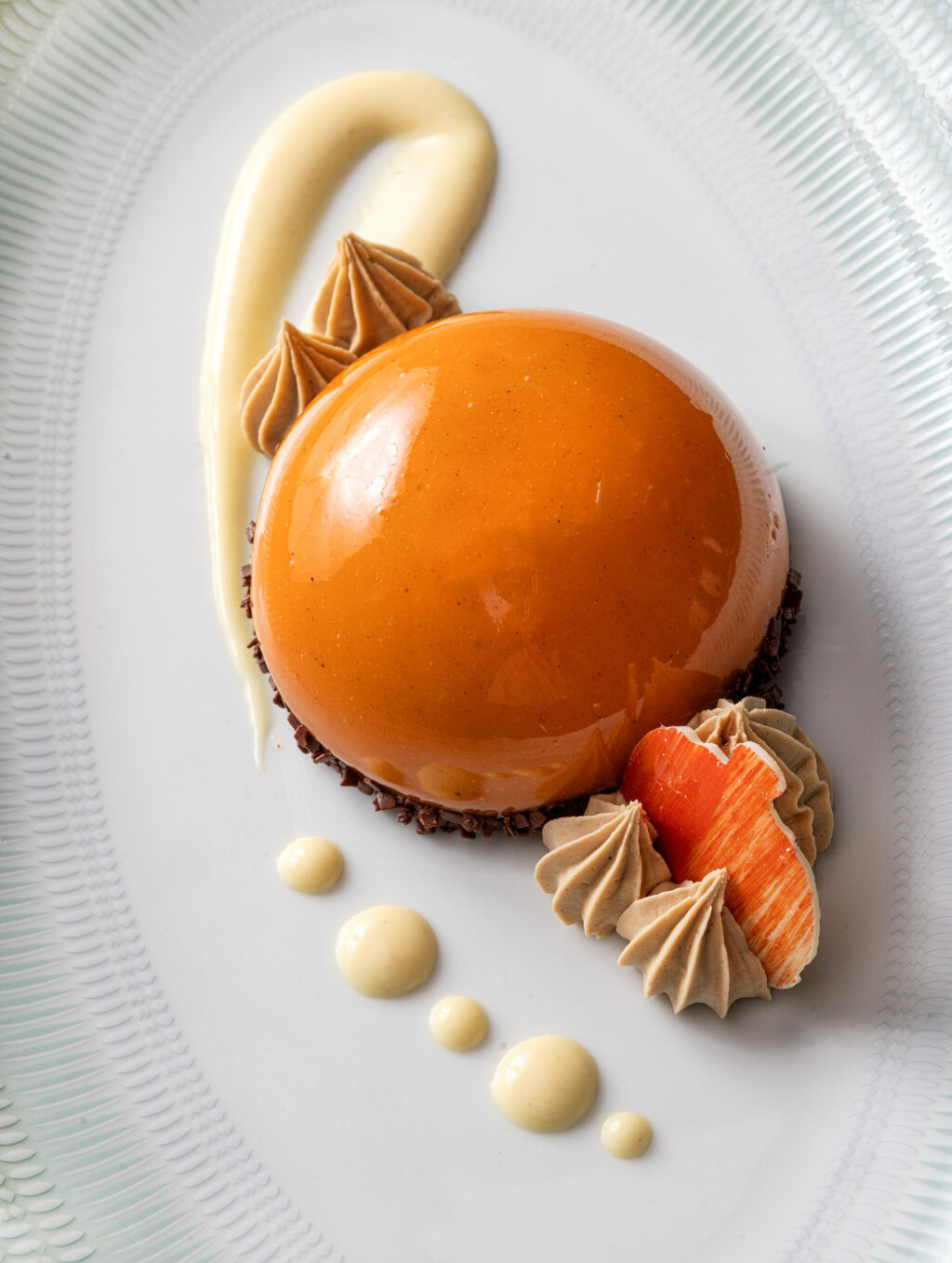 Michelin aspirations
Though Dry Creek Kitchen has received only one Michelin nod — a single star in 2007 — Palmer hopes to get the restaurant back on the Michelin inspector's radar.
"Shane and I talked a lot about what we want (Dry Creek Kitchen) to be, and we want to make it the quintessential one-star Michelin Wine Country-centric restaurant. It takes a lot of thinking about what that entails," Palmer said.
To receive a single star, according to Michelin's rubric, a restaurant must be "very good in its category," have a high-quality menu and prepare cuisine to a consistently high standard. Though seemingly a reachable goal, Barndiva and Cyrus are the only Sonoma County restaurants to hold one star.
Michelin inspectors usually look for outstanding cuisine, excellent service and, especially in Wine Country, an impressive wine list.
Dry Creek Kitchen has the largest selection of local wines "in existence," with an extended cellar of about 2,000 bottles and many rare varietals, according to Palmer. A new wine room in the restaurant holds 700 bottles within temperature-controlled glass walls and has become a functional part of the dining room. Wine Angels are not included.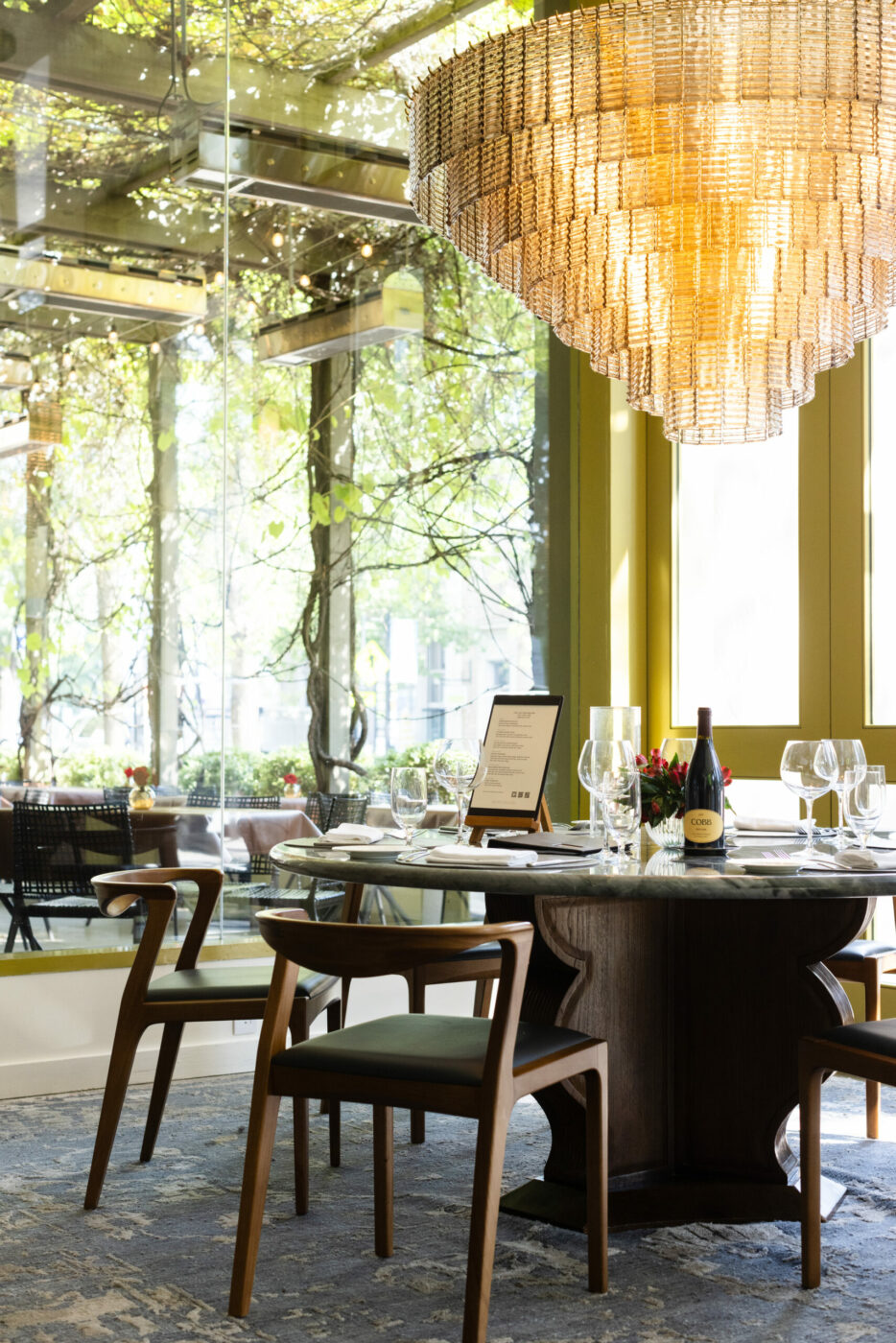 Service remains both professional and relaxed.
"It's important that the service is very friendly and accommodating. The hardest thing to do is really execute well with a really friendly smile on your face, and that's what makes it special," Palmer said.
McAnelly and Palmer don't see Dry Creek Kitchen becoming a once-in-lifetime experience for diners, but somewhere people can come frequently.
"(Dry Creek Kitchen) has evolved, and I think in a good way," Palmer said. "It continues to, first and foremost, the restaurant that I envisioned 20 years ago as the quintessential Wine Country restaurant. It was important to me, and still is, to embrace what's happening in Sonoma County."
Dry Creek Kitchen is at 317 Healdsburg Ave., Healdsburg, 707-431-0330, drycreekkitchen.com. Open for dinner 5-9 p.m. Friday and Saturday and 5:30-9 p.m. Sunday, Wednesday and Thursday.