In Wine Country, the distance from farm to fork is shrinking to nearly nothing: There are restaurants that now boast onsite farms and full-time gardeners, allowing them to reap what they sow on a year-round basis.
We're not talking about a raised bed of rosemary, parsley and thyme. These are full-on farms where greenhouses extend the season and diners can extend their visits by strolling past the asparagus and lettuce beds.
The newest restaurant farm is at the Culinary Institute of America at Greystone in St. Helena, where pioneering chef Larry Forgione launched a farm-to-table program in 2013.
"California has the Mediterranean climate that's so conducive to growing produce year-round," Forgione said. "If you don't start with great ingredients, you're not going to have great food."
For 15 weeks, CIA students learn about composting with farm manager Christian Dake at the 3-acre garden at Charles Krug Winery, just across Highway 29 from the campus. Then, with Forgione's guidance, they harvest, design and serve a five-course tasting menu at The Conservatory, a pop-up restaurant open Friday and Saturday nights on campus.
This spring, Dake is excited about the farm's new greenhouse, which has a retractable roof and shade cloth system that will allow him to get a jump on tomato starts and produce cool-weather greens into the summer.
Dake is also dry-farming 3 acres of heritage wheat for breads and pastries, raising chickens for their eggs and expecting the farm's first farrow of Red Wattle pigs in March.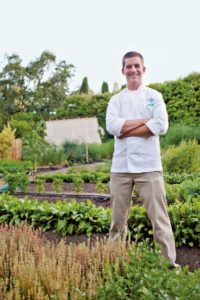 At the Michelin-starred Madrona Manor in Healdsburg, the 8-acre estate gardens include a 1-acre production garden tended by Master Gardener Geno Ceccato for the past 25 years. New this year is a vented greenhouse, where Ceccato can grow baby lettuces and microgreens to suit executive chef Jesse Mallgren's exacting palate.
In the spring, Mallgren designs his menus around the herbs, carrots, fava beans and strawberries ripening in the outdoor beds as well.
"We try to grow things that can be picked and served the same day," Mallgren said. "And things that you can't find elsewhere."
Mallgren, who sources about 25 percent of his produce from the estate gardens, encourages his culinary crew to pick their own ingredients.
"You get out of the kitchen that way," he said. "And it's got a beautiful view."
The Conservatory, The Culinary Institute of America at Greystone, 2555 Main St., St. Helena, 707-967-2300, ciarestaurants.com
Madrona Manor, 1001 Westside Road, Healdsburg, 800-258-4003, madronamanor.com
Subscribe to Our Newsletters!