One quick and easy way to give a room a makeover is to add an area rug. A well-placed rug can change the feeling of any space, but it's important to choose a rug that's going to complement or accentuate your decor – not overwhelm it. Here are a few things to consider when choosing your rug:
Shape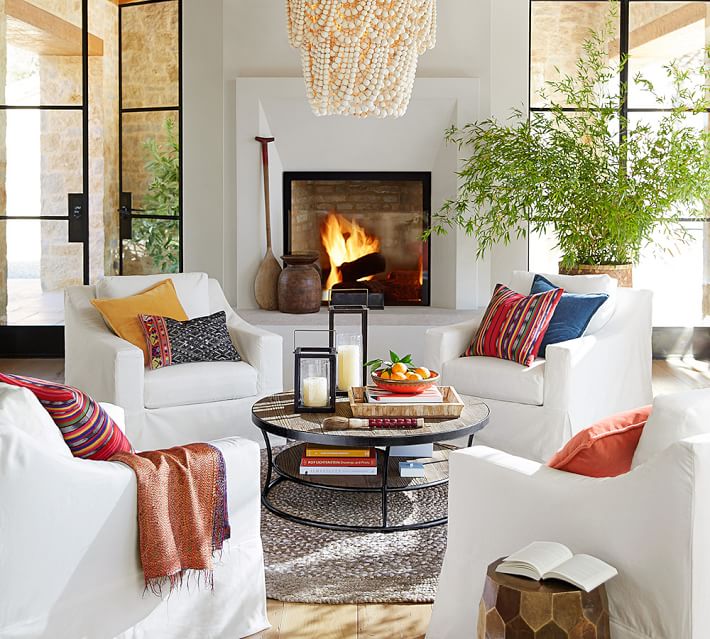 A circular rug creates the illusion of more space and adds an appealing soft contrast to the sharp angles of the room and edges of furniture. Create a sense of harmony by combining a round furniture piece, like a table, with a round rug.
Get the Look: Border Round Jute Rug in Sand, $179, potterybarn.com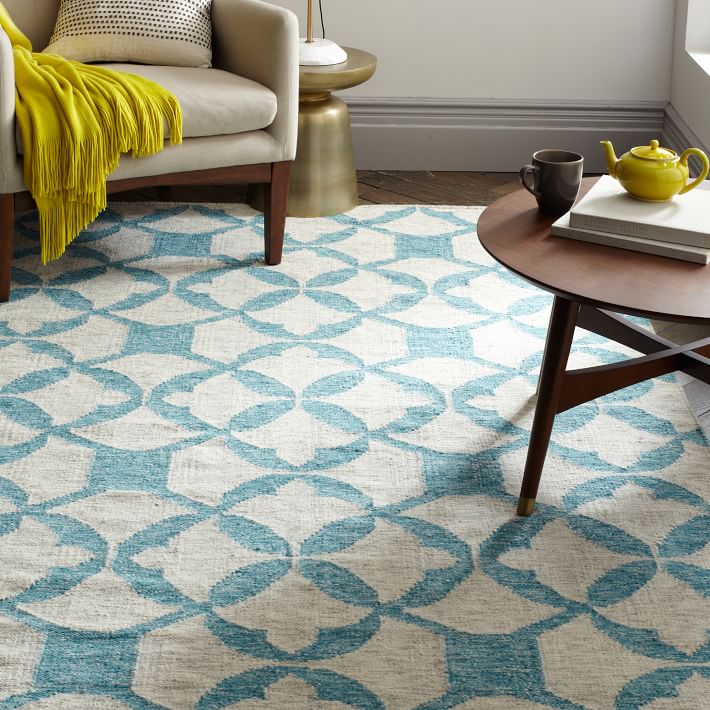 A square rug accentuates the symmetry of a space by complementing the angles of the room. Pick a rug that is slightly smaller than the area covered by furniture, this way the rug will anchor the furniture without taking over the space.
Get the Look: Tile Wool Kilim Rug in Aquamarine, Special $129 – $799, westelm.com.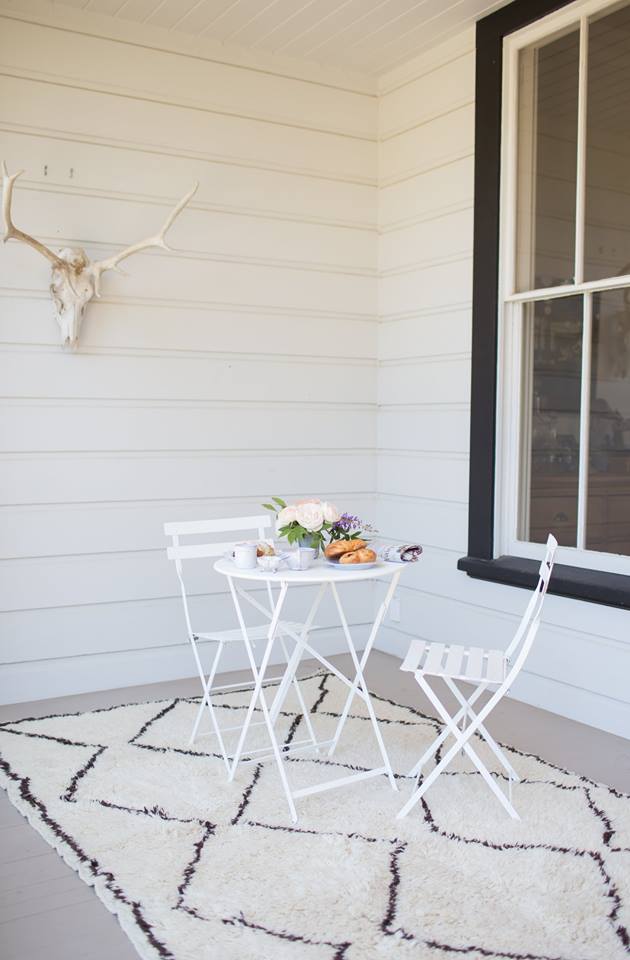 A rectangular rug can act as an invitation to enter a room or accentuate the length of a space. This Morroccan Berber rug adds softness and style to this breakfast nook, and creates a relaxed outdoor living space. Depending on the size of the room and the furniture layout, you can choose to place all furniture legs on the area rug, or just place the front legs of the furniture on the rug.
Get the Look: Moroccan Berber rug available at Chateau Sonoma, 23588 Arnold Dr
Sonoma 95476.
Size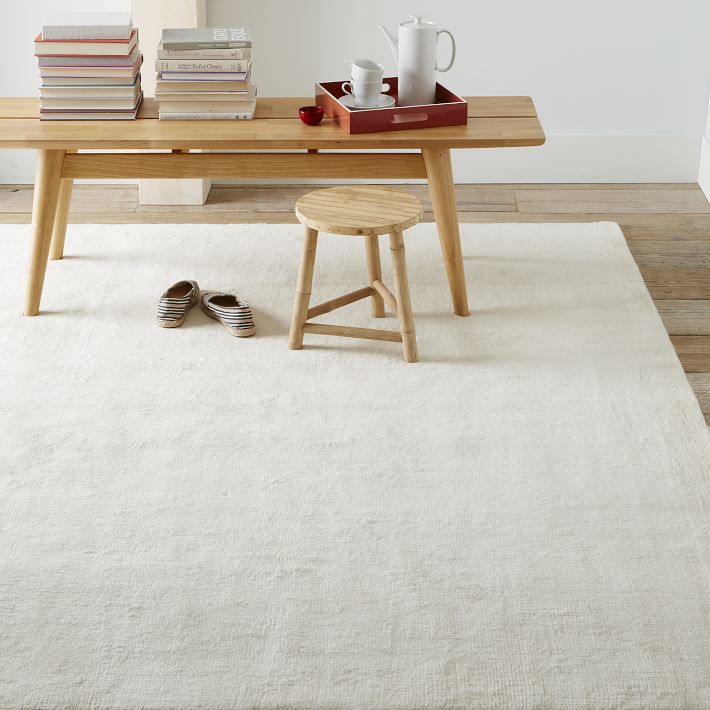 Large rugs can serve different purposes. They can protect hardwood flooring or cover up old and unattractive flooring. They can make a room softer and quieter. In bright colors and patterns, they can liven up an otherwise muted color scheme. Neutral area rugs can create a sense of calm and space.
Get the Look: Hand-Loomed Shine Rug in Ivory, $999, westelm.com.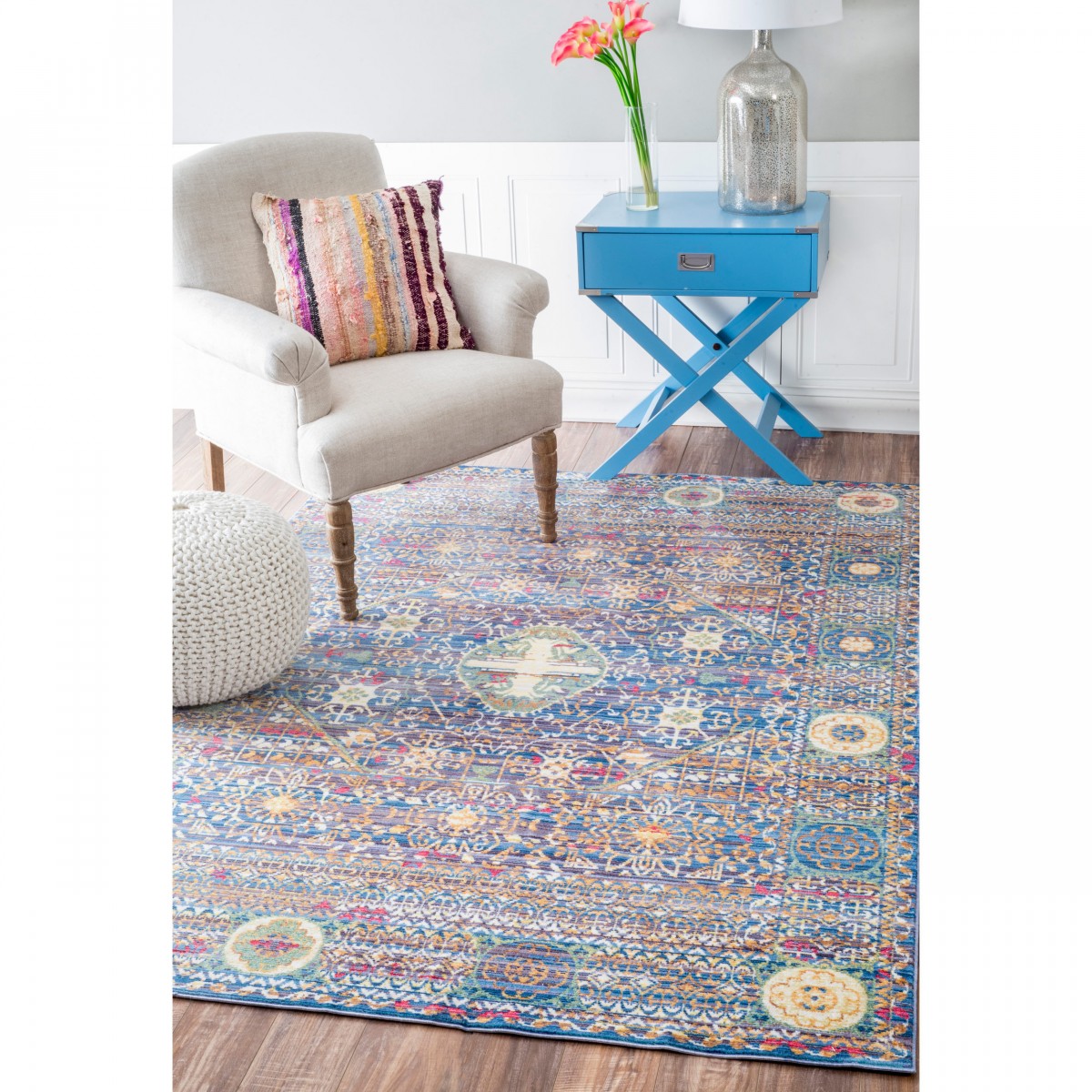 A medium size accent rug can add an interesting touch to a room or a piece of furniture, without changing the overall look. Add a pop of color to a room that is otherwise neutral, or pick an attractive pattern as a complement to solid colored furniture.
Get the Look: nuLOOM Traditional Intricate Persian Purple Rug, $184.87, overstock.com
Material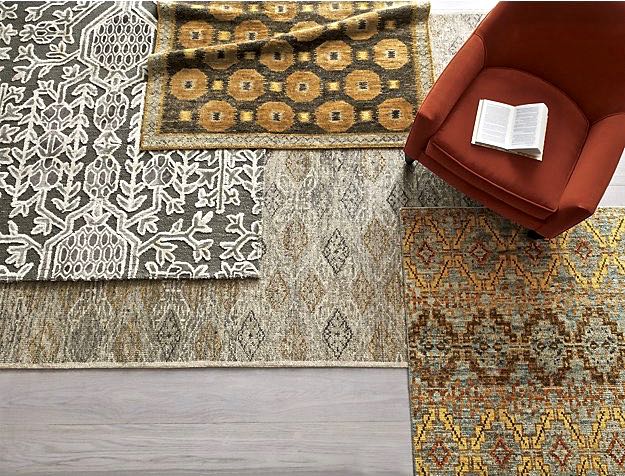 Wool is one of the most popular rug materials, appreciated both for its attractive look and for its durability. Layering rugs in a room – mixing patterns, textures and shapes – is a popular design trend.
Get the Look: Nell Oasis Wool-Blend Rugs, $399.00 – $2,199.00, crateandbarrel.com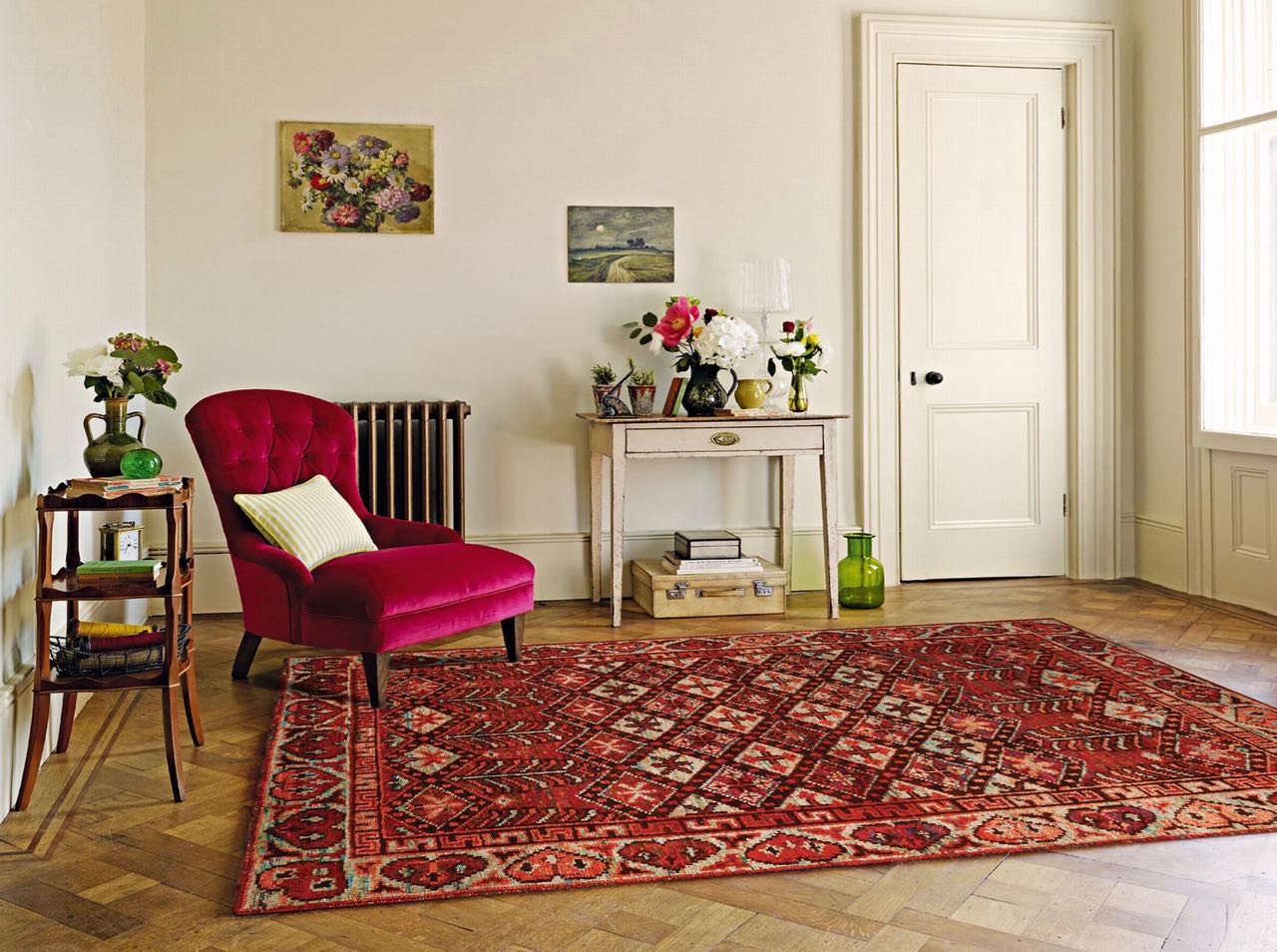 Silk rugs are well suited for spaces that do not get a lot of casual use, and can add a warm and elegant touch to an otherwise neutral color scheme.
Get the Look: Hand-Knotted Immanuel Rust-Ivory Saree Silk Rug, $1,017.99, overstock.com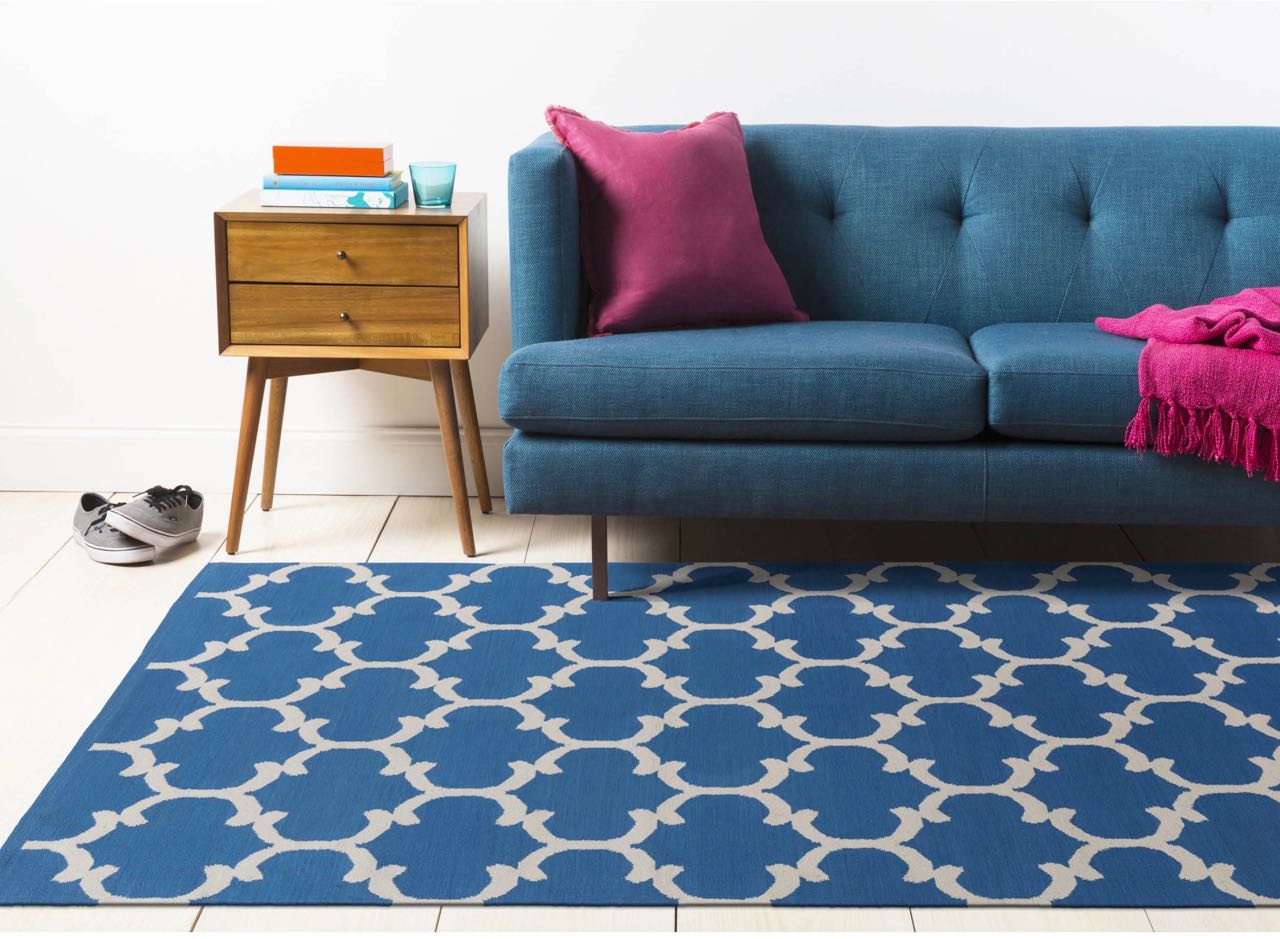 Cotton rugs are both pretty and practical; they absorb dye well and can be washed when needed. Cotton is a good material if you have kids and pets, and is suitable for high-traffic areas, like hallways, breakfast nooks, living rooms – even bathrooms. Patterns and colors also help camouflage wear and tear.
Get the Look: Flatweave Colne Moroccan Trellis Cotton Rug, $118.99, overstock.com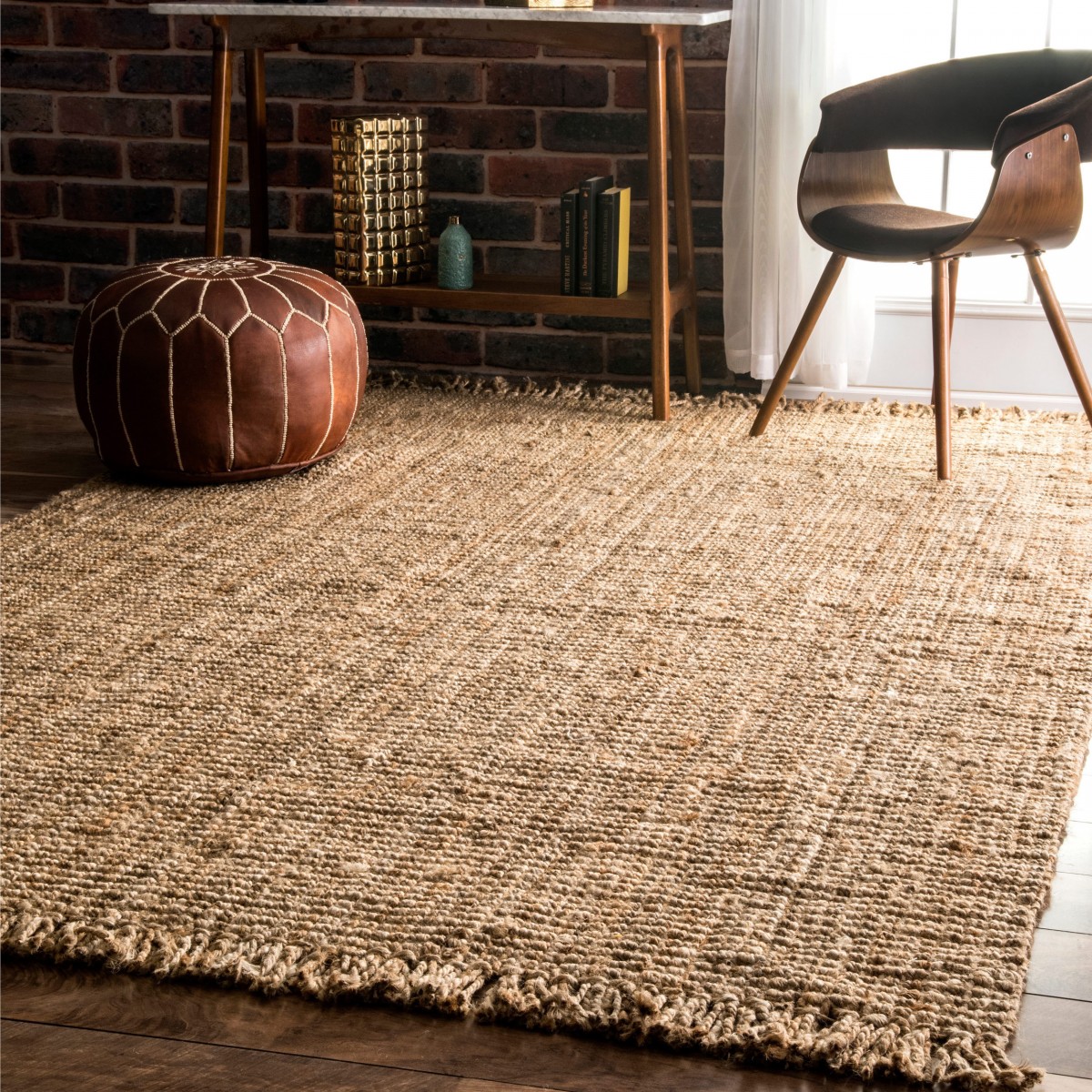 A Jute rug is perfect for indoor/outdoor rooms, adding an earthy natural vibe. If the room is large, don't limit your choices to just one rug or one type of rug. Instead, add several rugs in complementary colors and materials to define different spaces in the room.
Get the Look: nuLOOM Handmade Eco Natural Fiber Chunky Loop Jute Rug, $93.49, overstock.com.
Color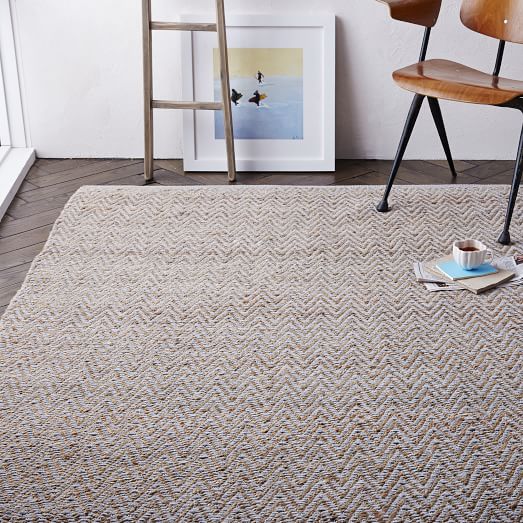 A neutral rug works well in living areas when there's already a lot happening, such as brightly colored window treatments and walls, patterned furniture or colorful art on the walls.
Get the Look: Jute Chenille Herringbone Rug – Natural/Platinum, $249 – $679, westelm.com.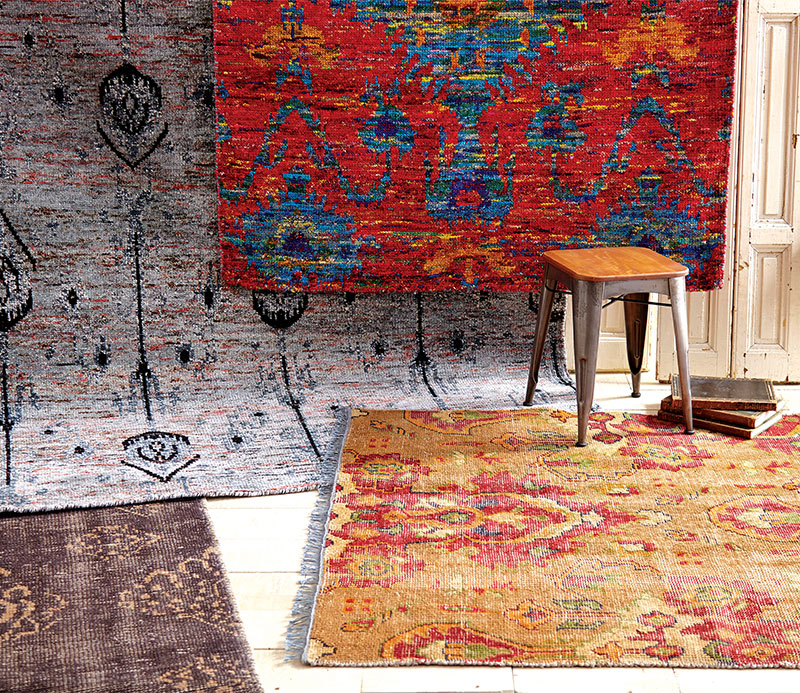 A bold rug gives you the opportunity to add a personal touch and warmth to a room, without having to commit to repainting your walls or changing your window treatments. 
Get the Look: Hand-knotted rugs from World Market, 2685 Santa Rosa Avenue, Santa Rosa 95401.
Style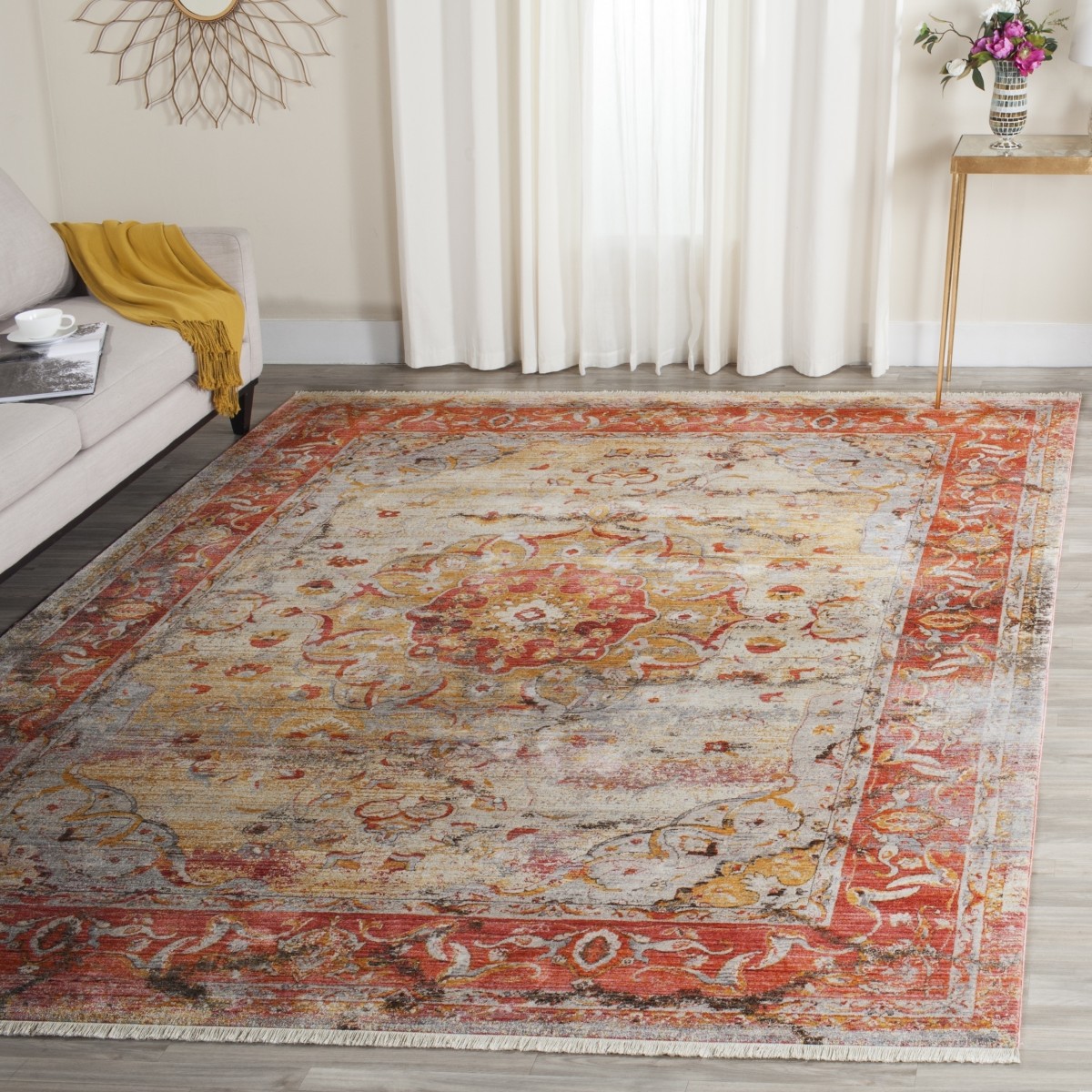 Traditional rugs, usually called "oriental rugs," can create a more classic look in a room. They can complement antique or vintage furniture, or add an interesting contrast to contemporary design pieces.
Get the Look: Safavieh Vintage Persian Pink Rug, $187.84, overstock.com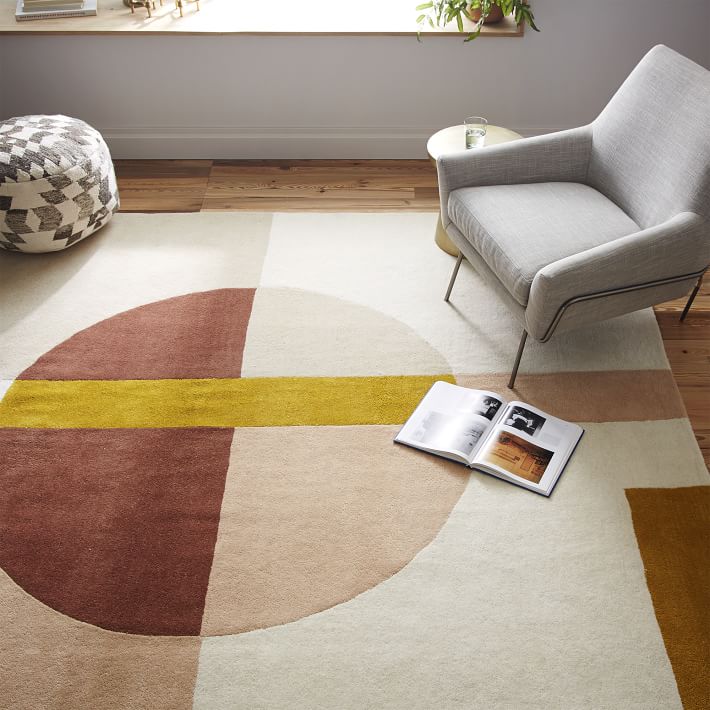 A contemporary rug with geometrical shapes or sharp lines can give a room a modern edge, without being overwhelming.
Get the Look: Roar + Rabbit Wabi Sabi Circle Wool Rug – Blush, $99.99 – $514.99, westelm.com.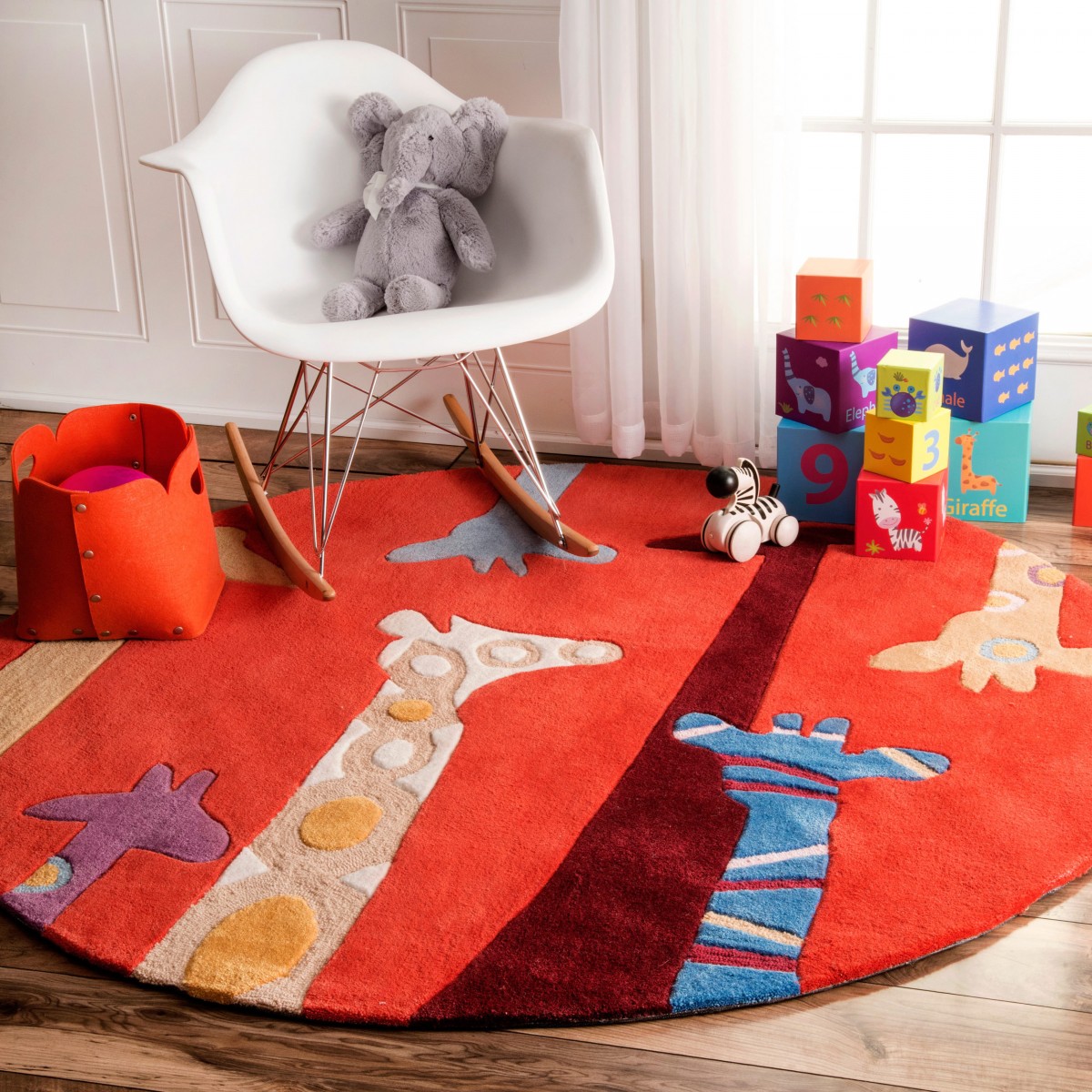 A novelty rug can add a whimsical or sweet touch, depending on the look you want for the room. Novelty rugs that incorporate popular cartoon characters is a fun option for  kids rooms.
Get the Look: nuLOOM Handmade Bright Giraffes Kids Nursery Red Rug (5′ Round), overstock.com