The Negroni is a seductive cocktail. Its ruby red color looks beautiful backlit on a bar, it glistens over a large ice cube and tastes like no other drink. "The balance of herbal, bitter, and sweet in a Negroni just feels complete in my palate," says Ashby Marshall, co-owner of Sonoma County's Sprit Works Distillery.
And now is the perfect time to enjoy the classic Italian aperitif. The seventh annual Negroni Week, an international celebration and fundraiser, kicks off June 24. (This year is extra special as it marks the drink's 100th anniversary.)
Sonoma, always balancing tradition with rebellion, has turned Negroni-making into an art form. We talked to five local masters, who shared their Negroni Week plans, recipes, and cocktail-making tips. Click through the gallery for some quick details.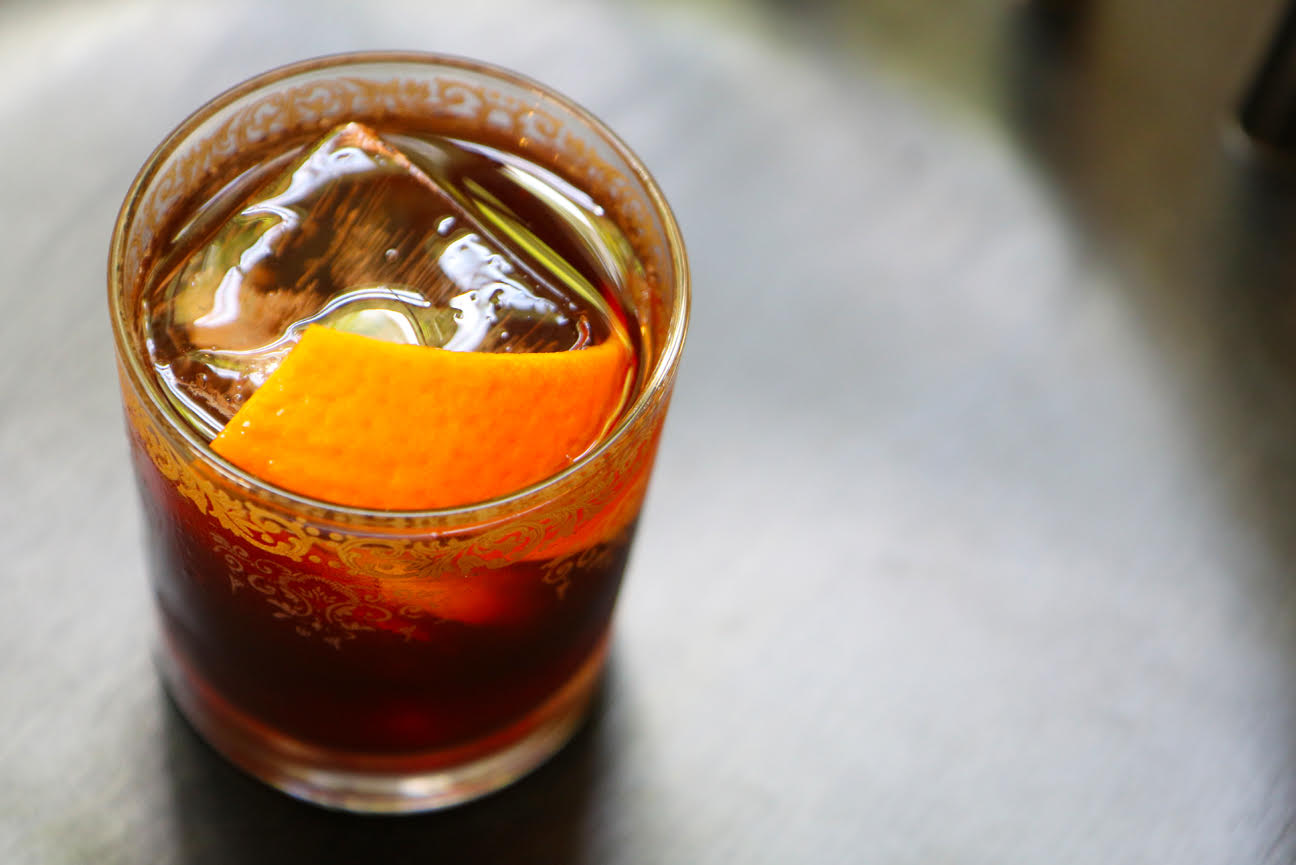 What's in a Negroni?
The classic Negroni recipe is simple, sweet, and a little bitter with equal parts gin, sweet vermouth and Campari, the most famous in the amaro category of liqueurs. "The bitters are excellent for your liver, the gin is bad for you. They balance each other," said Orson Welles in a 1947 correspondence with the Coshocton Tribune while working in Rome.
Modern-day mixologists have breathed new life into the drink. Contemporary recipes, such as this Lodge Negroni, layer on other spirits and replace Campari with other bitters. Barrel aging supplements shaken or stirred preparations. In some cases, the drink isn't even red.
What is Negroni Week?
This annual celebration, sponsored by Campari and Imbibe Magazine, invites bars and restaurants around the world to serve up the Italian cocktail and donate the proceeds to charity.
Negroni Week is now in its seventh year, and 10,000 venues around the world officially participate. To date, the event has raised $2 million for a diverse range of charities. All you need to do is visit a participating venue and order a Negroni. More on that below.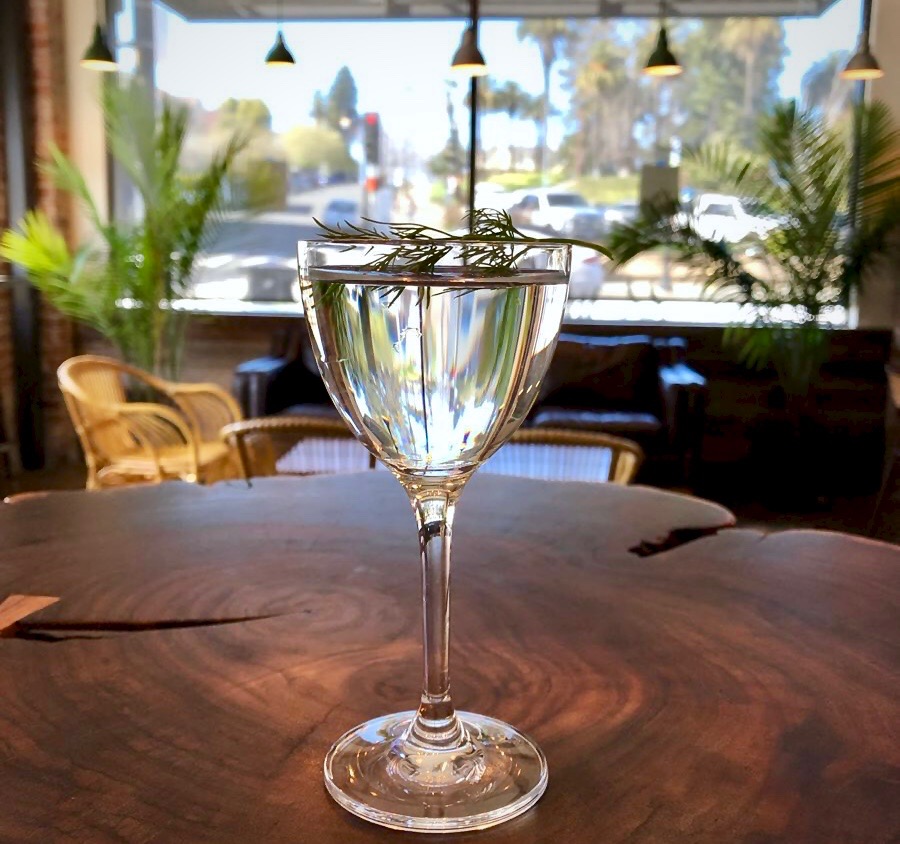 Sample a Negroni with a South American Twist at Whisper Sisters Cocktails & Provisions in Petaluma
Whisper Sisters' cocktail menu features ingredients as diverse as lapsang souchong and pink peppercorn. Evocative drink names like "The Dutch Trader" and "Salt of the Earth" inspire explorations of the near and far. It has a drink for every palette and a few cocktails that follow the structure of an amaro, gin and vermouth trifecta.
"Having the foundation of a classic cocktail really gives you the framework to create some really playful riffs," says co-owner and manager Danielle Peters.
Whisper Sisters is an official Negroni Week participant and will donate proceeds from the drink to No Kid Hungry. The bar is still conjuring up Negroni Week's specialty cocktail—in the meantime, try their Patagonian Negroni. It contains a spirit called Trakal that is derived from ingredients grown in the Patagonia region of Chile and Argentina. It's slightly sweet and herbal with a hint of berries. Some say it tastes somewhere in between a gin and a brandy. Suffice to say that it's hard to describe.
"It had such a unique flavor profile so I wanted the spirit to shine but needed to lift it with bitterness and a floral aspect," says co-owner and manager Danielle Peters.
190 Kentucky St., Petaluma, 707-774-6689, wspetaluma.com.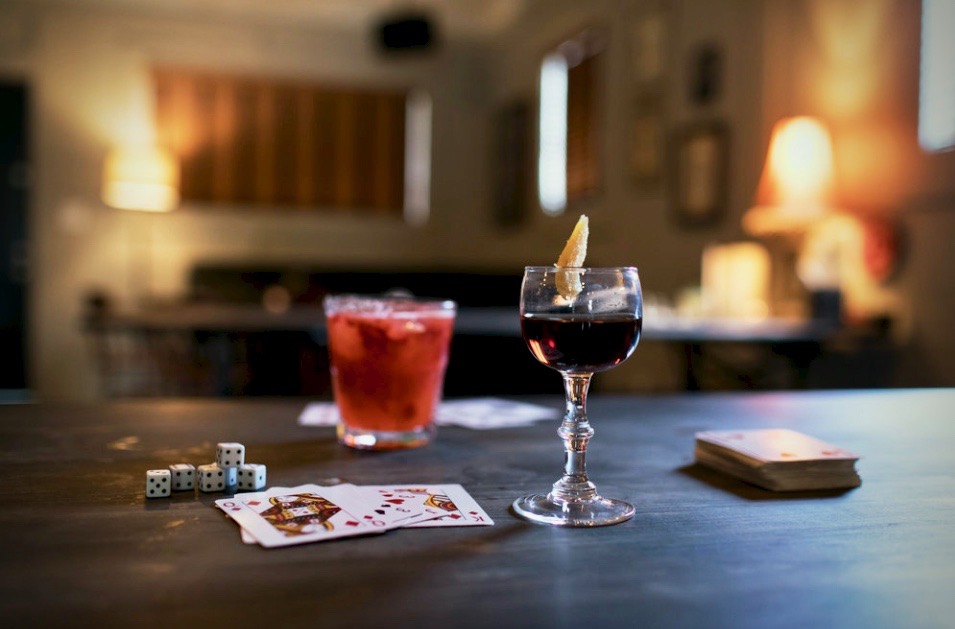 Make it Traditional – or Cannabis-Infused – at Starling Bar in Sonoma 
Starling Bar on Highway 12 bills itself as a casual neighborhood cocktail joint, but with over 30 cocktails on the menu, some creations are anything but casual. To sample the traditional all the way to the unconventional, make your way here.
Starling's House Negroni is equal parts gin, Campari and sweet vermouth, served on a large ice sphere, with a lemon twist. It is aged in barrels previously used for nocino, an old European digestive made from walnuts. The nocino barrel picks up the walnut and gives the Negroni a rich flavor. "The barrel takes some of the edge off the cocktail so it is going to taste smoother," says Fred Johnson, who co-owns Starling with Elizabeth Takeuchi-Krist. This is the perfect gateway Negroni for the uninitiated.
At Starling, those in the know (which now includes you) ask for "The Secret Menu," on which there are eight cocktails with cannabis-infused liquors, including the Stony Negroni, which contains cannabis gin, Campari and sweet vermouth served on an ice sphere.
"You can literally taste the cannabis in the Negroni," says Johnson.
But why so secret? Cannabis is now legal in California. "It is a little bit cutting edge," says Johnson. "Not everyone believes that cannabis should be accessible."
Starling Bar is an unofficial participant of Negroni Week, without a charitable donation tied directly to Negroni sales. But Starling's shop donates proceeds to various charities, including victims of the Sonoma fires.
19380 Highway 12, Sonoma, 707-938-7442, starlingsonoma.com.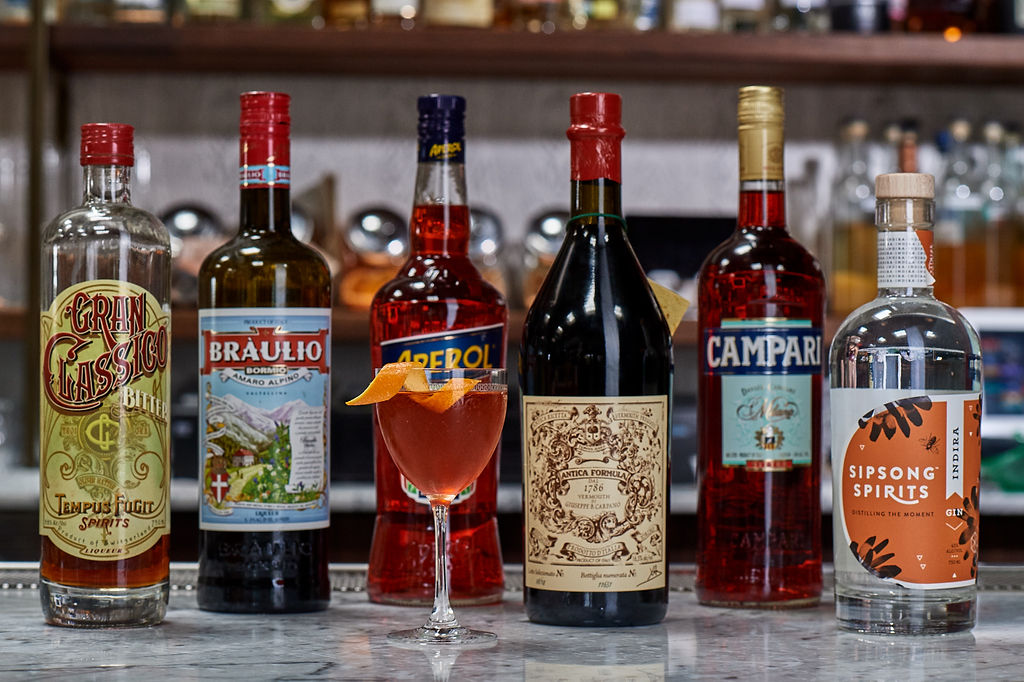 Try a White Version at Fern Bar in Sebastopol
General manager and co-owner Sam Levy, former bar manager of Napa's three Michelin-star restaurant Meadowood, directs the fruit-, vegetable- and herbal-infused cocktail menu at The Barlow's Fern Bar. During Negroni Week, they will serve a classic Negroni with a twist as well as a white Negroni, with a portion of proceeds going toward Restaurant Workers' Community Foundation.
Fern Bar's classic Negroni stays close to original proportions, using just a touch more gin than Campari or Carpano Antica Sweet Vermouth. But for Negroni Week, Fern Bar will put a spin on it.
"We bump up the gin, then add a little amaro in place of some of the Carpano Antica, and sub out most of the Campari for Aperol and Gran Classico," says Levy. (Gran Classico is a bitter liqueur formulated from the old Italian recipe by Petaluma's Tempis Fugit.) "It softens the bitter edge of the classic Negroni and makes it a more spirit-forward, richer, and brighter cocktail."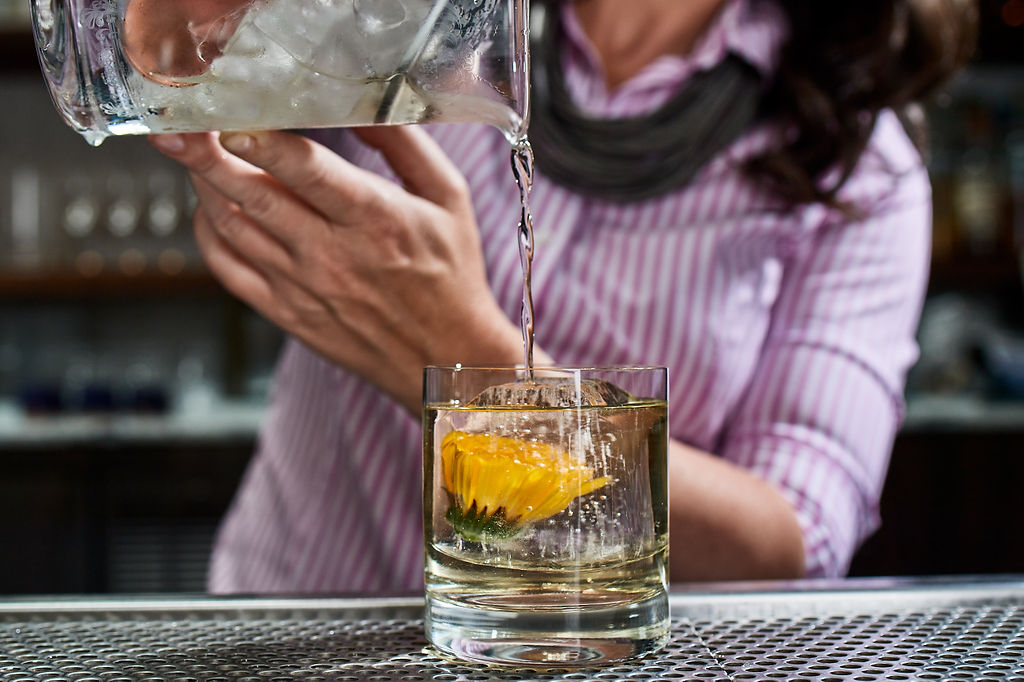 If a classic Negroni is too intense in taste and color, Fern Bar's white version is a good alternative. While there seems to be no standard recipe for a white Negroni, bartenders generally swap out the sweet vermouth and Campari for dry vermouth and a different bitters. The result is a less sweet and more naturally-colored drink. At Fern Bar, it is made with Benham's Gin, Lo-Fi Sweet Vermouth, and Luxardo Bitter Bianco.
6780 Depot St. #120 (in The Barlow) Sebastopol, 707-861-9603, fernbar.com.
Fern Bar Classic Negroni Recipe
4 parts Sipsong Indira Gin
1 part Amaro Averna
1 part Carpano Antica
1 part Aperol
1/2 part Campari
1/2 part Gran Classico
(Tip for home: Use good ice, such as large cubes or spheres, to slow the rate of dilution.)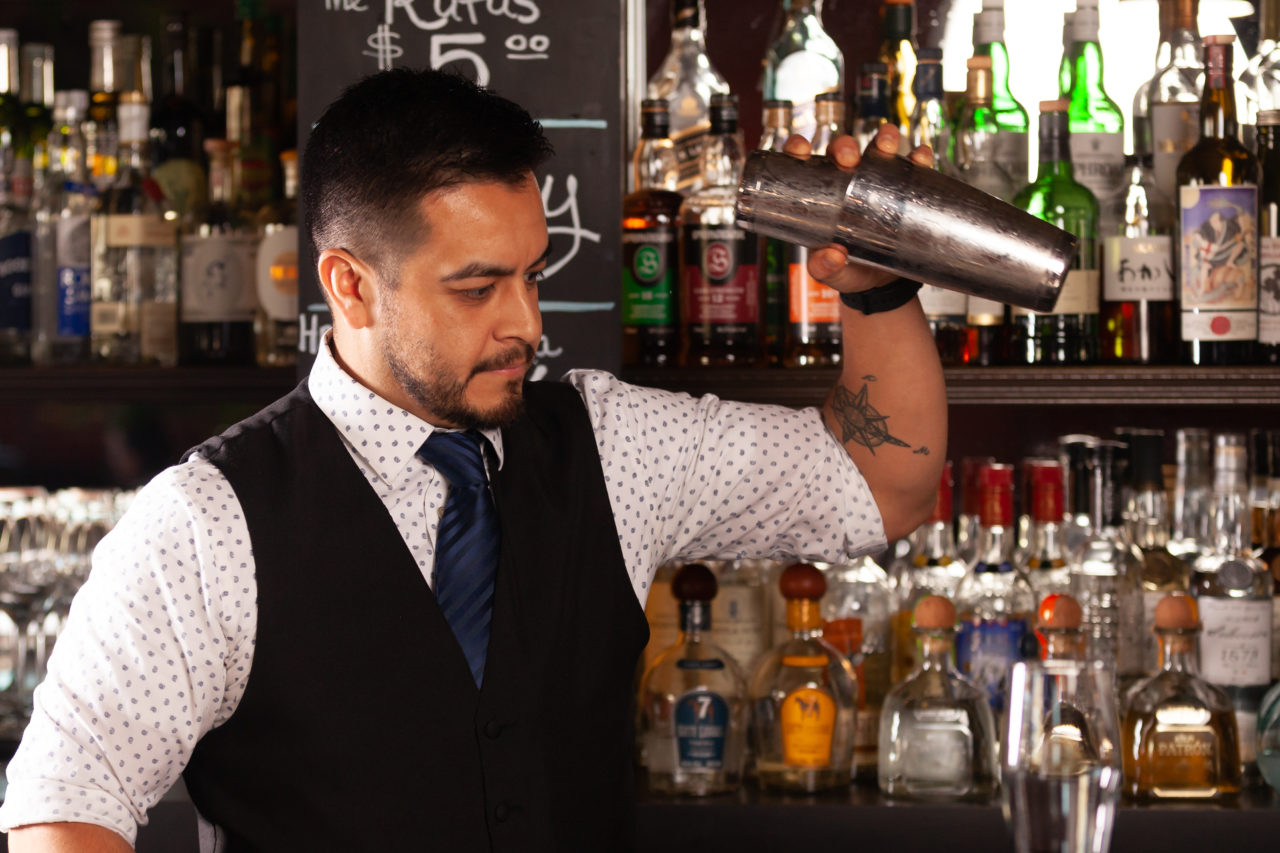 Put a Barrel-Aged Spin On It at Stark's Steak and Seafood in Santa Rosa
Stark's Steak and Seafood in Santa Rosa is one of our favorite happy hour destinations, but their cocktails stand on their own at any hour of the day.
During Negroni Week, head bartender Neil Espinosa will serve up two negronis. The barrel-aged Negroni follows the classic ratios but with a couple of twists: Espinosa uses San Francisco's Hotaling & Co (formerly Anchor Distilling Company) Junipero Gin, Campari and a house vermouth blend that's a mixture of Carpano Antica, Punt e Mes and Alessio Torino. He also uses toasted French oak chips, which he leaves in the mixture for about two weeks to give the cocktail enough time to meld together and take on some of the oak flavor.
While Stark's Steak and Seafood is not serving a Negroni Week special, you might use the opportunity to order Espinosa's favorite Negroni, which is an interpretation of the Semi-White. It contains Gin, Lillet Blanc, Quina L'ero and Aperol.
Tip for home: Espinosa says that when making a Negroni, it is essential to measure the ingredients to get the perfect balance of flavors. "A common mistake that I've come across is being too heavy with the vermouth," says Espinosa.
Railroad Square, 521 Adams St, Santa Rosa, 707-546-5100, starkrestaurants.com.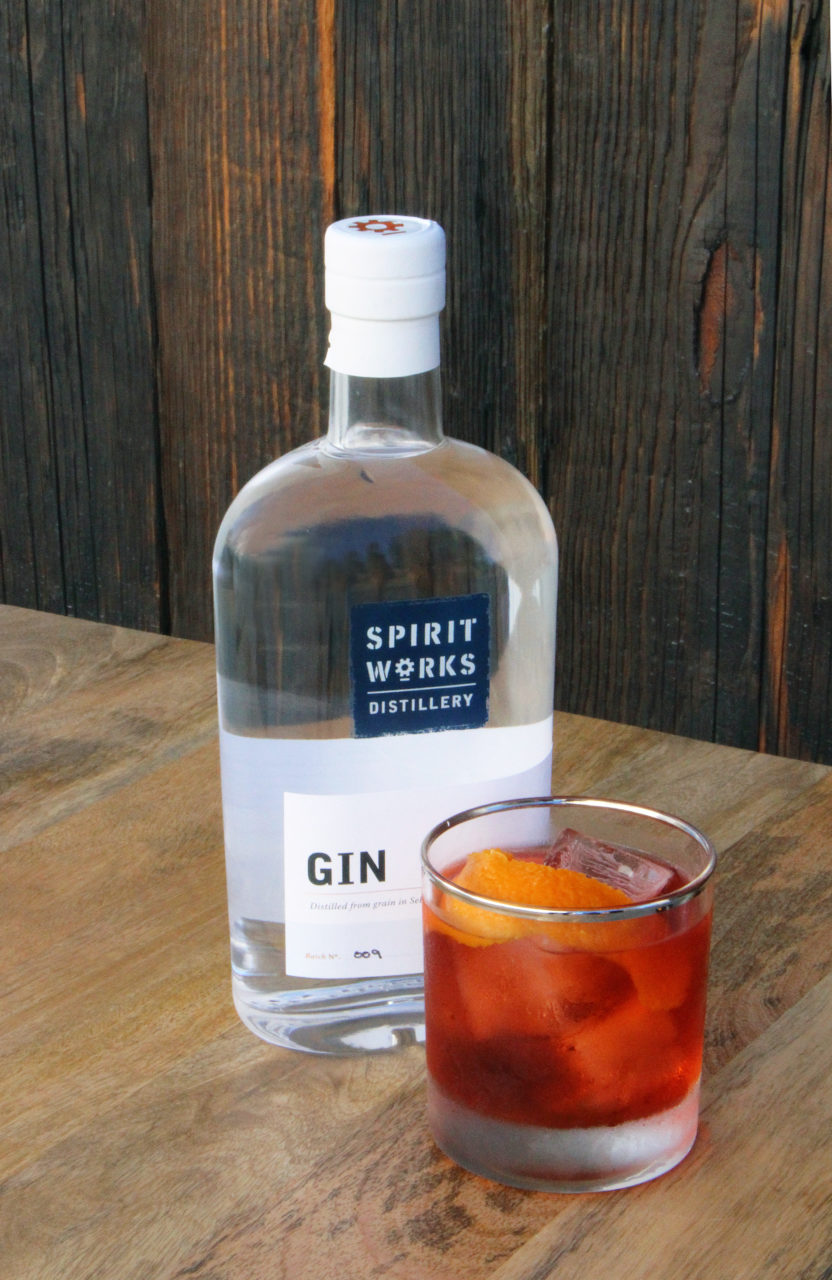 Make Your Own With Local Booze from Spirit Works Distillery in Sebastopol
Extend the Negroni Week celebrations by making your own—Spirit Works Distillery in Sebastopol supplies the gin. You can sample their three gins—Gin, Barrel Gin and Sloe Gin—at the distillery's tasting room or buy them at local retailers like Bottle Barn and Oliver's Market.
Negroni recipes can be found on Spirit Works' website. Co-owner Ashby Marshall also recommends two variations on the classic. The first features one part Campari, one part Spirit Works Gin and one part Spirit Works Sloe Gin – substituting Sloe Gin for the vermouth. The second, a staff favorite, is a Negroni made with Spirit Works Barrel Gin. "The candied lemon and orange that comes through with the barrel aging process blends incredibly well with Campari," says Marshall.
Spirit Works is celebrating Negroni Week with two Bay Area events, one at the Agave Uptown bar in Oakland and another at Viognier Restaurant at Draeger's Market in San Mateo. They will also post cocktail recipes on Instagram at @spiritworksdistillery.
6790 McKinley Street #100 (in The Barlow), Sebastopol, 707-634-4793, spiritworksdistillery.com. 
Subscribe to Our Newsletters!