The skies are clogged with smoke from fires burning in Sonoma County, Napa Valley and throughout the state. Evacuations, warnings to evacuate and emergency alerts have us all on edge. Temperatures of 100 degrees and higher have eased for the moment but can return anytime, with almost a month left of official summer.
Sonoma wines are here to help: to quench the thirst during the remaining warm days before fall, for Labor Day (and COVID-19-safe) get-togethers and for celebrating small victories. In moderation, wine can bring people together, make food taste more delicious and give us some joy in difficult times.
But do check yourself. According to the National Institute on Alcohol Abuse and Alcoholism, while drinking alcoholic beverages temporarily dampens the brain and body's response to stress, feelings of stress and anxiety can return, and worsen, once the alcohol wears off.
The following Sonoma wines are a pleasure to drink, and buying them supports the grape growers, vineyard workers and wineries that produced them. These recommendations, good year-round, are also specific to this season of heat, smoke and uncertainty. They don't have firm, drying tannins or heavy toast or smoky aromas and flavors (there are enough of those in the air). Instead, they have vibrant and flavorful fruit, succulence and crisp acidity. Cabernet sauvignon and merlot will have their starring moments in fall and winter.
Sparkling wines
They're wonderful for celebrations of all kinds, from a negative COVID-19 test to the dog's birthday to your first hair styling in months. Or enjoy them as simple, pure refreshment.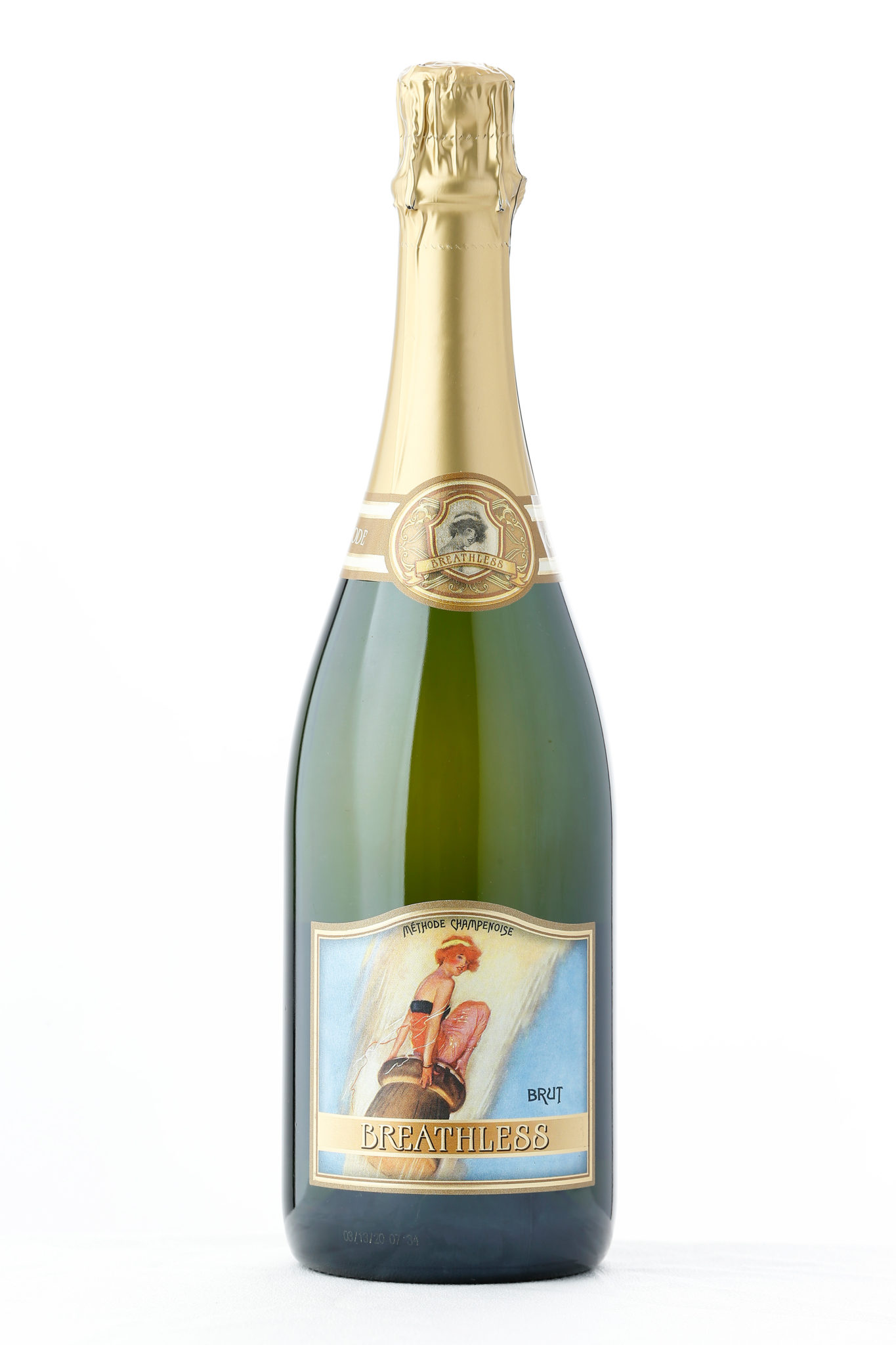 Start with the Breathless Wines NV Sonoma County Brut ($27), an energizing burst of red berry, citrus and tropical fruit overlaying classic brioche-like yeastiness. It's available in many Sonoma markets and restaurants, at the Healdsburg tasting room and online.
499 Moore Lane, Healdsburg, 707-395-7300, breathlesswines.com
Even racier is the Iron Horse Vineyards 2016 Ocean Reserve Green Valley of Russian River Valley Blanc de Blancs ($55), an all-chardonnay, complex stunner. Sebastopol's Iron Horse produces a vast lineup of exquisite bubblies, ranging in style and price; Ocean Reserve is the one for right now. Select wine shops carry Iron Horse sparklers, but it's best to visit the winery or buy online.
9786 Ross Station Road, Sebastopol, 707-887-1507, ironhorsevineyards.com
Great value can be found in Gloria Ferrer Caves & Vineyards' mainline wines ($22), with the nonvintage blanc de noirs a personal favorite for its delicate pink color and crisp red-fruit and citrus personality. Gloria Ferrer has wide distribution of this wine and its companion Sonoma Cuvee in grocery stores, often at slightly discounted prices. Or taste first and purchase at the Sonoma Carneros winery.
23555 Arnold Drive, Sonoma, 866-845-6742, gloriaferrer.com
Sauvignon blanc
This varietal is a love-hate for many, with some embracing the grape's typical grapefruit, grassy and sometimes herbal character and others rejecting it for the same reasons. At a time when we all need to get along and support each other, a few sauvignon blancs allow détente between disagreeing factions.
Jesse Katz's Aperture Cellars 2019 Sonoma County Sauvignon Blanc ($40) mirrors the Bordeaux blanc wines of France, which meld semillon with sauvignon blanc, fermented and/or aged in oak barrels. That formula rounds out the aggressive characteristics of sauvignon blanc and adds texture and mouthfeel to this Sonoma sauvignon blanc. It's exotic and enticing, with tropical, peach and quince flavors; citrus appears in the snappy, grapefruit finish. Katz recently opened the Aperture hospitality center in southern Healdsburg. Check the website for visiting and purchasing options.
2291 Old Redwood Highway, Healdsburg, 707-200-7891, aperture-cellars.com
A more traditionally styled 2019 Dry Creek Valley sauvignon blanc from Dry Creek Vineyard is just as tasty, in a fresh-cut grass/English pea way with additional notes of nectarine, peach and red grapefruit. It's an honest drink, with keen balance, and comes at an honest price ($20). It's available in some local markets and at the winery.
3770 Lambridge Bridge Road, Healdsburg, 707-433-1000, drycreekvineyard.com
Pinot gris/grigio
Forget about the boring, lean, under-$20 supermarket pinot grigios from Italy and similarly priced pinot gris from Alsace, France and Oregon. Instead, invest the same amount of money in two local wines made from the pinot gris grape which deliver plenty of flavor and energy for summer, a salve for smoke-induced sore throats and also an excellent value.
The Ferrari-Carano Vineyards & Winery 2019 Russian River Valley County Pinot Grigio ($16) is, in a word, awesome. Winemaker Sara Quider oversees the making of this wine, with brisk, mouthwatering acidity keeping the luscious white peach, nectarine and green apple fruit focused and pure. A spice note adds complexity to this generous wine that is widely available at chain grocers and at the winery.
8761 Dry Creek Road, Healdsburg, 707-433-6700, ferreri-carano.com
Balletto Vineyards winemaker Anthony Beckman's 2019 Russian River Valley Pinot Gris ($20) is tighter and more minerally than the Ferrari-Carano version of the pinot gris grape. It's a scintillating drink to beat the heat and accompany all sorts of shellfish and seafood. It's citrusy and taut, with peach and Granny Smith apple accents. Some local markets carry this wine; you also can buy it from the winery.
700 Occidental Road, Santa Rosa, 707-568-2455, ballettovineyards.com
Chardonnay
The trend in Sonoma chardonnay is for less toasty oak and butter character and more fruit and refreshing acidity. And that suits the current drinking times. Richness is still very much alive, though it's accompanied by refreshing acidity and oak that adds spicy accents and texture, without clobbering the fruit.
Look no further than Ramey Wine Cellars for balanced, finessed chardonnays for distressing times. David Ramey makes several chardonnays, from Sonoma appellational blends to vineyard-designates, and buyers can't go wrong with any of his bottlings. From the 2017 Rochioli Vineyard Russian River Valley Chardonnay ($70) to the 2017 Russian River Valley Chardonnay ($42) blend, the wines are distinctive in character, yet uniformly mouth-filling and rewarding.
25 Healdsburg Ave., Healdsburg, 707-433-0870, rameywine.com
Kenwood's Landmark Vineyards produced the 2017 Overlook Sonoma County Chardonnay ($27), a complete and balanced wine with subtle oak spice and lemon oil aromas. On the palate, it's crisp and clean, with minerally acidity, white peach and tropical fruit flavors and a long, lemony finish. A sure crowd-pleaser.
101 Adobe Canyon Road, Kenwood, 707-833-0053, landmarkwine.com
Pinot noir
By nature, Sonoma pinot noir has vibrant cherry/berry/plum fruit, medium body and moderate tannins, yet firm acid structure for refreshment.
The Flowers Vineyards & Winery 2018 Sonoma Coast Pinot Noir ($55) fills the bill, with hints of forest floor, pomegranate and anise joining the luscious black cherry flavors. It has some local distribution, though your best bet for buying this wine is at the Healdsburg winery or online. At press time, the winery was still under evacuation order but not under imminent fire threat.
4035 Westside Road, Healdsburg, 707-723-4800, flowerswinery.com
It will require an online purchase, but the Jacqueline Renee 2017 Bacigalupi Vineyard Russian River Valley Pinot Noir ($54) hit the spot this week, with juicy red cherry and red-plum flavors, crisp acidity and just 13.6% alcohol. It's made by Jaclynn Van Sant, assistant winemaker at Comstock Vineyards in Dry Creek Valley, and is low in oak character and high in refreshment.
Value-seekers will appreciate the Ron Rubin 2017 Russian River Valley Pinot Noir ($25), which delivers juicy dark cherry and berry fruit, creamy vanillin oak and background notes of woodsy earth and forest floor. It's both savory and fruity, a neat trick to pull off. Schedule a tasting appointment at this Sebastopol winery.
5220 Ross Road, Sebastopol, 707-887-8130, ronrubinwinery.com
Zinfandel
What would Labor Day be without zinfandel to sip with grilled burgers, sausages and ribs? The holiday might be muted somewhat by the smoke in the air and the pandemic restrictions of group gatherings, yet zinfandel rewards those who love bold, spicy, brambly fruit flavors, under any conditions.
Try the Beltane Ranch 2018 Estate Grown Zinfandel Heins Block Sonoma Valley ($46), a full-bodied wine boasting wild blackberry and blueberry fruit, Chinese five-spice, rounded tannins and a keen acid backbone. It's a potent wine, at 15.7% alcohol, yet there's no noticeable heat. Buy at the estate, which includes the winery and guest lodging.
1775 Sonoma Highway, Glen Ellen, 707-833-4243, beltaneranch.com
A more moderate (in alcohol) zin than the Beltane Ranch, yet just as bold, the Ridge Vineyards 2018 Pagani Ranch Sonoma Valley Zinfandel ($40) is an old-time field blend of zinfandel, alicante bouschet and petite sirah. At 14.9% alcohol, it strikes a great balance of jammy red and blue fruit with shadings of white pepper and sage. Purchase online at ridgewine.com; at press time, the Ridge Lytton Springs winery in Healdsburg was closed because of its proximity to the Walbridge fire.
Subscribe to Our Newsletters!