Can a Michelin-starred restaurant experience be replicated at home? Two restaurateurs are banking on the idea that it can.
During the pandemic, John Stubbs of the James Beard award-winning Jewel of the South in New Orleans and Jon Sybert of Tail Up Goat in Washington, D.C., watched as fine dining restaurants around the country struggled to stay alive.
Some turned to upscale takeout, others to elaborate outdoor dining tents, but most were forced to wait it out and hope for the best.
"During the pandemic, things were happening in the restaurant industry out of sheer necessity and survival. But no one was offering the ability to partner directly with the restaurants to provide a Michelin-level caliber," Sybert said.
The two reached out to 10 of their compatriots, including at Compere Lapin (New Orleans), Octavia (San Francisco), Birdie G's (Los Angeles), Roots Southern Table (Dallas), Dirt Candy (New York City) and Ernest (San Francisco) with a daring idea — bringing the restaurant experience home with semi-prepared meals delivered to diners' doorsteps as a DIY dinner party meal kit. Their chef friends jumped at the novel idea.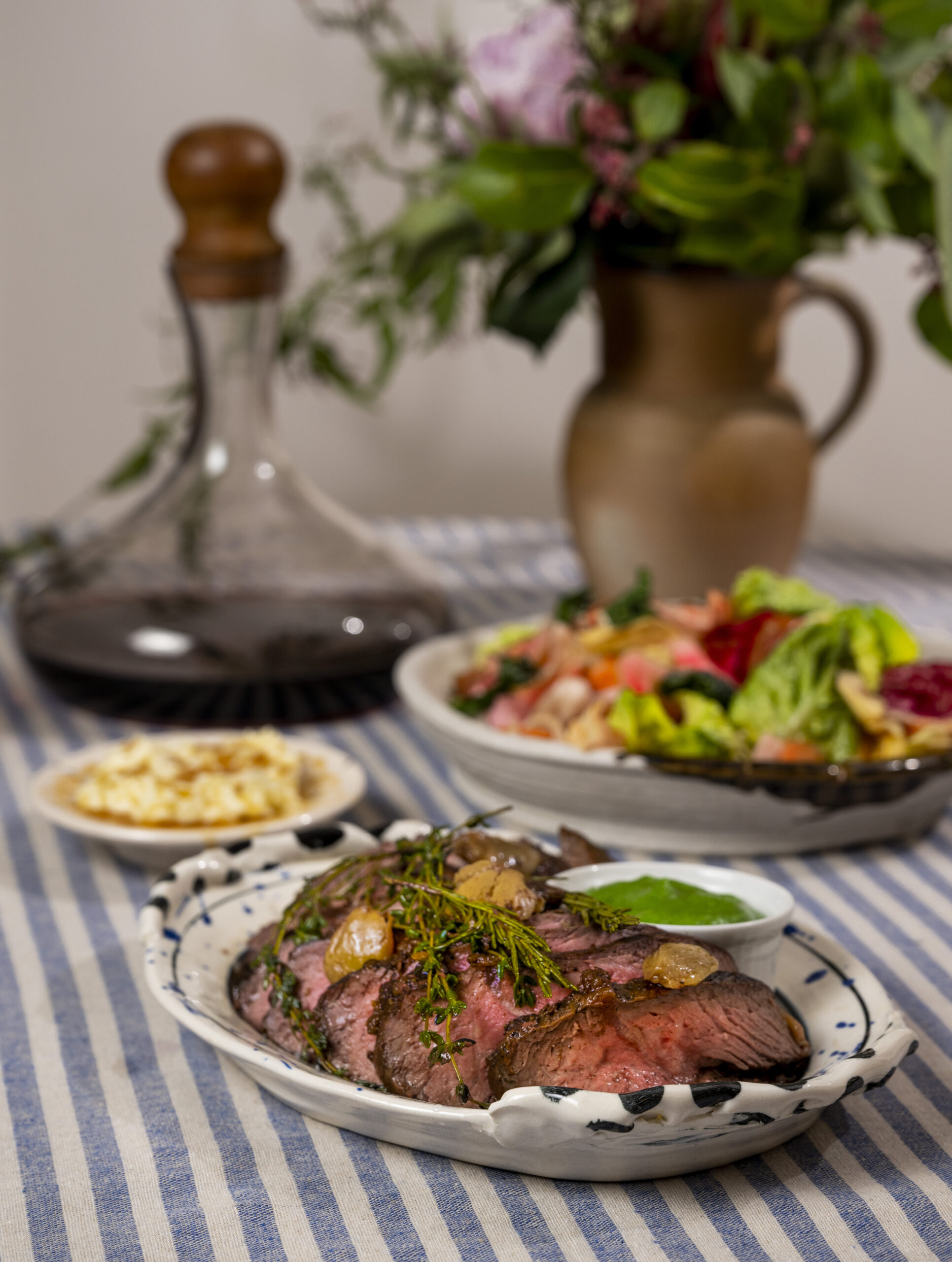 In March, the duo soft-launched Moveable Feast. Similar to meal kits from providers like Blue Apron or Hungry Root, ingredients arrive in insulated boxes with detailed cooking instructions. But that's where the similarities end.
Moveable Feast is everything you need to throw a Michelin-quality dinner party for four or 12 people. In addition to the fancy-pants food, each kit includes a printout of the menu for each guest, extensive plating instructions and multiple courses served family-style.
Moveable Feast isn't DoorDash but a luxury experience delivered with the care and details you'd find at a fine-dining restaurant (with a price to match).
"We wanted all the little touches from the restaurant that make it unique," Sybert said.
Sybert and Stubbs built a high-end central kitchen in downtown Napa that can reproduce each chef's unique meal concept with local ingredients. Each chef creates a multicourse menu and detailed cooking instructions.
The chefs are compensated for their intellectual property and are equity partners in the company.
Wine Country, Stubbs said, was the perfect place to locate their central kitchen.
"The prerequisite was the produce, diversity and availability of foods, along with the longevity of the seasons. We wanted proximity to the product. There are such intrinsic benefits that belong in Wine Country," he said.
The proof, however, was in whether the experience would translate.
"The biggest question is can we do it — offer an honest expression of that restaurant in that voice of some of the most talented people in the country?" Stubbs said.
After trying one of the meal kits from Chef Brandon Rice's Ernest restaurant in San Francisco, the answer is yes and no.
Unboxing is one of the most fun parts of the experience. Most ingredients are beautifully packaged in reusable aluminum containers. Sauces arrive in clear bottles. One of the courses, the Dungeness crab Rangoon dip, came in a piping bag. Also included in the kit was a ring mold for perfect plating. Pre-portioned balls of chocolate-chip cookie dough were too tempting not to nibble on raw.
The meal can be refrigerated for a day or two, and the detailed instructions (and videos) outline each step, from when to start to how to decorate each dish. There aren't any special tools needed that most people don't already have in their kitchen.
The whole thing came together in about a half-hour or so. The most challenging part was making sure not to burn the potato terrine. Easy-peasy. And my husband was gobsmacked by the chop salad with togarishi ranch dressing, perfectly cooked prime NY strip steak (it comes sous vide; you just warm it up) and crab dip with fried wontons.
Also included were cacio e pepe profiteroles, cornbread with cultured butter and the chocolate-chip cookies that simply need to be cooked in the oven for a few minutes. It was delicious.
We also live in the Bay Area, where luxurious fine dining experiences aren't hard to come by. But, no, our home doesn't rival the restaurant experience. There wasn't a beautiful dining room or accommodating waitstaff. We gobbled it up a bit too quickly.
People in places without a lot of high-end fine dining are the prime target for Moveable Feast.
"The idea is access. We want more people to have access to the talent, creativity (and) expression that happens in the restaurant and art that goes into it. That's only available to a very few," Sybert said.
Feasts for four are $385 and go up from there. A membership for four feasts per year is $1,400 or $3,960 for a dinner each month. Each month features a new restaurant. For details, go to moveablefeast.io.