Craig Ponsford has a theory about why artisan bakers often have an edge to their personalities, much like the knives they use to score their breads. After all, they work long, physically demanding hours to deliver a healthy product, only to watch folks line up at the donut shop down the block.
"Artisan bakers tend to be a little more bitter," said Ponsford, a baker himself. "People have no clue how hard the work is, and often when my customers see me, I've just finished 10 or 12 hours. I think we're really sensitive. We're artists. "
Despite the challenges, a rising number of bakers in Sonoma and Marin are trying to return bread to its rightful place at the center of the table, bringing back its flavor by sourcing whole milled grains and baking them into sturdy, highly nutritious loaves. Most started their careers in the bland world of modern bread but have turned their backs on white flour and machines, rewinding the clock to where baking was 100 and even 200 years ago.
By keeping a low overhead and selling direct to consumers, these artisans are able to work the flour, water and salt in small batches, with their hands. Along the way, they are creating a new generation of chewy, dense artisanal breads.
Committed, fiercely independent and unfazed by the long hours, Mike Zakowski of The Bejkr (The Baker) in Sonoma and Eli Colvin of rEVOLUTION Bread in Santa Rosa create distinctive breads by using ancient grains such as emmer and einkorn, sourced when possible from local growers.
The Bejkr
"The whole-grain movement has taken off in the last five years," Zakowski, 46, said. "The new way is back to the old, the way it should be. Keeping the grain fresh and using it fresh. Freshness equals flavor."
His breads are multidimensional in texture and flavor, ranging from hearty and dense to light and moist, nutty and sweet to sweet with a hint of sour. They are often topped with a sprinkling of cracked wheat, seeds or sea salt for added crunch. His loaves are on the shopping lists of top local chefs who have become fans of such quirky and rustic creations as farro spezzato, which has a nice, nutty wheat flavor balanced by the sweetness of cracked spelt.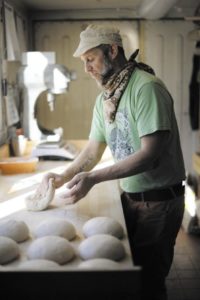 "He's making some of the most beautiful breads in the Bay Area," said Ponsford, champion of the 1996 World Cup of Baking while at his family's Artisan Bakers in Sonoma. He now bakes with whole grains at Ponsford's Place in San Rafael. "Not only is he going it with the old methods, he's using more ancient grains than anyone else in the Bay Area."
Sonoma filmmaker Colin Blackshear followed Zakowski to France to videotape him competing, first as part of the three-man Team USA at the 2012 World Cup of Baking (the U.S. finished second, behind Japan), then as one of eight individuals in the world invited to compete in the Bakery Masters 2014. The footage will appear in a yet-to-be-released film. Spoiler alert:
Winning the Master Baker in the Bread category was Japan's Yuki Nagata.
"I really appreciate that (Zakowski) is reviving the old traditions and keeping it very small," Blackshear said. "It's microbakeries instead of microbreweries."
Preparing to bake competitively pushed Zakowski to learn new ways to extract maximum flavor from whole-milled and ancient grains. "I'm good at tweaking the formula, reducing hydration or increasing salt," he said. "I studied numbers, and baking is formulas and numbers, plus craft and love and passion."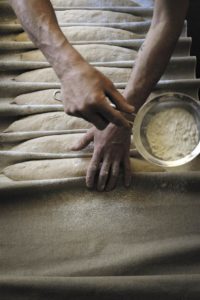 Although whole grains are often difficult to handle, they offer extra benefits because they are easier to digest, provide healthy fiber and do not go stale as quickly as other breads, thanks to the high amount of antioxidants.
With true whole grains, the three parts of the grain — the germ, bran and endosperm — are milled together. But at most industrial roller mills, "whole-grain" wheat flour is separated into parts, milled and then put back together. Along the way, the grain loses flavor and nutrients.
Although Zakowski bakes just once or twice a week, producing a dozen different breads for two farmers markets often takes him 50 to 60 hours each week. Approximately 10 to 12 hours prior to baking, he mixes the flours and starters at his home.
From nurturing and feeding the starters to folding the dough and forming the loaves, Zakowski's hands and body are constantly in motion.
He often works for 22 hours straight, yet he's never too tired to staff his booths at the year-round farmers market in Sonoma on Friday mornings and the seasonal Tuesday evening market on the Sonoma Plaza, May to October.
"I don't want my bread to be on a shelf, because that's when things go south," Zakowski said. "I love the farmers market because all these people come … and I talk to every one of my customers."
As if his baking routine is not complicated enough, Zakowski recently purchased a 16-inch stone mill in order to mill his own grain.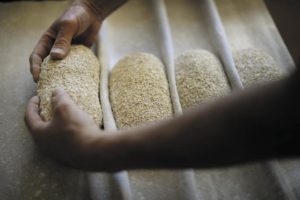 "I will be milling 40 to 50 percent of my grain," he said. "But I'd like to mill it all."
Zakowski worked for bakeries in Chicago, Dallas, Houston and Phoenix before moving to Sonoma in 2005 to manage Artisan Bakers for Ponsford. On his day off, he baked his own breads.
By the time he left a year later, Zakowski had gained a reputation for a line of mostly whole-grain breads, often finished with a signature stencil.
His traditional baguette is $4, an 800-gram einkorn loaf $10.
"All you really need is a set of hands and an oven," he said. "For me, it's a never-ending pursuit."
rEVOLUTION Bread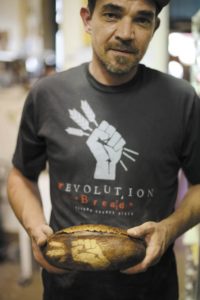 Colvin, 40, started rEVOLUTION Bread in 2012, when Proposition 37 (the GMO labeling proposition) was on the state ballot. In addition to showing his support for the proposition, which failed, he wanted to show people how good bread could be.
"Bread has been the bastard of the food world," Colvin said. "It doesn't get the respect it deserves, considering it was one of the first foods humanity ever came up with."
He compares baking to farming, a humble profession that hasn't changed much over the years when it's done on a small scale.
"Flour is the same as working with the land. It's never the same, and it's never consistent," he explained. "As a baker, you have to be technical-minded, but it's artistic and something you can use for self-expression."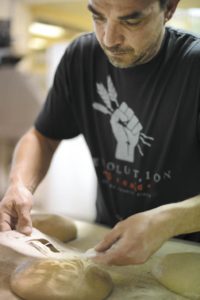 Colvin got his start at the Downtown Bakery in Healdsburg in the early 1990s. "Kathleen Stewart had a huge impact," he said of the bakery's founding owner. "She came out of Chez Panisse, and I was surrounded by all this fresh produce."
In the late 1990s, Colvin managed Artisan Breads, then worked for Bennett Valley Bakery. For the last six years, he has been head baker at Model Bakery in St. Helena, where he began working on his own breads two years ago.
"I started experimenting and had a lot of huge failures," Colvin said. "You are trying to help guide this process. The bread is going to do what it wants to do. You have to approach it with the mindset that making mistakes is going to be your best teacher."
This spring, he left Model Bakery to set up his own shop in a Santa Rosa catering kitchen. The breads are sold at Thistle Meats and Green String Farm in Petaluma, the Locavore Store in Sebastopol and the Santa Rosa farmers markets at the Veterans Memorial Building on Saturdays and the West End Market on Sundays.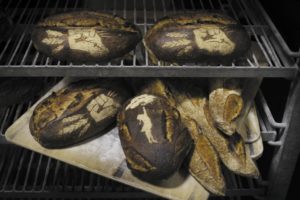 Prices range from $4 to $5 for a khorasan baguette, which has a natural sweetness and nutty flavor, to $8 for breads made from emmer or einkorn. Although these whole-grain breads are not inexpensive, they are so nutritious and filling that you don't need to eat them in large quantities. They're easier to digest than commercial bread because of the long fermentation time, and the boosted flavor of the grains makes then more enjoyable. Plus, the antioxidants extend the bread's shelf life.
"Sonoma is super-lucky to have these kinds of bread bakers," Ponsford said. "Just eat Mike Zakowski's breads and you will never go back. It takes care of so many other sins you may be committing."
IT'S ALL ABOUT THE GRAINS
"The Grain Divide," a new documentary about the rise of the local grain movement in the U.S., features some of the top chefs, bakers and food leaders in the country, including Bob Klein of Community Grains in Oakland, Berkeley food writer Michael Pollan, and Dan Barber of Blue Hill Farm in New York.
Sonoma growers, millers, bakers and distillers are also hopping on the movement, with the recent formation of the North Coast Heritage Grain Alliance.
Spearheaded by Deborah Walton of Canvas Ranch in Petaluma, the nonprofit alliance is a long-term project that is trying to pick up where Doug Mosel of the Mendocino Grain Project will be leaving off.
"Doug has the equipment for harvesting and cleaning the grain," Walton said. "He's been the only game in town for the five North Bay counties of Sonoma, Napa, Marin, Lake and Mendocino, but he's an older gentleman and only has so much capacity."
With Mosel's blessing, Walton gathered 42 farmers, millers, bakers, chefs and distillers for a workshop earlier this year that explored how to grow the local grain industry.
The alliance identified several areas requiring attention, including sharing of equipment, educating the public about whole grains, sharing knowledge about what kinds of grains grow best, and the individual needs of brewers, distillers and bakers.
"We might want to have a central milling place, and a central dehulling space," Walton said. "But that would be down the road."
Equipment such as the combines for harvesting will be purchased by individual farmers, who would get extra income by providing those services to others. A few growers, such as Open Field Farm in Petaluma, have already expressed interest, Walton said.
The alliance has also procured a grant worth $30,000 in services that would provide research on a strategic planning initiative, brand identity and a website that would pave the way for education grants.
"I really see this as an arm for educating people, including the bakers," Walton said, citing an example. "Yes, you can make pastries with farro, which I learned from Chad Robertson (of Tartine bakery in San Francisco)."
One of the big challenges facing the alliance is pricing. Grain requires a lot of land, and that means the products made from local grain are not going to be cheap.
"It's not for everyone," Walton said. "But every bit of support to a local grain economy is critical, to all of our health and to the value of the land around here."
In a few years, Walton hopes the alliance will have enough momentum to build a central granary, where the public can see how grain is milled and packaged.
"We're climbing up the peak in the interest in all of this," she said. "Somebody's got to dream and somebody's got to do. So far, the response has been phenomenal."
BAKERIES
Sonoma offers an abundance of artisanal bakeries with retail locations, where one can pick up a loaf or two for a picnic in the redwoods, on the beach or at a winery. Here are some favorites.
Basque Boulangerie: 460 First St. E., Sonoma, 707-935-7687, basqueboulangerie.com.
This longtime cafe and bakery on the Sonoma Plaza offers a variety of breads, including sweet French, sourdough, epi, brioche, challah, multigrain and whole wheat. 6 a.m. to 6 p.m. daily.
Costeaux French Bakery: 417 Healdsburg Ave., Healdsburg, 707-433-1913, costeaux.com.
This award-winning bakery carries a wide range of rustic baguettes and batards, including an extremely popular one with nine grains. 7 a.m. to 4 p.m. Monday through Thursday, 7 a.m. to 5 p.m. Friday and Saturday, 7 a.m. to 1 p.m. Sunday.
Della Fattoria Bakery: 141 Petaluma Blvd. N., Petaluma, 707-763-0161, dellafattoria.com.
Using a natural starter, this bakery offers large, rustic loaves baked in brick ovens heated with wood fires. Breads include polenta batard, pane integrale boule and the famous Meyer lemon-rosemary campagne boule. 7 a.m. to 3 p.m. Monday through Friday, 7 a.m. to 3 p.m. Saturday and Sunday.
Nightingale Breads: 665 Front St., Forestville, 707-887-8887, facebook.com/NightingaleBreads.
This bakery makes traditional European-style breads shaped by hand and baked in a wood-fire oven with organic flour, grains and seeds. Local cheeses and other picnic fare are also for sale. 11 a.m. to 6 p.m. Wednesday through Friday, 10 a.m. to 4 p.m. Saturday.
Village Bakery: 1445 Town and Country Drive, Santa Rosa, 707-527-7654; 6760 McKinley St., Sebastopol, 707-829-8101; villagebakerywinecountry.com.
These two outlets offer award-winning hearth breads, plus a breakfast and lunch menu. Santa Rosa bakery open 7 a.m. to 6 p.m. Monday through Saturday and 8 a.m. to 2 p.m. Sunday. Sebastopol bakery open 7 a.m. to 6 p.m. Monday through Saturday and 8 a.m. to 3 p.m. Sunday.
Wild Flour Bread, 140 Bohemian Highway, Freestone, 707-874-2938, wildflourbread.com.
Wild Flour features brick-oven-baked sourdough breads and specialties such as cheese fougasse and goat flatbread. 8 a.m. to 6 p.m. Friday through Monday.