It's just before noon on a tranquil morning, east of the jetties at the mouth of Bodega Harbor.
As we paddle out in kayaks from Doran Beach to check Gerard Nebesky's crab pots, his partner, Anna Ming, runs along the beach chasing Olive, their 3-year-old daughter. A 1968 Airstream trailer anchors their campsite, carefully guarded by Cesky, their dog named after a small town in the Bohemian region of Czechoslovakia, not far from where Nebesky's father once worked as a metalsmith.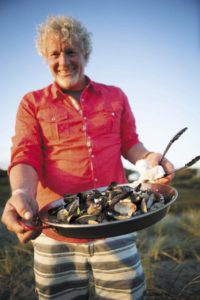 Earlier in the morning, Nebesky had baited his crab pots with chicken thighs and squid. Now, as he pulls in each pot, bare feet dangling in the frigid water, legs straddling the kayak for leverage, he drops a crab or two into the hull of his boat, including a hearty 2-pounder caught near the jetties. After six pots, the haul is just under limit: seven Dungeness, one stone crab and one red-rock crab.
It's the same fresh crab that's cracked atop the massive paella dishes that have made Nebesky famous not only at Sonoma farmers markets, festivals, weddings and winery shindigs, but well beyond. He's cooked for more than 4,000 people in a 10-foot pan at Maker Faire in New York. At Burning Man, he does a Friday night paella every year. From Coachella to Outside Lands to High Sierra, he works the music festival circuit. He brought his pan to actress Teri Hatcher's 40th birthday party in Los Angeles.
And the same pan was flown to the Turks and Caicos islands for "Saturday Night Live" star Rachel Dratch's 40th birthday bash in the Caribbean. When celebrity chef Bobby Flay went looking for a paella foil for his Food Network show, "Throwdown with Bobby Flay," he chose Nebesky — and lost.
"I never thought paella would take me this far," Nebesky said when we reached shore. "It's been a total whim. But you know what it is? It's not the food; it's a social dish. You're sitting around making it for two hours and all these stories are being told and people are getting to know each other. The food is always the same, maybe it's better some times than others, but the stories are what make it a wild success."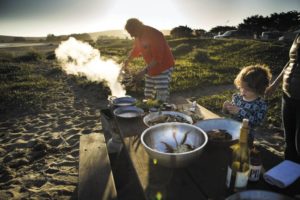 Back at the campsite, Nebesky steams the crab for 20 minutes before scooping out the rich butter inside each shell, then cracking the meat-filled shells and tossing them in a spicy Asian rub made from ground dragon peppers, black vinegar, peanut oil, soy sauce, lemon and salt. On this day, paella's not on the menu. Nebesky is in the mood for a seaside lunch sourced from throughout Sonoma. The fresh tomatoes in the cioppino fish stew are from Bloomfield Farm in Petaluma. The porcini mushrooms in the farro grains were picked on his land. The 2005 red wine blend he made comes from A. Rafanelli Merlot, Cabernet Sauvignon and Petit Sirah grapes grown in Dry Creek Valley. And the mussels were harvested at low tide the day before at Bodega Head.
As a family, they've been camping at Doran Beach for a week now. Their house in Freestone is less than a half-hour away, but it's still a welcome retreat during their annual down time from January to March. Once the wedding and festival season starts in April, they'll work several hundred events in a year, sometimes as many as four in one day.
So how did a Czech with an Aussie for a mom wind up as the go-to Wine Country paella guy?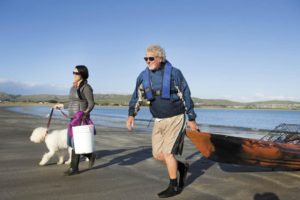 "I like to say I'm from the very small Czech region in Spain," Nebesky tells people.
What started with a pan and a butane burner on a 2003 back-country ski trip in the Spanish Pyrenees fueled a paella empire. He was dating a Spaniard at the time and found himself appointed as "cook, dishwasher and food schlepper" on a series of ski trips.
"I needed to make something out of one pan" Nebesky said. "Instead of doing Power Bars, I wanted to do something memorable."
It wasn't that much of a leap. After graduating from high school in Sydney, Australia, Nebesky, now 49, and his brother opened an American-style diner in New Zealand. A wandering soul, he then ran the Bohemian Café in Occidental for 11 years, closing in 2001 after the building owner wouldn't sell.
"Once I discovered how easy it was to pull off paella, I started doing it everywhere," he said, including cooking at 29 degrees below zero at 21,000 feet in the Andes Mountains. "It's about bringing people into a circle. It sparks this primal thing inside of us."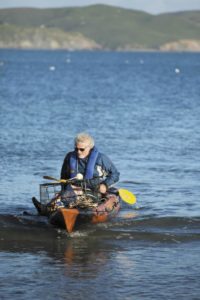 Back in Wine Country, Nebesky's first commercial paella gig was in 2004 at Vincent Arroyo Winery in Calistoga. He still has a photo of himself cooking in a tiny 28-inch pan at his first job. ("At the time I thought it was a monster pan!") He would set up shop in front of Oakville Grocery in Healdsburg on Tuesday evenings during the summer, when live music concerts draw hundreds to the plaza. As word got out about the "Paella Guy," other wineries started booking him and he soon graduated to a 5-foot pan.
Over the years, his recipes have evolved. In Spain, paella (derived from the Latin word for pan, "patella") is the equivalent of a national dish. Saffron, rice, chicken and seafood are the most common ingredients, but Nebesky likes to mix it up a little. He adds garbanzos for color and texture, not something you'll see in Spain. He adds spring onions and sometimes Italian sausage.
His secret to socarrat, the coveted crunchy crust of rice at the bottom of the paella pan, is "taking your time and not stirring it," he explained. It's a leap of faith. You have to trust that it's not burning and "use liberal amounts of olive oil — that's your insurance."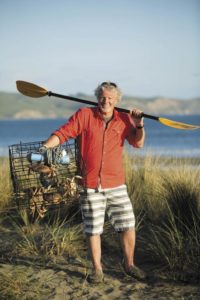 When Ming met him, "He had this old notebook in his car where he'd scratched down what gigs he was doing," she recalled. "It was all willy-nilly and pretty much a one-man show." She started by cooking with him, creating massive food mandalas colored by fresh yellows, reds and greens. These days, she mostly lines up the gigs and does the books, along with traveling from festival to festival.
"We always joke that we're turning into carnies," she said.
Looking to the future, they dream of one day opening a paella restaurant.
"We've got a way to make paella really fast now," Nebesky said. "We're modeling it after a pizzeria where you build your own. If you can imagine introducing pizza to the United States for the first time, that's what this is going to be like. I think it's going to be a really big hit."
Gerard Nebesky also dreams of giving pot farmers a run for their money by harvesting saffron in Northern California.
Near the end of our lunch, Nebesky received a text from a friend asking what he knows about Iranian saffron. He lights up with a big smile.
"You know the hydroponic systems that people use to grow weed?" he asked. "We figure, why don't we set up the same system and grow saffron and we'll make like 20 times as much money."
There are now three raised beds in Nebesky's backyard, packed with 200 bulbs of crocus flowers that yield the orange saffron threads that are one of the most expensive spices in the world, and are vital to seasoning paella. He has a friend in France who harvests a kilo of dried saffron a year and sells it for 55,000 euros (approximately $62,400).
"Every year, the flowers double," Nebesky said with a smile. "Can you imagine?"