A new tasting experience at a winery on the northwest shoulder of Sonoma Mountain has something for grown-ups and kiddos alike.
The winery, Belden Barns, recently unveiled special scavenger hunt backpacks for kids who accompany their parents for tastings. While mom and dad taste through the latest releases, kids can borrow the packs and wander the 55-acre property in search of flora, fauna, and other random or whimsical items.
There are eight backpacks in all, and they're free for families on a first-come, first-served basis.
Each of the red or blue backpacks contain binoculars, a compass, a magnifying glass, a set of crayons, a journal and a guide to local birds or insects.
Of course, they also contain a checklist of things to find; participants are encouraged to explore with purpose and check off as many items as possible. Among those items on the list: An acorn, an owl pellet, a feather, something heart-shaped, a piece of trash.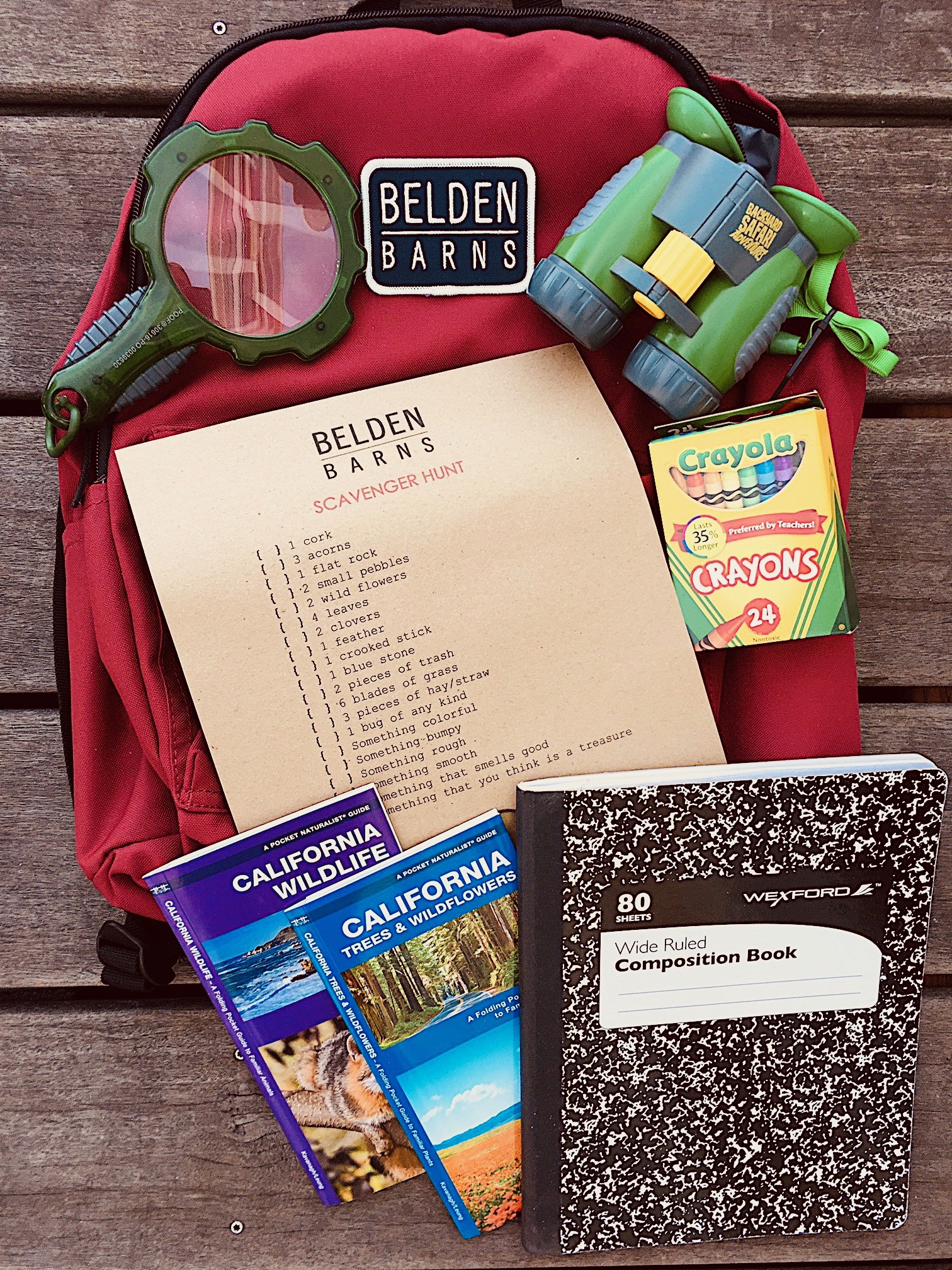 Belden Barns co-owner Lauren Hirshfield Belden came up with the idea after being inspired by a similar program at an arboretum in Martha's Vineyard. Belden, who has two young children with her husband, Nate, described the original experience as a perfect combination of education and fun, and wanted to replicate the mix back home in Sonoma County.
"We're constantly looking for ways to make this entire experience more family friendly," she said. "The scavenger hunt keeps kids busy but also gets them out and about, exploring the property so they can see where this wine comes from."
Kids who find all the items on their lists receive a tiny trinket; lately it's been a magnifying glass the size of a grown-up's thumb.
Rules of the Belden Barns scavenger hunts are simple: cooperation is good, fighting is bad, don't wander off-property, stay out of irrigation ponds. Kids also are reminded not to eat too many grapes off the vines (20 acres are planted) and not to pull handwritten wishes off the "Wishing Tree," an old oak to which visitors tie tags with handwritten hopes for the future.
Lauren Hirshfield Belden adds that the "golden rule" for all who participate in the hunt is to have fun.
"As parents who love wine and spending time with our kids, we really wanted to make sure we were able to create something here that was legitimately enjoyable for everyone—parents and kids alike," she said. "Elsewhere in the industry the bar was so low. Some places had cornhole. Some had coloring. We asked, 'What if we could make wine tasting as great for kids as it is for adults?' I'd like to think this answers that question."
Belden Barns is still small—the winery produces no more than 2,500 cases per year. Tastings, held in an old barn near the family's home, are by appointment only, include six wines, and usually last about an hour. The backpacks are a test run for when the Beldens have a full-time tasting room for which they broke ground this summer.
Belden Barns also is a working farm and sells produce and several farm goods such as cornmeal and beans in a makeshift store.
5561 Sonoma Mountain Rd, Santa Rosa, 415-577-8552, beldenbarns.com. Tastings by appointment.