Chef James Byus really doesn't want to cook you a well-done burger at his Santa Rosa restaurant, Vine Burgers.
He will, of course. But it pains him to see the high-end beef, pork and lamb he's sourced locally, ground locally and carefully dressed with a variety of housemade aiolis turn into a dry, gray hockey puck.
"Vine Burgers isn't just a regular burger joint. I want to make the best burgers in town," he said after serving a generous Calistoga beef burger ($15), cooked medium (slightly pink in the middle) and dressed with fresh lettuce, onions, tomato and crisp applewood-smoked bacon. A toasted brioche bun, with a light smear of chipotle barbecue sauce and melted cheddar, soaked up the juices.
"We're slowly weeding out the well-doners," he joked, referring to customers who refuse to eat burgers with any pink in the middle.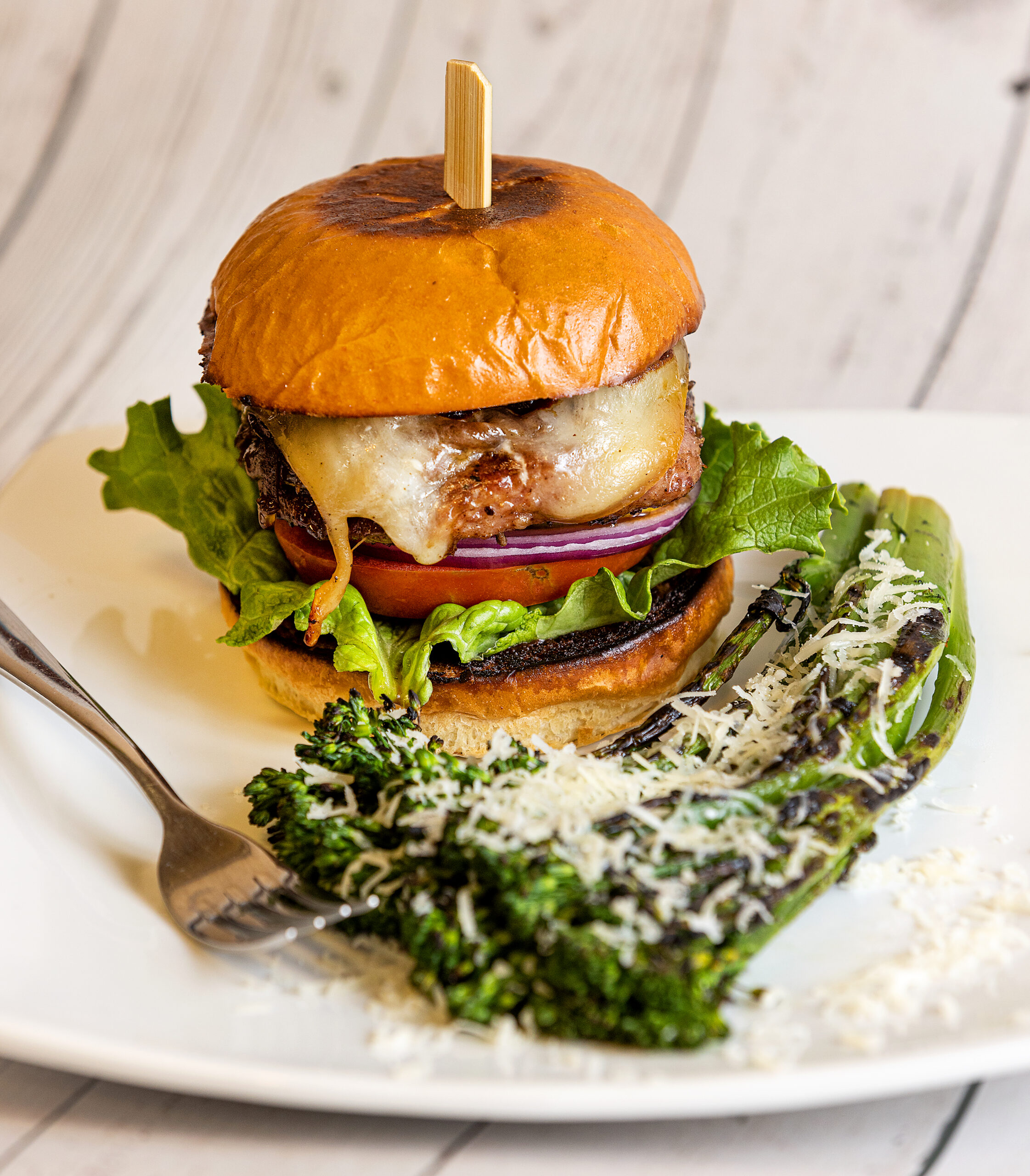 Byus, who opened his off-the-beaten-path burger and wine restaurant in early 2021, has worked in kitchens since childhood, starting with his parent's Maryland bakery.
"I grew up in a bakery. I remember sleeping on the flour bags," he said. As a young chef, he set his sights on restaurants like Legal Sea Foods, a Boston-based seafood restaurant known for its crab cakes, lobster and local fish.
He pays homage to those crab cakes with his version at the restaurant, made with fresh crab from Costarella Seafood in San Francisco and baked rather than fried. The Crab Cake Sammy ($24) is topped with mustard aioli. It's a solidly built sandwich that needs nothing else, although you can get it garnished with gold leaf atop a beef burger patty with Gruyere and bacon, if the mood strikes you ($50).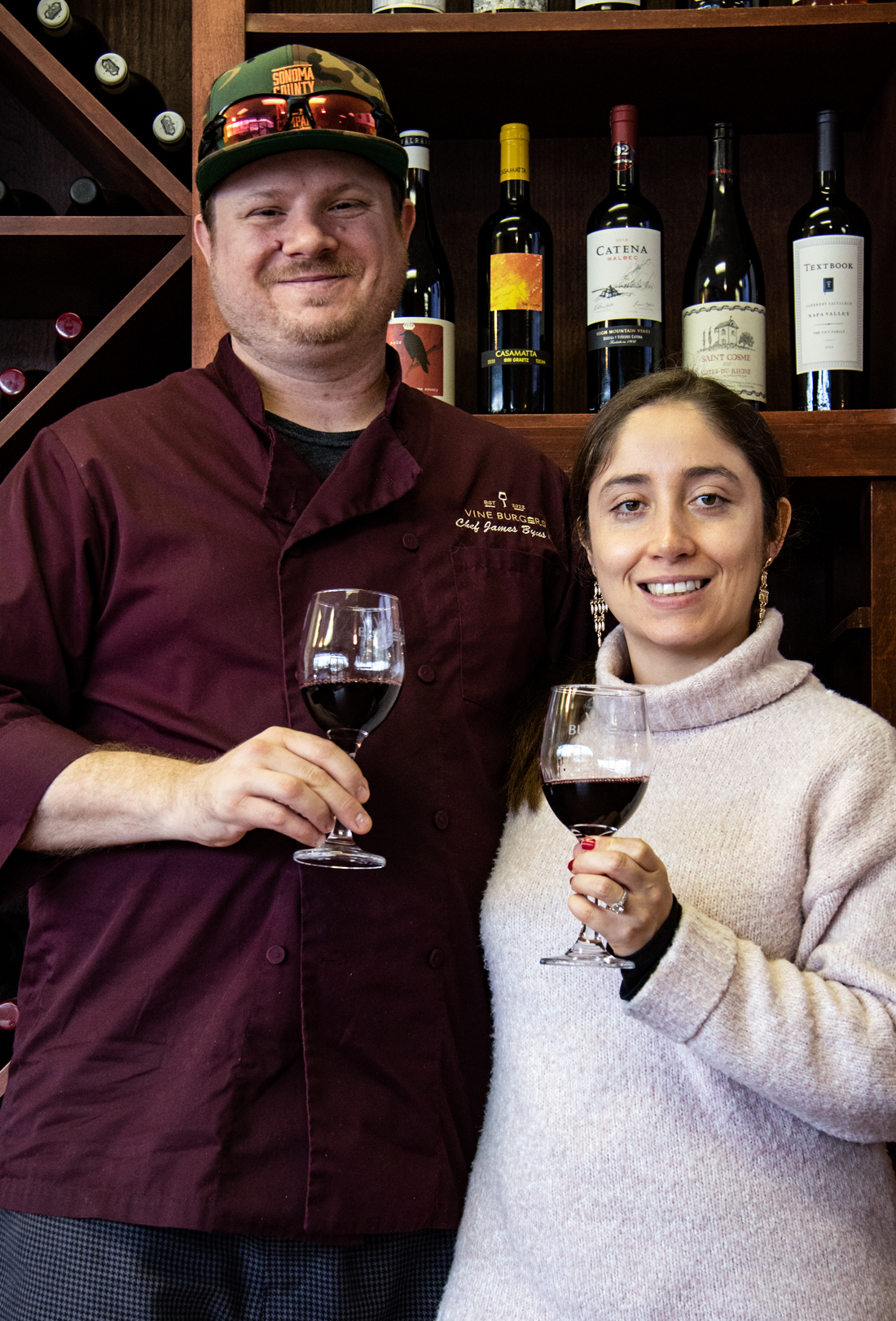 Other menu items include a lamb burger with feta sauce ($16), ground tuna burger with Cajun seasoning ($18), salmon burger ($15), chicken burger ($15), turkey burger ($15) and pork and bacon burger ($15, add sauteed onions and glazed mushrooms for an extra $1.50).
Don't miss the just-as-awesome sides like fried Brussels sprouts with garlic butter and bacon ($8), fried pickles ($8) or street corn ($7) with mayonnaise, crème fraîche and Parmesan cheese.
But Byus also wants to get you excited about pairing some wine with that burger.
In addition to his cooking chops, Byus is a wine connoisseur who spent nearly a decade in the wine industry, first on the East Coast and later in Sonoma and Napa.
"I just fell in love with wine. The three things I truly love are food, wine and people," he said, adding that many local winemakers have come in to try his burgers.
"I want to bring burgers up and wine down, making them both really good and approachable," Byus said, referring to his gourmet-style burgers and well-curated list of local and international wines.
Though hiring staff has been an ongoing challenge, Byus' wife, Maria Vera, has been helping him with restaurant service and weathering the long hours and challenges of owning a fledgling restaurant.
"People have no idea what it takes to get here. But we've just seen so much love," Byus said.
Vine Burgers is located at 3579 Industrial Drive (near the old Kmart) in Santa Rosa; 707-536-9654, vineburgers.com. Open 11 a.m. to 9 p.m. Sunday through Thursday and until 10 p.m. Friday and Saturday.