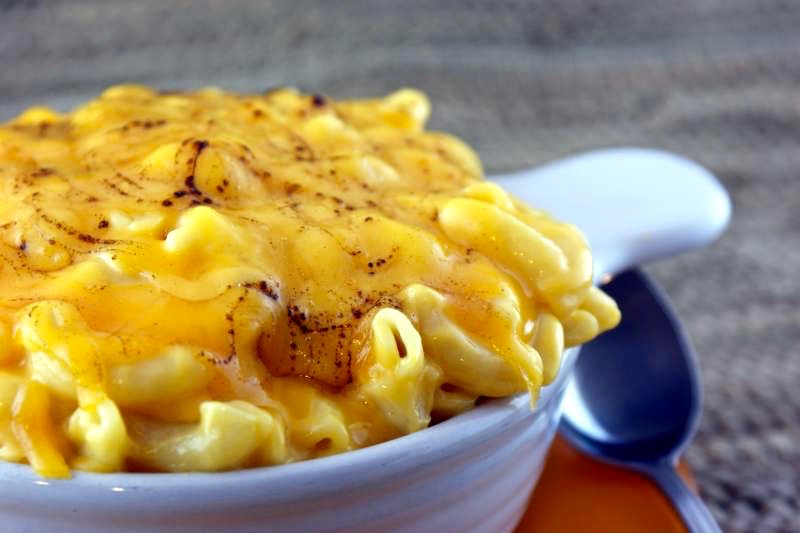 Restaurant menus are chalk full of dressed up comfort foods, but none seem to grab the attention of both casual and fancy diners quite like macaroni and cheese. Located at the epicenter of Northern California's dairy land, with world-famous award-winning cheese makers on every corner, it is understandable that many of Petaluma's restaurants proudly boast their own version of this down-home staple.
Known as "macaroni pie" and "macaroni cheese" in the rest of the English-speaking world, cheesy pasta dishes have graced the pages of historic cookbooks dating back as far as the 14th century.
Thomas Jefferson first introduced mac and cheese to the new world when he served "a pie call macaroni" at a state dinner after encountered mac and cheese both in Paris and Italy. Sketches and descriptions detailing the process by which the noodles were made adorned the travel notes from his time in Europe. Jefferson even commissioned the purchase of a European machine for making the pasta, although it proved unsuitable so he later relied on imported macaroni.
Today, the United States is the world's top cheese producer so it is no surprise that mac and cheese is celebrated across our country. California follows closely behind Wisconsin with the second highest state cheese production, although our artisan and farmstead cheeses certainly take the (cheese) cake. During a five-week trip around the country last year, it was the rare cheese monger that I visited who was not well stocked with, and knowledgeable about Petaluma and west Marin cheeses.
In anticipation of Petaluma Animal Shelter's Oct. 9 Mac n' Cheese Challenge fundraiser, my food crew and I set out on the daunting, yet delicious task of trying as many Petaluma mac and cheeses as we could find. Although certainly not a complete list, we reached out to readers to find out which ones they like best, and then grabbed our forks and spoons and dug in. (Restaurants and locations are listed at the end of this article)
One thing we noticed across the board was that every restaurant we visited took particular pride in their version of mac and cheese and went out of their way to point out what made theirs special. I suspect this is in large part because mac and cheese is such an American tradition, but also think our obsession stems from the fact that out of all the menu items we peruse at our local restaurants and diners, mac and cheese is the one item that most of us can make at home, and often make quite well.
With local cheese makers rolling out award-winning cheeses of every style and flavor, even the casual home chef can create a work of art with just a bowl full of noodles and a little help from their local cheese monger. Ask Petaluma Market's cheese monger Marie Schmittroth to point you in the direction of the more meltable cheeses and you will be well on your way to creating your own masterpiece.
We started our journey at Speakeasy. Back in 2012, when Amber Driscoll and Roger Tschann first opened their doors, Speakeasy's was the first local mac and cheese that really grabbed our attention.
Growing up on the West Coast, I normally shy away from lobster dishes, partially on principle, and partially because lobster's flavor can sometimes be overpowering. When it comes to crustaceans, Petaluma is all about the Dungeness crabs, however, as with everything on Speakeasy's menu, their "Lobster Mac" ($13) is a crowd favorite.
Charley's Deli is back in the hands of Charley's family and produces a mean mac and cheese, along with other great deli and grilled items. Stacy (Terzian) Badaglia and husband Ron have done an impressive job raising Charley's flavors and quality to that which I remember from my childhood, and their mac and cheese is no exception. Topped with bacon and bread crumbs, the creaminess of this one stuck with our taste buds, caused an irrefutable craving for me, which quickly lead this one's disappearance.
Having led Seared to numerous Petaluma People's Choice awards since opening, including 2015's Best Chef award, it came as no surprise that Chef O'Donnell, using Cowgirl Creamery's Wagon Wheel cheese, has one of the best mac and cheeses in town. Available both on the happy hour menu ($6) and dinner menu ($9), Neuske's bacon and chicharrone breadcrumbs are well worth the additional $3. Chef O'Donnell's use of cavatappi noodles, a ribbed spiral noodle, offers plenty of surface area to trap all the wonderful flavors of this incredible mac and cheese.
Pub Republic's "Mac 'N Cheese" was tangier than most, and understandably so once I learned they use 2015 Harvest Fair Double Gold award winning Organic Spring Hill White Cheddar, which is clearly one of the best around. This mac is available as a full dish for $11 ($2 more for bacon), or as a side dish (with bacon) for $8.
Luma's "Truffle Mac n' Cheese" ($9) is made with fontina and cheddar cheeses, and clearly a touch of truffle oil. One of the more dense macs, it is creamy and filling. The crusted over top leads me to believe it may be baked in Luma's wood-fired pizza oven, which is a nice touch.
McNear's does not mess around when it comes to portion sizes, and their "Pork Lovers Mac n' Cheese" is no exception. This is a hearty mac and incorporates some unusual ingredients, like sundried tomatoes and asparagus, which accent the crispy pancetta, applewood bacon, sourdough bread crumb topping and decadent five-cheese cream sauce nicely.
Available both as a half-size ($12.95) and full order ($16.95), soup or salad are included. We opted for the minestrone soup, which coincidentally contained elbow macaroni.
The "Pork Belly Mac" ($8.50) at TAPS is also one of our "go-to" mac and cheese choices, especially because a simple change of pints can totally change the flavor profile of the mac and cheese.
Faron's BBQ never stands on tradition, which speaks volumes about this New Orleans transplant's commitment to culinary creativity. Faron's version is actually the farthest from being a traditional mac because he uses angel hair pasta, but the results are delicious and the unexpected texture is a nice surprise.
Roy's Chicago Doggery offers their spin on mac and cheese by balling it all up and tossing it into the deep fryer. I highly recommend adding this side to their very limited, Friday night only barbecue brisket and barbecue ribs plates.
Although Sax's Joint does not normally serve mac and cheese, they receive an honorable mention because of their commitment to community organizations, such as the Petaluma Animal Shelter, which presents the Mac n' Cheese Challenge. They won last year's competition in the "cheese only" category and return this year to defend their title.
But home chefs have just as good a chance of winning as anyone, as Petaluma Firefighter/Paramedic Kevin Larson can attest. Larson won last year's "meat" category, with the help of cheeses donated by Marin French Cheese and Lauren Chanel's, and returns to defend the Firefighters' title against this year's challenger, the Petaluma Police Department.
Larson will pull double-duty this year, also serving up his Coastal Acres craft brew, alongside fellow sponsor Petaluma Hills Brewing Company.
Through relationships with other county organizations, such as the Sonoma County Reptile Rescue, the Petaluma Animal Shelter is able to practice "open admission." This means they accept animals of all shapes and sizes. Whether it is cats, dogs, goats, snakes, or rabbits, no animal is turned away. Furthermore, because of the community's generosity this is a "no kill" shelter. These services would not be available but for fundraisers like the Mac n' Cheese Challenge.
Other sponsors and competitors include Fast Signs, Clover Stornetta, Rooster Run Event Center, Legacy Concierge Services, Brenda LaNoue (formerly of Secret Kitchen) and The Big Easy. And the Petaluma Creamery has graciously donated tons of cheese so the competitors have great local cheeses to choose from.
There will also be musical entertainment, beer, wine and non-alcoholic beverages for purchase. Clo the Cow will be on hand providing refreshments and there will be a kids' craft and activities area.
This year's Mac n' Cheese Challenge falls on Oct. 9, and will be held at the Lucchesi Community Center. Tickets are $24 (kids from 3 to 12 years old are $5) and are available at www.macncheesechallenge.com. Or, better yet, get some friends and family together and enter as a competitor. Competitor spots are still available.
South Carolina's Charleston Mac Off is the largest event of this kind, hosting 6,000 guests, yet their state barely even produces cheese so it is apropos that the North Bay finally has its own Mac n' Cheese Challenge.
The original version of this article ran in the Petaluma Argus Courier.
---
Where to Find Petaluma's Best Mac n' Cheese
10 Petaluma eateries that specialize in cheesy comfort food:
Speakeasy, speakeasypetaluma.com
139 Petaluma Blvd.
Charley's Deli, www.facebook.com/
charleysdeliandliquor
601 Petaluma Blvd. S
Seared, petalumaseared.com
170 Petaluma Blvd. N
Pub Republic, pubrepublicusa.com
3120 Lakeville Hwy.
Luma, lumapetaluma.com
500 2st St.
McNear's, mcnears.com
23 Petaluma Blvd. N
TAPS, petalumataps.com
54 E. Washington St.
Faron's BBQ, faronsbbq.com
428 E. D St.
Roy's Chicago Doggery,facebook.com/RoysChicagoDogs
84 Corona Rd.
Sax's Joint, saxsjoint.com
317 Petaluma Blvd. S
---
What: Mac n' Cheese Challenge
When: Sunday, Oct. 9, 1-5 p.m.
Where: Petaluma Community Center, Lucchessi Park, 320 N McDowell Blvd.
Info: www.macncheesechallenge.com