You're already busy enough this holiday season, so why not make things a little easier? When it comes to the cooking, local restaurants, caterers and grocers have you covered. Whether you prefer to dine in, order takeout or shop for take-and-bake meals, there are plenty of options for holiday dining throughout Sonoma County.
Santa Rosa
Ricky's Eastbound: Preorder Christmas Eve dinner by Dec. 16 for takeout or delivery. The meal package includes Ricky's red wine braised short ribs, mashed potatoes, dinner rolls with butter, wood oven-roasted Brussels sprouts with bacon, and a mixed greens salad with candied walnuts, dried cranberries and golden raisins. Choose from a meal for two for $145, or a meal for four for $280. To place orders, call 707-536-6606 or email rickyseastbound@gmail.com. Orders will be ready Dec. 23. 5755 Mountain Hawk Drive, 707-843-5143, rickyseastbound.com
Healdsburg
Little Saint: Preorder a spectacular Bûche de Noël with a speculoos cookie base, chocolate sponge, milk chocolate croustillant with almonds, hazelnuts and dried figs. Luscious buttercream, accentuated with candy cap mushrooms, a cocoa glaze and chocolate decor, complete the Yule log centerpiece. Little Saint also is offering a four-course prix fixe Christmas Eve Supper ($95 per person) with an optional wine pairing ($50). Details at exploretock.com/littlesaint. 25 North St., Healdsburg.
Quail and Condor: Preorder dessert to pick up and take home for the holiday. Try the Bûche de Noël, a yule log made with halvah cremeaux, for 8 to 12 people. Also available is Nusstorte, a pastry filled with caramelized hazelnuts, walnuts and pecans, for 8 to 10 people; or a Christmas Cookie Box that includes ginger cookies, chocolate financiers, lemon shortbread and snowball cookies (12 cookies in total). Place orders online until Dec. 18, and pick up between 8 a.m. and noon Dec. 24. $41.21 to $61.80. 149 Healdsburg Ave. 707-473-8254, quailandcondor.com/holiday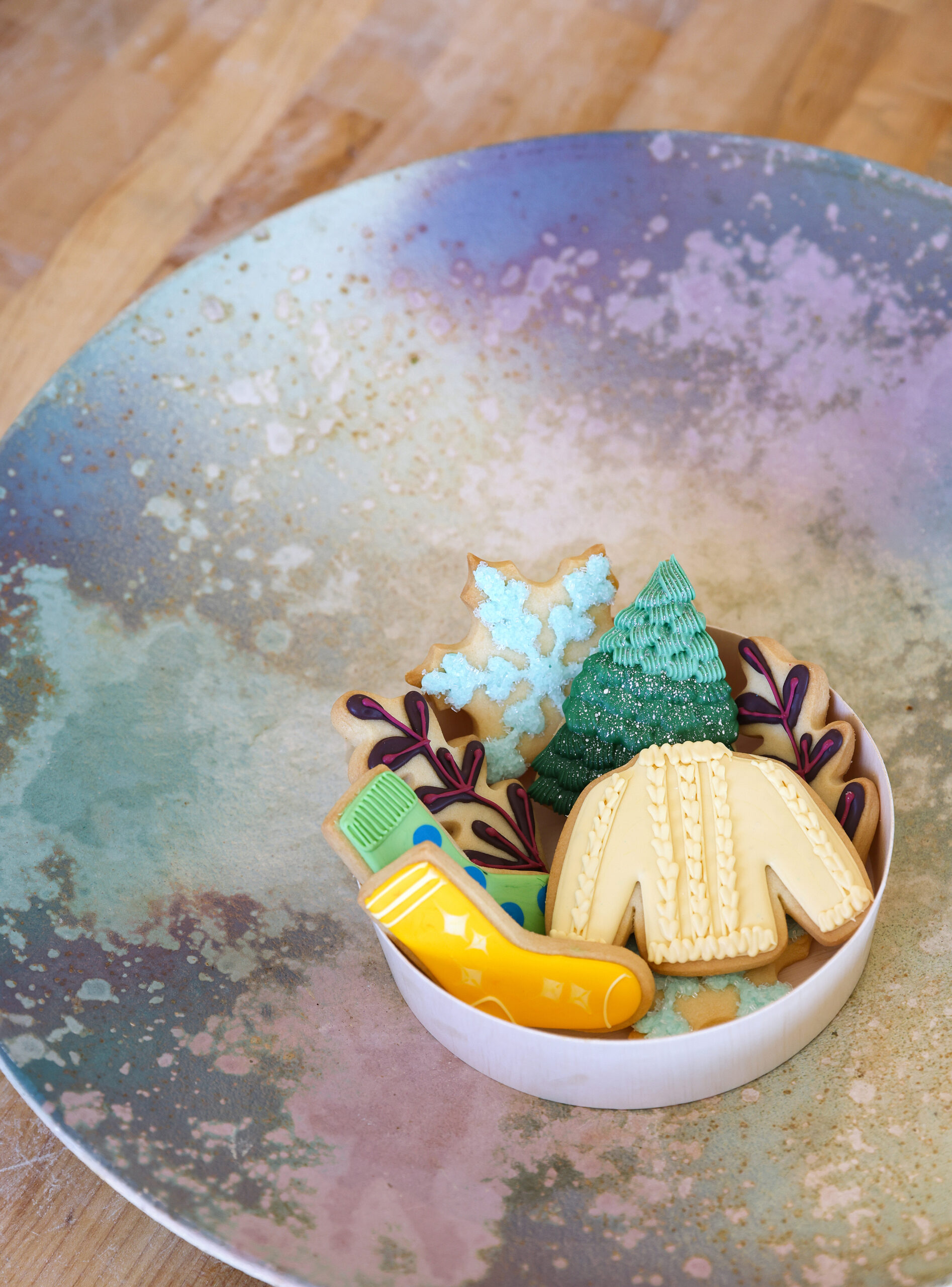 Spoonbar: Three-course prix fixe menu for dining in from 2 to 8 p.m. Dec. 25. Start with dishes like Front Porch Farm baby beet salad or Dungeness crab salad. Main course choices include New York steak, duck breast or Mr. Duncan's Mushroom Risotto. For dessert, choose between seasonal cheesecake, olive oil cake, chocolate bread pudding and baked Alaska for two. Children 12 and under can choose from rigatoni, chicken and fries, or a cheeseburger and fries. $89 for adults, $35 for children. Make reservations by calling 707-433-7222 or online at bit.ly/3j6I3lM. 219 Healdsburg Ave., spoonbar.com
Valette: Christmas dinner with prepaid pickup. Choose between a 20-ounce filet mignon with truffle butter and a side of roasted veal demi-glace ($110); or 1 ounces of the signature Ostera Caviar with egg, onion, creme fraiche and homemade brioche ($65). Wine packages are available for add-on, from $111 to $265. Preorder online at exploretock.com/valette and pick up Dec. 23 between noon and 4 p.m. 344 Center St., 707-473-0946.
Glen Ellen
Glen Ellen Star: Preorder takeout Christmas dinner. An option for two is the Beef Wellington, served with black truffle Bordelaise ($150). For a more substantial meal, add on sides that include housemade rolls, chicory Caesar salad, au gratin potatoes, creamed arrowhead spinach and sticky toffee pudding ($200). For a vegetarian option, opt for the mushroom and winter root vegetable pie that serves six ($65). Order at bit.ly/3uq9aKZ. Place orders between 7 a.m. and 10 p.m., pick up orders 10 a.m. to 1 p.m. Dec. 25. 13648 Arnold Drive, Glen Ellen. 707-343-1384, glenellenstar.com
Sonoma
Layla Restaurant at MacArthur Place: Prix fixe brunch, served 7:30 a.m. to 2:30 p.m. Dec. 24 and 25, will include shareable bites such as fresh maple pecan scones, smoked salmon avocado toast, gingerbread crumble and eggnog Chantilly. After the bites, choose from entrees such as lemon ricotta pancakes, short rib hash and eggs, and crab cake Benedict. $65 for adults, $35 for children.
Prix fixe Christmas Eve and Christmas Day dinners will be served 5 to 8 p.m. and feature bites like hamachi crudo, curry pumpkin bisque, pork tenderloin and fresh scallops. Guests can add Burgundy Black Truffle or Tsar Nicoulai Estate Caviar to each dish. Dessert options include a chocolate croissant pudding, poached pear or basque cheesecake. Cocktail and wine pairings are available upon request. $110 for adults, $45 for children. 29 E. MacArthur St., Sonoma. 707-938-2929. macarthurplace.com/food-drink/layla-restaurant
Sonoma Grille: Dine in 4 to 9 p.m. on Christmas Eve. The menu will include starters such as Caesar salad and clam chowder, or "Ocean View" seafood options like steamed mussels, oysters or Monterrey Bay calamari. Entrees include prime rib, lobster risotto and saffron pappardelle. There will be dessert specials, as well as creme brulee, chocolate torte and tiramisu. Reserve a table at bit.ly/3UChbqN. 165 West Napa St., Sonoma, 707-938-7542, sonomagrilleandbar.com
Wit & Wisdom: Three-course prix fixe meal for dining in on Christmas Day. Starters include King Crab and endive Caesar salad, and tagliatelle with truffle. Main course choices include beef short rib with truffle jus, and sea bass with roasted cauliflower and fennel puree. For dessert, options include white chocolate gingersnap sundae, creme fraiche crepe cake, and a dark chocolate candy bar. Reservations available from 4:30 p.m. to 6 p.m. Dec. 25. $115 per person. Make reservations at bit.ly/3Be2jI8. 1325 Broadway, Sonoma. 707-931-3405. witandwisdomsonoma.com
Kenwood
Tips Roadside: Christmas dinner to-go. The menu includes three meals that serve four, including fried chicken ($180), prime rib ($300), and a combination of prime rib and fried chicken ($400). Sides include mashed potatoes, grilled vegetables, rolls and a holiday wintergreen salad. Dessert choices are a homemade cheesecake or homemade caramel apple pie. Place orders at tipsroadside.com until Dec. 20. Pick up orders noon to 2 p.m. Dec. 24. 8445 Sonoma Highway, 707-509-0078. tipsroadside.com
Petaluma
Stellina Pronto: Holiday sides and desserts both sweet and savory. Their sweet menu has Italian panettone, apple crostata, olive oil cake with Grand Marnier, take-and-bake cinnamon rolls or a dozen assorted Christmas cookies. Savory options include Dungeness crab bisque, veal osso buco, lasagna Bolognese or a truffle mushroom lasagna with roasted mushrooms, truffle Bechamel sauce and Parmesan. Preorder by Dec. 21 at stellina-pronto.square.site or call 707-789-9556. 23 Kentucky St., Petaluma.
Stockhome: A traditional Swedish julbord — a family-friendly meal featuring holiday specialties — will be available to-go Dec. 23. The julbord serves two and includes a variety of pickled herring (mustard, grandma's classic, saffron and leek), dill-cured salmon ("gravlax"), hot mustard-baked Christmas ham ("julskinka"), ginger-glazed spareribs, Swedish meatballs and more. For dessert, there's Santa's rice pudding. All menu items are made from scratch by Swedish chef Roberth Sundell, including a pig's head terrine ("sylta") and pâté of elk (lantpâté). Order online at bit.ly/3Pya7dD and select a time to pick up your order between 5 and 7 p.m. $180.00 for two. 220 Western Ave., Petaluma, 707-981-8511, stockhomepetaluma.com
Cotati
Down to Earth Cafe: Preorder Christmas Eve takeout. Three meals are offered: prime rib with potato and mushroom gratin, grilled broccolini, rosemary jus and Horsey sauce ($60 per person); short ribs with mashed potatoes, roasted Brussels sprouts and delicata squash hash, Horsey sauce and red wine sauce ($55 per person); and a crab roll kit with fresh Dungeness crab, torpedo rolls, garlic-herb butter, hand-cut Kennebec potato chips and side salad ($28 per person). (The prime rib and short rib meals include a Little Gem Caesar and choice of butterscotch pudding or sticky toffee pudding for dessert). Place orders by 8 p.m. Dec. 21 by calling 707-753-4925, and pick up between 11 a.m. and 6 p.m. Dec. 24. 8204 Old Redwood Highway, 707-753-4925. dtecafe.com
Guerneville
Agriculture Public House at Dawn Ranch: Three-course prix fixe meal for dining in on Christmas Eve. Start with fritto misto with sweet yams, or warm spinach artichoke dip with rosemary focaccia. Then, choose between winter wedge salad, grilled Caesar salad or fall pumpkin soup. Main course choices are chicken breast with grilled polenta, pan seared skin-on salmon, or filet mignon with asparagus and potatoes. Guests can add on one of the following desserts for $12: peppermint cheesecake, Bûche de Noël or Pennsylvania Dutch mousse. $79 for adults, $35 for children 12 and under. Reservations available from 5 to 8 p.m. Make a reservation by calling 707-869-0656 or at bit.ly/3BalbHV. 16467 California 116, dawnranch.com/dining.htm
On the coast
Coast Kitchen: Three-course prix fixe meal for dining in from 4 to 7:45 p.m on Christmas Ev . Starters include mushroom soup and pomegranate salad with smoked goat cheese. Main course choices include Oak Ridge Farms beef wellington, pan seared duck breast, and Columbia River steelhead trout. Dessert choices are chocolate bread pudding, gelato and sorbet. $85 for adults, $35 for children 12 and under. Reserve a table at bit.ly/3UDABeW. 21780 CA-1, Jenner. 707-847-3231. coastkitchensonoma.com
Grocers
Oliver's: Preorder and reheat Christmas dinner for six to eight people in two hours. For $149.99, receive the following in the Complete Holiday Dinner package: medium Dietsel turkey, stuffing, mashed potatoes with chives, vegetable medley, cranberry sauce, turkey gravy and a dozen pull-a-part rolls. Preorder at oliversmarket.com/product/holiday-dinner-cotati. Orders can be picked up Dec. 24. Stores will be closed Dec. 25. For more information, visit oliversmarket.com/store
Raley's: Preorder a heat-and-eat Christmas dinner, with four platters, two main courses, five sides and seven dessert options. Main courses in the meal deals include prime rib, Diestel turkey, butterball turkey or bourbon pineapple glazed ham, varying in price from $89.99 to $149.99. The glazed ham and Butterball turkey are also available a la carte. Meal deals include select sides, or order the sides a la carte to build your own meal. Dessert options include chocolate cherry forest cake, fruit tart and apple pie. Discounts on wine pairings are available. Preorder online at bit.ly/3W0r4zW for pickup Dec. 21 to Dec. 24.
Safeway: Preorder a precooked meal, choosing from three different options. One option is the prime rib dinner for five to six people, with sides including scalloped potatoes, green bean casserole, mashed sweet potatoes and spiced apples ($89.99). Another option is the spiral ham dinner for eight to 10 people, with the same previously mentioned sides ($69.99). Lastly, the turkey dinner for six to eight people is paired with mashed potatoes, stuffing, gravy and cranberry sauce ($59.99). Visit bit.ly/3HtJ15N to order ahead from a store near you.
Whole Foods: Preorder your Christmas dinner, with a large assortment of holiday meal packages. Varying in prices and sizes, options include main courses such as lobster tail, beef tenderloin, braised lamb shank, Atlantic salmon and roasted turkey. Meals can serve four, eight or 12. (Vegan option available for two.) Additionally, sort through over 35 appetizer options. Order 48 hours ahead at wholefoodsmarket.com/shop/COD to pick up Dec. 23 or 24. More information available at wholefoodsmarket.com
Sprouts Farmer's Market: Preorder and reheat your choice of dinner from five different holiday meal packages. Varying in serving size, choices center around a spiral-sliced ham, boneless beef rib roast, roasted boneless turkey breast, natural turkey or a vegan meal. Sides for these meals include stuffing, creamed kale and spinach, scalloped potatoes, cranberry sauce, plant-based sweet potato casserole and more. $43.99 to $95.99. Orders can be made for delivery and curbside pickup. Visit sprouts.com/order-holiday-dinner-online to place your order. 401 Kenilworth Drive, Suite 1040, Petaluma. 707-789-4976. sprouts.com/store/ca/petaluma/kenilworth-dr
You can reach intern Lonnie Hayes at lonnie.hayes@pressdemocrat.com.