Kevin Jorgeson sat in his tent, which dangled like a giant piñata more than 1,000 feet off the ground, and inspected his hands once again. The skin on his fingertips was shredded, the result of two weeks spent scaling the cold, rough granite of El Capitan, the towering monolith overlooking Yosemite Valley.
Jorgeson — a Santa Rosa native who'd grown up climbing the artificial walls at a local gym and the cliffs of Goat Rock on the Sonoma Coast — and his climbing partner Tommy Caldwell were deep into a punishing bid to make history on El Cap.
But halfway up the sheer 3,000-foot slab, Jorgeson was in trouble. He had been stalled for nearly a week on the climb's toughest single roped section, or pitch, having fallen eight times on a brutal, 80-foot-long, right-to-left traverse with dime-sized handholds and ledges for his feet that were little thicker than matchsticks. Pinching the razor-sharp rock over and over, he had ripped open the fingertips of his right index and middle fingers — the two digits he needed to execute the moves that would get him through the daunting Pitch 15.
"Fingers are pretty beat, which is a frustrating limiting factor, but a reality of this project," Jorgeson wrote to me in an email from the rock face.
The dispatch, sent via a solar-powered iPhone from the hanging tent he called home for 19 days, came at a pivotal moment. Caldwell had completed Pitch 15 and was pushing on, moving upward while his partner rested. With Jorgeson at a standstill, an ambitious ascent that seemingly overnight had drawn the world's gaze was suddenly cast in doubt.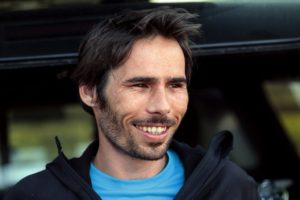 Hallowed ground for mountaineers for more than half a century, El Capitan's soaring face of glacier-carved stone has been a canvas for all manner of audacious climbing feats. They range from the early ascents of the 1950s and 1960s, in which climbers wore hiking boots and pulled themselves up on ropes, to the competitive bids for speed records over the past decade that have seen climbers top out in less than three hours.
Jorgeson, 30, and Caldwell, 36, were after something different. The pair had teamed up more than five years earlier to chart a new path to the top of El Cap. Ascending only through their grip on the rock, employing ropes solely for protection — a method known as "free climbing" — they sought to complete, in one sustained attempt, a nearly tile-smooth route with a poetic name: the Dawn Wall.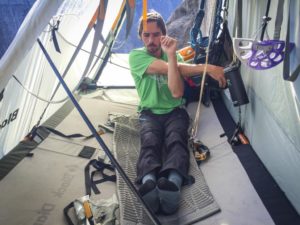 Even among elite climbers, the project seemed almost unachievable. Most agreed it was the toughest route in Yosemite, and very likely the most difficult big-wall climb in the world.
Jorgeson and Caldwell had set out Dec. 27 in relative obscurity. But a little more than a week into the climb, news of the project unexpectedly went viral. Fellow climbers, photographers and rubberneckers began assembling in a meadow on the valley floor to watch their progress. The attention, which grew to include newspaper reporters and broadcast outlets from across the world, represented a new level even for Yosemite, where the combination of spectacular scenery and daredevil mountaineering have long attracted the public's fascination.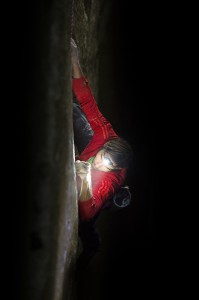 Jorgeson and Caldwell stoked much of the publicity themselves, posting near-daily recaps on Twitter and Facebook and granting several midclimb interviews. A camera crew strapped to the rock near the climbers provided eagle-eye images of their otherwise solitary and slow-moving endeavor. The hashtag #DawnWall began trending on Twitter.
And now Jorgeson was parked in his tent, visualizing Pitch 15 and hoping his fingers could heal for one more go.
As Jorgeson's loved ones back home in Sonoma County watched and prayed, the climbers neared a moment of truth. With an unpredictable weather window, both of them knew Caldwell couldn't wait forever. They did not openly discuss the possibility of Jorgeson giving up, and the Santa Rosa climber would later portray his mood in the moment as upbeat and determined, offering only a hint of the uncertainty that clouded his climb.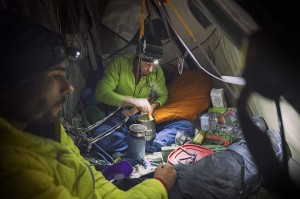 "It really did feel like a matter of time, but I'd be lying if I said I didn't have my doubts and frustrations going through that process," he said.
But he was less guarded in correspondence with family. After falling several times on Pitch 15, forcing him to back down, he sent a text message to his girlfriend, Jacqui Becker, that consisted of a single word: "Devastated."
Kevin Jorgeson always knew this moment might come, though. He had spent virtually his entire life pushing the world's vertical boundaries.
As a boy, Jorgeson would jump off the roof into the family pool when no one was looking, and terrify his mother, Gaelena, with Eskimo rolls in the kayak. Always, he was climbing.
"He hung off of every doorjamb," Gaelena Jorgeson said. "It was almost like how he got through a house. He would crimp anything — the edge of a table, the corner of anything."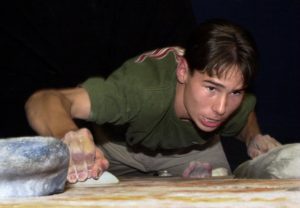 Growing up in Santa Rosa's Rincon Valley neighborhood, Kevin would climb a friend's brick fireplace when he went over for a playdate. He clambered up the exterior wall at Longs Drugs, his aunt serving as lookout. He scaled the rudimentary climbing wall at the back of Sonoma Outfitters when the store was on Third Street near Railroad Square.
It was almost enough to make the family forget how vulnerable Jorgeson was as a small child. When he was 5 months old, the natural sutures running front to back along the top of his skull fused prematurely. Doctors had to remove a 2½-inch-wide strip of bone from his forehead to the nape of his neck.
"We call him Zipperhead," Gaelena said. "If you part his hair it looks like a train track."
Kevin also had bouts of severe kidney pain as a young child. When he was 6 his physicians finally diagnosed a clogged tube in his urinary system. Jorgeson still has about one-quarter function in one kidney.
Jorgeson's life-changing event was the opening of Vertex Climbing Center in Santa Rosa when he was 11. He immediately became a regular at the gym on Coffey Lane, and soon was winning climbing competitions.
"He found what he's good at early in life," said Sarah McKay, co-owner of Vertex. "But also, he's a very serious person, a very thoughtful person, and I think that has a lot to do with it, too. I don't think just any talented young man or teen would have excelled as quickly or taken it as far as Kevin did."
Jorgeson gained wider acclaim in highball bouldering, which involves technically difficult but shorter routes on big boulders, usually with pads to break a climber's fall rather than ropes to catch him. He lined up his first sponsor — Marmot, the apparel and equipment maker long headquartered in Santa Rosa and now based in Rohnert Park — at 16. (see 2001 Press Democrat story on Kevin Jorgeson)
The attention was nice, but it wasn't what pulled Jorgeson into the sport.
"Everything goes quiet when you are in the zone," Jorgeson told The Press Democrat in 2011. "You are pasted like a freckle against the granite, but all the moves are working. You're moving smoothly, precisely, focused. I'm my happiest when I'm up there climbing."
Like many indoor walls, Vertex functions as the hub of Sonoma County's tight-knit climbing community, and Jorgeson quickly became a part of the inner circle. Older, more experienced climbers introduced him to choice outdoor spots stretching from Stinson Beach to Fort Ross. For those climbers, to this day, Jorgeson remains the cheerful but introverted teenager, or the energetic 20-something with remarkable skills.
"Kevin is probably one of the most, if not the most, precise climber on earth," said Rusty Klassen, a Healdsburg climber and water consultant who has known Jorgeson for 18 years. "Apart from being extraordinarily strong, he has a mapping intelligence in his head that is irrefutably an expression of his finesse as a climber. If there are 6,000 holds on a wall, he knows exactly where they are."
Climbing has taken Jorgeson all over the world, from Austria to Japan, and Brazil to South Africa. But he never lost his passion for working the Sonoma Coast cliffs. "I wouldn't call it a destination," he said recently. "It's a humble local spot, but for Sonoma County climbers it's the place to be."
Jorgeson's father, Eric, and brother, Matt, both live in Idaho. But his mother still lives in Santa Rosa, and Kevin, a Maria Carrillo High School graduate, recently moved back to Santa Rosa with Becker
after a couple years of vagabonding.
The world is Jorgeson's climbing wall, but this is his home.
"I'd say that's one reason he's shooting to stay in Sonoma County — which is kind of a different place for a professional climber to live," said McKay, Vertex's co-owner. "Most move to Colorado. It's a no-brainer. I think he prefers the intimacy of people who have known him a long time."
In 2009, Jorgeson happened to see a video about a climb Caldwell had been mapping out for two years — one that Caldwell, a well-known and seasoned professional climber, dubbed the Dawn Wall Project. The two knew one another, but hadn't done much on the rock together. When Jorgeson asked Caldwell if he wanted a partner, the answer surprised him: "Yes."
They became friends united in a nearly unimaginable quest. For Jorgeson, it would be the first big-wall climb of his life.
El Capitan has been climbed hundreds of times, along numerous parallel and interlocking routes. Many have free-climbed it — that is, scaled the rock using ropes for protection, but not to ascend. The Dawn Wall, however, had never been free-climbed.
"You look at it and you're like, that is porcelain," Jorgeson told me in July 2014. "… Day One, when Tommy and I met in the meadow to climb for the first time, I knew roughly what section of wall it was, but I literally couldn't see a weakness in the wall."
There are longer ascents than the Dawn Wall, and sections of other climbs that are tougher. But most seasoned mountaineers agree the route Caldwell charted on El Cap presents the most arduous sustained climbing on the planet.
It was this challenge that drew Jorgeson to the climb, along with his lifelong love of the outdoors.
"As mainstream media started to pick up on the story, we would read these headlines about thrill-seekers and hikers and conquering this and that," Jorgeson said. "This isn't so much a man-versus-nature type of project. On the contrary, it's such a cool thing to be in total balance with Yosemite and El Cap and put up this route. … It comes back to that inspiration, that dream of seeing something through."
Both climbers said they visited the wall in their dreams. Caldwell customized a training wall at his home in Estes Park, Colo., simulating one of the Dawn Wall's more acrobatic moves.
"This very clear objective drives my climbs," Caldwell said last summer. "All year long I'm thinking about it."
Every November he and Jorgeson would converge upon Yosemite with carloads of gear, and friends would help them schlep all of it to the top of El Cap — hundreds of yards of rope, plus food, clothing and camping essentials. They would spend weeks practicing various pitches along the wall. Several times they tried to "push" the route — complete it from bottom to top in one continual ascent — but they never got far.
The weather imposed boundaries. On even moderately warm days, the sun's rays blast the southeast-facing Dawn Wall — named because it catches the first light of day — like a tanning bed. Climbers' hands begin to sweat, and the rubber soles of their climbing shoes become gooey. Climbing in rain or heavy winds is out, too.
In effect, Jorgeson and Caldwell were limited to crisp, dry days. Some years, those were rare. In 2013, in the teeth of California's worst recorded drought, they went home before Christmas. It was simply too hot.
And yet little by little, they began to figure out the Dawn Wall. Caldwell finished the last unscaled section in November, and they resolved to push the route this winter.
It's strange to recall how little fanfare accompanied the launch. Friends and family eagerly followed their progress, but few people outside of the climbing world had any inkling.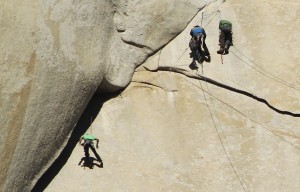 That changed in the early days of January, when media coverage snowballed and Jorgeson and Caldwell started popping up on news reports and in social media networks across the globe. People with no prior interest in climbing became fascinated with the two men perched on the side of El Capitan, sleeping in suspended tents called portaledges. They climbed largely at night to beat the heat, their lamps creating small circles of light on the massive rock face.
In a cruel twist, the initial wave of wider public attention arrived just as Jorgeson got stuck on Pitch 15. Klassen, the Healdsburg climber, said the struggle boosted the story's appeal. Jorgeson became Everyman, wrestling with his limits and an intimidating fortress of rock. People tuned in to see if he would persevere.
For Jorgeson's family, the test was torture.
"Seven days kind of breaks a mama's heart," Gaelena Jorgeson said. "You want to pick him up and put him on the summit. I did not want him in pain, did not want him to question himself, did not want him to give up."
Kevin Jorgeson took his third rest day while stuck on Pitch 15 and did his best to stay busy, warding off doubts. He stared at tricky holds and tried placing his feet at various angles. He applied copious salves to his hands. He obsessively studied weather reports and nibbled on ibuprofen. He visualized moves for Pitch 15 over and over. Most important, he analyzed video of his failures, searching for explanations.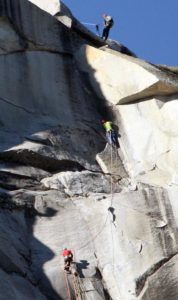 On Jan. 9, Jorgeson tried again. He fell. He tried again … and he fell. Once more he shimmied over to the crucial hand hold on the traverse, his 11th try at Pitch 15. As he pushed himself from the sharp rock, his right index finger split open in five places, spraying blood like a sprinkler head. If he tumbled, he'd have to enter another cycle of rest.
But he nailed the move. The project was alive.
"Pure joy," Jorgeson tweeted that night. "Pitch 15 finally went down after 11 attempts over 7 days…THANK YOU SO MUCH to everyone who has followed along, believed and supported us. It's not over yet."
In fact, the rest of the climb was anything but a cakewalk. Even when Jorgeson caught up to Caldwell they had another 1,000 vertical feet to tackle, along some unfamiliar and highly technical pitches. The toughest stretches in the middle of the climb were rated 5.14 on the standard Yosemite Decimal System. The pitches near the top were in the 5.12 category, still a challenge even for elite climbers.
On Jan. 14, just a couple hundred feet from the top, a maneuver on Pitch 30 proved more troublesome than anyone anticipated. It was a wide and diagonally ascending crack, a "flare." Jorgeson and Caldwell had climbed it only once, back in 2009.
"And it felt utterly impossible," Jorgeson said.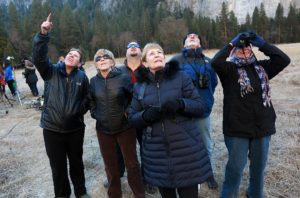 A few of the climbers' family members and friends had assembled on the summit. Many more were below in the meadow, along with dozens of onlookers and reporters, all fixated on El Cap. NBC News had set up a live video stream of Jorgeson and Caldwell on its website, capturing the homestretch in real time. The last section was within sight. And suddenly the whole project was at risk again.
"After my first attempt I was like, 'Holy shit. I'm gonna get shut down on the Dawn Wall because of a 5.12 flare pitch. On the last
day,' " Jorgeson said. "I tried to keep it together."
Caldwell had climbed the flare right-side-in. Jorgeson mimicked him without success. So the younger climber switched to left-side-in and created a new set of holds on the fly. It worked.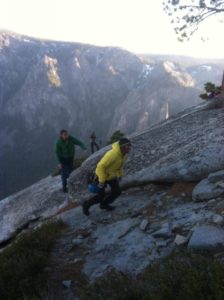 When the pair finally topped out about 3:30 p.m., cheers echoed from the meadow more than half a mile below. Jorgeson and Caldwell were grubby and unwashed, but were greeted warmly by loved ones, fellow climbers and a few media types at the summit.
"It's over," Jorgeson said. "I can't believe it." He called the climb "the most intense experience of my entire life."
Someone produced two bottles of sparkling wine from Iron Horse Vineyards in Sebastopol.
From underneath his puffy jacket, Jorgeson unveiled the lime green T-shirt he had worn for the entire climb. It bore a design from his late friend Brad Parker, a popular Sebastopol climber who had fallen to his death while "free soloing" — climbing without rope protection — on Matthes Crest in Yosemite on Aug. 16. Parker had proposed to his girlfriend just hours before on the summit of Cathedral Peak.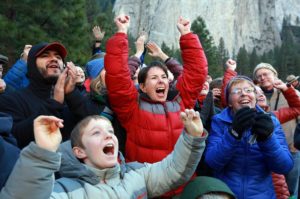 The logo of the foundation friends established in Parker's name to support outdoor education in Sonoma County was there on Jorgeson's shirt. And the climb, he said, was his grander tribute to Parker, whose memory pulled him through some of the toughest sections on the wall.
"There would be times I would be cruxing (on a difficult section) on the wall and I would be like, 'Help me out, Brad! I need some help right now.' And I'd pull through," he said.
Kevin Jorgeson's life changed the moment he stepped onto the rim of El Cap. Hours after that wobbly walk, he and Caldwell received a congratulatory tweet from President Obama, who proclaimed, "You remind us that anything is possible." A week later the climbers chatted with Ellen Degeneres on the set of her afternoon television show, and a week after that they were feted by the prestigious American Alpine Club, which made Jorgeson and Caldwell honorary members.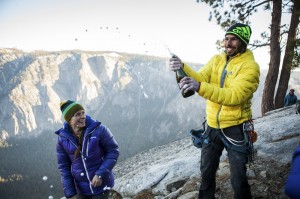 When Jorgeson spoke to me again by phone on Jan. 23, he was standing atop Turtleback Dome in Yosemite, where he was shooting a cover for Vanity Fair.
To the climbers' utter surprise, they have become pop-up heroes, Twitter-age symbols of grand adventure. They are expected to reap professional and financial gain from their triumph, but Jorgeson is determined to bend the attention to higher purposes.
"I think the Dawn Wall has given climbing a lot of great global visibility already," he said, openly wondering how greater money and influence might benefit not just him and Caldwell, but others in the sport. "I imagine it will be easier to accomplish the goals we set forth, but in radically new ways because of the resources at our disposal. Which is exciting."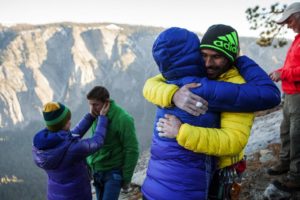 For Jorgeson, many of those goals will be articulated through Pro Climbers International, the organization he and Klassen founded in 2009. PCI promotes and advocates for climbers and sets up instructional events across the country. Jorgeson said he is determined to help other up-and-coming climbers avoid the inequity he said he sometimes experienced at the hands of sponsors.
Klassen is convinced Jorgeson has the goods to propel rock climbing onto a bigger stage, and that now is precisely the time to do it.
"It's a lot like surfing was in 1967," Klassen said. "This is that seminal moment, and Kevin is in a position to carry the conversation."
He is already proving an able spokesman. The day after Jorgeson and Caldwell summited, the National Park Service organized a press conference in El Cap Meadow. Caldwell had caught a cold, and his voice had been reduced to a dry croak, so Jorgeson did most of the talking.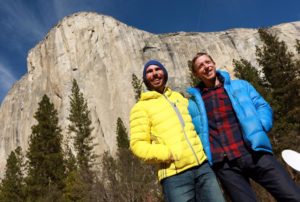 "I think what's interesting about this project is it has elements that everyone can relate to," Jorgeson said. "It's a big dream, it takes a lot of hard work to make it happen. There's elements of teamwork that Tommy and I have forged over the last six years. And those are the elements that any big dream needs to come true. So I hope that everyone that has been following along can take the Dawn Wall as an example of what's possible and find their own Dawn Wall."
Three days later, Jorgeson picked up the theme again, encouraging his Twitter followers to post their dreams along with the hashtag #WhatsYourDawnWall.
And something remarkable happened. Jorgeson started getting replies, lots of replies. Some were from rock climbers plotting their next big ascent, but many had nothing to do with the sport. They were intimate, heartfelt, sometimes beautiful, and sent by complete strangers.
"My Dawn Wall is to get my book published," a woman wrote.
"Adjusting to being a good father and husband. Having the patience to get through each day," a man wrote.
"Putting PTSD behind me and moving forward. Taken a lot of years but finally sending it," wrote a former soldier.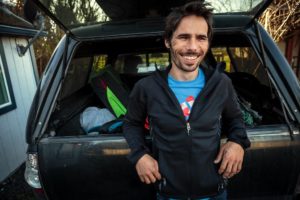 Just like that, Kevin Jorgeson had become America's sounding board. Inspired by his wild dream and soaring achievement, people everywhere were stepping up their goals.
From atop Turtleback Dome, the mountain winds muffling his phone, Jorgeson suggested the connections he and Caldwell made could be the real enduring impression of the Dawn Wall climb, as much as the awesome scenery and their pioneering feat on the rock.
"There was that relief of the stress of the climb being over when we topped out," Jorgeson said. "Now, in the aftermath, I don't think I'll have to worry about my livelihood anymore. I don't want to make this about money, but it is its own kind of relief.
"More important than that stuff, though, are all the cool opportunities that may arise, and the people who are inspired by our story. I think they're inspired because our project came from a very pure place. And I think it's great that people recognize that."
— Press Democrat reporter Matt Brown contributed to this story from the summit of the historic climb.