Wine Road Barrel Tasting, a harbinger of spring, may be the geekiest wine event of the year.
Rolling out their barrels and wine thieves in early March, winemakers from the Alexander, Dry Creek and Russian River valleys provide a scientific snapshot of how wine evolves, from grape to glass, as visitors taste wines that are not quite finished, still aging in wood barrels. There are no food pairings, no music, no other distractions. This event is all about wine, all the time.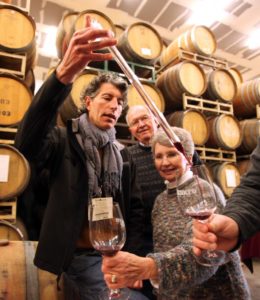 "It's a great education for people who are interested in learning about wine," said Beth Costa, executive director of the Wine Road-Northern Sonoma County, which sponsors the event. "The winemaker can talk you through the flavors they taste in the wines right now, then talk about how they feel the wine will evolve with more time in the barrel."
The curtain-raiser on the future started back in 1978 as a one-day tasting at six wineries. Today, the popular event is held at upwards of 130 wineries during the course of the first two weekends in March and attracts 12,000 people, from wine novices looking to train their palates to serious collectors planning to buy wine futures at a discount.
A few weeks before the event, winemakers choose which barrels they will draw from during the tasting. Collectors can peruse the list online to decide where they want to taste and purchase futures. They pay cash up front to receive a discount then pick up the bottled wine 12 to 18 months later when it's ready to drink.
Tasting young wines from barrels allows consumers to invest in the future of the winery, providing extra cash flow early on to the producers. It also offers a behind-the-scenes experience of the winemaking process. As participants sip the gangly wines, they pick up tips on discerning the absence of flaws and learn to recognize a good balance of fruit, tannin and acidity.
With no Robert Parker or Wine Spectator scores to use as a crutch, barrel tasters have to rely on their own palates. Before they know it, they're sniffing, swirling and sipping like a true wine geek.
Subscribe to Our Newsletters!