The nearly 3-year-old twins are climbing the small hill in their front yard to the lookout. Once the girls reach the top, they take in the sweep of the Napa Valley hundreds of feet below. It's a breathtaking view that reaches to San Pablo Bay and beyond. Their tiny silhouettes framed by the colossal backdrop, it's clear it will be some time before they grow into their names: Honorée-Josephine and Grâce-Antoinette Gallo-Boisset.
They are the fraternal twins of Gina Gallo and Jean-Charles Boisset, whose 2009 marriage joined two of the world's most powerful wine families.
Gina is the granddaughter of the late Julio Gallo, co-founder with brother Ernest of E. & J. Gallo, America's largest wine producer by volume. She has been a winemaker with the Northern California arm of the company for more than two decades.
Jean-Charles is the son of Jean-Claude and Claudine Boisset, founders of Boisset Family Estates. He is the president of the company, which is Burgundy's largest wine producer and owner of Sonoma County's Buena Vista Winery and DeLoach Vineyards, and Napa Valley's Raymond Vineyards.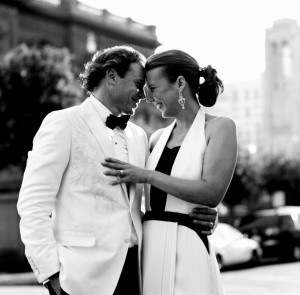 While the Boisset and Gallo businesses are separate, the nuptial tie has created a Franco-American family of four that lives in a world straddling two continents, with a home in Napa Valley and another in Burgundy.
In the eight years since their relationship began, Gallo and Boisset have weathered a major health scare, assuaged their families' concerns about the melding by marriage of powerful California and French companies, and committed to giving their daughters a bicultural upbringing.
On this day, Honorée has short blond hair, while Grâce's pale locks are a bit longer. They both have blue eyes and a bit of mud on their faces after a morning of planting flowers with their mother.
Gallo, 47, is wearing jeans, a sweater and boots for a casual day at home with the girls; she, too, has a little mud on her face. Boisset, 44, is taking a midday break from the office, so he's in more formal attire — a polka-dot Dolce & Gabbana silk jacket and a white shirt made from Egyptian cotton.
The girls chirp a word or two in English and then a few in French. They are immersed in a trio of languages: They speak to Gallo in English, to Boisset in French, and to their caregiver in Spanish. They're also frequent flyers; they've already traveled to France 10 times. Few toddlers can match that.
Gallo says they're fond of the way of life in Burgundy, where they live in the village of Vougeot in the Côte de Nuits. As for their digs in Napa Valley, they live in the sprawling, 11,500-square-foot California Mission-style home built by the late wine pioneer Robert Mondavi. Situated on a knoll above Yountville, it was designed in 1979 by the late architect Cliff May, known as the father of the California Ranch House style. Its 50-foot indoor swimming pool has two Baccarat crystal chandeliers overhead.
Raising bicultural children is natural for the couple, for whom boarding a plane is as routine as hopping a taxi for most people. Gallo jokes that she never imagined marrying a Frenchman, but Boisset makes it easy because he's so fond of America.
"I love America because of the American way of life, the sense of entrepreneurship, the dynamism, the sense of possibilities," he says. "There's a 'maybe' in everything you suggest and do."
Meanwhile, winemaker Gallo has a strong affinity with Burgundy. "I feel at home there and it runs deep," she says. "I think it's the familiarity
of all these different connections, the vineyards, the little village."
Boisset laughs and adds, "Gina is insane for Burgundy. She has a true appreciation. It's not just being nice."
In 2007, Gallo and Boisset had been dating about a year, a sometimes long-distance courtship carried out by cellphone. But one particular call Gallo made had her nervous; she had to tell Boisset she'd been diagnosed with breast cancer.
She surprised him when she said she thought they should part, at least for the time being. "I told him, 'Let me get through this personally and if we come back, we come back,'" Gallo recalls. "I told him, 'You're young. I'm young. I don't even know if I'll ever be able to have children.'"
Boisset had a much different plan in mind. "He told me, 'Love doesn't run,'" she says. "He told me, 'I fell in love with you and this is the first bump in the road, and hopefully the last, but we're going to attack it together.'"
The "bump in the road" lasted 14 months, an intense regimen of chemotherapy and then radiation, with Boisset insisting on going to the appointments with Gallo.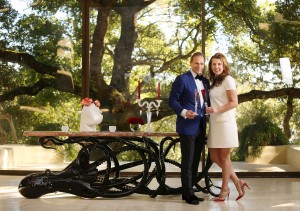 "Nothing replaces being there and I'm sorry to be so strong about it, but I am very opinionated on the topic," he says. "One of the programs that should be in place is helping people going through breast cancer or any form of cancer on their own. You look at everybody in those rooms with no hair, very depressed and really on the boundary of life and death because this is what it really is."
Boisset says many people recover from breast cancer, but that others do not is a difficult prospect to face.
"It's one thing to talk about it afterward because you come back stronger as a couple and certainly stronger as an individual," he says. "But the process of it is very tough."
Now in remission for six years, Gallo credits Boisset for helping her get through it by being so positive. She says he would often encourage her to walk with him after a treatment to help her feel uplifted. The man she met by chance at a tasting in Bordeaux became her most trusted ally in combating cancer.
"It took us two years to get through it," Gallo says, but once they did, they didn't waste time. They got married at the Fairmont Hotel in San Francisco in September 2009, and a year later Gallo was pregnant with twins.
A Catholic who was raised to consult God on all matters, Gallo would go to Notre Dame des Victoires church in San Francisco and ask God to keep the babies she was carrying safe. A request. A plea.
Now, glancing at her healthy girls, she smiles and says that during the tough challenge of cancer, Boisset revealed himself.
"He had much more to manage with his company than what I was doing," she recalls. "But he was amazing through it all. So as my sister Julie said, 'You wanted a sign. There's your sign.'"
The couple's Napa Valley home is filled with whimsical, lighthearted touches. The twisting tentacles of a giant fiberglass octopus support a marble tabletop. An open umbrella sprouts from the top of a Baccarat lighting fixture. A collection of Bernardaud porcelain plates from France includes a comical design of a naked woman in a bathtub by American artist Jeff Koons.
"Life is about having a sense of humor and this is what I love about America in many ways, truthfully," Boisset says. "France is a pretty serious country …."
When it comes to wine, there doesn't seem to be a cultural dichotomy whatsoever. It's here Gallo and Boisset speak the same language.
The first night Boisset came to Gallo's home for dinner, she had 12 bottles of wine uncorked and told him with a laugh, "We have some tasting to do."
"Gina has an incredible vision, a deep understanding of terroir, and she makes phenomenal wines." He adds that they have a lot of fun, whether sipping or talking big-picture ideas. As for Gallo, she loves their wine-world connection. "It's a beautiful thing; we're traveling similar paths."
But when it comes to their respective companies, it appears those paths are parallel. As Boisset puts it, "As for the businesses per se, they have nothing to do with one another and so we are totally separate and it will always be that way."
He says he operates a bit differently, often following a hunch. For example, Boisset is open to doing something special when a winemaker finds unique characteristics in the grapes growing in five rows of vines. E. & J. Gallo, in contrast, typically focuses on larger-scale winemaking.
"For me, I have excitement and passion to tell you about 150 cases of wine," Boisset explains. "Sometimes I'll say I want a 25-case lot or a 10-case lot or even a five-case lot. Because of how we build, there's a fundamental difference between the businesses, although I admire immensely what Gallo has done and it's extraordinary. But we come from different angles, different cultures, different ways of looking at things. Gina just happens to be the hyphen between the two."
Gallo continues to be the "face" of her family's business for many, although these days she has pulled back from doing commercials and advertisements, opting to focus her time in the cellar. Gallo believes her late grandfather, Julio, would take great pride in her winemaking.
"I started winemaking in 1991 and here it is 22 years later and I'm still deeply engaged," she says. "I think my grandfather would think, 'She's really serious about this.'"
The marriage between wine giants took some diplomacy. Gallo says her father, Bob Gallo, wasn't initially excited about her marrying a Frenchman.
"My father said, 'Gina, I went gray because of you. Now I'm going to go bald.' But that's my father." Meanwhile, Boisset says preparing his family for an American bride was a delicate matter.
"It's very true, my parents being very traditional," he explains. "They had a question in their mind for sure, saying it's a very different upbringing. So when I first introduced Gina, I didn't go into details. It was not just a label, 'I met an American woman.' Thanks to her personality, her style, her approachability, her charm, they obviously adored her the second they met her."
Gallo laughs and says, "He made it harder in the beginning, but he adds more color than I add to his family. Isn't that a true statement? The most challenging things in life are the most gratifying things in life. So in a simplistic way, when you walked into our family, it was more challenging. But in the end he brings so much more color. My mother (Marie) adores him. My father adores him and it's great because now it's fun stuff."
Both sets of in-laws play a big role in their granddaughters' lives, as the twins spend a great deal of time in both California and France. "Jean-Charles never wants to miss a family event," Gallo explains.
Looking ahead, the family plans to fly to Burgundy at least four times a year to give the girls time to immerse themselves in their French heritage.
The goal, Boisset insisted, is not just about learning a language.
"A culture is about the joie de vivre, the behaviors, the attitudes, the way to sit, the way to enjoy," he says. "The girls will hopefully have a life that is bicultural, which not many people have. You cannot be transplanted."