When it comes to local oysters, things have changed a lot since a 15-year-old Jack London raided oyster beds in San Francisco Bay in the dead of night in 1891. Back then, the bay teemed with tiny native Olympias, the one oyster species indigenous to our waters. London wrote that he could make as much from a single night's bounty as he earned in three months at his job in a cannery.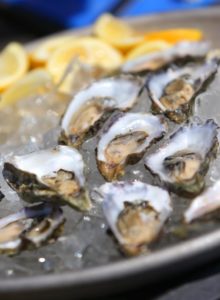 By the middle of the 20th century, overharvesting, development and pollution had led to the demise of the San Francisco Bay oyster industry. Today there are no commercial oyster beds in the bay and Olympias are a fading memory, raised commercially only in Washington state. California's oyster production moved south to Morro Bay and the Santa Barbara Channel, and also north to Marin County's Tomales Bay and Humboldt Bay in Humboldt County.
Oyster farms on Tomales Bay are thriving, with established producers such as Hog Island Oyster Co. (famous for its Sweetwater oyster) and Tomales Bay Oyster Co. (formerly Bay Bottom Beds and producer of Preston Point oysters). Newcomers include Cove Mussel Co. and Starbird Mariculture.
The tiny hamlet of Marshall on Tomales Bay is Oyster Central, with many temptations along its stretch of Highway 1. On any given day, you can pull over and enjoy a platterful of fresh oysters on the half shell, nestled in ice, and savor them simply with a squeeze of lemon, a dash of Tabasco or a spoonful of tangy mignonette. There are options for every sensibility and season, from outdoor farms with picnic tables and shuck-them-yourself oysters, to the upscale Nick's Cove Restaurant and Oyster Bar.
Oysters in Tomales Bay enjoy a special environment, with pristine waters monitored throughout the year by the state. A mix of the bay's salt water and fresh water from Walker Creek results in oysters with a sweet succulence; they are mildly but not overly briny. Hog Island Oyster Co.'s beds, for example, are at the juncture of the creek and the bay and, by late spring, especially in rainy years, its oysters have been sweetened by this constant wash of fresh water.
All farmed oysters begin in a nursery, as tiny "seeds." After several weeks, the seeds, now called spats, move from nursery to farm, where they are housed in Stanway Nursery Cylinders, devices developed in Australia that keep the tiny oysters tumbling with the tides. The tumbling encourages rapid formation of shells with hard, deep cups, beneficial when it comes to both shucking and serving. When they are large enough, the spats are moved to mesh bags and remain in the bay, high up in the water column above the mud and silt, until they reach harvest size.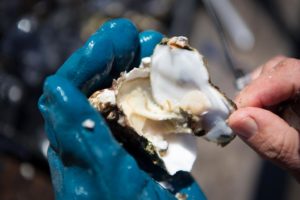 Oysters are harvested when they are between a year-and-a-half to 3 years old; the youngest and smallest are for savoring raw, the oldest and largest are best for grilling and such specialties as chowders and fried oysters.
Oyster farmers are caretakers. Unlike farmed fish, oysters do not need to be fed. In the wild, they are immobile and eat by filtering nutrients from the water, exactly as they do in oyster farms, except that they are suspended in bags instead of attached to rocks. What better place to enjoy Tomales Bay oysters than on or near the bay itself, where you'll find options for outside picnicking, inside dining and purchasing oysters to take home. It's a good idea to reserve a picnic table ahead, and if you want more than 100 oysters to go, it's wise to order in advance, especially on weekends. Don't forget to bring a cooler: Oysters are living creatures and must remain cold at all times to keep them alive and fresh.
Fisherman's Cove
Located in Bodega Bay, this northern outpost for Tomales Bay oysters sells fishing tackle, supplies, ice and more in its bayside shop, yet also has a surprisingly varied meal menu. In addition to pristine oysters, it offers clam chowder, Portuguese fish stew, fish tacos, Dungeness crab sandwiches, beer, wine and more. Indoor and outdoor seating affords great views of boats and bay, perfect when you need oysters but can't get to Tomales Bay.
1850 Bayflat Road, Bodega Bay, 707-377-4238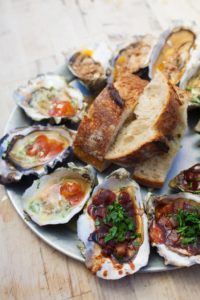 The Marshall Store Oyster Bar & Smokehouse
Here you'll find oysters from Tomales Bay Oyster Co., which owns and operates this location. In addition to raw oysters, the bar serves cooked oysters,
seafood cocktails, fish tacos, sandwiches and smoked meats (bacon, beef jerky, smoked salmon) by the pound.
19225 Highway 1, Marshall, 415-663-1339, themarshallstore.com
Hog Island Oyster Co.
This bayside farm, established in 1983, is open daily and offers several options. You can reserve a picnic table, which includes use of a Weber grill; schedule a tour; or simply belly up to The Boat, an outside oyster bar open Friday through Monday from 11 a.m. to 4:30 p.m. The Boat offers oysters raw and barbecued, along with local cheeses, breads, charcuterie, beer and wine; it's a communal table with first-come, first-served service. All seasonal shellfish — oysters, clams and mussels — are also available to go.
20215 Highway 1, Marshall, 415-663-0218, hogislandoysters.com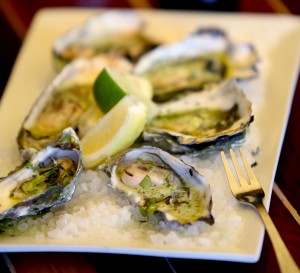 Nick's Cove Restaurant and Oyster Bar
Open daily for lunch and dinner, Nick's Cove is a beautiful location for slurping shellfish. But it's not at the bar or even at a table, as pleasant as these possibilities are. Here's the secret: Order a premium oyster platter, or even just a few oysters, and when they arrive, carry them out on the long dock to the boat house. Zoning regulations prohibit the restaurant from offering service there, but there's no restriction on walking there yourself, oysters in hand. The raw menu features several Tomales Bay oysters, along with those from other regions.
23240 Highway 1, Marshall, 415-663-1033, nickscove.com
Saltwater Oyster Depot
Luc Chamberlain's 40-seat cafe has a menu that changes daily. There are always oysters on the half shell, including Scotty's Cove and Hog Island sweetwaters.
12781 Sir Francis Drake Blvd., Inverness, 415-669-1244, saltwateroysterdepot.com
Tomales Bay Oyster Co.
Take advantage of the picnic facilities, with reservations required for groups of 10 (and a good idea for any number, especially on weekends). Cost varies,
but the basic group rate of $75 includes use of a picnic table and grill, along with a starting package of a shucking knife, set of shucking gloves, lemons or limes, ice, Tabasco or Tapatio hot sauce, and a dozen oysters. The farm's oysters, clams and, sometimes mussels, are available to go. The company operates a traveling oyster bar, too.
15479 Highway 1, Marshall, 415-663-1242, tomalesbayoysters.com
OYSTERS FOR THE LANDLOCKED
A trip to the coast is less than a two-hour drive from just about anywhere in Wine Country, but sometimes the oyster craving strikes when there isn't time for a leisurely ride. Several restaurants can oblige, and a handful of traveling oyster bars will come right to your door.
RESTAURANTS
Hog Island Oyster Bar
Open daily, this casual Napa restaurant features Hog Island oysters, along with a selection of other dishes. Happy hour is 5 to 7 p.m. Tuesdays and Wednesdays, when the chef offers a selection of half-shell oysters for half-price, plus beer and wine specials.
Oxbow Public Market, 610 First St., Napa, 707-251-8113, oxbowpublicmarket.com
El Dorado Kitchen
Fresh "Daily Oysters" are always available in the lounge and offered as starters on the dinner menu. Chef Armando Navarro sources seasonal ingredients for the seafood platters, paellas and risottos that add to the shellfish choices.
El Dorado Hotel & Kitchen, 405 First Street West, Sonoma, 707-996-3030, eldoradosonoma.com
Rocker Oysterfeller's
This restaurant in the Valley Ford Hotel serves half-shell Tomales Bay oysters daily, along with grilled bivalves. Oyster Thursday, with discount-priced raw oysters, is so popular that you must arrive early or risk missing out.
14415 Highway 1, Valley Ford, 707-876-1983, rockeroysterfellers.com
Stark's Steak & Seafood
No longer simply a steak house, Stark's offerings include half-shell and barbecued oysters and other seafood selections. Happy hour (3 to 6 p.m. Monday through Saturday) features half-shell oysters at half price.
521 Adams St., Santa Rosa, 707-546-5100, starkrestaurants.com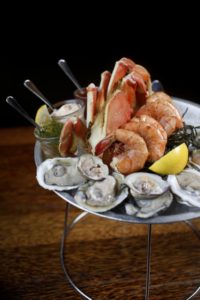 Willi's Seafood & Raw Bar
The raw-bar menu offers a half-dozen oysters from throughout North America, including Tomales Bay and the rare Olympia from Washington state, with charming ambiance.
403 Healdsburg Ave., Healdsburg, 707-433-9191, starkrestaurants.com
TRAVELING OYSTER BARS
For the most luxurious indulgence, let the oysters come to you. Both Hog Island Oyster Co. and Tomales Bay Oyster Co. set up oyster bars at wineries, weddings and private events and parties throughout Wine Country and beyond. Other companies focus exclusively on traveling bars featuring Tomales Bay oysters:
Belon: Oysters for Occasions
Michael Watchorn, co-founder and former partner of Hog Island Oyster Co., operates a traveling oyster bar out of Inverness, featuring a selection of Tomales Bay oysters and his famous Hogwash, a spicy mignonette of rice-wine vinegar, lime juice, shallots, jalapeños and cilantro.
415-669-4599, belonoysters.com
The Oyster Girls
Sisters Aluxa and Jazmine Lalicker founded their on-the-road oyster bar in 2007. The Petalumans work directly with Tomales Bay farmers to bring half-shell and barbecued oysters to events, including at Iron Horse Vineyards in Sebastopol. They shuck and serve there every Sunday from April through fall, 11 a.m. to 3 p.m. or until they run out, which does happen.
Iron Horse Vineyards, 9786 Ross Station Road, Sebastopol, 707-887-1507, ironhorsevineyards.com
The Oyster Girls, 707-694-3755, theoystergirls.com
Subscribe to Our Newsletters!