It's an exciting time for winemaking in California, with adventurous young winemakers coming to the fore. Free in spirit and style, they are making wines inspired both by what has always done well here in Northern California (Chardonnay, Cabernet Sauvignon, Pinot Noir) and also experimenting with grapes we've forgotten or never gotten to know (Sylvaner or Grenache Blanc, anyone?). And they make the joy of experiencing wine both intimate and relaxed.
Savvy wine buffs will want to know about the winemakers profiled here. There's no need to be on a VIP list to obtain the wines, as these three producers pour samples in tasting rooms.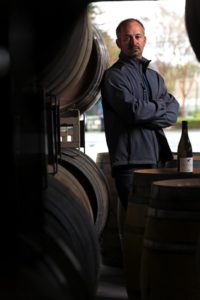 Two Shepherds
A winemaker with a day job in software sales, William Allen must not sleep much. Forever in search of the best Rhone Valley grapes in California, and a passionate advocate
of Rhone-inspired wines and wineries, Allen produces some pretty spectacular bottlings and loves nothing more than to sit down with visitors and taste them.
It all started with Grenache Blanc, a bright, refreshing citrus- and apple-nuanced white with the texture and crisp acidity to shine on the dinner table.
With fewer than 300 acres of the variety planted in the state, Allen first found Grenache Blanc in the Saarloos Vineyard in the Santa Ynez region of Santa Barbara County, and released his first tiny commercial vintage in 2010, a mere 175 cases.
Soon after, he convinced the late Saralee Kunde to bud over old Merlot vines to Grenache Blanc in her Catie's Corner Vineyard in Russian River Valley — grapes that for the 2013 vintage may also go into his signature Rhone white blend, Pastoral Blanc.
His Marsanne, Roussanne, Grenache Noir and Viognier also come from Russian River Valley, and El Dorado County near Placerville provides additional Marsanne and Roussanne.
Now up to a production level of nearly 1,000 cases a year, Allen introduced a Grenache Gris from 100-year-old vines in Mendocino in 2013, and has experimented with skin-fermented Marsanne, Roussanne and Grenache Blanc, in addition to Trousseau Gris from Fanucchi Vineyards in Fulton, near where he lives.
Two Shepherds Mourvedre comes from Windsor Oaks Vineyard, and Allen also makes Grenache, Syrah, a red Rhone blend named Pastoral Rouge, and a Syrah-Mourvedre blend. The wines range from $25 to $38.
Perhaps the newest and most exciting red grape he's working with is Cinsault, from Lodi's most hallowed ground: the 125-plus-year-old, dry-farmed Bechthold Vineyard.
Tastings by appointment at Sheldon Winery, 1301 Cleveland Ave., Santa Rosa, 415-613-5731, twoshepherdsvineyards.com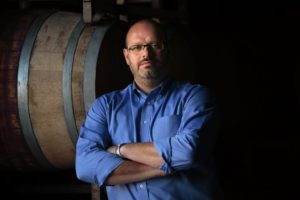 En Garde Winery
Csaba Szakal grew up in Hungary, the great-grandson, grandson and son of winemakers.
He left his homeland in 1996 to work as a computer engineer in Silicon Valley, where he met his wife, Sandy Scott, a CPA whose family once raised cattle on Chalk Hill near Healdsburg.
Having grown up around Sonoma County growers, Scott suggested that they play around with some grapes, and before long Szakal was making wine in his garage, getting his first grapes from Bennett Ridge Vineyard in Healdsburg in 2001. That first wine was a Merlot, aged in new Hungarian oak barrels for about a year. It won a gold medal in an amateur
competition, and Szakal was on his way.
In 2007, the couple decided to launch their wines commercially while keeping their day jobs. Living in Fremont, they first found winery space in the nearby Livermore Valley, easy enough for Szakal to run to for pump-overs, fermentation checks and blending sessions. Until 2013, En Garde remained half-based in Livermore, where it still sources some grapes.
But Napa and Sonoma were never far from mind. One of the first serious wines Szakal made was a Cabernet Sauvignon from the high-elevation Diamond Mountain appellation in Napa Valley, where he also sources Malbec, Cabernet Franc and Petit Verdot.
Szakal quit his engineering job in 2010, and in 2013 he, his wife and young son, Adam, moved to Santa Rosa full time. This commitment allowed him to further focus on finding great grape sources and producing structured, elegant wines.
Szakal waited several years before releasing a 2007 Cabernet Sauvignon ($88) and 2007 Cabermet Sauvignon Reserve ($118), both still available in limited quantities; the Reserve is a knockout example of velvety tannins and age-worthy fruit. He treats the wine to new French oak, lightly toasted, and also makes a Bordeaux blend called Adamus ($78) from Diamond Mountain grapes.
En Garde added a Russian River Valley Pinot Noir in 2008, from a vineyard near the cooler-climate Green Valley. Szakal's Pinots are aged in neutral oak, and the majority of the grapes are from a vineyard planted 20 years ago to three different clones (23, Pommard and 828). The 2011 Reserve ($66) will be released this spring, and with the 2012 vintage, Szakal will have vineyard-designated Pinot Noirs for the first time.
A man of his heritage, Szakal also makes a berry port-style wine called Magdalena ($38) in honor of his mother and grandmother. He uses raspberry, blackberry, pomegranate and sour cherry juice, making it similar to a Portuguese Ruby Port. And then there's a dry rosé ($24), in homage to his great-grandfather's, a mix of Pinot Noir and Tempranillo.
Szakal remains a finder of good fruit, sourcing Albariño from the Bokisch family's Terra Alta Vineyard in Lodi and Tempranillo from El Dorado County's decompressed granite
soils.
9077 Sonoma Highway, Kenwood, 707-282-9216, engardewinery.com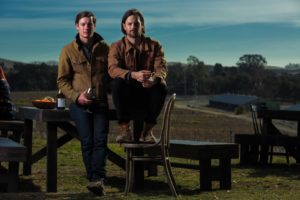 Scribe Winery
Brothers Andrew and Adam Mariani grew up in Winters farming walnuts and almonds, and enjoyed it enough to long for a life in agriculture, though not necessarily doing what their parents do.
After working in wineries in Europe, they honed in on the notion of finding a place to grow grapes and produce wine, an estate of their own. Sonoma town resonated with them for its sense of history and cool-climate ability for nurturing beautifully understated wines.
In 2007 the brothers found 250 acres of part wilderness corridor, part waning turkey farm, on the cusp of Arrowhead Mountain, complete with a dilapidated hacienda awaiting
renovation. Could the habitat be revived for grapes as well?
The Marianis moved into the existing buildings, let the antibiotics-soaked soil rest and started digging into the property's once-vibrant history, which included the Dresel brothers, who arrived from Germany in the 1850s and were contemporaries of Sonoma neighbors Jacob Gundlach and Agoston Haraszthy.
The Marianis discovered that the first Dresel to come over, Emil, planted Riesling and Sylvaner vines and released his first wines in 1858, the first in Sonoma to grow German varieties. The Mariani brothers planted those, too, in 2008, and added 13 acres of Pinot Noir and 20 acres of Chardonnay.
The first full vintage for their estate came in 2011 with a crisp, aromatic Sylvaner ($38) appropriately dubbed an "Ode to Emil." Scribe also farms a small vineyard on Napa's Atlas Peak, planted to Cabernet Sauvignon and Syrah.
Even before the estate grapes became mature, Scribe enjoyed almost instantaneous success. Food & Wine magazine splashed the brothers and their friends across several pages,
touting their sense of casual style and joie de vivre as "Sonoma's Wildest Wine Party," DJ included.
But it's the Marianis' hands-off approach to winemaking — native fermentations, avoiding malolactic fermentation, and harvesting grapes based on a fragile balance between Brix sugar development and pH — that has earned them authentic respect with sommeliers, wine writers and consumers.
Scribe's followers respond equally to the intimate experience the brothers strive to provide at both their winery and out-and-about dinners, whether they take place at Michelin-starred Meadowood in Napa or rustically gourmet Bar Tartine in San Francisco.
Ultimately, Scribe cultivates a place for people — many looking for a reprieve from their technology-dictated lives — to connect to agriculture and nature, and to take a deep breath surrounded by physical beauty, food, wine and friends.
2300 Napa Road, Sonoma, 707-939-1858, scribewinery.com
Subscribe to Our Newsletters!