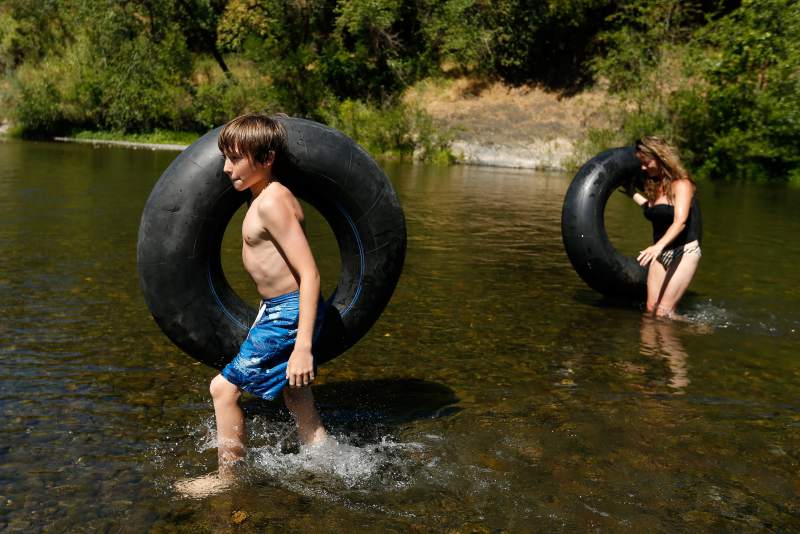 After several years of drought along the Russian River, the time to get back in the drink is now. With the water at its highest summer-time flow in four years, and hot weather, the prospect of a refreshing dip is all the more enticing.
Strong beach attendance since Memorial Day suggests there is pent up demand for water fun, whether it's swimming, canoeing, kayaking or just splashing around, business owners said.
And while locals are among those flocking to Sonoma County beaches, weekend visitors have included plenty of daytrippers from the Greater Bay Area, San Jose and even Santa Cruz who have been lured by the Russian River.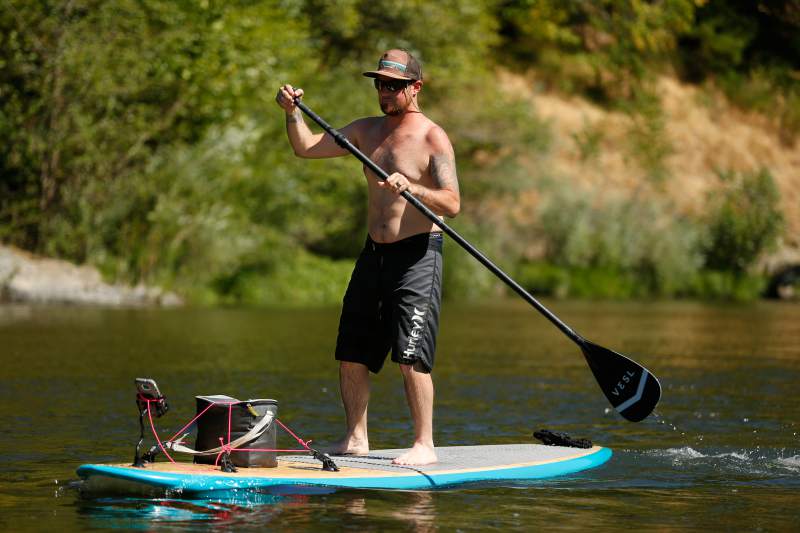 "We don't have clear water like this over there," Antioch resident Erik Overmyer said, referring to his East Bay community as he paddleboarded upstream along a swift section of river near Del Rio Woods in Healdsburg. "You can't see the fish go by."
The river, the center of local tourism in the decades before Wine Country drew so much of the spotlight, has enjoyed a surge in popularity over recent years, offering affordable, ever more varied opportunities for outdoor adventure and family fun.
The explosion of recreational kayaking and, more recently, stand-up paddleboarding, has added to a passing parade of canoes, rafts and inner tubes, traditional watercraft still widely enjoyed on the Russian River.
Over the past two decades, the Sonoma County Regional Parks Department also has invested millions of dollars in new riverfront parks, parking and other amenities, increasing access to the river and enhancing longtime destinations on the upper and lower river alike.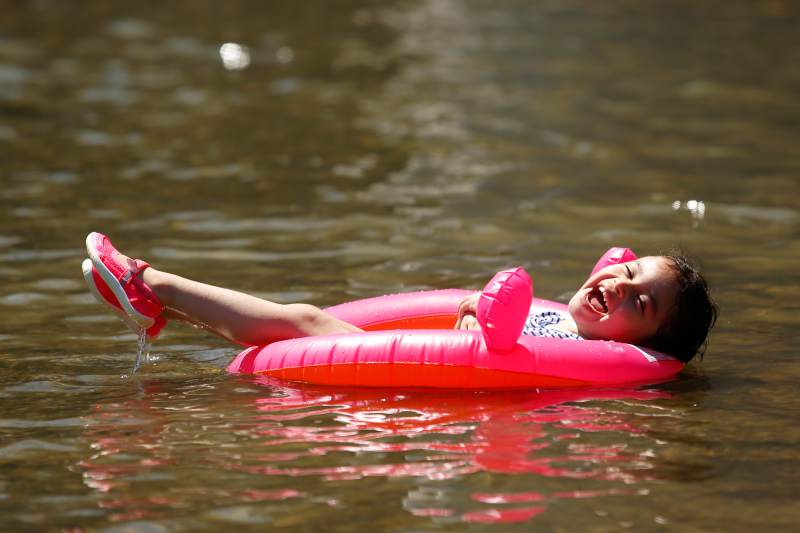 Declining water levels during the prolonged drought put a damper on water recreation during the past few seasons, especially last year, when bone-dry conditions prompted the Sonoma County Water Agency to reduce summer-time reservoir releases to the bare minimum, seriously decreasing the river flow.
With water levels at a low point and the river temperature high, word came last Labor Day that a dangerous blue-green algae had been detected in some areas of the waterway and was even responsible for the death of a dog. Public health warnings scared away some people for the last precious weeks of long, warm days.
There are no signs of blue green algae now, amid high hopes that the region will escape any such threat this year, though public officials will be monitoring the situation.
The return of rain last winter has positioned the region better than many other parts of California, leaving lakes Sonoma and Mendocino at their highest levels since early January 2013, state records show. Plentiful supplies allow for more water in the river this summer than last year.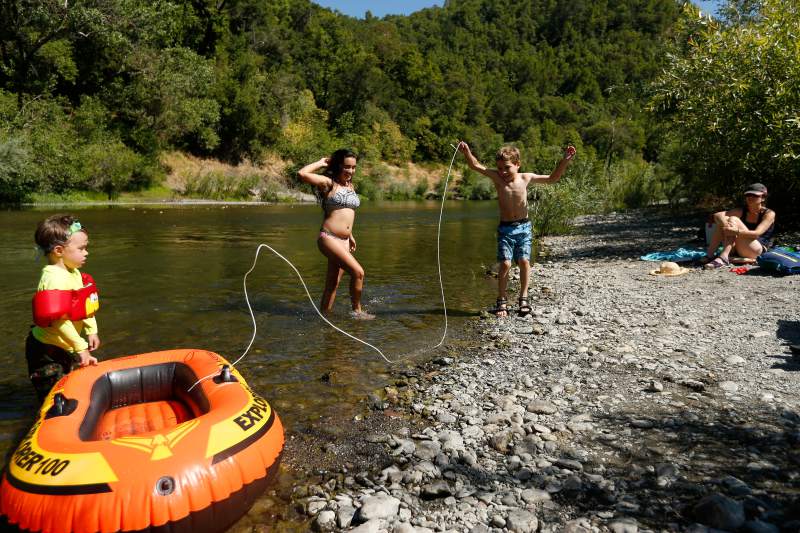 Sonoma County Water Agency spokeswoman Ann Dubay said the river should still be "noticeably higher than during the drought," particularly on the upper river above Dry Creek, allowing for good times throughout the system.
The highest flows of the summer may be right now, just as river fans are beginning to pack beaches and get out on the water with friends and family.
"It's a good year for the Russian River," said Bill Mashek, owner of Forestville-based Rubicon Adventures, a commercial provider of stand-up paddleboard training and guided trips.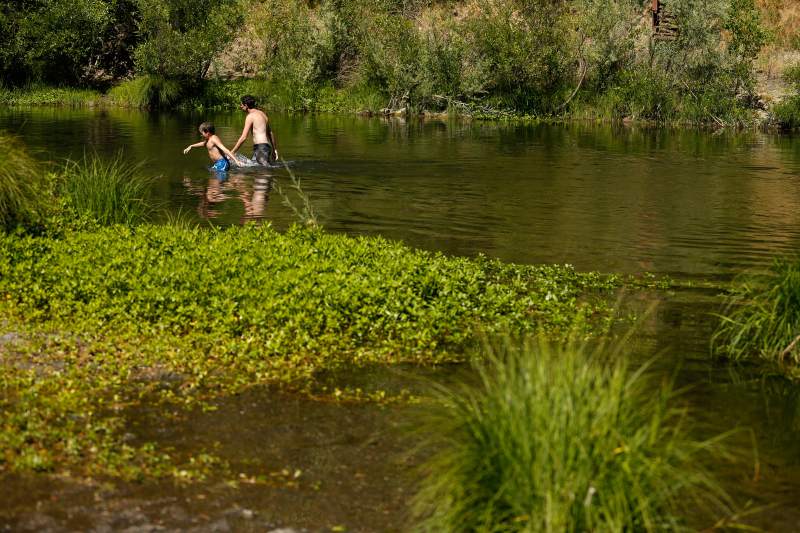 Seasonal dams also are going up this month at three locations on the river, including for the first time in two years Healdsburg Veterans Memorial Beach, a popular family destination in large part because of its expansive swimming area and on-duty lifeguards. The dam will be in place this week, making for a wide, deep swimming area by the July Fourth weekend, park personnel said.
Dams also are holding back water and deepening swimming holes at Guerneville's Vacation Beach and Johnson's Beach, though there are plenty of opportunities elsewhere to frolic, float, paddle or just chill out this summer.
Among them are a remote beach called Del Rio Woods in Healdsburg, long operated by the now-defunct Del Rio Woods Recreation and Park District and now officially a part of the Sonoma County Regional Parks District.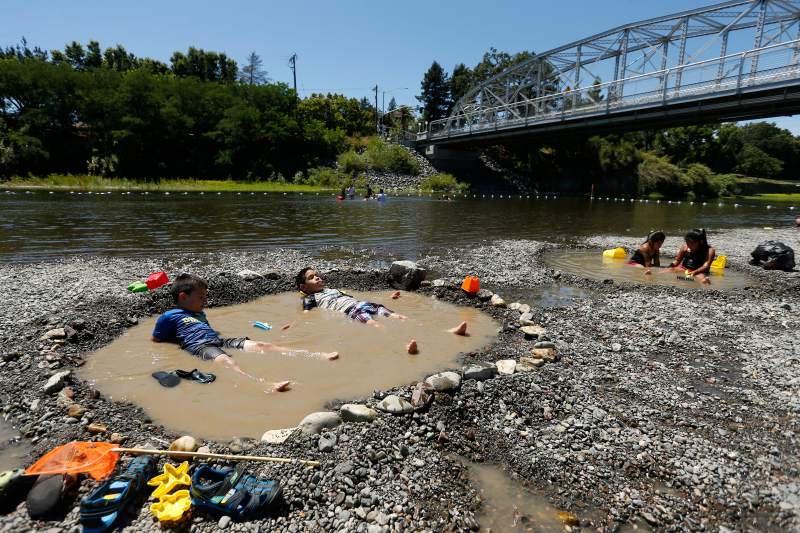 A new solar-powered pay station has been installed in the parking lot off South Fitch Mountain Road, with space for 20 cars whose lucky occupants will have access to a sweet stretch of river at the bottom of the hill, without the presence of significant crowds.
Neighboring home-owner Jeff Wampler said county oversight of the beach, begun last year, has made for a calmer, more family-friendly atmosphere than before.
"A lot of families have come back to the beach," he said.
Santa Rosa father Todd Gardner and his family were among them last weekend, Gardner observing that the party spot locals once knew has changed, in part through a ban on alcohol. "Now that I'm an adult and I have kids, it's beautiful," he said.
Sonoma County Regional Parks staffers said a decision to prohibit alcohol last year at the Forestville River Access point, known as Mom's or Mother's Beach, went smoothly as well, reducing behavioral excesses that had created problems on the beach and in the adjoining neighborhood.
"It is a family beach again," said Park Ranger Bill Trunick.
What's more, the kind of drunken behavior that prompted the ban seems not to have moved onto another location, Park Manager Bert Whitaker said.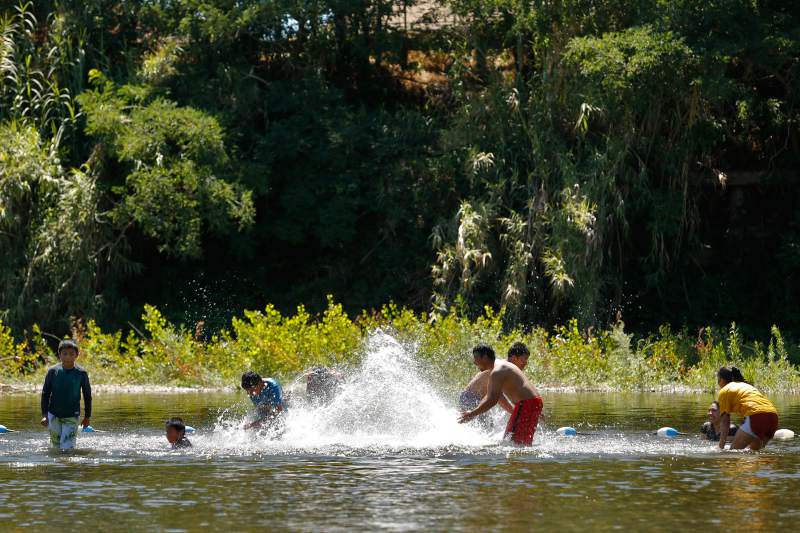 Overall, recreational vendors said demand for rentals and related services is up significantly this year, with reservations being booked well into the season.
"This is really the first time in several years that people aren't questioning" the water supply, said Larry Laba, owner of SOAR Inflatables and Russian River Adventures in Healdsburg. "We've got great reservations, great bookings."
Linda Burke, co-owner of Burke's Canoes, a Forestville institution, said it appears business up and down the river has been booming since Memorial Day weekend.
"I think people were ready for summer to begin, and the season really started off with a bang," she said.
"It feels like summertime out on the river. I'm telling you, people are out in full force."
Photography by Alvin Jornada. 
---
RUSSIAN RIVER BEACHES
Alcohol-Free Beaches
Forestville River Access, also known as Mom's or Mother's Beach
Healdsburg Veterans Memorial Beach
Del Rio Woods, Healdsburg
Dammed Swimming Areas
Johnson's Beach, Guerneville
Vacation Beach, Guerneville
Healdsburg Veterans Memorial Beach
Dog-Friendly Beaches
Cloverdale River Park, Riverfront Regional Park, Sunset Beach, Forestville River Access  (also known as Mom's or Mother's Beach), Steelhead Beach and Monte Rio Community Beach (Sandy Beach portion): Dogs allowed on 6-foot leash.
On-Duty Lifeguard
Healdsburg Veterans Memorial Beach
Regional Parks River River Patrol/Lifejacket Loans
Steelhead Beach, Forestville
Forestville River Access
Sunset Beach, Forestville
On-Site Equipment Rentals and Concessions
Monte Rio Beach
Johnson's Beach
---
Gualala River: swimming and watercraft on first few miles, access through Gualala Point Regional Park and privately owned Gualala River Redwood Park.
Petaluma River: canoing, kayaking and stand-up paddleboarding.
---