Nothing much surprises mechanic Harvey Gonzalez of Europress as he criss-crosses Sonoma County each harvest, not even a wayward bird's nest found inside a wine press during a tune-up.
Dave Peritore, the one-man show at Winery Service Connection, earned the nickname "Equipment Jesus"— presumably for acting as the savior of the day's fruit many times over.
And at Carlsen & Associates, a family-owned business in Healdsburg that builds and maintains winery equipment, the phone pretty much doesn't stop ringing from August through November, says head of service Tony Tchamourian.
Superman has nothing on these folks, ones who put in long hours on the road to get the job done at a critical time of year for the county's most iconic industry, one that brings in over half a billion dollars annually.
Because when the heat is on and the equipment isn't working, the wine will suffer.
"The sting can be real for a winemaker," says Peritore. "When it's 89 degrees out and the machine is down, it can hurt harvest in a big way—it can be exactly the wrong kind of failure at the wrong time."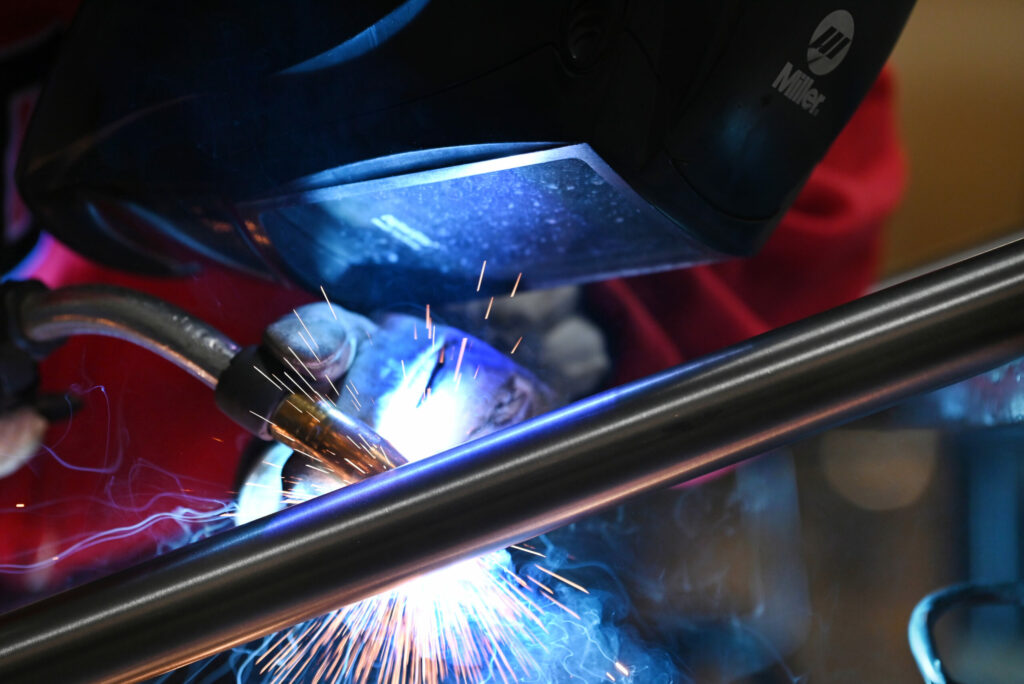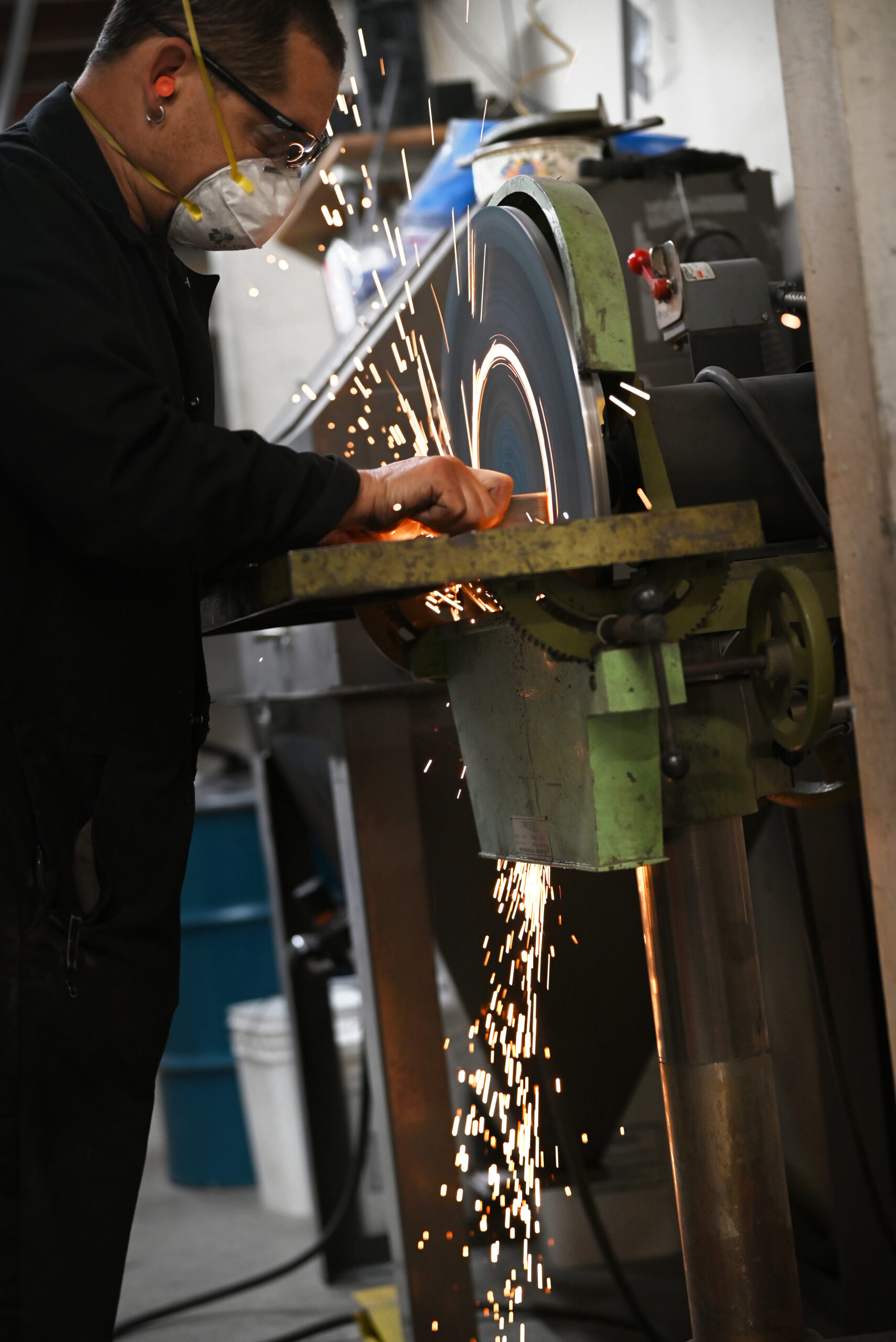 Winegrapes can't just hang around. After they're harvested, they need to be brought to the winery and processed as soon as possible; they're not going to keep for a day or two until a broken piece of equipment can be brought back up and running.
The best mechanics have the mindset of trauma surgeons, explains Jeff Hinchliffe of Hanna Winery. "While you're freaking out about your grapes, they remain almost uniformly nonplussed. They're able to think a problem through dispassionately, despite the urgency of the situation."
"I understand there's a lot of pressure—harvest happens just once a year," says Parker Borg, who answers the phone in the service department at Carlsen & Associates and is often at the receiving end of anxious calls from winemakers. Like a 911 operator or an emergency room triage nurse, Borg and his colleagues have learned to gauge the seriousness of the situation by the tone of the caller's voice.
"Everyone calls in a panic," says Tchamourian. "We have to do a quick assessment over the phone. A lot of times, the first question we ask is, do you have grapes? And if you don't have grapes, when are you getting your grapes? And depending on what that answer is, is how we're going to react to that emergency." Often, a technician is able to talk through a fix over the phone.
If not, someone will be on the way to figure out the fastest solution to get things running. "It takes a good crew—people who are willing to put their personal lives aside and are willing to help," says Tchamourian. "A lot of time, we get calls in the middle of the night, like 'I know it's 1 a.m., but are you available?' Because the customers know we will always answer our phone."
"It gets stressful for sure for us in the service department," says Borg. A dirt bike racer and grandson of Carlsen's founder, Borg "grew up wrenching" and started hanging out in the service shop when he was in his early teens. It's the only job he's ever had.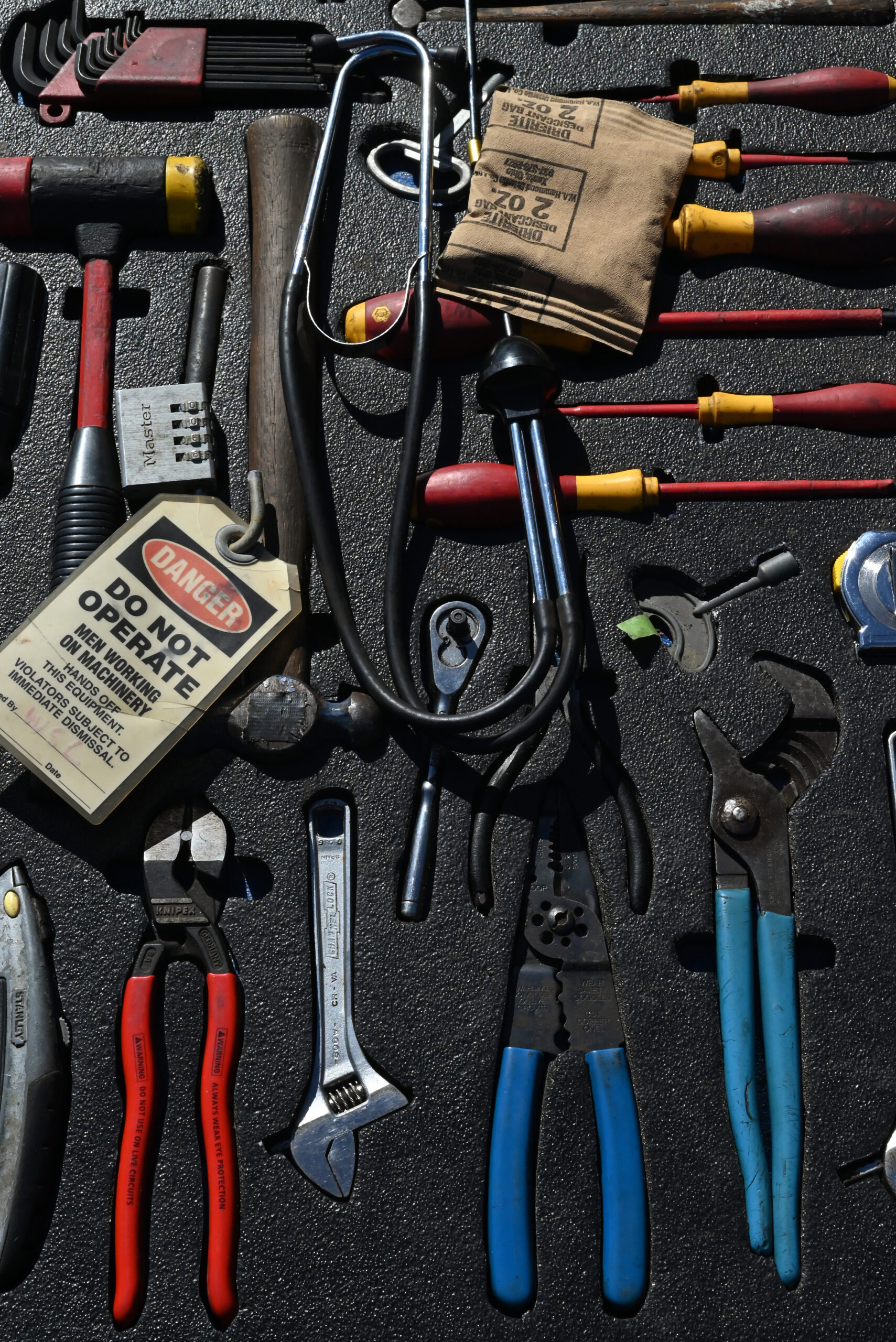 Harvest season is incredibly hard on winery equipment, including tractors, forklifts, presses, pumps, conveyers, and crusher-destemmers—complicated, medievallooking machines with stainless steel barrels and rotating paddles that separate the berries and crush them into juice, spitting off the unwanted stems through a side chute. It gets stuck quite a bit.
Many of these machines are stored away eight or nine months of the year, until August rolls around. Then it's go time. "Once the winemakers start getting their grapes in, it starts really picking up," says Tchamourian. "All the people who never fired up their equipment all year, or never checked anything, they're the ones calling us, saying, 'We need you here, we need you here now.'"
Technicians encourage winemakers to have them come out for a pre-harvest service, to give equipment the once-over. Even better, says Tchamourian, is to make sure all of the equipment is carefully cleaned, oiled, and serviced at the end of the previous year's harvest, before it's stored away.
The crushpad environment is unforgiving, after all. Grape juice and water aren't great for electrical machinery, and neither is all the sun and the heat. Sticky grape skins and tiny grapeseeds find their way into the tiniest of cracks, and grape stems seem perfectly designed to jam up the destemmers. Moisture condenses inside electrical panels, corrosion wears away housings or controls. A small rock mixed in with the fruit and carried up the conveyer can wreak all kinds of havoc, as can a wrench left behind inside a press. People are tired. Mistakes happen.
And yet, Tchamourian says the technicians are usually able to get things up again the same day. "I've literally zip-tied a control box to a piece of equipment just to make it go, until I could get back out there to fix it properly. Emergency methods—it's not ideal. But when you've got 10 or 20 tons lined up, you have to, especially with what grapes are costing this year. It's crazy. It's thousands of dollars."
In the rare cases where they can't fix it, they're often able to sub it out temporarily with another piece of equipment. "The one thing that stumps us is parts," he explains. "If the part isn't available or it's an older machine, then we have to think on the fly to fabricate it or replace it with something else."
Smart winemakers know it's good to stay on the good side of the ones who keep their gear up and running, whether it's a tractor repairperson, a press technician, or an equipment manufacturer. "There are so many wheels that turn this engine," says winemaker Ellie Ceja of Heirs of My Dream, a winery and custom crush operation in Sonoma.
Morgan Twain-Peterson, winemaker at Bedrock Wine Co. in Sonoma, is "very cognizant" of the many who play a role in getting a bottle of wine into a customer's hands. He's worked for years with Alejandro Arellano, a self-taught mechanic (who also plays mariachi on the side, though not so much during harvest). Arellano grew up in the vineyards, the son of a local foreman. When a tractor is down during harvest, he'll get it up and running to make sure the middle-of-the-night picks don't slow down, even for a few minutes.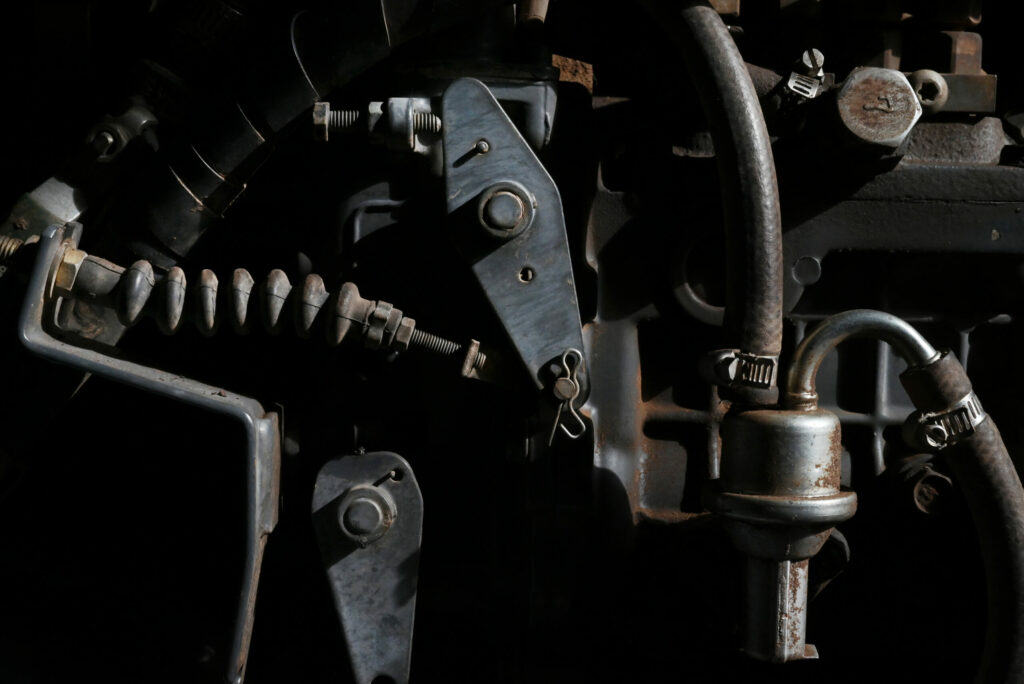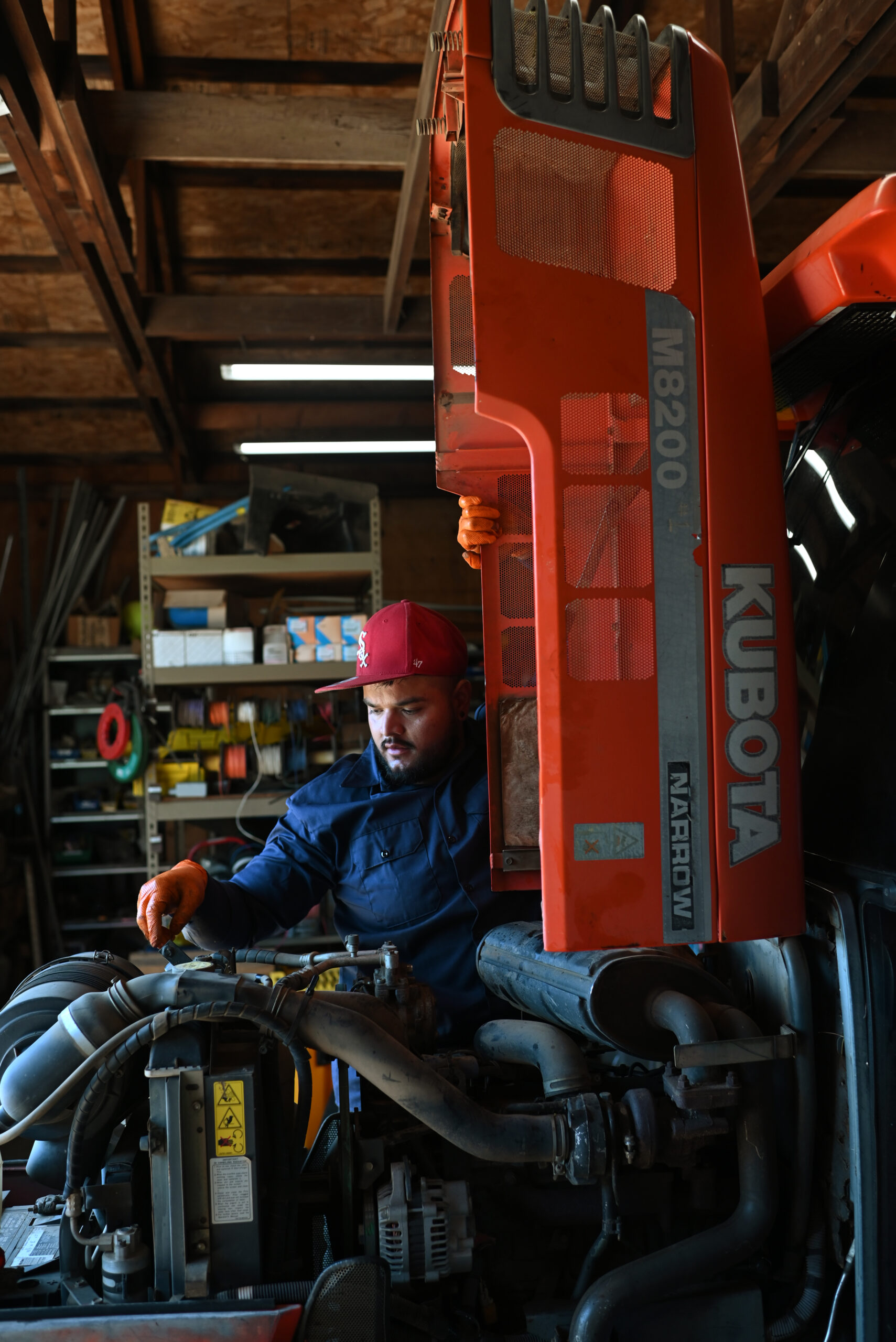 But how do you thank the person who's saved your harvest? A nice bottle of wine left on the seat of the truck, sure. A home-cooked meal would be nice, or even a few moments to sit down with a cold beer. Unfortunately, these professionals don't have time for that—they've got other service calls to make, a family to get home to. Leo Artuori, who has worked at Carlsen for 21 years, says being able to help someone out at a stressful time keeps him going through the season. "You're the hero. When everyone's waiting on you and you fix that machine, you walk away feeling 10 feet tall."