Less than a restaurant but more than a tasting room, a new genre of lounge has popped up in the wine-centric towns of Healdsburg and Napa, offering unique approaches to the age-old problem: Which comes first, the wine or the food?
They're examples of a new species in the steady evolution of food-and-wine pairing. Partake by K-J opened in March as a "Tasting Lounge and Flight Club" just south of the Healdsburg Plaza. The vibe is farmhouse chic, with lots of white wood accented by modern fixtures. It feels like a cafe, complete with a varied food menu, but all the dishes are paired with Kendall-Jackson wines.
Head left to the Tasting Lounge and choose two or three small bites paired with a 2-ounce or 5-ounce glass of wine. Or go right and check in at the Flight Club, where the culinary team carefully curates specific flights of wine paired with specific seasonal dishes.
"It's one of the best wine-and-food experiences in Sonoma County," says Justin Wangler, Kendall-Jackson's executive chef. "We really put a lot of thought into the pairings."
The Flight Club menu includes pairings with three artisan cheeses; a five-course pairing showcasing fresh vegetables and herbs; and a five-course chef's tasting menu highlighting seafood and meat along with vegetables from Kendall-Jackson's culinary garden.
Partake is open 11 a.m. to 10 p.m. Fridays and Saturdays, 11 a.m. to 5 p.m. Mondays and Tuesdays in the winter, and 11 a.m. to 9 p.m. Wednesdays and Thursdays. 241 Healdsburg Ave., Healdsburg, 707-433-6000, partakebykj.com.
Tip: During the winter, look for monthly gluten-free nights and a lineup of wine seminars.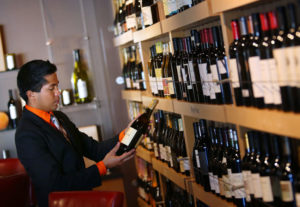 1313 Main, a premium wine-tasting lounge in downtown Napa, added Lulu's Kitchen at 1313 Main to its premises in August.
The ambiance exudes international jet-setter charm, with the large space divided into six different venues, from the hip Speakeasy room to the lush Fireside Lounge.
Lulu's menu features small bites and small plates to complement the 1,300 wines served by the bottle and 70 by the glass.
"The wine is the core of the conversation," says owner Al Jabarin, who opened 1313 Main two years ago. "But I felt that the wine-centric experience was lacking in food."
The pairings here are strictly do-it-yourself. And some dishes may provide more ballast than balance for serious quaffers.
"Take a dive bar and put in an incredible wine cellar with a beautiful facade," says wine director Jordan Nova. "That's what you have."
1313 Main is open 4 p.m. to 10 p.m. Tuesdays through Thursdays, 2 p.m. to 1 a.m. Fridays and Saturdays and 2 p.m. to 10 p.m. Sundays. 1313 Main St., Napa, 707-258-1313, 1313main.com.
Tip: There's live music Thursday through Saturday, and plans call for the addition of a spirits bar.