Paul Hobbs trots the globe from Sonoma County to France to Armenia to Latin America, making wine and advising other winemakers.
The 60-year-old Sebastopol resident is one of the world's most influential wine consultants, according to Robert M. Parker Jr., the world's most prominent wine critic.
A New York native who grew up on a farm near Lake Ontario, Hobbs quit his medical studies at the University of Notre Dame after he fell in love with wine. He moved west to study winemaking at UC Davis, graduating in 1978.
Today, Paul Hobbs Winery farms 25 acres of grapes in Sonoma County and 63 acres in Napa County, and Hobbs is a partner in an Argentina winery, Viña Cobos. He crafts Cabernet Sauvignons, Chardonnays, Pinot Noirs, Merlots and Malbecs that sell from $20 to upwards of $300 a bottle and win him fame and admiration.
"He's probably one of the most talented winemakers in the world," said John Balletto, president of Balletto Vineyards & Winery and a respected leader in the local wine-grape industry.
But when Sonoma vintners talk about Hobbs, it's not always because of his world-class wines. He has become a lightning rod for controversy amid robust public condemnation for how he has treated his land. Hobbs has infuriated officials, neighbors and industry peers by clear-cutting trees and, most recently, ripping out the intricate network of bushes and brambles that filter dirt from creeks and prevent soil erosion. Three times the county ordered him to halt work on his land.
Hobbs declined several requests for interviews for this story, saying he was busy with the grape harvest.
The public outcry over Hobbs' actions further unsettles a wine industry already nervous about perceptions that it is too powerful and that vineyards have become too pervasive. Some grape growers fear the actions of one man will trigger a backlash of stricter regulations for all.
"The outsider looking in, a non-agrarian, sees this as an indication of what's wrong with the entire industry and all growers must be behaving like this," said Duff Bevill, founder of Bevill Vineyard Management, who farms about 1,000 acres of grapes.
"That is just not the case, it's not even close," Bevill added. "Something like this is insidious to the entire industry. It's one incident with one person."
This year, Hobbs was pilloried for efforts to convert an apple orchard to vineyards next to a Sebastopol elementary school. Parents who feared their children would be exposed to vineyard toxins demonstrated at his Paul Hobbs Winery, built in 2003 in Sebastopol.
Then, once he had permission to start the work, his crews ripped out hundreds of yards of blackberry and bay laurel growing along a stream bank. The action was illegal. And because erosion-protection measures weren't put in place, sediment slid into a creek — another violation. Sonoma County officials hastily slapped Hobbs with a stop-work order.
But Hobbs' actions triggered more demonstrations and anger, as well as calls for a moratorium on new vineyards in the county or, at the least, tighter rules.
In the wine industry, "There is some concern that these sorts of incidents bring negative attention to the program we have worked so hard to build," said the county's agricultural commissioner, Tony Linegar, referring to Sonoma's vineyard ordinance adopted in 2000.
Those rules were imposed in reaction to the environmental damage by another grower, Ken Wilson, who captured public attention. The planting of vineyards, which until then had been largely unregulated, was put under county scrutiny and regulation.
In 1998 Wilson, a Healdsburg grape grower, failed to install adequate erosion control at a vineyard development on Stewarts Point-Skaggs Springs Road; nearly 2,000 cubic yards of sediment washed into a stream.
Wilson was fined $50,000 and given a 90-day suspended jail term, and the incident spurred that vineyard ordinance, which prevented planting on the steepest hillsides. Grape growers at first resisted and then helped to craft what they say are adequate regulations.
"One individual in that particular case was, 'I'll do as I please,' and we all paid the price for it," said Bevill, a Sonoma County Winegrape Commission director. "I just don't want more regulations when it's one incident with the one person."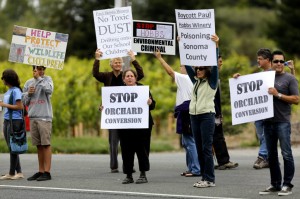 Even the most politic of men, former Sonoma County Winegrowers President Nick Frey, drew a clear distinction between Hobbs' actions and the larger grape-grower community. "It's not reflective of the industry in general. It's a conscientious industry," the soft-spoken Frey said.
When Hobbs' name comes up in conversation, it is as an example of "how not to do things, how not to get along in the grape-growing community," said industry doyenne Saralee Kunde, a longtime Russian River Valley grower.
"For the rest of us who are trying to do things right and be good stewards of the land, it doesn't do a lot for us," Kunde said.
Hobbs' environmental missteps at his Watertrough Road property in Sebastopol are under investigation by the District Attorney's Office. That conflict with county officials and residents was not his first.
In 2011, Hobbs came under fire three times for clear-cutting trees: on a Sebastopol Christmas tree farm, in Graton on land he bought at a fire-sale price after winning a court case against a neighbor, and on property on Pocket Canyon Road near Guerneville. He had proper permits in two of those cases, and blamed faulty advice for the third. But critics accused him of skirting regulations and also of disregarding environmental concerns.
The charges stung the vintner, whose website characterizes his wineries' role as being "custodians of the earth."
"That's a defamation of our good reputation and I think there's been too much of that," he said in 2011, responding to charges that he was behaving arrogantly and causing "environmental harm."
For a man who has misstepped so publicly in recent years, Hobbs has a reputation as hands-on to the last detail, keeping a watchful eye on every bit of work done in his name.
Forbes Magazine this year dubbed him "the Steve Jobs of wine" for his devotion to detail and quality. That characteristic can make for sometimes prickly relationships, former associates said.
"It was both a pleasure and a pain in the ass at times," said Scott Morrison, Hobbs' assistant winemaker from 2008 to 2012, who was promoted to winemaker of Hobbs' Crossbarn label in early 2012.
"He is very, very demanding. He is very picky, as with anybody who gets to those very high levels. He knows what he wants to do and how to do it," said Morrison, who is now chief winemaker at William Harrison Vineyards and Winery in St. Helena.
Hobbs was contrite following this summer's orchard-conversion project, after which Linegar, in unusually strong terms, said, "Hobbs let everyone down here."
"I feel bad for putting the county through this," Hobbs said after the stop-work order was issued. "I take full responsibility for this and I'm going to make the changes I need to make to fix it."
He changed vineyard management firms and sat down with a group of Sonoma County winemakers and grape growers, including Balletto, who asked to meet with him.
"We shared our concerns and shared our values of how much we value Sonoma County as a community and how important it is that as farmers and growers we need to protect our land and sustain it for future generations," said Balletto. "We've worked really hard to have a good relationship with our politicians and county government and we don't want to mess that up. That's how important this is to the grower community."
The meeting went well, he and others in attendance said.
"He seemed genuinely concerned about what he's done and trying to make it right," said Douglas Mcllroy, director of winegrowing at Rodney Strong Wine Estates in Healdsburg.
In August, the stop-work order was lifted and Hobbs resumed work on his 48-acre vineyard conversion project. He declined to be interviewed at the time but his publicist issued a statement saying the winery had hired experts in the field, and was planting native vegetation. The conversion would be "thoughtful and undisruptive" to the community, the statement said.
"We at Paul Hobbs Winery have worked diligently with the county to prepare the land for a vineyard conversion that is environmentally sound," it said.
In other worlds, Hobbs has earned a reputation as a generous community supporter, making sizeable contributions to causes like education and parks.
"It was among the largest grants we've received since I've been here," Sonoma County Regional Parks Director Caryl Hart said of Hobbs' donation, which is used to improve hiking trails, camping sites and parking areas. Neither she nor Hobbs would disclose the amount of the gift.
In October, county supervisors accepted an offer Hobbs made in 2010 of a conservation easement to permanently protect 117 wooded acres on the Pocket Canyon property. He also agreed to make a $175,750 endowment to cover the cost of managing the land.
The board accepted the offer despite critics' worries that it would influence future decisions about Hobbs' vineyard developments.
The donation "hopefully will be a first step in rehabilitating what some in the public think about Paul," his attorney John Holdredge, said to the supervisors. "Clearly some mistakes were made out there. This is a first step in rectifying those mistakes."
It's too soon to tell whether Hobbs' mitigation efforts, both for the land and his relationships with other growers, will be enough.
"I think he's gotten the message now that you can't just do stuff," Balletto said. "You have to remember that you're not just affecting yourself when you make a mistake of this magnitude, you're affecting the whole industry and also the community. Let's not forget our neighbors."
It also remains to be seen how much that matters to the Steve Jobs of wine.
"I don't think he runs from controversy," said Morrison, his former winemaker. "Sometimes, I guess, he doesn't do a lot to avoid it."
Jeremy Hay is a staff writer. He can be reached at jeremy.hay@pressdemocrat.com