Thoughtfully arranged atop the hand-woven table runner are curved wooden salad servers, a soft cotton towel and a hand-glazed tea cup. This setting is the work of three local artisans, women who work individually yet join together to showcase their wares.
When they met about three years ago at a crafts fair and farmers market, Amy Halko, a ceramic artist; Holly Jordan, a woodworker; and Marilyn Webster, a weaver, quickly understood they had similar sensibilities, an artistic alchemy. All loved cooking and all expressed their passion in handcrafted items for the kitchen and dining room, treasures that were lovely on their own but that took on a deeper allure and beauty together.
Soon, "Clay Wood Cloth, for Gracious Cooking and Dining" was born. It is a simple collaboration that hosts a few sales each year, sometimes with just the three of them and sometimes at larger events. On Dec. 7, they will hold a holiday sale at Stark Wine Company in Healdsburg.
Upon request, Halko, Jordan and Webster also arrange special group sales and donate a portion of their proceeds to a local nonprofit. Typically, the host chooses the beneficiary; local animal shelters and educational organizations have been recipients in the past. When it's their choice, the women like to support Ceres Community Project in Sebastopol. Ten percent of the proceeds of the December sale will benefit Ceres, which teaches teens how to grow and prepare healthy meals, and also feed those in need.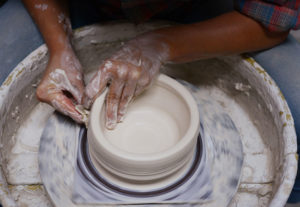 Clay
"I love cooking," says Amy Halko, who lives off Skaggs Springs Road northwest of Healdsburg, of her ceramics, with shapes inspired by function – a spouted bowl that pours perfectly, for example.
Her handmade pieces are elegant, graceful and sensual, with supple curves and voluptuous lines that in turn inspire the designs that adorn them. Halko is also influenced by Japanese block prints.
Glazes are delicate and minimalist, with fine tight lines and loose, dripping splashes of color against a pearly white background. Small unglazed spots offer a compelling tactile quality and the undersides of lids and bottoms that are glazed and decorated to contribute surprise.
Halko's delicate line work, sometime punctuated by small dots of white gold, is particularly effective in the way it contrasts with and thus accents the curves. Colors are muted and smoky. Small round holes add an ethereal lightness to some pieces.
She makes individual pieces, everything from salt and pepper sets, tiny creamers and sugar bowls, to dinner plates, bowls, tall graceful pitchers and full sets of dinnerware.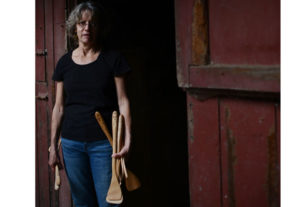 Wood
Holly Jordan has a bachelor's degree in fine arts from the California College of the Arts and has been a woodworker for more than three decades. She's designed furniture inspired by the Memphis Movement of the 1980s, crafted reproductions of antiques, and currently designs components for businesses and wooden arbors.
Her work has always produced a lot of scrap, so many years ago she began carving from it kitchen implements for herself and her friends. Now she is the "Wood" of Clay Wood Cloth. Long-handled polenta spoons, spatulas and wooden spoons, pie servers, salad servers and cutting boards are among her specialties.
Many of Jordan's implements are embellished, too, using the old American folk-art technique of pyro-carving. It employs a metal carver with temperature control and tips of various sizes, allowing her to work on both softer and very hard woods and to design delicate, ethereal images, such as damselflies, dragonflies and bees in midflight, inspired by her love of garden insects. A signature design that she calls "carrot folks" — carrots with compelling faces — adorn graceful curving handles, adding an element of subtle fun. All the implements emphasize the wood's natural beauty that blossoms with age and use.
Most of the kitchen implements are made from eastern white maple, a very hard wood from the same tree that gives us maple syrup.
"It is important to use woods that do not transfer flavors," Jordan says, explaining that walnut, for example, imparts a bitter taste. White maple leaches a subtle sweetness but eventually seals itself naturally. Jordan also works with cherry, oak, ash and cherry wood, and old wine barrels, often given to her by friends.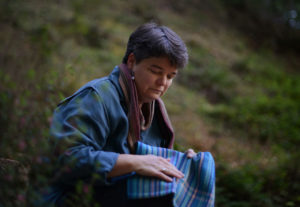 Cloth
Marilyn Webster has sold her hand-woven kitchen towels, napkins and table runners since 2007, yet fiber is a lifelong passion. She learned to knit at age 6, mastered embroidery, macramé and tatting as a teenager, and picked up the Continental style of knitting (with the yarn in the left hand) in college.
Finally, she learned weaving, and as of June 2013, she had sold some 1,000 kitchen towels.
Webster starts a new batch on Mondays, setting up her loom with a carefully arranged pattern of 100 percent unmercerized cotton threads. If she works daily, she has 10 to 12 finished towels by Friday. She averages about 400 towels a year.
Her inspiration comes from the natural world, from things she sees when she walks her dog or strolls the beach, from fused glass, clothing she admires and more. She begins each project with a planned design, but there is also an element of discovery and surprise.
She says the process is more like small-dot pointillism than painting brushstrokes in the way the patterns emerge.
Webster names her designs, too, understanding that customers love a story. "August Walks" resonates with the beautiful browns and golds of our landscape in midsummer. "101 North 2" evokes our dry hills punctuated by trees. "Island Blue 2," inspired by a photograph of a door in Havana, Cuba, shimmers with intense blue and periwinkle accented by a slash of magenta.
The towels, which soften with use, are as durable as they are beautiful. Webster is still using towels she wove in 2006.
"Other towels tend to get pushed to the back of the drawer,' she says. They are incredibly absorbent and take on a beautiful sheen as they age.
Webster also weaves napkins, table runners and a few scarves.
"People expect hand-woven scarves," she says, "and I have one that I love. But my heart is in the kitchen and the dining room."