Sonoma's creatives know how to bring magic to our community at the holidays, from caroling and toy drives to cozy afternoons with books and hand-knitted sweaters. The offerings at local independent boutiques run both wide and deep, whether your December wish list includes a pepperberry-studded wreath, a flashy red bass guitar, or something delicate and sparkly. Here are some of our favorite ways to shop local this season.
House of Botanicals, Sonoma
Whether your holiday home needs a complete plant makeover or a simple shot of green alongside the tree, Broadway's House of Botanicals offers a luxurious take on the world of indoor plants. Owner Lewis Deng, who also runs BotanyZhi in Santa Rosa, stocks everything on the indoor plant spectrum, from large and exotic to tiny and easy to keep alive. While some picks do require specific and delicate care, Deng likes to say that caring for a plant is a way of caring for yourself, too. Once one of the super-friendly employees helps select a plant for the care and light conditions that suit best, there is a gorgeous array of cache pots and vessels to place it in, including many that look straight off the set of a high-design photo shoot. If you like, pair a plant with one of their richly scented candles for a perfect gift. Done and done.
520 Broadway St., Sonoma. 707-501-7379, hofbsonoma.com
Maison Smith, Healdsburg
In 2022, husband and wife Buzz and Janen Korth opened their first "modern mercantile" in Santa Fe, and that October, they brought a second Maison Smith to Healdsburg. As an interior designer who grew up immersed in the art and culture of New Mexico, Janen Korth has a talent for spotting unique pieces and makes regular international trips to source for the store. From European linens to vintage pottery to 18th-century antique furniture from Mexico, Maison Smith has that worldly, well-traveled look fully dialed in. There are also pieces from local designers, including Charlene Court, who uses gemstones and bone collected by her late father to create vintage-inspired jewelry. The store is just a short walk north of the Healdsburg Plaza, where shoppers can step in for a wine tasting before or after shopping—although, jokes Buzz, "actually, we prefer people drink first, because they tend to buy more."
459 Healdsburg Ave., Healdsburg. 707-756-5002, maisonsmith.us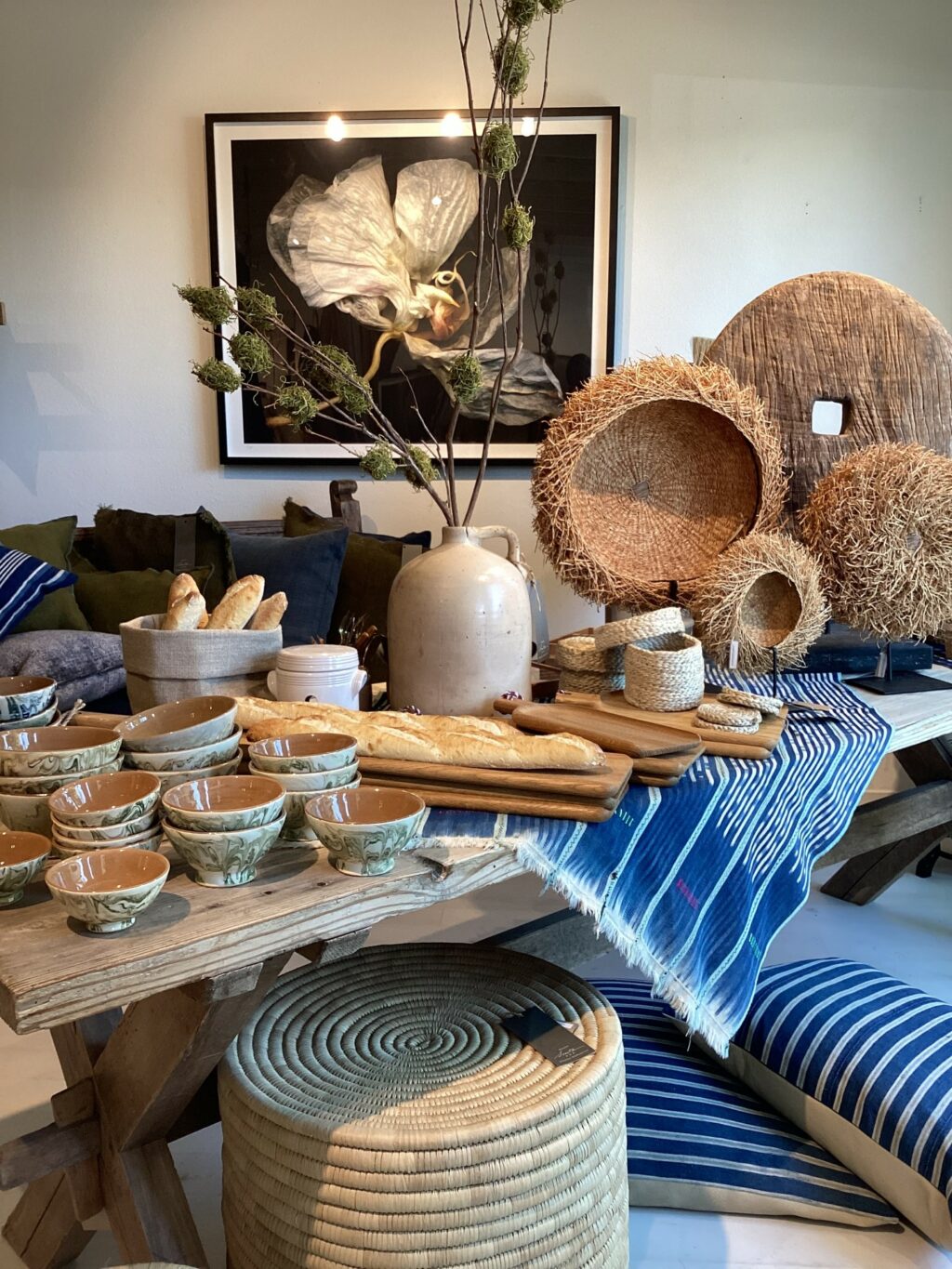 Russian River Books & Letters, Guerneville
"Being in a small town and a town that is diverse has always been really important to me," says owner Michael Rex, who has assembled a thoughtful selection of art books, fiction, nonfiction, and kids' books with BIPOC and queer characters at his bright, cheery shop a short walk from the bridge. Part unofficial Guerneville visitor center ("I think we just look like a good place to stop in and ask questions," says Rex) and part gathering spot, Rex hosts author events and teaches ESL language classes. He stocks the store for the holidays with boxed cards, pen and art sets, traditional Mexican-style tin angels from a local artist, and Sonoma-themed coffee-table books—he's also booked the Areté mistletoe singers for caroling on December 16. Our favorite detail? A vintage typewriter, preloaded with holiday letter paper and set out on a table, with pre-stamped envelopes nearby so bookstore browsers can type out and mail a free holiday greeting. It's these thoughtful, community-building touches that make this bookstore such a gem.
14045 Armstrong Woods Rd., Guerneville. 707-604-7197, booksletters.com
Celebrating with Michael Rex, Russian River Books & Letters
Standout gifts: I purchased these really cool lights from a maker in London. They're very simple; they're a light that's in the shape of a hardcover book, with a USB charge—you can lay it flat, you can stand it up, you can do all kinds of things with it. They look really nice on your bookshelf. "Braiding Sweetgrass" is a book that I always recommend to people as a gift. I always do a lot of great children's books, which are always very, very popular, and I do a lot of letter-writing materials, pen sets , calligraphy sets and then give that with some really nice paper, putting things together in a nice little gift package.
Local favorites: I'm going to name my competition, The Poet's Corner in Duncans Mills. It's a lovely place and they have a lot of really great gift books, too. We have a lot of Christmas fairs, so I go to those in our little churches and community centers—there's a great one at the Monte Rio Community Center. And I'm on the board of the chamber of commerce, and we're going to try to do a Christmas market this year.
How to unwind at the holidays: I adopted a dog a couple months ago. His name is Archie, he's 1 year old, and he's huge, part Labrador and part Pyrenees! He comes with me to work each day—now he's a shop dog. So for me to unwind is just taking a nice walk through the redwood trees with Archie. Or I love to go to Goat Rock. I never get tired of it, it's amazing.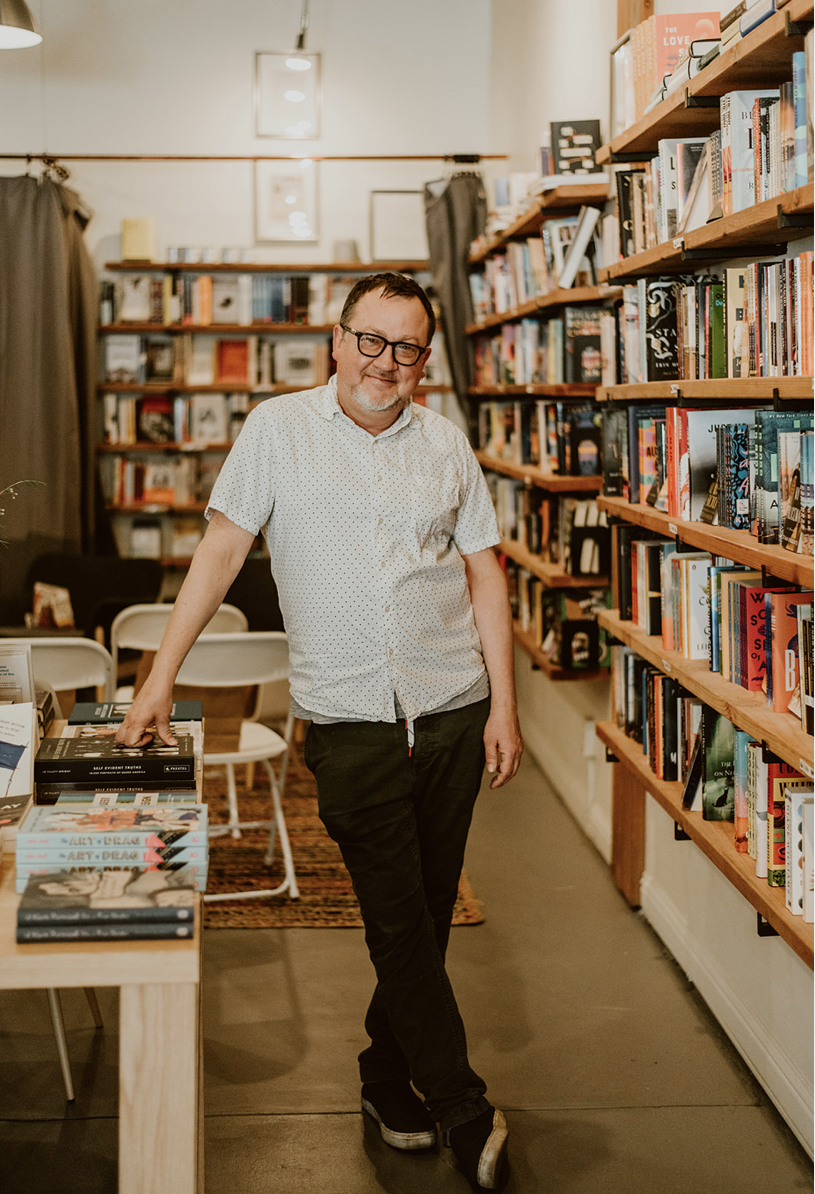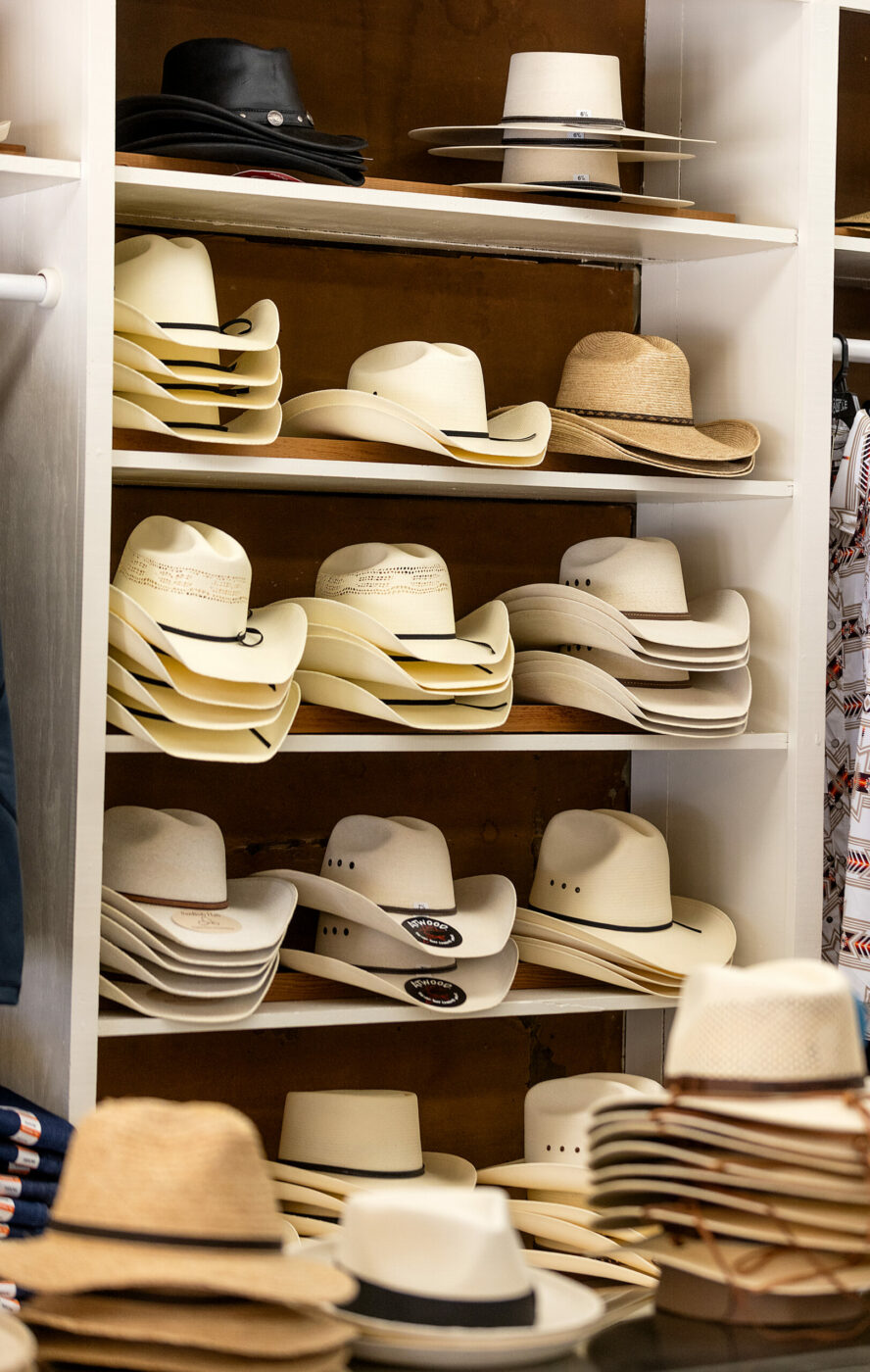 Bosworth & Son, Geyserville
Gretchen Crebs is the fourth generation of her family to run a business in downtown Geyserville's historic Bosworth & Son building. Back in 1904, the building was home to a mortuary run by her great-great grandfather, and later, the family's business interests moved into clothing and hats (one section of the building is still dedicated to a small local history museum). These days, Bosworth's is known for its unique western apparel, including Wrangler jeans, Minnetonka moccasins, and cowboy boots from legendary brands like Dan Post, Olathe, and Lucchese. Particularly popular at the holidays is the lineup of fur felt hats, which are water resistant and naturally antibacterial. "Hats are very popular the last few years, thanks a lot partially to the TV show 'Yellowstone,'" says Crebs. Bosworth's is also one of the only places around still offering specialty hat steaming and shaping services. The festively decorated shop is also a must-visit either before or after Geyserville's famous holiday tractor parade, always the first Saturday after Thanksgiving.
21060 Geyserville Ave., Geyserville. 707-857-3463, bosworthandson.com
Mix Garden, Healdsburg
Owner Mick Kopetsky started out selling compost and mulch and later made a name for himself selling hard-to-find starts of heirloom melons, tomatoes, and rare Italian herbs. At the beginning of winter, gardeners visit the nursery for tender escarole and puntarelle starts—the showstoppers in warming dishes like Italian wedding soup or puntarelle alla Romana. Inside, there's a beautiful array of garden tools and gifts for people who love to get their hands in the dirt. The showroom is overflowing with durable handmade quilts, botanical plates, Henry Dean glassware, Danish watering cans, colorful seed packets, and handmade beeswax taper candles. Delicate everlasting wreaths made in-house are accented with foraged red pepperberries and lacy air plants. And bountiful tabletop displays of pine cones, seed pods, greens, and berries look like holiday jewels under handblown glass cloches. One of the more unusual gifts? A perennial caper bush, Capparis spinosa, to grow for its pretty (and delicious) caperberries.
1531 Healdsburg Ave., Healdsburg. 707-433-4327, mixgarden.com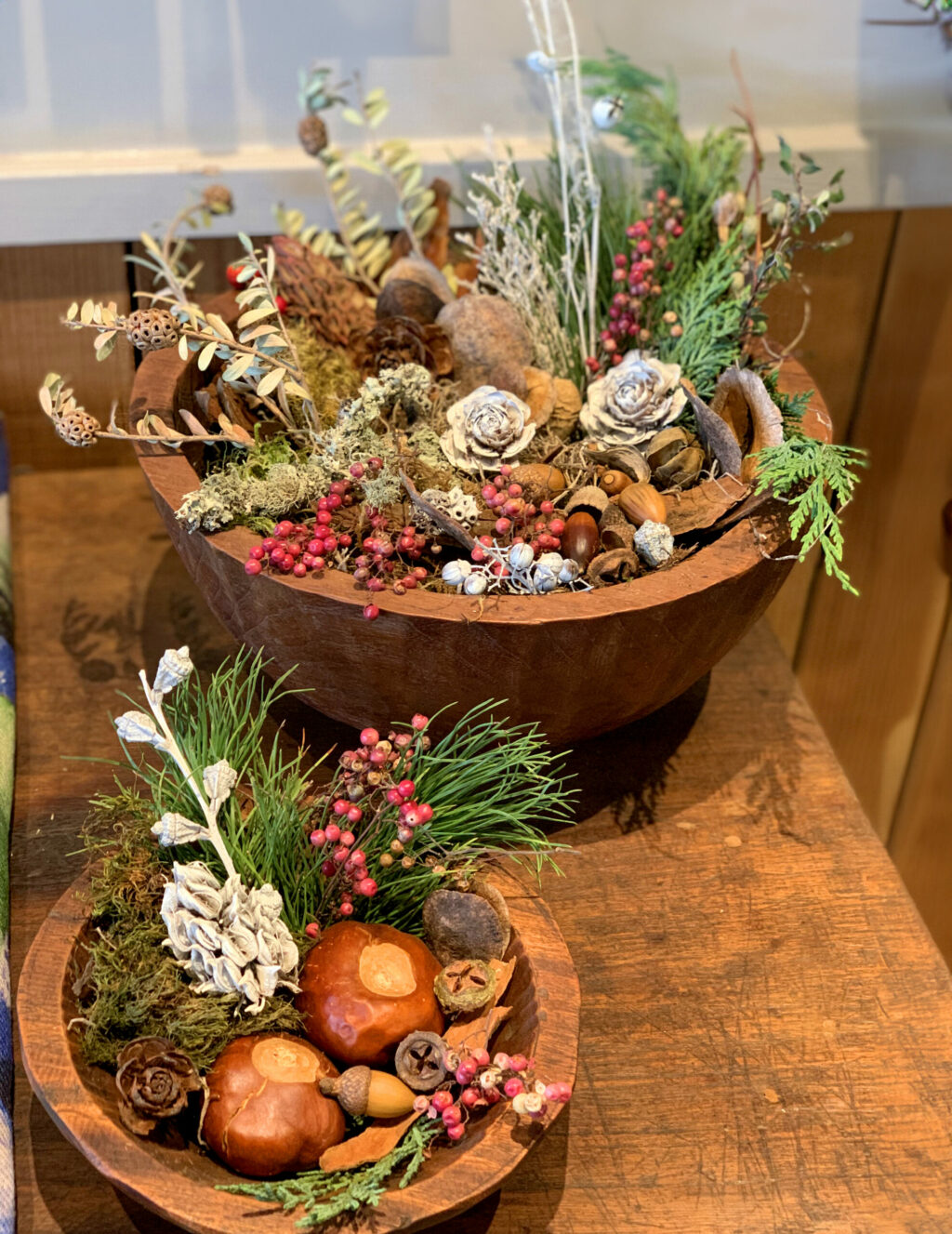 Tiddle E. Winks Vintage 5 & Dime, Sonoma
Remember when a 50-cent allowance seemed like a treasure? A time machine effect takes over upon entering downtown Sonoma's Tiddle E. Winks, a 50s-style five and dime with walls of old-fashioned candy (alas, not a penny anymore, but just as fun to shop), collectibles, stickers, and more, with something quirky or wondrous to see at every turn. There are Sonoma-themed souvenirs, like wine glasses and mugs, plus throw pillows shaped like San Francisco cable cars, Karl the Fog ornaments, and even college-town themed dish towels for those whose school spirit has never left. "That was my vision—a little bit of everything," says owner Heidi Geffen. "I really do think we have something for everyone." Geffen and her team even offer a service to help folks fill their holiday stockings: just let them know the age of the recipient and a price point, and they'll put together a fun little collection of wonders. 115 E. Napa St., Sonoma. 707-939-6933, tiddleewinks.com
Smith & Bergen Bicycles and Repair, Petaluma
There's a wonderfully unpretentious community vibe with a bright red Fender Squier Stratocaster electric guitar leaning on the edge of a bike rack and a handwritten Black Lives Matter sign presiding over a rack of colorful bicycle jerseys. The name of the shop is an homage to the New York City Subway F/G stop located at the corner of Bergen and Smith streets in Brooklyn, where owner Ron Murdock-Perriera lived before moving to California a couple years back. His friendly shop focuses on selling commuter bikes and bicycle repair, and he offers sleek accessories that will smooth out any commute, from to-go canteens to bike bells to phone holders. Young and old riders alike can get all their needs sorted, from a jolt of espresso to a bit of conversation to chilling out and watching whatever bike race might be playing up on the TV. Murdock-Perriera believes that the best bicycle shops should have the feel of a neighborhood barber shop—a place to gather, and a place where everyone is welcome.
7 Petaluma Blvd. N., Petaluma. 707-774-6111, smithandbergenbicycles.com
Celebrating with Ron Murdock-Perriera, Smith & Bergen Bicycles and Repair
Standout gifts: Definitely helmets and lights. Second to that will be children's bikes, and in third place are e-bikes. There's a big demand for commuter-style e-bikes. [On the horizon…] E-bikes are going to be recharged just in the way EV cars are being recharged, with regenerative braking where the power goes back into the battery. I feel that will help with our energy consumption a little bit too. We're not constantly charging the e-bike and pulling from the grid. We're able to put back some of that power into the e-bike.
Local favorites: I love gifting people really nice coffee. A friend of mine owns a really nice roaster and coffee shop here in Petaluma called Super Coffee Roasters. Second to that—it really does revolve around food—I'll buy people little variety packs of treats from Water Street Bistro or Stellina Pronto. I love gifts, food is my love language, and I love gifting people food!
How to unwind at the holidays: I do most of my riding in Petaluma. I am looking forward to—and I don't know if it's gonna happen, but— more bike paths and streets with bike lanes that actually connect to each other.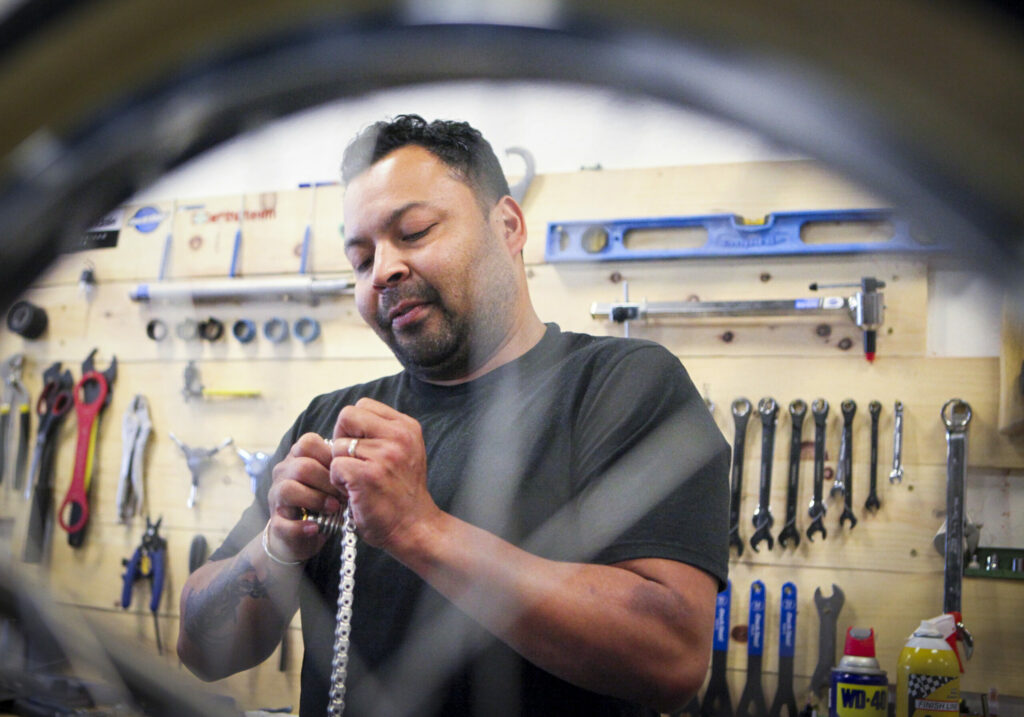 Acorn, Sebastopol
It's a cottagecore dreamland at this tucked-away housewares and toy shop, with warm lighting, inviting tablescapes, and a comfy couch with layers of colorful pillows. The store is filled with cloth napkins, candles, and dishware perfect for garden parties once the weather warms, plus sustainable toys and thoughtful kid costumes from Sarah's Silks for all kinds of backyard adventures. Owner Emily Lynch puts up a "Please Touch" tree decorated with felt ornaments so kids can play with the holiday decorations without fear of breaking anything—and parents can relax a bit. "It's fun to see kids be able to interact with this season in a way that they're not normally allowed to," Lynch says of the specially decorated tree display.
25171 Hwy. 116, Monte Rio (also at The Barlow, 6780 McKinley St., Sebastopol). 707-5200679, acornshop.co
California Luggage Co., Santa Rosa
The oversize, stuffed white sheep dog standing guard outside the California Luggage Co. will be donning a red Santa hat this holiday season, after greeting customers at the store on Fourth Street for nearly a decade. If you have a wanderer in your family, the downtown spot is great for gifts, with hundreds of options for luggage and other travel accessories. Especially popular are wine carriers—owner Bernie Schwartz estimates 15% of customers are wine travelers. Schwartz has been running the business for 43 years—a blessing, he says. "If you like people, retail is a gas. It makes you a Zen Buddhist. It's a moment-to-moment reality. You have an interaction that's meaningful and authentic, and then you're on to the next person."
609 Fourth St., Santa Rosa. 707-528-8600, califluggage.com
Good Gray, Penngrove
In 2021, mother and daughter Laural and Lily Reid moved their "commonplace shop," named for poet Walt Whitman, from Petaluma to a historic, sunlight-flooded building in Penngrove. The idea of a commonplace shop comes from the early colonial practice of using "commonplace books" to record notable bits of information or inspiration—almost like an analog Pinterest board. "They would write anything educational, interesting, or useful to them," Laural explains. "So this is like my commonplace book—my commonplace shop." The minimalist, eco-friendly store actually fronts two businesses: Good Gray, with housewares, books, stationery, and art supplies, and Apprentice Studio, with Lily's hand-knitted sweaters plus jewelry and apparel. During the holidays, Laural adds paper crafts, origami kits, ornaments, and cards to the shelves, along with thoughtful displays of books and chocolate in the Icelandic holiday tradition of staying up late on Christmas Eve to eat chocolate and read together. The old-timey business is plastic free, with price tags and receipts written out by hand.
9591 Main St., Penngrove. 707-755-4535, goodgray.com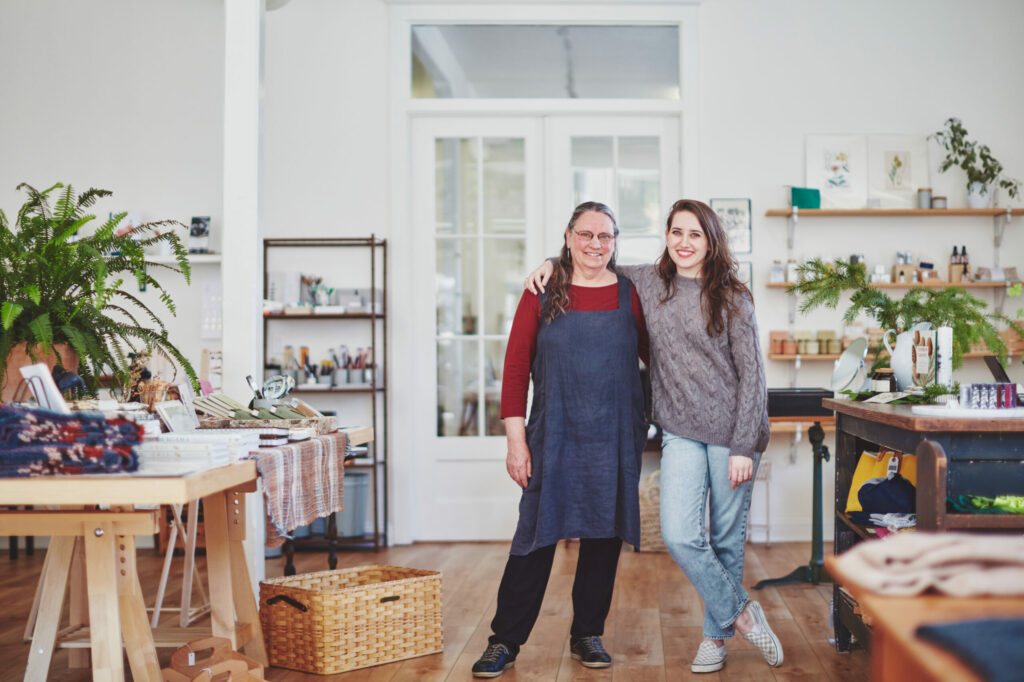 Celebrating with Laural and Lily Reid, Good Gray
Standout gifts: Lily: "My knit sweaters are great gifts because they're handmade and they're usually limited edition. They're made locally, and the biggest part of my collection comes out in the fall." Laural: "We get advent calendars and candles that are really special — calendars done by British artist Angela Harding and advent candles from Denmark. We get a special collaboration with our candle person, who makes essential oil beeswax candles. Books always make great gifts because we have that tradition, reading together as a family. We'll have beautiful chocolates and hot chocolate to go along with the books. We also sell a lot of art supplies, watercolor sets, brushes, and sketchbooks."
Local favorites: Lily: "Ethical Clothing in Petaluma, the Antique Society in Sebastopol, Chelsea, Yankee Girl, and Pennyroyal in Petaluma." Laural: "I'm so busy here, I don't shop a lot anymore. We're not real 'gifty'—it's more about giving together. I find a book for everybody in my family and mostly get them through here, but also find some at Copperfield's Books in Petaluma."
How to unwind at the holidays: Laural: "We go see the Chanticleer Choir at St. Vincent de Paul Church in Petaluma." Lily: "I like to knit and watch movies. People think I wouldn't want to be knitting anymore, but that's when I get to knit for myself." Laural: "We're like, 'Yay, we get a week off!' And then we realize we have to do inventory and we sort of crash because we're exhausted. But we like to go to Pearl restaurant for breakfast during the holidays. I do like to go to the beach or take a walk at Bear Valley at Point Reyes."
Jeremiah's Photo Corner, Santa Rosa
If you or someone you love wonks out on the craftsmanship of a medium-format Hasselblad or an early-80s Canon A-1 (the film camera of choice for many budding photographers), you may already know about this tiny, beloved camera shop and tintype portrait studio in the downtown Sofa District. But you don't need to be a professional to admire minute, analog controls and precisely machined moving parts, not to mention the satisfying click of a hard-to-find vintage lens into a camera body. Gifts for enthusiasts include playful Polaroid and Fuji instant cameras, high-quality Ilford film (stored cold for a longer lifespan), magazines and books, shooting cubes and reflectors, and darkroom supplies to start developing film at home. "People will show up and say, 'I'm so-and-so's mom or boyfriend, and they said you would know what I should get them," said owner Jeremiah Flynn in 2020. "We're that kind of shop."
441 Sebastopol Ave., Santa Rosa. 707-544-4800, jeremiahsphotocorner.com
Adelle Stoll, Healdsburg
For what you would pay for a mass-market designer handbag you could get an Adelle, cut and crafted by the artist in her Windsor leatherworking studio and sold in a jewel box of a shop, tucked away at the end of a long entryway in what locals know as "the old bank" on Plaza Street. Adelle Stoll sells 10 styles of leather bags, plus housewares, leather jewelry and cuffs, playful vintage glassware, handblown ornaments, and other accessories. The purses have understated personality: the round Cloverdale style, cut from a single piece of full grain leather; The Fitch, a smart crossbody with a saddlebag look; and The Healdsburg, a dressy baguette bag with a signature brass clasp (Stoll makes much of her own hardware, too). Stoll also creates bags in gorgeously hued German wool felt, and for winter, adds shearling to some styles for cozy adornment.
119 Plaza St., Healdsburg. 707-291-4484, adellestoll.com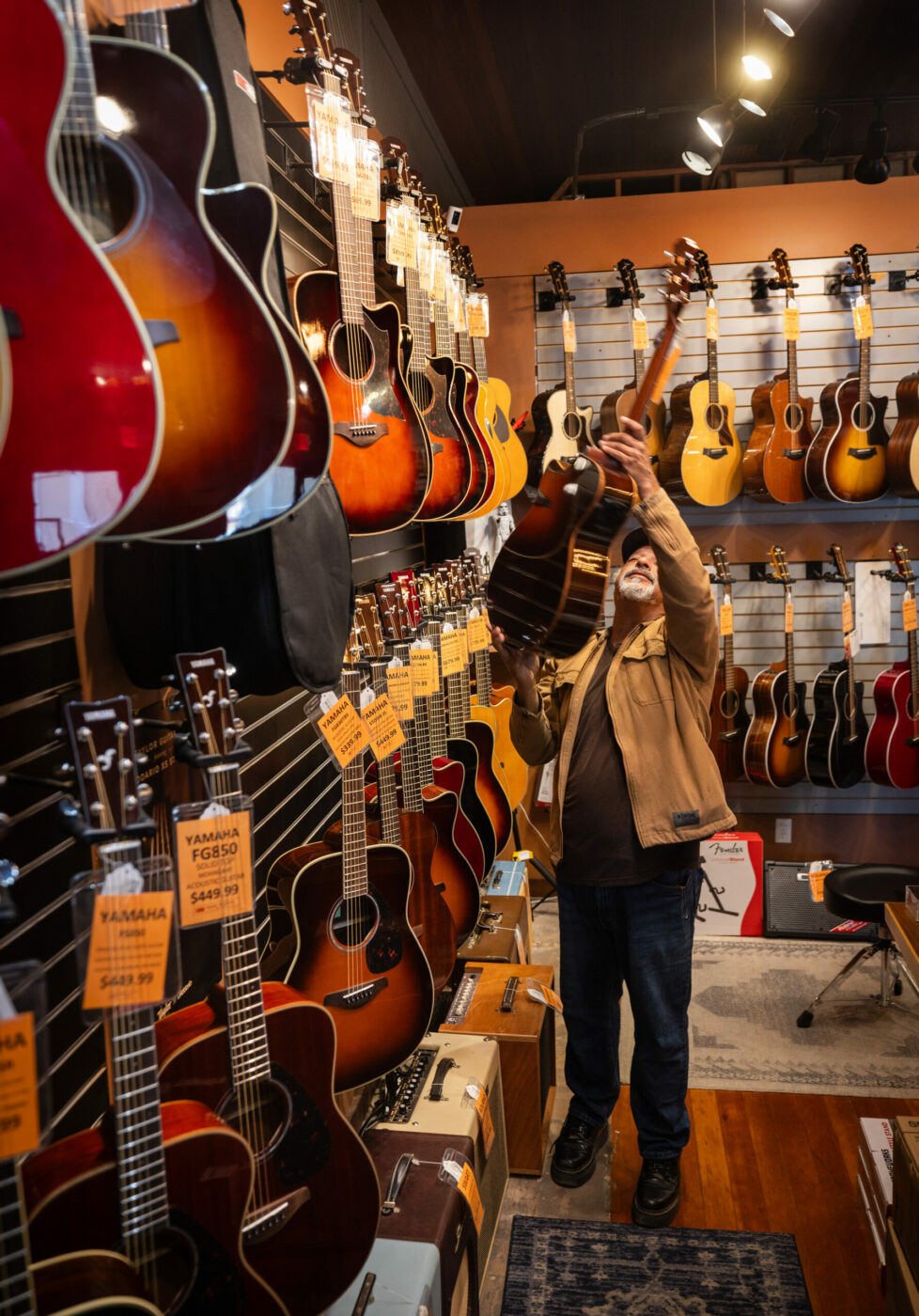 Loud and Clear Music, Cotati
Loud and Clear serves as a hub for local musicians and a gathering spot for the community at the holidays. "It's a time when people are buying things, like beginner instruments, for gifts," says owner Neville Hormuz. "Acoustic guitars are what we sell the most of." Hormuz has a long history in Cotati and in local music circles—he was a longtime employee at Cotati's popular Zone Music store. After it closed in 2010, Hormuz and his wife Marie took over the business with help from some of their coworkers and changed the name to Loud and Clear. A year ago, he bought the 100-year-old Odd Fellows Hall on Old Redwood Highway, remodeled it, and moved in. The store holds music camps for aspiring musicians and nearly every month, they host events to restring instruments for $15, including strings, with proceeds going to area nonprofits. "When people come here, they get friendliness," says Hormuz.
8000 Old Redwood Hwy., Cotati. 707-665-5650, loudandclearmusic.com
California Roadshow, Sonoma
From Napa natives and twin brothers Justin and Ryan Channels, California Roadshow is a local spot for rare sports trading cards and all kinds of other sports memorabilia. The brothers have been collecting baseball cards since elementary school and started making real money in high school selling trading cards on social media. Though roughly half their business is done online, the brothers designed their Sonoma card shop, which opened last June, with its community of customers in mind—sports are on the screen, and there's plenty of seating to hang out and shoot the breeze. Whether you're an experienced collector looking for the rare stuff or a total newbie looking to dip into collecting and trading, the Channels brothers can help—not to mention that they can answer seemingly any question about any rare sports collectible practically on the spot. For the holidays, they can help find a gift for any sports fan within any budget, including trading cards and store gift cards—"the one card everyone collects," jokes Ryan.
750 W. Napa St., Sonoma. 707-231-1097, roadshowcards.com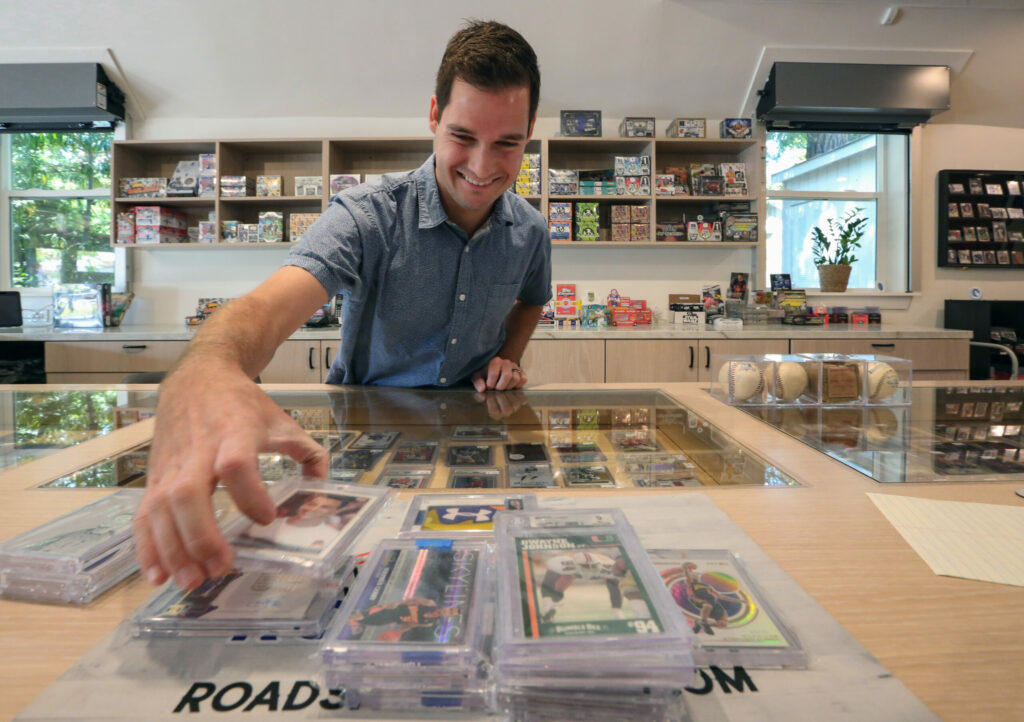 Estuary, Petaluma
Down the street from the Petaluma Seed Bank and within spitting distance of Cucina Paradiso, Estuary's wide storefront windows and deliciously tall ceilings entreat shoppers to step inside. On offer is a beautifully curated lineup of sustainable housewares plus rustic-luxe denim and blouses, often made locally or from women-run companies. Pretty, felt-covered soaps from Fiat Luxe (washcloth, loofah, and soap all in one) and candles with exotic top notes of Sicilian verbena and Bulgarian rose make lovely small gifts, especially wrapped in vibrant sheets of Linna wrapping paper. California-made artisan ceramics recall the quiet, sturdy elegance of Heath, and cult-favorite Blackwing pencils are great for keeping ledgers, sketching, or holding a top-knot together when all the hair ties seem to have run off.
120 Petaluma, Blvd. N., Petaluma. 707-231-9125, shopestuary.com
J.G. Switzer, Sebastopol
Former Tesla marketing executive Jessica Switzer Green wanted to buy a wool blanket—a comforting piece to send away with her daughter to college. Instead, she wound up with a new career when she discovered fine American-made wool blankets were nearly impossible to find. From her own little mill, and showroom in The Barlow, Green now looms and sells beautiful bespoke blankets produced with natural dyes and largely sourced from Sonoma County grown wool (she's partial to the long wool from rare Wensleydale sheep). While the bed-size blankets are definite investment pieces, there are gifts at all price points, from "porch blankets" to warm the knees, scarves, silk-lined eyeglass cases, and laptop cases wrapped in wool. White wool piled at the door offers a snowy effect. Some items will be wrapped and ready for shoppers on the go and gift wrapping is free.
6780 McKinley St., Sebastopol. 707-244-3330, jgswitzer.com
Celebrating with Jessica Switzer Green, J.G. Switzer 
Standout gifts: I go to Rust for clothes (in The Barlow). My daughter loves anything in that store—it's dressy, tailored, and stylish. I go to Beekind to get honey presents and stocking stuffers like beeswax candles in cute shapes. Their honey is extraordinary. I've also hit up Homebody Refill in Sebastopol, on the square. The owner is very anti-packaging and earth friendly. I get refillable soaps for my own home, but she has a lot of fun gift-giving stuff like on-the-go utensil sets.
How to unwind at the holidays: My husband and I love going exploring. Our recharge dates usually include day outings. A favorite family destination is Donum Estate. They have one of the most beautiful outdoor sculpture collections in the world. I also go to Region, a wine tasting bar here in The Barlow with 100 different wines. They have a beautiful outdoor lounge and heat lamps.
Relaxing at home: We like nothing more than to hang out on our porch with a porch blanket and sip wine. We have sheep, two mini donkeys, and a mini horse. I love animals—it's one of my joys. That's why I love making fabric out of sheep wool—because it's like sharing sheep with the world. They have a great gift to give to us, with what they carry around all year, waiting to be shorn in spring.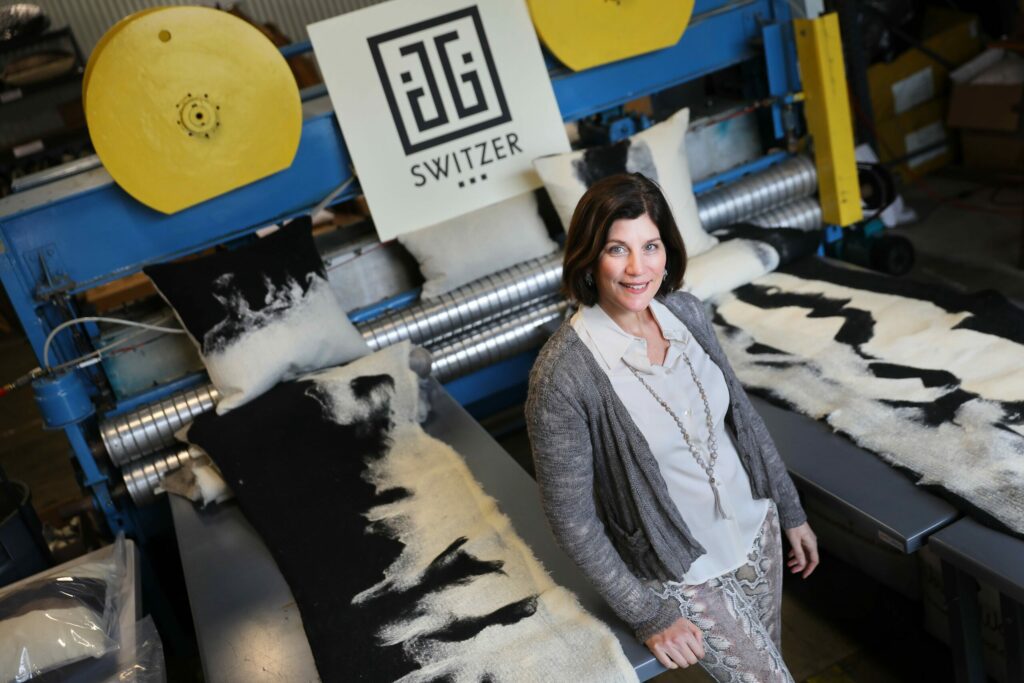 Western Farm Center, Santa Rosa
Oh, how the tails wag at the holidays, as pups stand in the middle of the aisle, sniffing out toys and treats and hundreds of other interesting-smelling things at this old-timey feed store. Grounded deep in the county's ag culture, Western Farm Center is a Sonoma original, with a warehouse of shavings and bulk livestock feed, chicken coops and rabbit hutches. Inside, there are gifts for all kinds of pets and their people, from rolled-leather puppy collars and sturdy stoneware food dishes to gauntlet-length beekeeping gloves and natural fleece chew toys—anyone else see the humor in a long-handled doggie toothbrush in their holiday stocking? Small pets like parakeets and sometimes hamsters live in the back corner, along with everything you need to keep them well and happy, and the store hosts an annual Santa Paws event, where your pet can get its picture taken with Santa to benefit Canine Companions for Independence.
21 W. Seventh St., Santa Rosa. 707-545-0721, westernfarmcenter.com
The Toyworks, Sebastopol
Let your inner child out to play at The Toyworks, where a pair of 4-foot-tall medieval Playmobil figures guard the entrance to the store. Inside, you can spin the giant three-dimensional labyrinth, pick out the perfect pair of dress-up angel wings, find a new Calico Critters family to add to your collection, or get your hands on the latest Lego or Playmobil set. The Goehring family has been operating toy stores in Sonoma County since 1977 and opened the Sebastopol store in 1985 to bring more high-quality, European toys to local shoppers. The store is now run by the Goehrings' son, Jon, who keeps the whimsical spirit of the toy shop alive.
6940 Sebastopol Ave., Sebastopol. 707-829-2003, sonomatoyworks.com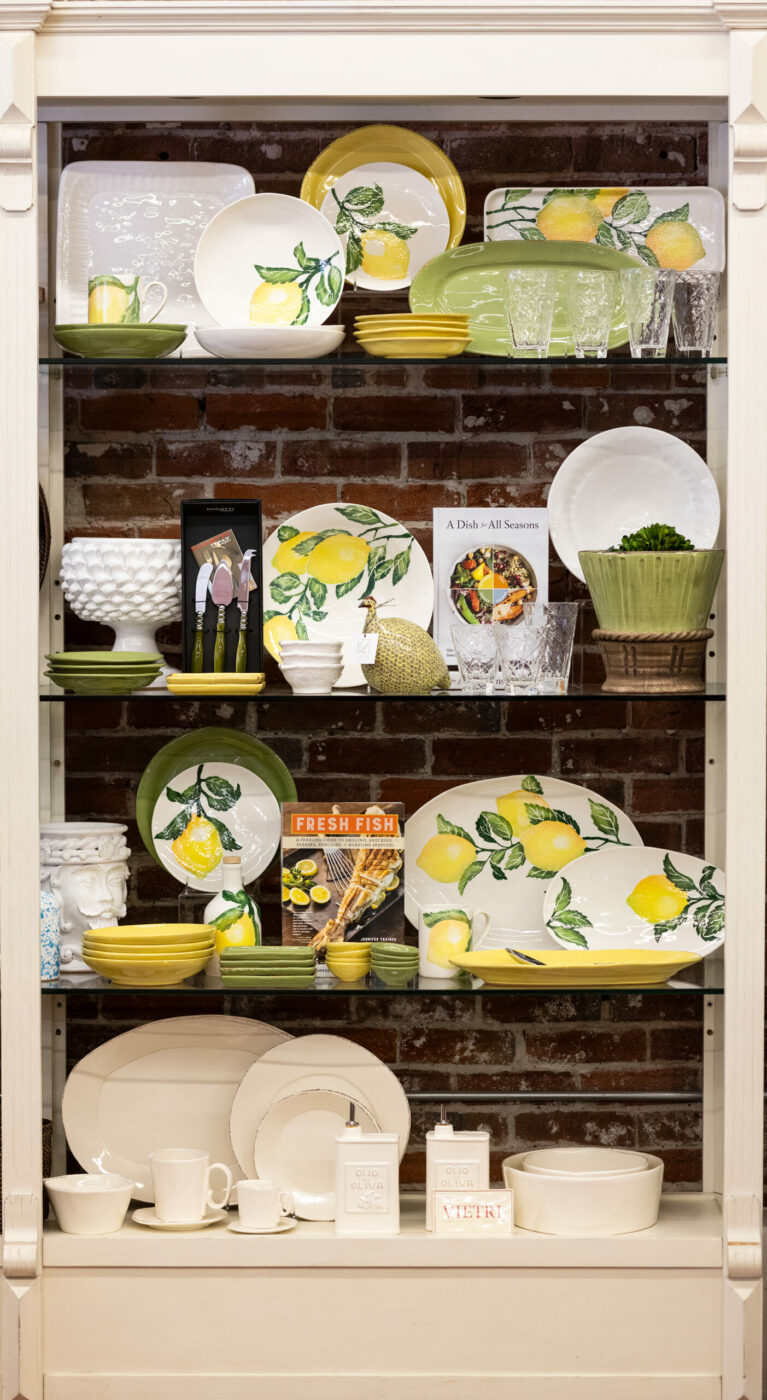 I Leoni, Petaluma
Three generations of the Leoni family run this shop, a nostalgic reminder of the days when you could hit downtown Petaluma for everyday necessities from a friendly local shopkeeper. You can pick up an appliance, a cookie sheet, utensils or a new pan, including beautiful stainless steel and copper Hestan cookware from Italy. Sprinkled among the utilitarian kitchen supplies are beautiful bijoux: sparking Juliska glassware with canework trim, classy handforged barware and serving pieces by designer/artist Jan Barboglio, and timeless Swedish crystal votives. There are even pretty picks for babies, like an heirloom Santa bib and tiny cotton beanies with animal designs. Keep an eye out for random gems like whimsical clay chickens imported from Europe—on the third day of Christmas, give your true love three (ceramic) French hens.
120 Kentucky St., Petaluma. 707-762-9611, ileoni.com
Cochineal, Freestone
Cruising down Bodega Highway, you'll feel like the ingénue in a Hallmark movie when you stop at this tiny boutique to peek at all the beautiful sparkly things. Goldsmith Erin Cuff's jewelry shop and art gallery, in a former gas station directly adjacent to Wild Flour Bread, has beautiful exposed wood beams and a wood-burning stove in the corner. Guests can take in the displays of fine jewelry from local designers— including Cuff's own designs—plus ceramic dishware by Sonoma County native Zoe Dering and leather bags from HH Dry Goods. Try a spritz of fragrance from Kismet Olfactive (the poems on the bottle are beautifully transporting) and muted, desert landscape prints from Tucson artist Scout Dunbar. "I wanted my shop to be approachable but still elevated," Cuff said. "We sell super-high-end stuff, but we also sell things that are under $100. I wanted to cater to a lot of different price points."
142 Bohemian Hwy., Freestone. shopcochineal.com
Celebrating with Erin Cuff, Cochineal 
Holiday picks: We have these beautiful silk eye masks that a friend makes that are really popular. The brand is called The Ziran, and they're a good price point. The masks are made out of beautiful Chinese silk with really fun colors and prints, and everybody just loves them. For jewelry, I think local Talking Tree jewelry from Gina Pinzari in Camp Meeker has amazing pieces—solid gold with rich textures and beautiful stones. Her work is a higher price point, so that would be a really, really special gift. Lingua Nigra does gold-plated jewelry and fun, big statement earrings. And fragrances from Kismet are also super popular as a gift.
Local favorites: I love Good Gray in Penngrove because it's right by my house. In the past, I've bought watercolor sets for my husband because he loves to make me watercolor cards for my birthday. And then I also love going to Pennyroyal in Petaluma, on American Alley. The owner makes leather bags and some jewelry. I love her stuff. I love the shoes they carry as well.
How to unwind at the holidays: I like to garden as a hobby. This is the first year I'm going to be trying to do some stuff besides, like, kale. I haven't put anything in the ground quite yet, but I have some squash and winter veggies I'm hoping to plant. I like to just try to relax and spend time with friends and family, have bonfires—but honestly, I try not to do too much during the holidays because it's a lot for a small business owner.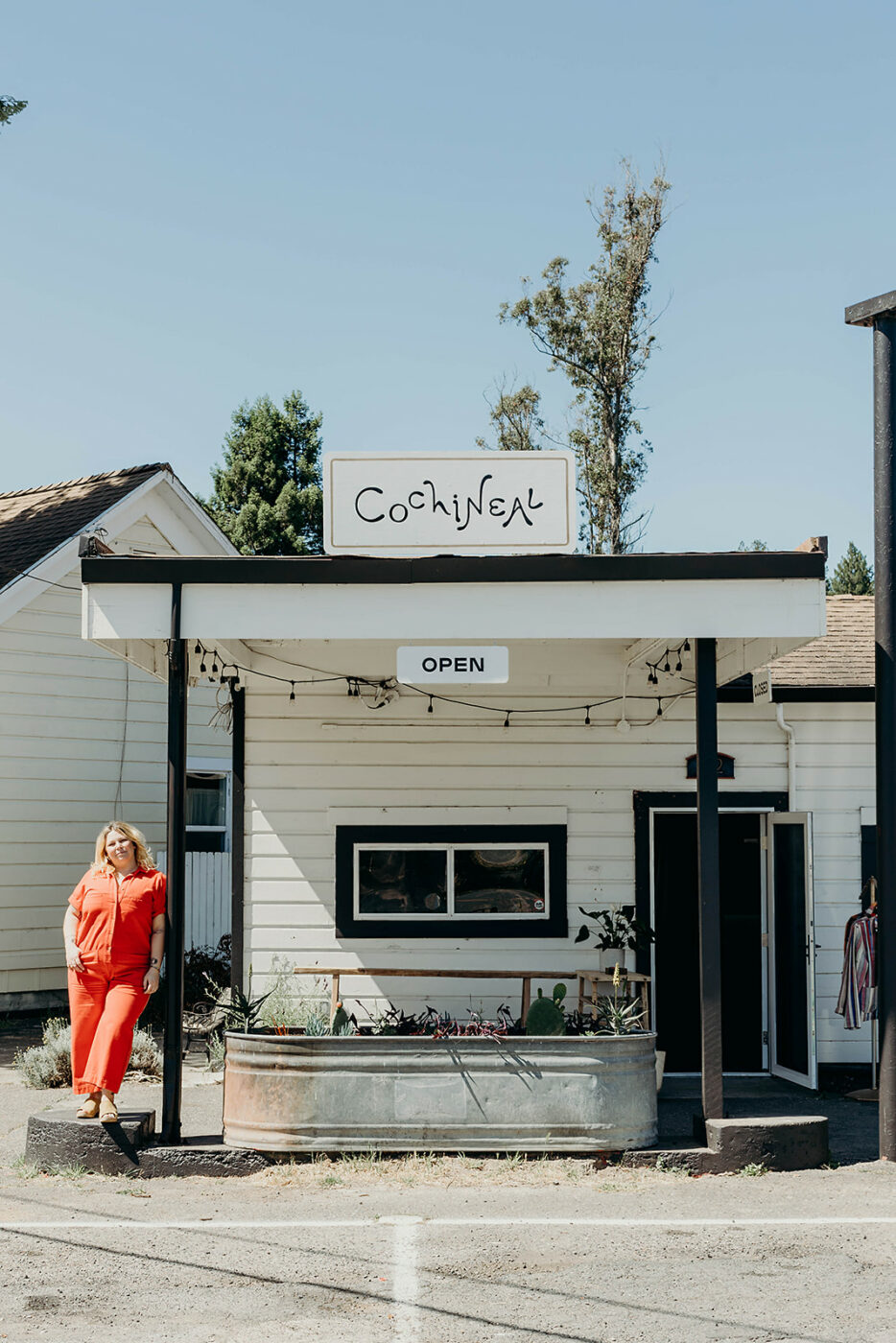 Northern Light Surf Shop, Valley Ford
Does Santa surf? We'll leave that to the elves, but no matter what size wet suit the jolly man wears, he can find everything he needs at this local surf shop. The original location along Bodega Highway in the town of Bodega stocks boards, gear, wet suits, flip-flops, and a terrific lineup of graphic sweatshirts and hoodies, designed and printed in-house. The second location, a few miles away in Valley Ford, stocks even more and is perhaps the only surf shop anywhere in a former bank—the 1892 Dairyman's Bank, vintage vault and all. In Valley Ford, you're steps away from the heartiest breakfast at the coast, the huevos rancheros at Estero Café. Both spots are the kind of locals places where you're sure to run into someone you know, and folks hang out to shoot the breeze. Gear advice, ding repair, lessons, and rentals as well, since 1986.
17191 Bodega Hwy., Bodega and 14435 Hwy. 1, Valley Ford. 707-876-3032, northernlightsurf.com
Rain Dog Records, Petaluma
There's a great story behind the launch of this destination record store: friends Gabriel Hernandez, Jon Del Buono, and James Florence played in a rock band together, but when Covid shut down their performance schedule, they started selling records out of the back of a pickup truck. Fate led them to their brick-and-mortar shop and a completely new career, though they're still working musicians as well, and continue to host punk and rock shows at the store. Vintage vinyl and new releases make terrific gifts for music lovers, and the store also carries band T-shirts, posters, and other memorabilia. The dollar-record section has odd, obscure finds, plus there's a whole wall of rare, classic collectorquality vinyl, like an original box set from local punk rockers Me First and the Gimme Gimmes. Look for new and used gear, too—launch a music-obsessed teen into the DJ world with a BackGroove turntable and speaker set for under $300, a great deal.
1010 Petaluma Blvd. N., Petaluma. 707-776-6187, raindogrecords.net
Celebrating with Gabriel Hernandez, Rain Dog Records 
Holiday picks: I'm into house music, and one of my favorite DJs, Danny Tenaglia, just put out a single called "The Brooklyn Gypsy," so that would be cool, and he's coming out with a compilation soon, too. We have music action figures—like I'm looking at a Devo action figure here—and we have lots of official band T-shirts, like Wu-Tang Clan or Black Flag or Nirvana "In Utero." You can come in and spend a dollar in the dollar section or go for the rare collector stuff, which can be several hundred. We also do lots of soundtracks, especially horror and sci-fi.
Local favorites: I love Nostalgia Alley here in Petaluma—they have a really great vibe in there. It's full of stacks of fun arcade video games and other vintage stuff and they're just really helpful—it's a really cool place to be. I also like Goblin Bros., which sells all kinds of board games and vintage ones, too. They're right across the street from the Mystic Theatre.
How to unwind at the holidays: I'm a drummer, and I just moved here in 2017 from New York, but my business partners, James and Jon, are Sonoma locals, Santa Rosa and Petaluma, so they know all the good places. I love Dillon Beach—sitting out there on the beach and just staring at the ocean. It's so beautiful.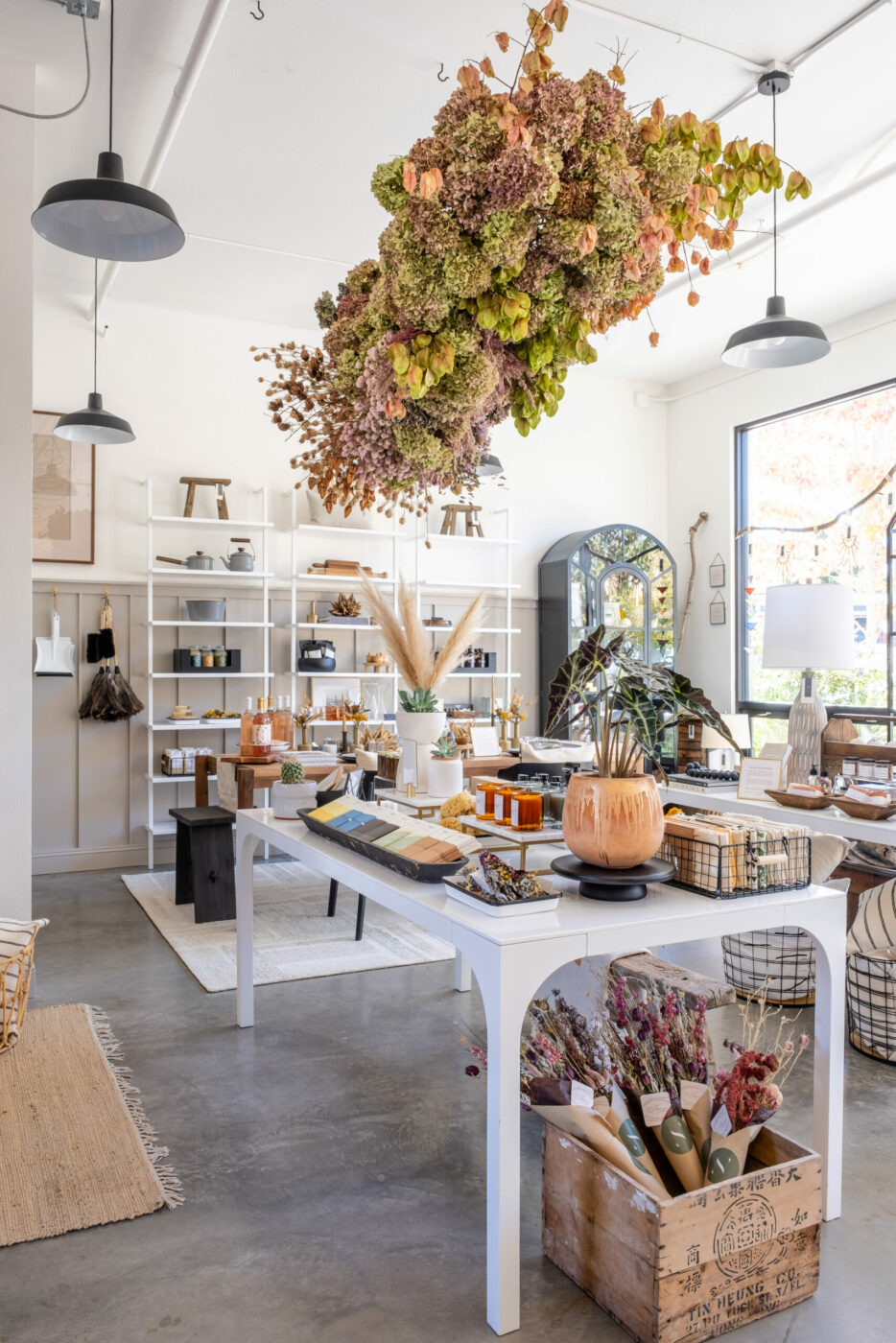 Storia Home, Sebastopol
Interior designer Gina Gutierrez was tapped by Real Simple magazine to design the kitchen in their 2022 idea home, and her Sebastopol shop has quickly become an in-the-know destination for home accessories, throws, candles, books, chocolates, and more. Gutierrez and her team can whip up a custom stocking or gift basket to make the holidays cozy, and they do the prettiest gift wrapping, with simple papers embellished with dried flowers and ornaments for the tree. Holiday finds here include gorgeous terra-cotta and cement planters, Sebastopol-made apothecary products, Southwest-inspired Beyond Borders blankets and throws, and organically shaped cheese boards from Nightwood Studio. Earlier this year, Gutierrez partnered with her good friend, floral designer Jennifer McClendon of JenniFlora, to offer bouquets and centerpieces in store, also great for the holidays.
961 Gravenstein Hwy. S., Sebastopol. 415-501-0024, storiahome.com
Sonoma Cutlery, Santa Rosa
Knife expert Zack Cohen's great grandparents started this shop for all things knife-related in 1979 ("my mom had me in a booster seat while she worked," says Cohen), and the familyowned store remains a treasure trove of gift ideas for people who love to cook. There's no better place to shop for kitchen knives, including well-known chef brands like Wüsthof and Zwilling, plus extremely rare, hand-forged, single-bevel Japanese knives, each signed by the artist who hammered it into being. Knives purchased here come with inhouse sharpening services, and many local chefs won't take their knives anywhere else (the Cohens will sharpen knives purchased elsewhere for a small fee). There are all kinds of gifts, including sturdy Opinel mushroom knives with built-in brushes, Remington Boy Scout pocketknives, Buck hunting knives, Gingher sewing scissors, and Staub stock pots. Cohen's father, Dylan, often guestlectures to culinary students at nearby Santa Rosa Junior College, and the family stocks affordable knife kits for student chefs just starting out.
555 Mendocino Ave., Santa Rosa. 707-542-6433, sonomacutlery.square.site
By the team of Sara Edwards, Meg McConahey, Peg Melnik, Emma Molloy, Abigail Peterson, Kathryn Styer Martínez, Dan Taylor, and Rebecca Wolff.