They call it "la Pisca" — the pick or the harvest — and for the workers who flood into vineyards every August and September, this is crunch time. They make more money during this long sprint into November than any other time of the year.
The work, they say, is all in the lower body. Their legs bending over and over to lift bins that can weigh 30 to 40 pounds, they often duck under trellised vines to get back to the tractor three or four rows away, where they dump their bins of grapes into larger gondolas.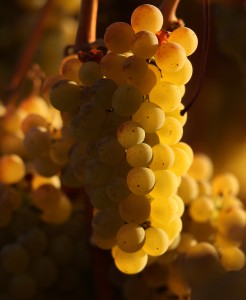 The workers' loyalty and diligence are crucial when grapes have to be harvested immediately. A delay of even a day or two in picking can alter the keen balance of sugar, tannin and acidity that winemakers seek in the grapes they'll turn into wine.
Most winemakers want grapes harvested at night or in the early morning, when the clusters are cool and crisp — ideal for starting fermentation. The pickers stay cooler and more productive, too — and happier, as they'll make more money.
In a typical harvest season, different varieties ripen at different times, so the work spreads out over two or three months. Grapes for sparkling wine are picked first, prized for their bracing acidity and low ripeness levels. Sauvignon Blanc and Pinot Gris usually come off the vines next, followed by Chardonnay and Pinot Noir. The hearty red grapes Zinfandel, Merlot and especially Cabernet Sauvignon are late-ripeners and in cool years can keep crews working fast and furious into late October and early November.
The 2014 harvest began on July 30 — some two weeks earlier than normal, spurred by a warm, all-too-dry growing season. Depending on the vagaries of Mother Nature, it will likely end in late October.
Editor's Note: Travel, dining and wine tasting can be complicated right now. Use our inspirational ideas to plan ahead for your next outing, be it this week or next year. If you visit restaurants, wineries, and other businesses during the pandemic, remember to call ahead, make reservations, wear a mask and social distance.