The Sonoma and Napa hosts who wined and dined a delegation of Cuban sommeliers and other hospitality professionals from the slowly emerging island nation performed admirably at making the visitors feel as satisfied and at-home as in Old Havana.
"I was dreaming of this moment, and I got it," exulted Osiris Oramas, manager of Havana's La Barca Restaurant, as he lifted into the sunlight a glass of Blanc de Noirs at Gloria Ferrer Caves & Vineyards in Sonoma. He eyed the color, clarity and bubbles, and sipped. "Spectacular!" he declared.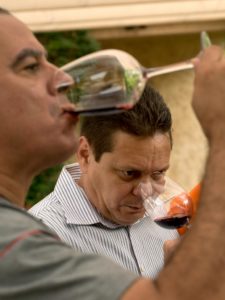 Oramas and 21 fellow travelers on this first collective journey by wine-savvy Cubans to California sampled premium wines, often accompanied by hand-rolled Habanos cigars from home. They also toured and tasted at Benziger Family Winery in Glen Ellen, Healdsburg's Seghesio Family Vineyards and MacMurray Ranch, overlooking the Russian River southwest of Healdsburg.
All through the week of July 20, the visitors paired wines with food and spoke with knowledgeable sorts from nearly every aspect of the California wine industry. They kept a brisk pace and jammed their minds with details of the state's myriad appellations, labels and growing export market.
Then they unwound over leisurely meals at Ramekins and Buena Vista Winery in Sonoma, Healdsburg's Dry Creek Kitchen, and in the Napa Valley as the guests of Michael Mondavi. The sommeliers also learned about matching wine and chocolate at Sonoma's Sebastiani Vineyards.
Arranging their visit was Californians Building Bridges, a group created by Sonoma's Darius and Sarah Anderson to strengthen trade and cultural ties between Cuba and California. Darius Anderson, a principal of Sonoma Media Investments, which owns Sonoma magazine, hailed the visit as the nonprofit's opportunity "to return the kindness and warmth that has welcomed us to Cuba on our many missions over the last 12 years."