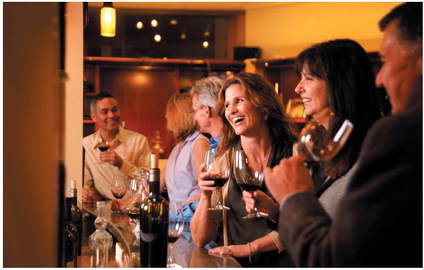 Winter is quiet and contemplative in Sonoma, a time when grapevines go dormant and the wines from the 2015 harvest are at rest in cellars. The countryside can be beautiful, dark golden and gray, without a grape leaf in sight. It's a fine season to stop in at wineries, which are apt to be less busy now that the tourist rush is over. Wine writer VIRGINIE BOONE recommends these wineries for wintertime visits. All are open to the public, typically from 11 a.m. to 4 p.m. Contact individual tasting rooms to confirm.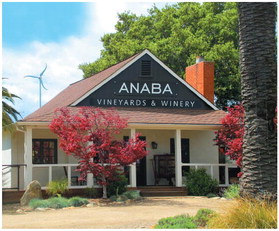 Anaba Wines, 60 Bonneau Road, Sonoma, 707-996-4188, anabawines.com. This Rhone varietal specialist offers a fair amount of fun and educational experiences, including a "Beyond the Label" look at how Anaba wines are made. Offered Friday through Monday at 11 a.m. ($10, reservations required), the session's topic changes each week. The Salon Tasting is another option, Tuesday through Thursday, 11 a.m. to 12:30 p.m. It's a seated tasting of several wines ($30, reservations required). The Syrah and Petite Sirah are winter favorites.
Auteur Wines, 373 First St. W., Sonoma, 707-938-9211, auteurwines.com. Auteur is open by appointment only, except for Saturdays, when walkins are welcome. It produces exceptional Pinot Noirs and Chardonnays from coastal areas and guides visitors through a tasting of five wines at a time ($25). The tasting room is in a cozy house off the Sonoma Plaza, where tastings take place at a communal table fit for conversation and conviviality.
Balletto Vineyards, 5700 Occidental Road, Santa Rosa, 707-568-2455, ballettovineyards.com. The Ballettos are a longtime farming family living in the heart of Russian River Valley. With more than 600 acres of wine grapes, the Balletto winery produces a diverse range of Pinot Noirs and Chardonnays, many of them vineyard-designates, as well as a crisp Pinot Gris from its BurnsideRoad Vineyard, plus the occasional Zinfandel and Syrah. In addition to its acres of grapes, the winery has a regulation-size baseball field, built for the vineyard crew and lovingly referred to as the Field of Dreams.
Ceja Vineyards, 22989 Burndale Road, Sonoma, 707-255-3954, cejavineyards.com. The Ceja family offers an in-depth dive into Carneros wines at its tasting room, where a sampling of five wines ($20) from its portfolio is available Fridays, Saturdays and Sundays from 11 a.m. to 5 p.m. Reservations are recommended. Also visit the family's Carneros Brewing Co. next door, a microbrewery founded by four Ceja brothers. Its taproom and beer garden are open daily.
Dutton-Goldfield, 3100 Gravenstein Highway N., Sebastopol, 707-823-3887, duttongoldfield.com. A producer of cool-climate Pinot Noir, Chardonnay and Syrah, as well as Riesling, Gewürztraminer, Zinfandel and a fine Pinot Blanc, Dutton-Goldfield offers visitors a taste through several of the wines at a leisurely pace. There are more specific tastings, including Wine & Cheese ($30), Beast & Pinot ($40), and a popular choice, Bright Whites & Sushi ($35). These tastings must be booked ahead online.
Gary Farrell Vineyards & Winery, 10701 Westside Road, Healdsburg, 707-473-2909, garyfarrellwinery.com. With some of the best views in the Russian River Valley, this winery also produces some of Sonoma's best wines, from its singlevineyard Chardonnays and Pinot Noirs, to Sauvignon Blanc and a Pinot Noir rosé. Take in a Terrace Tasting ($25), a hosted sampling of six single-vineyard wines enjoyed alfresco, or book the two-hour tour, tasting and lunch ($75), which concludes with a tasting of six wines on the more private Woodland Terrace.
Gloria Ferrer Caves & Vineyards, 23555 Highway 121, Sonoma, 707-933-1917, gloriaferrer.com. Its recently renovated tasting room and vista terrace are the draws at bubbly expert Gloria Ferrer, where food and sparkling wine always go hand in hand. The daily tasting experience centers on a wine flight or glass paired with nibbles of cheese and charcuterie. Guided tours are offered three times a day, allowing visitors to learn how traditional-method sparkling wine is made, and concludes with a tasting of two sparklers and one Chardonnay or Pinot Noir still wine. Bubbles and Bites, available by reservation daily, is a private tour followed by a seated wine tasting with seasonal bites.
Gundlach Bundschu, 2000 Denmark St., Sonoma, 707-938-5277, gunbun.com. This venerable winery has a wealth of wines on hand to sample, and winter is a good time to venture into the caves for a tasting. A close look at the vineyards is also a possibility. The producer's Sonoma Coast Gewürztraminer is a particularly fun wine to drink, along with its Cabernet Sauvignon, Merlot and Tempranillo.
Hawkes Wine, 383 First St. W., Sonoma, 707-938-7620, hawkeswine.com. Based in Alexander Valley, Hawkes maintains a casual tasting home off the Sonoma Plaza, too, inviting visitors to explore its range of wines, many of them made from estate-grown grapes. A vin gris made from Tempranillo is in short supply but well worth trying, as are the Chardonnay, Merlot and Cabernet Sauvignon. Also visit Hawkes at 6738 Highway 128, Healdsburg, 707-433-4295.
Iron Horse Vineyards, 9786 Ross Station Road, Sebastopol, 707-887-1507, ironhorsevineyards.com. This family- run sparkling wine producer also makes outstanding still wines. The estate-grown Pinot Noir and Chardonnay are noteworthy, and there is an unoaked Chardonnay for fans of a lighter style. A flight of five wines ($20) is a good way to start, with tours available at 10 a.m. daily, by appointment ($25), which also includes a tasting. Book ahead for a private truck tour through the vineyards and a private tasting with winemaker David Munksgard, offered Mondays at 10 a.m. ($50).
Jordan Winery, 1474 Alexander Valley Road, Healdsburg, 707-431-5250, jordanwinery.com. Jordan's vast estate is beautiful year-round, but in wintertime, it's a cozy place to hole up for a tasting with food pairing in the winery's private library. It's a by-appointment, seated experience that highlights Jordan Chardonnay and Cabernet Sauvignon and the talents of in-house executive chef Todd Knoll. Lasting one hour, tastings are available Monday through Sunday at 10 a.m. and 2 p.m. ($30).
Kamen Estate Wines, 111B E. Napa St., Sonoma, 707-938-7292, kamenwines.com. In downtown Sonoma, Kamen offers this light, bright tasting room, the perfect spot to pop in for a flight of its estate-grown wines. With an emphasis on mountain Cabernet Sauvignon, a tasting of three wines ranges from $20 to $35. Sauvignon Blanc, Grenache, Syrah and Cabernet Franc also figure into the mix. For a more rugged experience, book a vineyard tour and tasting for $80 and spend two hours in the hills above town.
Kokomo Winery, 4791 Dry Creek Road at Timber Crest Farms, Healdsburg, 707-433-0200, kokomowines.com. A producer of small-lot wines, Kokomo is open daily for $10 tastings of its wide range of red wines, including Zinfandel, Pinot Noir, Malbec, Petite Sirah, Grenache, Merlot and Cabernet Sauvignon. For seekers of white wines, it also produces Chardonnay, Muscat Blanc and Sauvignon Blanc, in addition to a late-harvest Muscat Blanc. Many of its fans, however, come for the crisp Grenache rosé.
La Crema Winery, 235 Healdsburg Ave., Healdsburg, 800-314-1762, lacrema.com. In an intimate tasting room in downtown Healdsburg, Chardonnay and Pinot Noir specialist La Crema offers a selection of tasting experiences, from its signature tasting ($10), to a Pinot Noir Appellation Tasting ($15) and Lounge Exclusive Tasting ($20), none of which require advance reservation. For a more indepth tasting, try the Nine Barrel Room Experience ($30), a look at the producer's highest-end wines, or pair wines with cheese ($35); either way, it's best to reserve ahead.
MacLaren Wine Co., 27 E. Napa St., Suite E, Sonoma, 707-938-7490, maclarenwine.com. A tiny, one-man operation, MacLaren produces a crisp, delightfully complex Sauvignon Blanc called Lee's (named after winemaker Steve Law's mom) and a slew of heady, cool-climate-inspired Syrahs from throughout the county. The tasting lounge on Vine Alley is relaxed and intimate, with Law usually on hand to pour the wines. It's open Monday and Thursday, noon to 5 p.m.; Friday through Sunday, noon to 6 p.m.; and Tuesday and Wednesday, by appointment.
MacRostie Winery and Vineyards, 4605 Westside Road, Healdsburg, 707-473-9303, macrostiewinery.com. New to Westside Road, the MacRostie Estate House is an elegant place to enjoy elegant wines, including single-vineyard designated Chardonnays and Pinot Noirs, most from Russian River Valley and with a few options from Carneros and the Sonoma Coast. Daily tastings are available on three patios and indoors, from 11 a.m. to 5 p.m., with reservations recommended ($15-$25).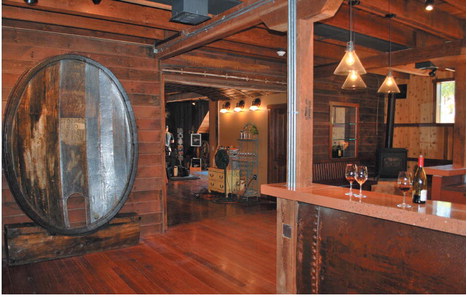 Martinelli Winery, 3360 River Road, Windsor, 800-346-1627, martinelliwinery. com. Once the site of an apple stand, Martinelli is still a place to procure divine Russian River Valleygrown apples, but more importantly, to taste and buy stellar Chardonnays, Pinot Noirs and Zinfandels. Stop in and you're likely to run into a Martinelli family member. This multigenerational operation offers private tastings and tours, plus more casual tastes in an old, red hop barn that now serves as the tasting room.
Pangloss Cellars, 35 E. Napa St., Sonoma, 707-933-8565, panglosscellars.com. Newly opened in a carefully restored 113-year-old building, Pangloss is a sister label to Repris, a winery within the Moon Mountain District. Erich Bradley of Sojourn Cellars makes the wines. The lounge features several tasting experiences, from a communal banquet seating area to a more relaxed space around the fireplace. The wines range from Anderson Valley Pinot Noir to Hamel Vineyard Zinfandel.
Paradise Ridge Winery, 4545 Thomas Lake Harris Drive, Santa Rosa, 707528-9463, prwinery.com. Tucked away in the wilds of Fountaingrove, Paradise Ridge offers a range of wines to enjoy along with unparalleled views across the greater Santa Rosa Plain and beyond. There's also an impressive outdoor sculpture garden, Marijke's Grove. A wine and artisan cheese tasting ($25) is recommended, as is picnicking on the grounds, allowed with the purchase of a bottle of wine for every two people.
Passaggio Wines, 25 E. Napa St., Sonoma, 707-934-8941, passaggiowines.com. Owned and operated by winemaker Cindy Cosco, Passaggio aims to make food-friendly wines inspired by her Italian heritage. Among the offerings are Pinot Grigio, unoaked Chardonnay, several Sauvignon Blancs, blends and a couple of interesting rosés, made from Barbera and Mourvedre. The signature red wine is Unmarked Repeat Offender Sangiovese, a nod to Cosco's former life in law enforcement.
Patz & Hall, 21200 Eighth St. E., Sonoma, 707-265-7700, patzhall.com. The Sonoma House at Patz & Hall is an expansive home fashioned specifically for intimate tastings. The Salon Experience, for example, is a seated, by-appointment taste through six vineyard-designated Chardonnays and Pinot Noirs paired with locally sourced bites. Lasting about an hour, it is $60 per person, with a 10-person limit. The more casual Tasting Bar is set up for shorter explorations of the wines Thursday through Monday, at the top of each hour, 10 a.m. through 4 p.m. — also by reservation.
Pellegrini Wine Co., 4055 W. Olivet Road, Santa Rosa, 707-545-8680, pellegrinisonoma.com. A longtime, multigenerational-owned vineyard and winery in the heart of Russian River Valley, Pellegrini offers an outdoor tasting bar and farm-to-table garden, surrounded by beautiful, vineyards. Pinot Noir and Chardonnay are specialties, produced from estate- grown grapes. Tastings and tours are by appointment Monday through Sunday, 11 a.m. to 4:30 p.m.
Quivira Vineyards, 4900 West Dry Creek Road, Healdsburg, 707-431-8333, quivirawine.com. A wonderland of natural beauty in all seasons, Quivira is always alive, open for tours ($20) of its Zinfandel vineyards, beehives and biodynamic gardens, where chickens roam free. Be sure to try the winery's sumptuous Sauvignon Blanc, balanced Zinfandels and hard-to-find Grenache.

Ravenswood Winery, 18701 Gehricke Road, Sonoma, 707-938-7292, ravenswoodwinery.com. Before there was a pursuit of balance, there was Ravenswood's rallying cry of "No Wimpy Wines," a philosophy it continues to hold to this day. The Zinfandel specialist offers daily tastings of its newest releases, as well as more specialized looks at rare, small-lot Zinfandel ($18) and Cabernet blends ($18). Add an artisan cheese or charcuterie plate for $17 each. A more-hands on approach is available via the Blend Your Own No Wimpy Wine experience. At $65, it's an opportunity to create one's own field-blend wine and take it home in a 375-ml bottle.

Roche Estate Winery, 122 W. Spain St., Sonoma, 707-935-7115, rochewinery.com. A longstanding, family-run winery, Roche runs this tasting room from a Craftsman-style house built in the 1940s and surrounded by outdoor seating. Its snack-plate menu made by the neighboring Sunflower Caffé complements the cool-climate Carneros wines, from Chardonnay to Merlot. The winery also invites visitors to picnic on its grounds, allowing them to bring their own lunch.

Rodney Strong Vineyards, 11455 Old Redwood Highway, Healdsburg, 800-678-4763, rodneystrong.com.
One of the county's most diverse and sustainably minded producers, Rodney Strong makes a long list of wines, from Bordeaux varietals to Pinot Noir, Chardonnay and Zinfandel. The best way to get a snapshot of the winemakers' skills is through the Food & Wine Pairing Experience ($55), a serving of five bites created by the estate's chef that is thoughtfully paired with five wines. Reservations recommended.

Schug Carneros Estate Winery, 602 Bonneau Road, Sonoma, 707-939-9363, ext. 202, schugwinery.com.
The legendary Walter Schug, who died late last year at age 80, was heavily involved in the creation of Joseph Phelps Winery's Insignia Bordeauxstyle red blend, as well as many of the producer's other wines, before opening this family outpost where he could focus on Pinot Noir. His children continue to support the dream, offering self-guided tours of the estate vineyard and daily tastings of its finely made wines, which also include Chardonnay, Sauvignon Blanc and a lateharvest Riesling, among others.

Scribe Winery, 2100 Denmark St., Sonoma, 707-939-1858, scribewinery.com. The brothers Mariani preside over a wide range of casually cultivated events at their outpost on the hill, where unusual wines such as Sylvaner, Riesling and skin-fermented Chardonnay rule. They also make an estate Carneros Pinot Noir and a Cabernet Sauvignon from a vineyard they farm on the eastern slopes of Atlas Peak in Napa Valley. Reservations are required.

Sebastiani Vineyards and Winery, 389 Fourth St. E., Sonoma, 707-933-3230, sebastiani.com. This historic winery maintains a sprawling tasting room and visitor center that's popular with crowds, and where antique redwood tanks surround a lively tasting bar. Daily tours are offered at 11 a.m. and 1 p.m. ($5), while more in-depth offerings include a Historical Vines and Wines Tour, with much of the time spent in the vineyard (daily at 11 a.m., $45). A Wine and Chocolate tasting is conducted daily, between 11 a.m. and 4 p.m. The cost is $10 to $20, depending on the level of wines chosen. Wine and cheese seminars are also available.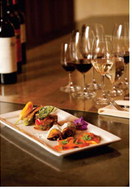 Seghesio Family Vineyards, 700 Grove St., Healdsburg, 707-433-3579, seghesi o.com. Within strolling distance from the plaza, Seghesio is open daily for walk-in tastings. When time allows, enjoy the Founder's Flight ($30), available on weekends by appointment. It's a seated tasting of several wines, accompanied by artisan cheeses and house-cured salumi. On weekends through November, the Family Table ($75) is not to be missed. A brief tour and sampling of salumi is followed by a private, seated, multicourse lunch with exclusive, hard-tofind wines.

Sojourn Cellars, 141 E. Napa St., Sonoma, 707-938-7212, sojourncellars.com. By reservation only, Sojourn offers a sit-down educational tasting of its stellar wines, including Chardonnay, Pinot Noir and Cabernet Sauvignon — wines difficult to come by unless you're lucky enough to be on the mailing list. Erich Bradley is both a partner and the winemaker, working with such vineyards as Durell, Campbell Ranch, Silver Eagle and Beckstoffer Vineyard Georges III.