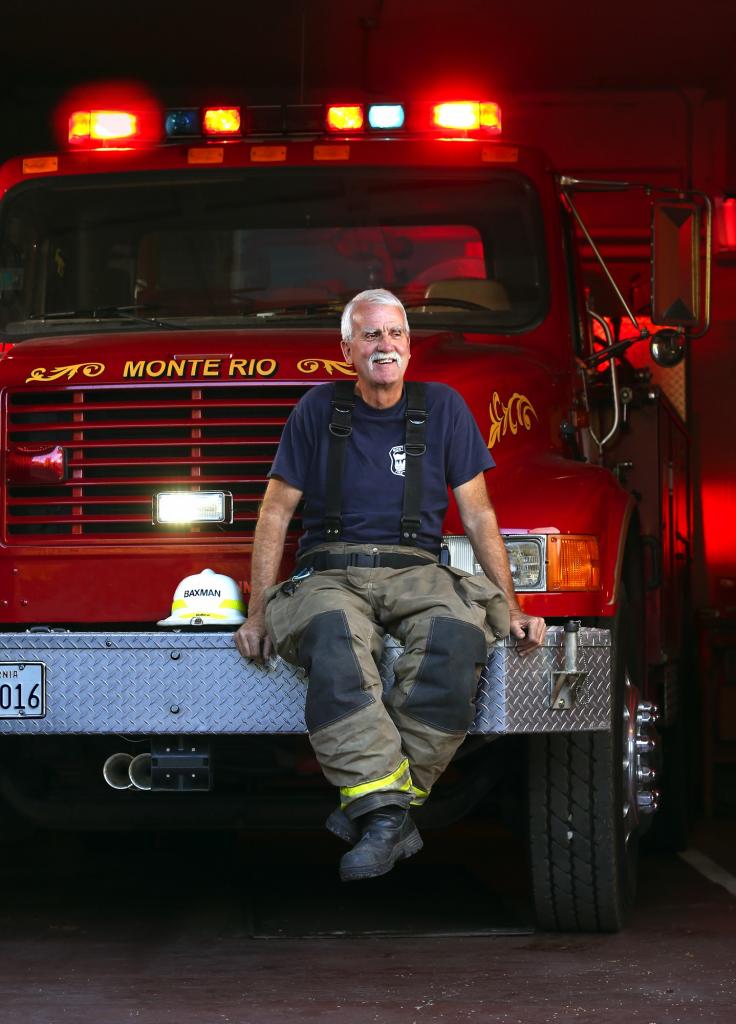 Steve Baxman makes friends the hard way. "I still have people stop me on the street and thank me for something I've done," he says.
As a member of the Monte Rio volunteer fire department for the past 45 years, Baxman has rescued so many people he can't remember them all. "But I'll say, 'Give me a few clues,' and it always comes back to me."
He was first on the scene at the Rio Nido mudslide that destroyed several houses in 1998.
"There was a gal and her mother and the mother didn't want to leave," Baxman recalls. "I said, 'We gotta get out of here,' and we look up the hill and this giant root ball on an 80-foot tree is sliding down the hill, coming right at us.
We ran out of there just as it hit the house."
This winter, with all the talk of El Niño and heavy rains, he's keeping an eye on the weather and staying prepared along the Russian River. But "I don't try to predict it anymore."
BORN: Miami Beach, Fla.
AGE: 63
AGE OF HIS MUSTACHE: 42. "I grew it after I got out of the military in 1973 and never shaved it off."
NICKNAME: "An old boss called me 'High Pockets' because he said I was so tall that my 'pockets were high.'" Baxman is 6-foot-5.
OB-GYN TRAINING: "I delivered a baby in 1985. My name's on the birth certificate. The woman was sitting in the passenger seat with her feet up on the dashboard, in a Volkswagen Rabbit. Just as the paramedics show up, I see this head coming out and there it was — a baby girl."
DAY JOBS: School-bus driver for four years and tow-truck driver for 36 years. Now retired.
YEARS AS MONTE RIO VOLUNTEER FIRE CHIEF: 29 
MOST MEMORABLE RUSSIAN RIVER FLOODS: 1986, 1995, 1997 and New Year's Eve 2005-06
FLOOD DELIVERIES: "The only things we'll take to people are diapers and medicine, if we can get it. But people call me and they want ice, they want booze – I have to tell them we're not a courier service."
ON HIS NIGHTSTAND: "Anything by Tom Clancy, Ken Follett or James Michener."
FAVORITE HOBBY: Riding ATVs while rounding up livestock
WEST COUNTY VIBE: "The people here are different. They have different ideas, different philosophies. And there's a real spirit of community."