Healdsburg artist and chef Naomi McLeod dreams up outdoor celebrations with graceful table settings and fine food and wine — joyous times where memories are made and new friendships cemented.
Her business, Field Day CA, coordinates themed pop-up dinners showcasing local chefs, winemakers, and creatives — all staged in bucolic Sonoma County farms and fields.
Outdoor farm dinners are not a new thing in Sonoma County, where our abundant agricultural heritage and deep bench of chef talent lend weight to such experiences. But McLeod has taken the notion to another level with a focus not just on food but on celebrating her wider creative community. She often incorporates live local music and art displays into her programming.
Increasingly, she's also offering pre-dinner art-making workshops where guests can channel their inner muses.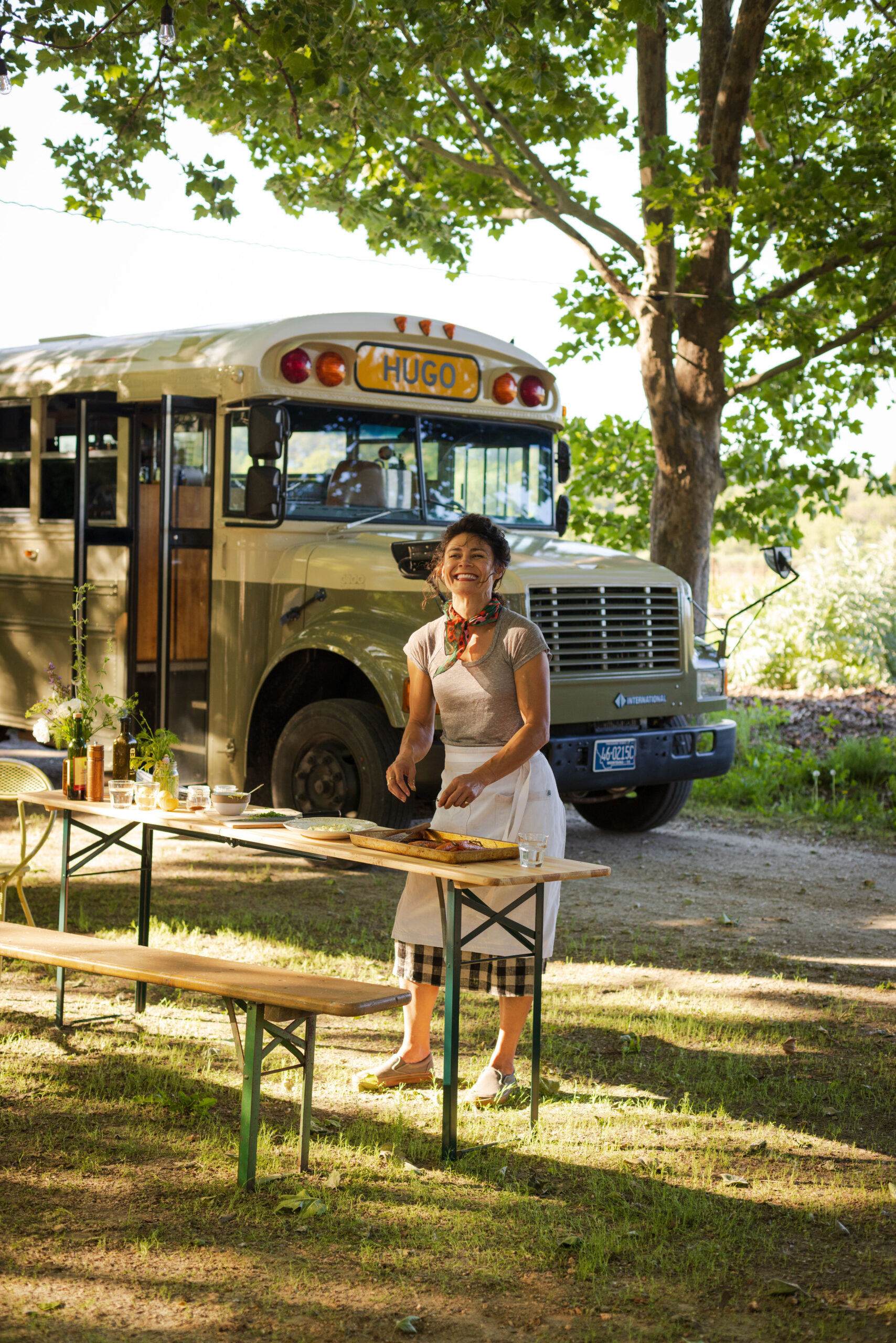 McLeod has been drawn to beauty all her life. She grew up in the famously artistic center of Santa Fe, New Mexico, then at 21, moved to California. She's lived in Seattle, New York, San Francisco, and now Healdsburg, where she moved to take a job as event coordinator at SHED, the former culinary marketplace. "Through all the different disciplines I've worked and played in, my interests were always around art, food, and wine," she explains.
The Field Day CA idea began percolating in 2014, when a friend purchased a vintage Blue Bird International school bus and retrofitted it into a fully functioning catering kitchen. McLeod stepped in part time to help her friend with some small events, while raising a newborn son. The two friends' fledgling work saluted the phenomenon of Outstanding in the Field, a farm-focused, rock 'n' rollstyle series of al fresco dinners, where McLeod had briefly worked.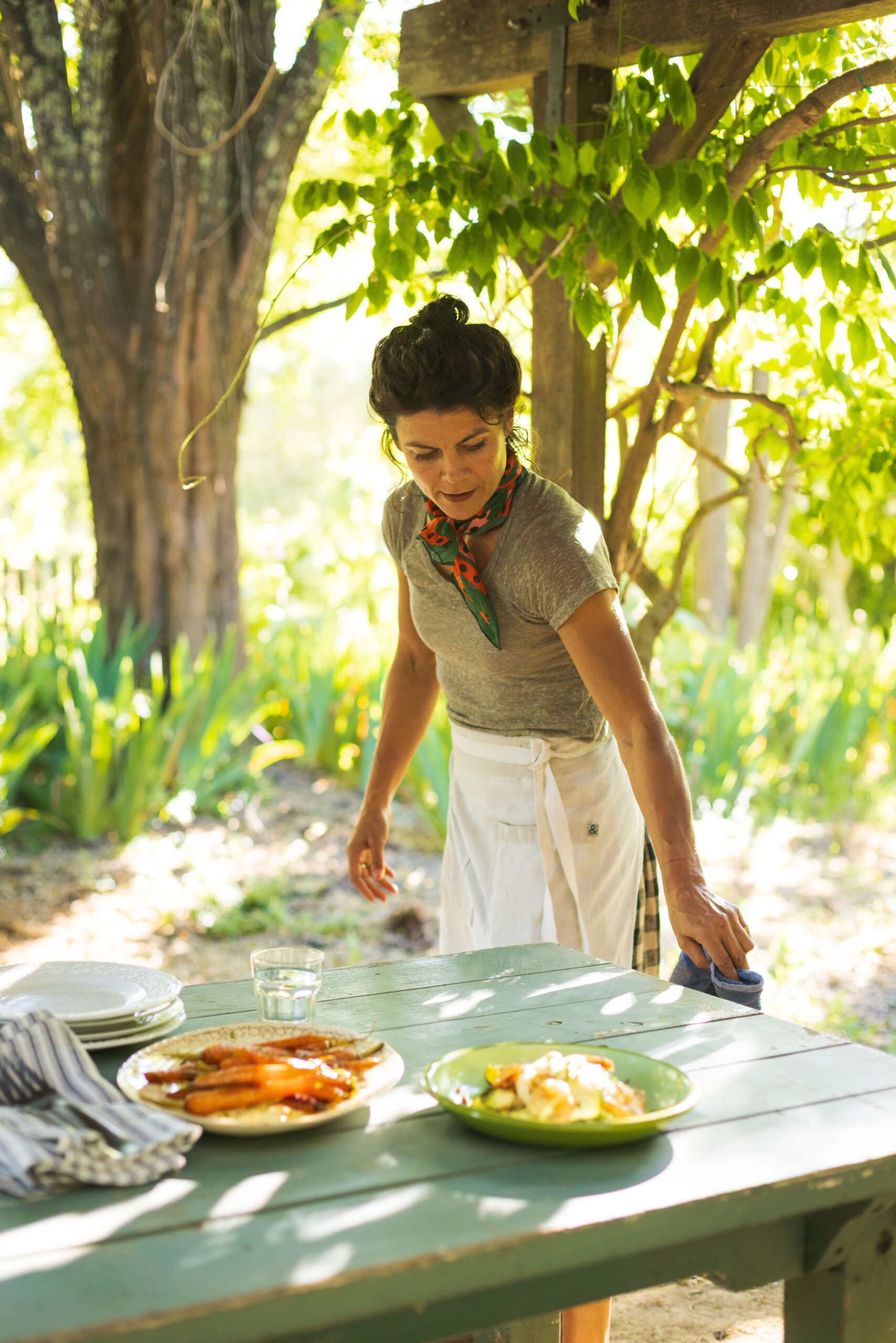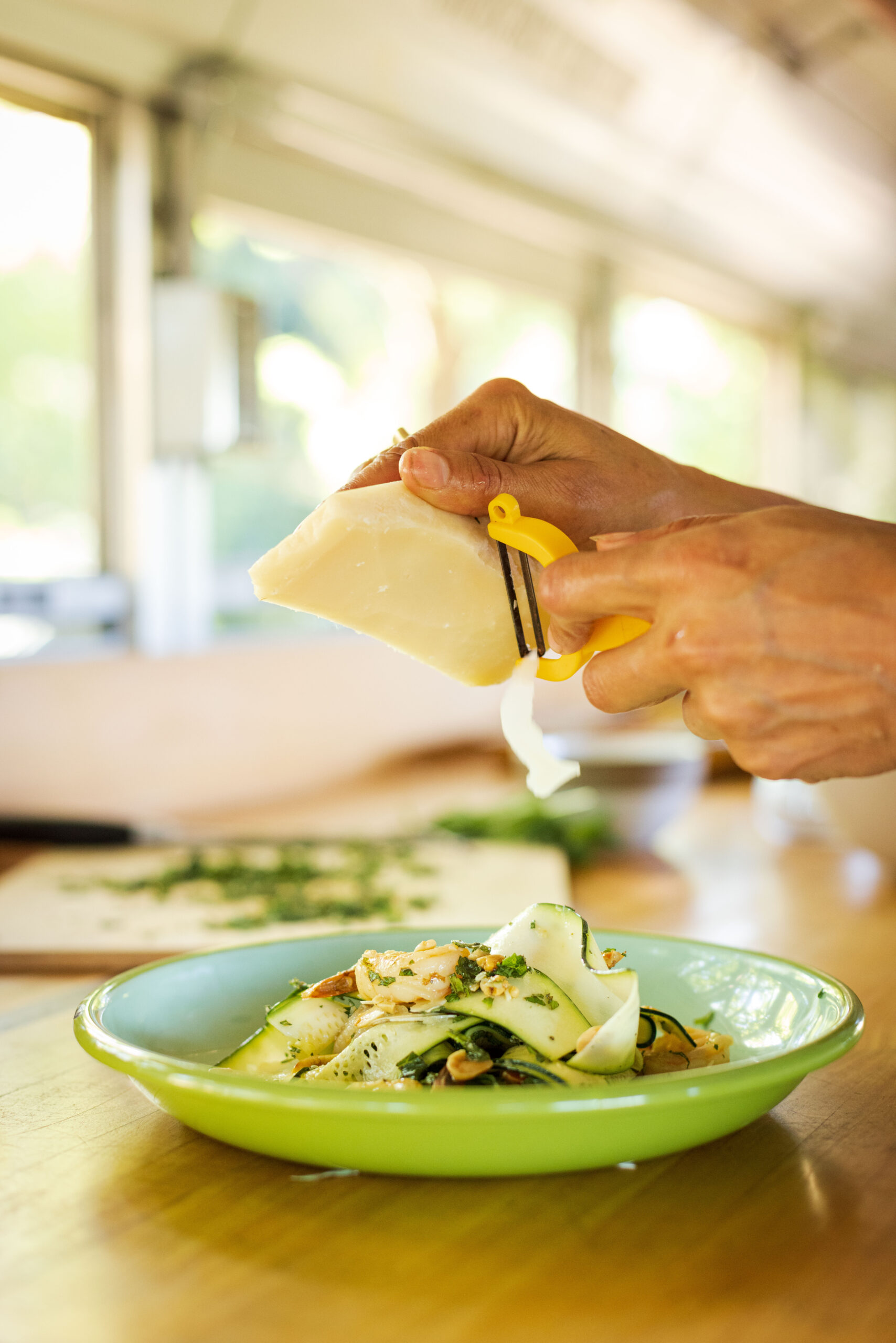 During the pandemic, McLeod bought the kitchen bus from her friend, named it Hugo, and started putting together a new round of ideas for growing the business.
But then McLeod lost her home in the Walbridge Fire. "So, home schooling with a kid and no house—the bus just sat idly by." Finally, in 2021, she was more settled and ready to relaunch. "That first dinner was at a woman's house with spectacular Zinfandel vines, apple orchards and redwoods," she says—and it was gorgeous.
McLeod is currently reveling in the bounty of local summer produce—peaches, zucchini, peppers, and herbs especially—and focusing on expanding her lineup of public events and dinners. "I feel like those events are the most authentically me," she says. "I love collaborating with all the art and food talent in Sonoma County and bringing people together. Sharing our Dry Creek farms like Preston — they're just so pretty and wild, and they're all great people."
Field Day CA, 415-710-5145, fielddayca.com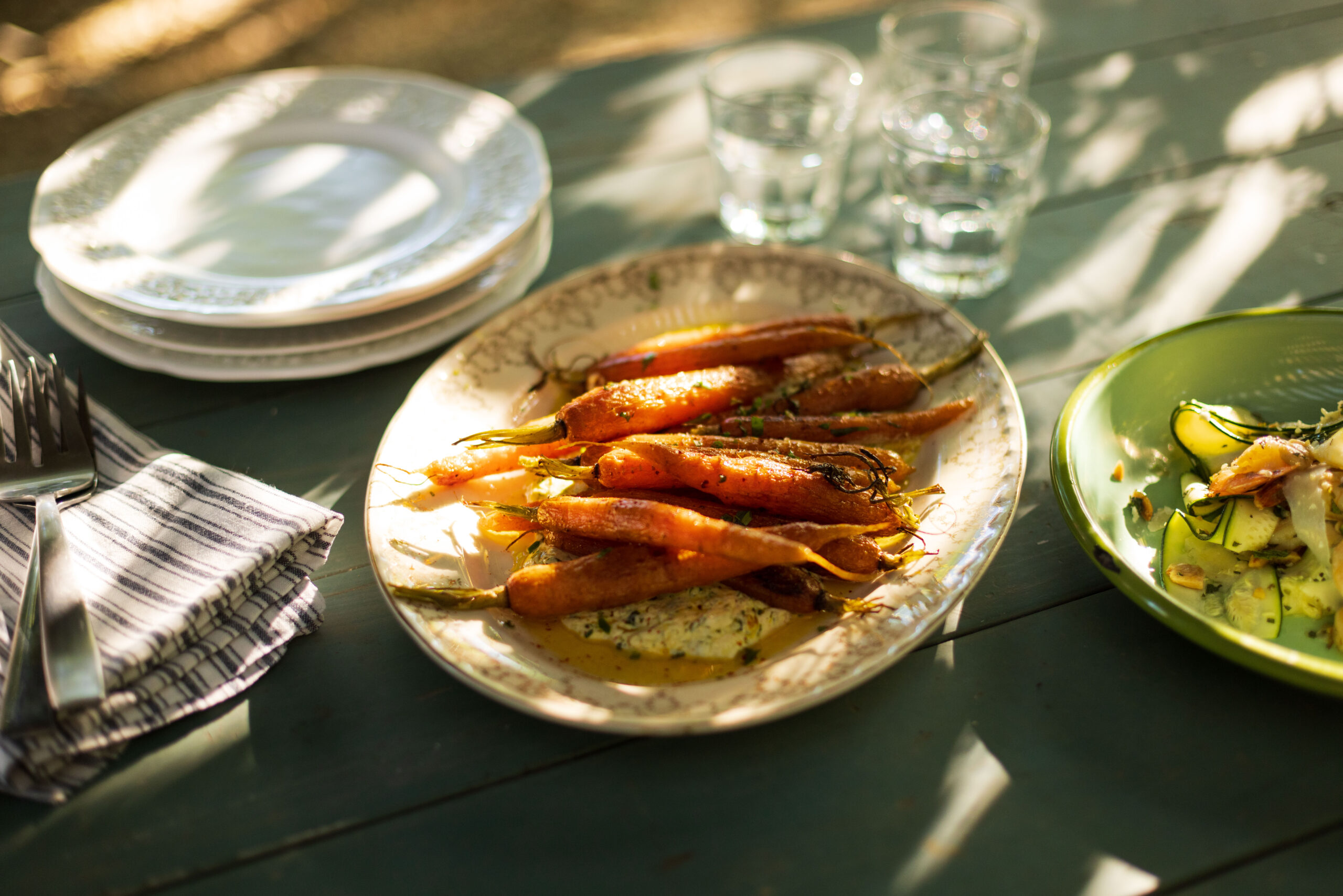 Field Day's Honey-Roasted Carrots With Spiced Labneh and Herbs
Labneh is a thickened yogurt common in Middle Eastern cuisines. Chef Naomi McLeod of farm-to-table catering business Field Day CA makes it at home by allowing full-fat yogurt to drain until thickened. She says tender carrots such as Nantes work beautifully for this dish.
Serves four as a side dish
• 2 bunches carrots
• 3-4 tbsp. plus an additional 1/4 cup extra virgin olive oil
• 1 tbsp. honey
• 2 tsp. cumin
• Salt and pepper to taste
• 8 ounces full-fat yogurt, such as Straus
• 1/2 shallot, chopped
• 1/4 tsp. Aleppo pepper
• 1/4 tsp. turmeric
• 1/2 cup mixed chopped herbs, such as chives, tarragon, cilantro, basil, and dill
• Half a lemon
• Pinch of flaked sea salt (such as Maldon)
• Crusty bread, for serving First, strain the yogurt. Add a pinch of salt to the yogurt, stir gently, and place in a square of muslin over a bowl. Allow to strain for 1-2 hours.
Preheat oven to 400 degrees.
Wash and scrub carrots, but do not peel. Place on a baking tray and toss with 3-4 tbsp. olive oil, honey, cumin, salt, and pepper.
Roast carrots at 400 degrees for 10 minutes, then lower the oven temperature to 350 degrees and continue to roast until carrots are softened but still a tiny bit firm, about 20 additional minutes, depending on the size of your carrots. Remove carrots from roasting pan and set aside to cool.
Heat ¼ cup olive oil in a pan on a medium-hot stove. Add shallots, turmeric, Aleppo pepper, salt, and pepper to the oil and fry until shallots are lightly browned. Remove from heat and allow to cool.
In a small bowl, combine the shallot oil, strained yogurt, and chopped herbs. Stir gently to combine.
To serve, spread the yogurt mixture across the bottom of a medium-size serving platter. Top with roasted carrots. Garnish with a squeeze of lemon juice, flaked sea salt, and an additional pinch of Aleppo pepper, if desired. Serve with crusty bread.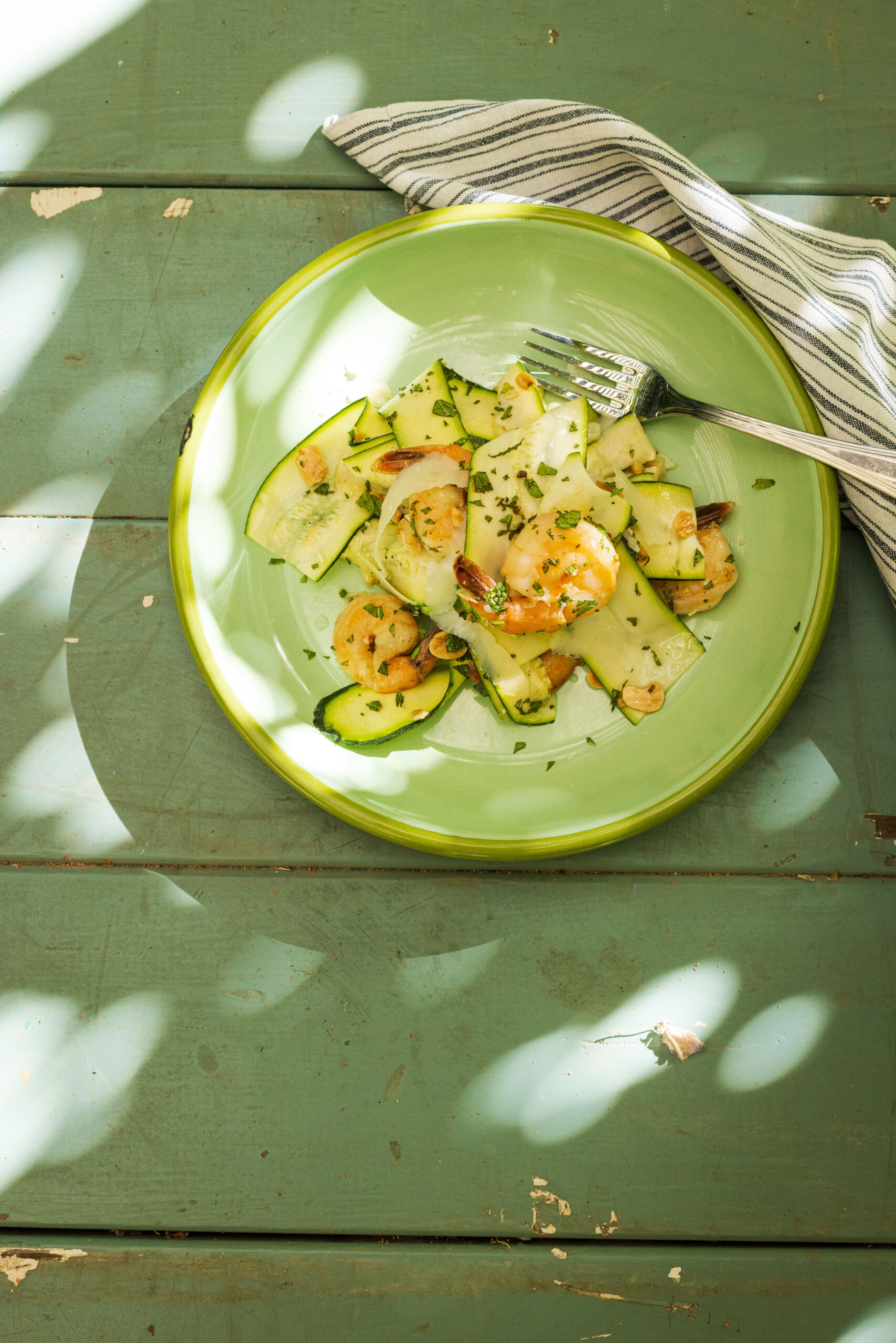 Shrimp and Zucchini Ribbon Salad With Mint
Serves two as a main dish, four as a hearty side
Chef Naomi McLeod of Healdsburg's Field Day CA says this summertime salad features a terrific combination of crunch from the almonds and salty savoriness from the Parmesan cheese.
• 1/2 cup Marcona almonds
• 1/3 cup plus 2 tbsp. extra virgin olive oil
• 1/3 cup sherry vinegar
• Juice of 1 large lemon
• Salt and pepper to taste
• 3 medium zucchini
• 2 large shallots, chopped
• 1 pound peeled uncooked shrimp
• 1/3 cup white wine
• 1 bunch fresh mint
• 3 ounces Parmesan cheese, shaved into wide strips First, toast the almonds. Heat a small pan over high heat. Add the almonds to the pan and stir until aromatic and lightly browned, about 3 minutes.
Remove from pan and allow to cool, then chop roughly and set aside.
In a large bowl, whisk together olive oil, sherry vinegar, lemon juice, and salt and pepper to taste to make a simple dressing. Using a mandoline, shave the zucchini into long, thin strips. Add the zucchini strips to the bowl with the dressing and toss well to coat.
Heat a pan with 2 tbsp. olive oil and 2 tbsp. butter over medium to mediumhigh heat. Add the sliced shallots and let soften for 2 minutes. Add the shrimp and white wine and cook an additional 2-3 minutes until the sauce has been reduced slightly. The shrimp should be firm but not overcooked.
Remove from heat and set aside. To assemble the salad, toss the zucchini and shrimp together with chopped mint, almonds, and Parmesan (reserving a small amount of mint, almonds, and Parmesan for the final garnish).
Divide the tossed salad among individual plates. Top with the rest of the Parmesan cheese, mint, and almonds, and serve right away.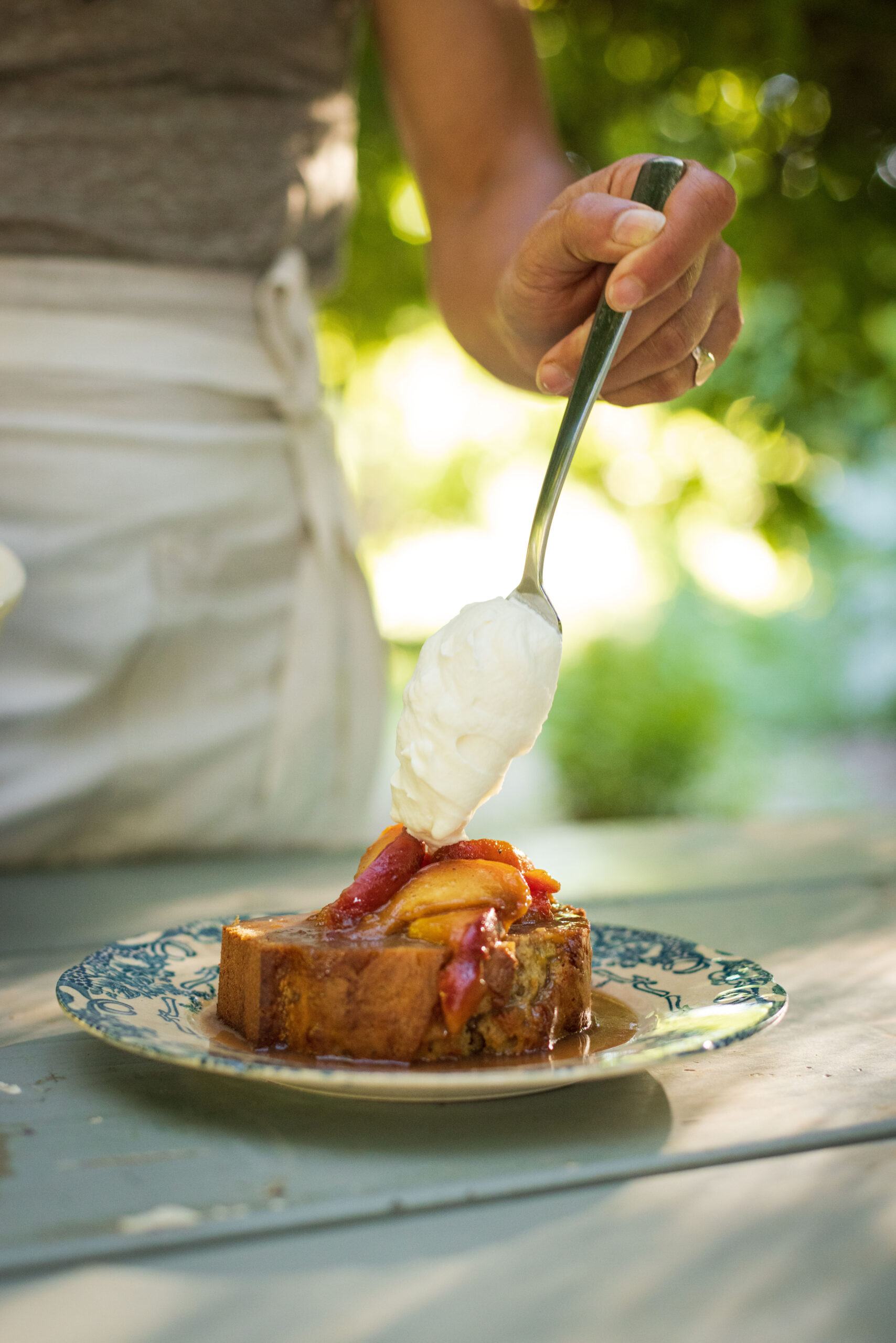 Ras El Hanout Pound Cake With Grilled Peaches
"I don't like super-sweet desserts," says Field Day CA chef Naomi McLeod, who explains that the Moroccan spice blend ras el hanout brings a complex, earthy, baking spice element to this easy summer pound cake recipe. McLeod lives just a half-mile from the famed orchards at Healdsburg's Dry Creek Peach and loves to incorporate their beautifully tart-ripe orange peaches in this dish.
Serves 10
For the glazed peaches and sauce:
• 3 ripe peaches, halved
• 1/2 cup honey
• 1 1/2 sticks (12 tbsp.) butter
• 1 tbsp. ras el hanout
For the cake:
• 3/4 cup sugar
• 1 tbsp. ras el hanout
• 4 eggs
• 1/2 cup milk
• 2 cups all-purpose flour
• 2 1/2 tsp. baking powder
• 7 tbsp. butter, melted
• 2/3 cup extra virgin olive oil
• 1/3 cup pistachios or walnuts, chopped (optional)
• Freshly whipped cream, for serving Preheat oven to 350 degrees.
Prepare the peach topping. Grill peach halves over medium flame until soft and lightly marked by the grill. Slice into wedges.
Melt butter on a stove over medium-low heat, then add honey and stir well to combine. Add 1 tbsp. ras el hanout and stir to combine. Remove from heat, add sliced peaches, and toss gently.
Set aside.
To prepare the cake, combine sugar and 1 tbsp. ras el hanout in a large mixing bowl. Add the eggs and milk, and mix with an electric hand mixer until combined. Add in the melted butter, olive oil, and nuts, if using, and mix. Finally, add the flour and baking powder and mix gently until all ingredients are incorporated into the batter.
Butter a standard-size loaf pan and dust the sides and bottom with flour. Pour the batter into the pan.
Bake at 350 degrees for 50 minutes. Before removing from the oven, check for doneness with a clean toothpick or knife. Allow the cake to cool for 30 minutes.
To serve, slice the pound cake and place slices on individual serving plates. Drizzle slices with the peach sauce, and top with grilled peaches and whipped cream.