Among the two dozen or so surfers dotting the lineup at Salmon Creek Beach on a sunny Sunday morning in early summer, one waterman stood out, both for the number of waves he was catching, and the steez—style and ease—with which he rode them.
William Beal, better known up and down the North Coast as Billy Blaze, spent a decade on the North Shore of Oahu learning to ride big waves. That pedigree was evident during this session at "Salmon," two miles north of Bodega Bay. The tight-end-sized 54-year-old—he stands at 6-foot-4, 220 pounds—was fluid, unhurried, supremely confident as he carved the faces of wave after head-high wave.
Also eye-catching was his boxy-looking board, a 5-foot-9-inch crimson creation called the "Flathead," a design Beal conceived and constructed in the studio behind his home in the hills west of Sebastopol. In addition to being a respected elder in the hardy tribe of surfers braving the chill waters and great white sharks along this rugged coast, Beal has made many of the boards they ride.
He is a grinning, shredding, deeply passionate anomaly in the modern surf world.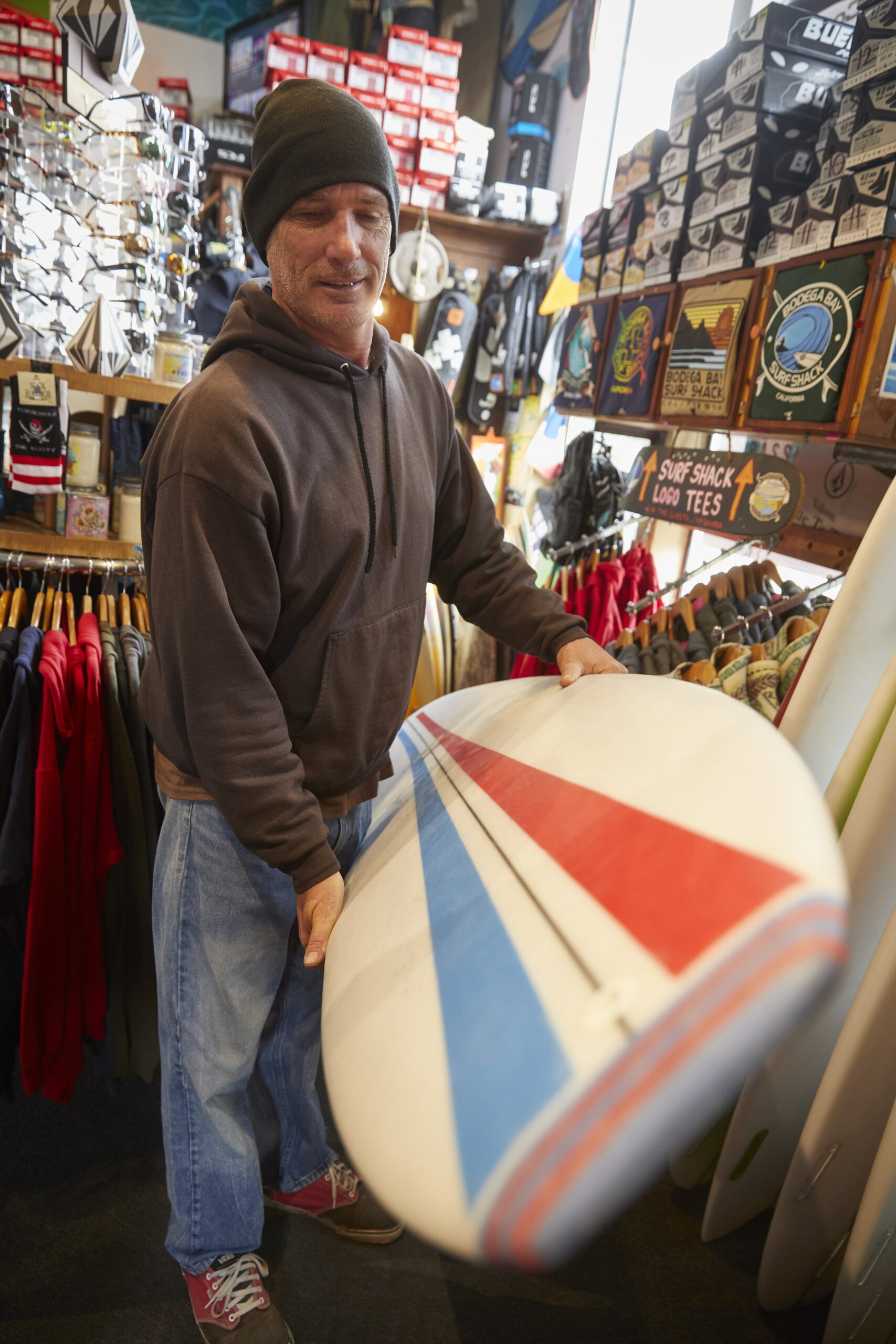 At a time when more and more surfboards are being mass produced, with help from robotized, high-precision machines, Beal is among a dwindling breed of shapers plying his craft entirely by hand.
Surfboards by Blaze (also, incidentally, the name of his business) can be found lined up in a rack at the Bodega Bay Surf Shack, beckoning customers into the shop like sirens. Or you can just call him—his number is on his Facebook page, which links to his even groovier Instagram account—for a bespoke, made-to-order "stick".
Making those boards earns extra income for Beal, a carpenter by trade who works five days a week on customized van conversions. It also feeds him on a deeper level. "I always wanted to be an artist—always wished I could draw and paint, but I'm not really good at it," he said. (He actually is pretty good at it, says his longtime surfing buddy, Christian Nolan.) "But one day, as I was shaping, I realized, I'm creating art. I mean, if someone thinks it's beautiful, that's art, right?"
He is, in that case, an accidental artist, who first tried his hand at surfboard shaping nearly two decades ago.
Around 2005, Beal recalls, he approached the world-class shaper Ed Barbera, who was then based in Santa Cruz. Beal asked Barbera if he could drive down to watch him work. Barbera said yes, and was an important source of instruction for Beal, especially early in his journey as a shaper. Over time, mentee evolved into competitor.
Barbera, a white-haired, Gandalf- like sage of a shaper, eventually migrated north to Sonoma County, and now practices his wizardry— barefoot, according to local lore—in a red barn behind Northern Light Surf Shop.
Ed Barbera's boards "are more refined than Bill's," says Mike Doherty, one of Beal's oldest friends, who rides boards shaped by both men. "But Billy's a super student. He puts so much passion into his art and is always trying to come up with new things. A lot of shapers burn out, but he's definitely not burning out. He's climbing the ladder, and it's been a cool thing to witness."
There was no thought of making money when Beal took up this avocation. At the time, he merely hoped to learn the skills that would allow him to save a few bucks by making his own boards.
At a time when many other makers focus on just one aspect of the process— the shaping, the fiberglass, the paint job—Beale is proudly a one-man show.
All boards begin with a "blank," the polyurethane foam core that gives the stick its buoyancy. After laying a template over a blank, then tracing the outline of the board, Beal began shaping it.
"A lot of [shapers] will cut their outline out with a handsaw, but I don't dig that," he said, "cause I've screwed it up that way." As a carpenter, he's more comfortable using a Skilsaw, whose strident whine is amplifi ed in the close confines of his studio, roughly 20 paces from his house.
To get the rest of the "meat off the blank," Beale makes passes up and down with an electric hand planer, going deeper or shallower as needed. For the finer work, creating the contours that will give the board its speed and grip and lift, he swaps out the planer for … an oversized cheese grater. That's what it looked like, anyway.
The surform, as it's known, harvests curlicues of foam that join the accumulation of detritus on the floor, on Beal's clothes, and atop the hair on his forearms.
As the final shape emerges, he picks up a sanding block. "This'll take off the hard edges," he says, "and give us a nice round rail." He then routs out narrow rectangles on the bottom of the board to secure the fins, which give the board stability, allowing it to cut through the water.
That done, the shaper drapes fiberglass cloth over the board. That miracle fabric "is like rebar in concrete," says Beal. It gives the board "a structure, so it won't crack."
He dons a respirator for the next step, pouring resin over the cloth, squeegeeing it around, waiting for it to cure, then flipping the board and repeating the process.
The respirator stayed on for the "sand coat" —a different species of resin containing a wax that makes that coating "more sandable," said Beal. That coating provides a kind of buffer, "a layer you can sand without digging into the cloth."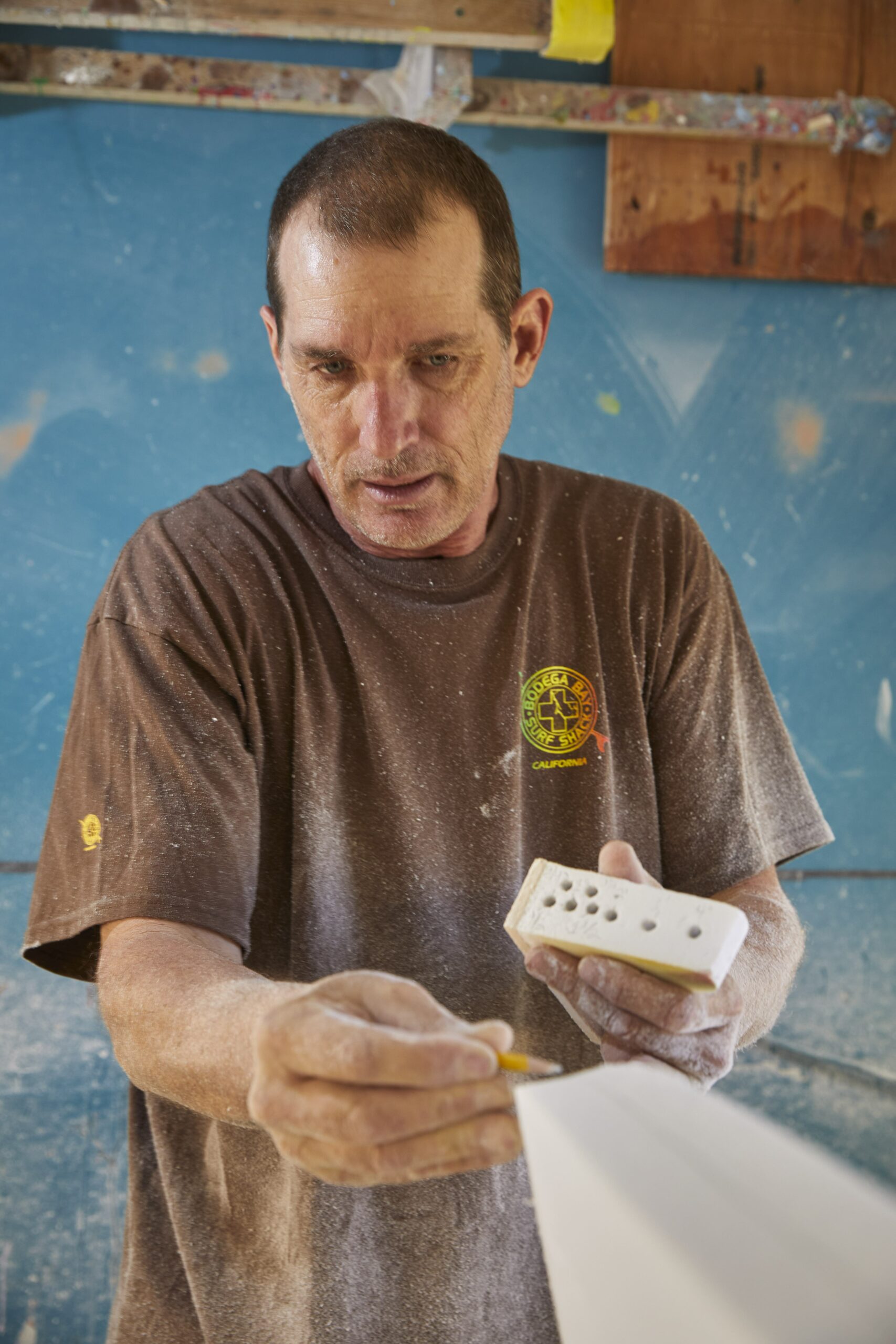 Once that coat dries, he is on the homestretch, sanding the board until it's right, after which he might add some pinstripes, before applying—don't take that respirator off just yet!—a final sand coat.
"Billy is the real deal when it comes to boards," says Bob Miller, who, for the last 28 years has owned the Bodega Bay Surf Shack. "They all sell really well."
Just as Hawaiians are known to underestimate wave height at their local break, Beal tends to undersell his shaping skills. "He's better than he gives himself credit for," says Christian Nolan, who is especially attached to Beal's shorter, wider, flatter boards because they're "more maneuverable" than the longer, high-performance shapes he and Beal favored 20 years ago. "You can ride bigger, sloppier surf" on one of Beal's Flatheads, says Nolan, "and have more fun."
Another fan of the Flathead is Doherty at Northern Light, who raves about the speed the board is able to hold during pivoting and turning. "It's very glidey—superfast. It almost feels like a piece of ice, but it has grip to it."
"I wish I'd gotten one 30 years ago." But Beal only started making the Flathead in 2010.
The board's curious, rectangular lines turn heads on the beach and in the lineup.
"I get it all the time, people asking me, 'What's with that board?'" says Beal, who is happy to get technical, explaining to strangers that the Flathead's wide nose and tail "create a straighter rail line," resulting in "less drag and more speed."
From there, he is apt to embark on a soliloquy detailing how he and his board-making ilk stand on the shoulders of the pioneering shaper Bob Simmons, who was himself indebted to MIT-educated boat designer Lindsay Lord, author of the 1946 book "Naval Architecture of Planing Hulls."
The son of a U.S. marine, William Beal grew up on a series of military bases. He spent his grade school years on Oahu, where he was immersed in surf culture. His older sister dated surfers, who encouraged the lad to take up their sport.
After attending high school in Okinawa, then Virginia, Beal moved to Santa Rosa in the mid-1980s "to see my grandpa." He found work at Surf Plus, a shop that had just opened at the Coddingtown Mall.
"He comes rolling up on a cruiser bike, just a cool dude, and the nicest guy," recalls Bob Miller, who also worked at the shop back then. "We just kinda hit it off from there."
Beal wasn't there long before a friend in Hawaii persuaded him to come back to the islands, promising a job in construction. He learned a trade, joined the carpenters union, became a handyman. For Beal that work served a higher purpose: he was determined to overcome his fears and ride the storied, massive waves on Oahu's North Shore.
At the time he moved back to Hawaii, Beal remembers, "I was still kind of timid and didn't have any direction."
His quest to ride those waves gave him direction. "The ability to tackle something that's terrifying, to do it and make it back to the beach alive—that gave me this sense of, 'I can be a strong person. I can overcome things.' It gave me a confidence I didn't have." Facing that monster and overcoming it, Beal believes, "gives you a certain way you can carry yourself afterwards."
Back in Sonoma County after a decade on the North Shore, he found himself on another quest. What started as a hobby has turned into something more all-consuming—"the challenge to make a perfect surfboard."
There came a point in that journey when he might see a board in a magazine or on Instagram, then get to work in his studio. "A week later I'm holding it in my hands," he says. "That transition from the thought to the real thing—it's like, 'Wow, that's my creation.' You have an idea, you do the work, and it manifests into a real object. It's kind of a magical thing."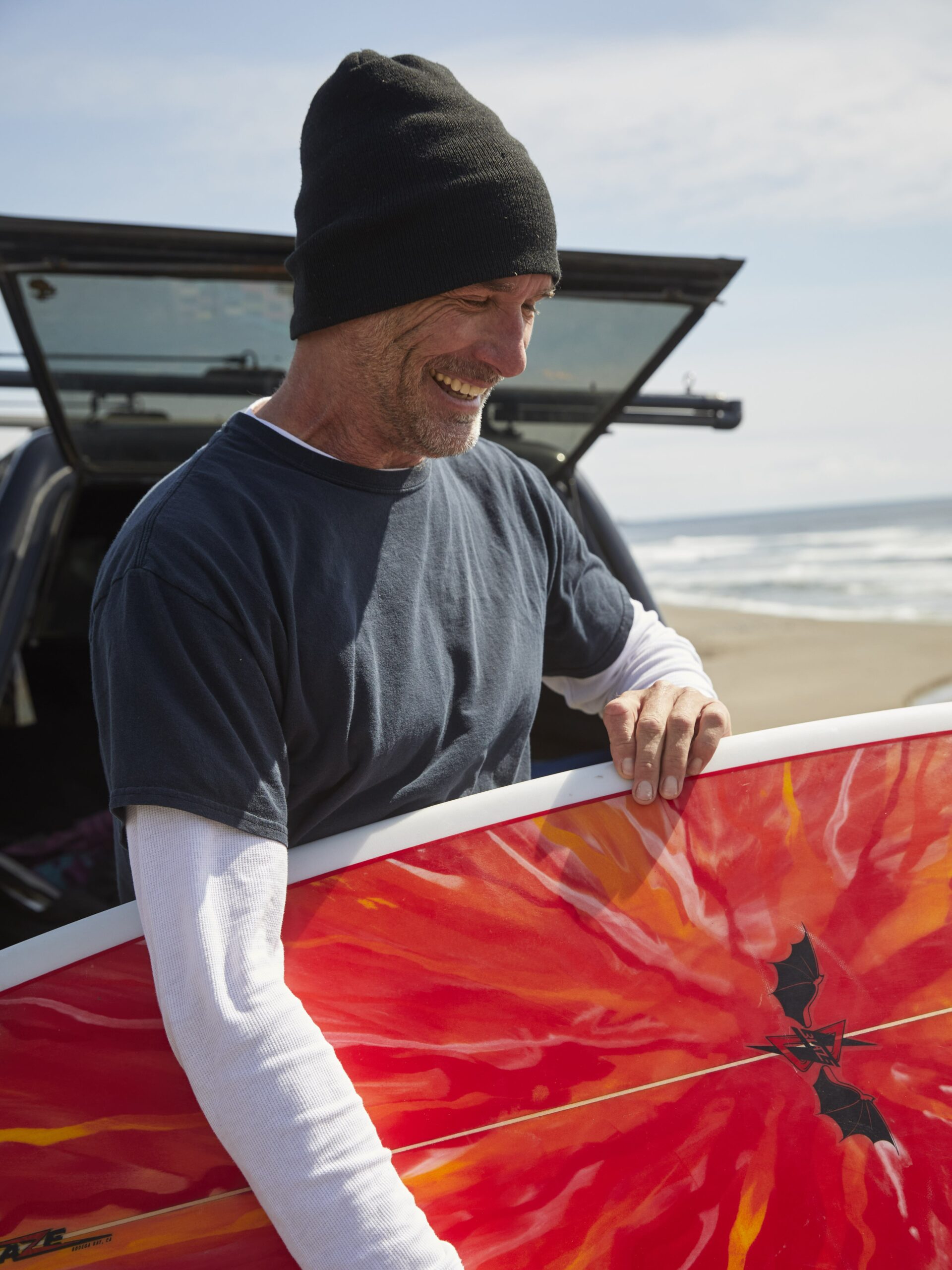 The shapers of Sonoma County
Bill 'Blaze' Beal: Carpenter and big-wave surfer whose desire to save a few bucks evolved into a quest to shape the perfect stick. Clients rave about his super-fast yet maneuverable Flathead model. On Instagram @surfboardsbyblaze.
Ed Barbera: World-class shaper who made his bones in SoCal, Hawaii, and Santa Cruz before adopting Sonoma County. The sage of the scene now works his magic in a red barn behind
Bodega's Northern Light Surf Shop. Call 707-876-3032.
Jamie Murray: High-school English teacher and transplanted East Coast surfer who, upon moving to Sonoma County, couldn't fi nd a shaper who would make him the kind of board he wanted — something with more volume than the waferlike "glass slippers" then in vogue. So he made his own, and hasn't looked back. On Instagram @headhighglassy.