Drew Duggan, Metes & Bounds' maitre d' and sommelier, pours wine before dinner at Bernier Farm in Alexander Valley.
Chef Heath Thomson has turned the concept of "farm-to-table" on its head, bringing the table — complete with ironed linens, antique silverware and multiple sets of stemware — to some of Sonoma's most bucolic farms and vineyards.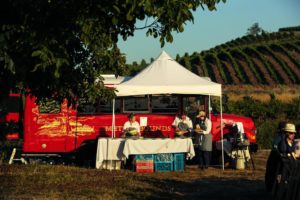 A cross between a high-end restaurant and an old-fashioned picnic, Thomson's feasts elevate the "meal in a field" idea to new heights. It's as if Alice in Wonderland decided to have tea with Farmer Hoggett from the 1985 film "Babe," instead of the Queen of Hearts.
"For me, there's something whimsical about having the table and the bus in the middle of the field, and it's not attached to anything," said Thomson, who launched his Metes & Bounds catering company in 2013.
The name comes from an old-fashioned, verbal method of surveying agricultural land that relied on geographic landmarks and the people who lived there.
"With our mobile kitchen, we survey the land as we drive from farm to farm, looking at the natural features to determine the best place to set our table," Thomson said.
The team usually sets up the mobile kitchen in the middle of the crop rows, then spends all day cooking with the help of Hugo — a red school bus retrofitted with refrigerator and sinks — and The Boss, a versatile griller/smoker.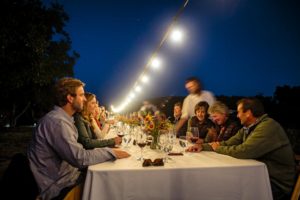 When evening arrives, maitre d' and sommelier Drew Duggan welcomes 38 to 48 guests to the alfresco dinners with a refreshing drink and a bite to eat.
"We're out in big, open spaces, so you need a certain size to make it feel like a party," Thomson explained.
During the balmy evenings of late summer and early fall, diners can expect to start off with a seasonal heirloom tomato salad studded with Bellwether Crescenza cheese, avocado and strips of torn bread. Then they might dig into a pillowy pasta course of ricotta agnolotti with cherry tomatoes, tomato water and fines herbes. Then the flavors may deepen with a hearty entrée of smoked pork shoulder roulade with fresh cannellini beans, peperonata and breadcrumbs.
While the guests take a tour of the fields, Thomson and his team — sous chef Kingsley Fuller and cook Alicia Deal — start plating the first course. As the sun sinks on the horizon, diners sit down to the meal, paired with wines chosen by Duggan.
The Metes & Bounds staff has worked at a wide range of fine-dining restaurants, from Cyrus in Healdsburg to Jerry Traunfeld's Poppy and Herbfarm restaurants in Washington state.
While maintaining the refinement of a fine-dining restaurant, Metes & Bounds tries to eliminate the pretension, replacing it with greater camaraderie among guests, farmers and cooking crew.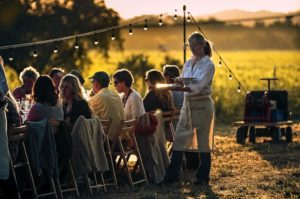 "The notion of a farm dinner is a communal, feel-good event," Thomson said. "I just love that everybody has a common interest but are from all walks of life. It's a fun conduit for people to meet."
Thomson, who grew up in Woodside, studied environmental design at the University of Colorado in Boulder. Since he was a child, he has loved foraging for wild foods and cooking outdoors at his family's remote cabin on Michigan's Lake Superior.
"I would haul out the grill and Dutch oven," he said. "I would go forage for berries to make cobbler. I just got totally carried away."
Thomson trained at The Village Pub in Woodside and worked at Spruce and Boulette's Larder in San Francisco, where he bought produce from many Sonoma County farmers, including Tierra Vegetables in Santa Rosa and Bernier Farms in Healdsburg.
"It's an exciting community of farmers up here," he said. "We seat the farmers at the table. They're guests as well, and they can tell about what they do."
Last summer, Thomson bought a 27-foot school bus on Craigslist and drove it from New York to California with his yellow lab, Homer. He refurbished the bus as a mobile kitchen, complete with a laminated maple workbench that serves as prep station.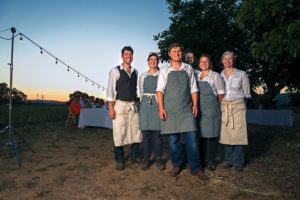 Thomson sees himself as the art director, curating the look and feel of the dinners, right down to the table lights that spool onto a wagon cart.
"After the guests arrive, we run on the batteries," he said. "You want to hear the sounds of nature, like the Canadian geese flying overhead."
While sourcing meat from sustainable butcher shops such as Marin Sun Farms, Thomson lets each farm and field decide what seasonal produce to showcase.
"We'll get a list a week before and use it to outline our menu," he said. "It will change until it gets on the table."
Working with about a dozen Sonoma County farmers, Thomson is ramping up for a busy fall, with an average of eight dinners a month.
"I'm trying with every bone in my body to be authentic," he said. "I like to say farm dinners are 10,000 years old. … They've been around since the invention of farming."
His dinners cost between $175 and $225 a person. Go to metesandbounds.co for the schedule.