Fall is the season of plenty as the hard work of spring and summer finally pay off. The smell of the crush — sweet and pungent wine-in-the-making — is everywhere, farmers markets overflow with produce, and folks find every occasion to gather in the warm sun and celebrate Sonoma's bounty.
FOR THE TABLE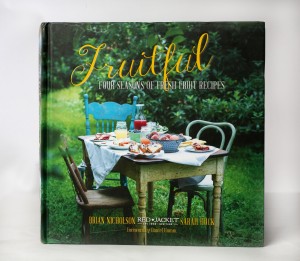 "Fruitful: Four Seasons of Fresh Fruit Recipes"
Sonoma was once a land of orchards: apples, plums, oranges, peaches, prunes and pears. Though most are gone, those that remain are being reclaimed by a new generation of farmers and orchardists. In that spirit, "Fruitful" is an ode to seasonal fruits, with bushels of ripe recipes from the likes of chefs Dan Barber, Jonathan Waxman and Karen Demasco interspersed with dreamy, full-color spreads of rhubarb, peaches and strawberries.
$25, Copperfield's Books (various locations), copperfieldsbooks.com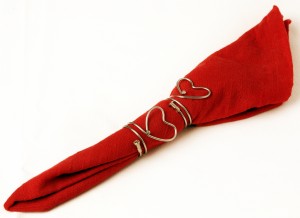 dhBetty Stainless Steel Bicycle Spoke Napkin Rings
Bicycling is in our blood. We love our cruisers around town, mountain bikes on the hundreds of woodsy trails, and scenic road-bike rides stretching from coast to vineyards. Celebrate your inner cyclist and your seasonal table settings with up-cycled bicycle spokes lovingly bent into napkin rings by local bike enthusiast Christine Culver.
$25 a pair, NorCal Bike Sport, 425 College Ave., Santa Rosa, 707-573-0112, norcalcycling.com and dhBetty.com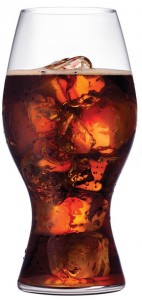 Coca-Cola+Riedel Glasses
We're pretty familiar with the iconic Riedel stemware here. Made in various shapes and sizes to best showcase each specific wine varietal, they're the Rolls Royce of discriminating sippers. So it makes sense, we guess, to have glassware specifically made for … Coke? These curvy glasses, developed by a panel of industry experts, really do seem to bring out the unique flavors and scents of America's beverage. That, and it's just so classy to trot out a Riedel Coca-Cola glass rather than the Flintstones jelly jar from your childhood.
$29.50 a pair, Bed, Bath & Beyond, 2785 Santa Rosa Ave., Santa Rosa, 707-591-0990, bedbathandbeyond.com and riedelusa.net
PERFECT GIFTS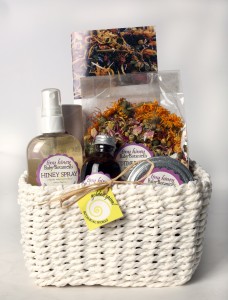 Tiny Hiney Baby Botanicals Gift Basket
It is the season of plenty, after all. Whether for a mom-to-be shower, congratulating new grandparents or welcoming the young family down the street, this all-organic basket of powders, salves and bath botanicals is 100 percent picky-parent approved. Made by a local mom (and environmental biologist) at Golden Spiral Botanics, the soothing herbs, leaves and flowers are for even the most sensitive skin.
$45, Made Local Marketplace, 531 Fifth St., Santa Rosa, 707-583-7667, madelocalmarketplace.com and etsy.com/shop/GoldenSpiralBotanics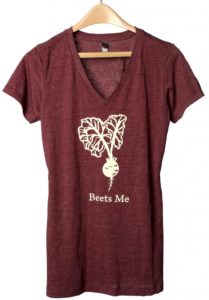 Katzi Designs Beets Me T-Shirt
Show your harvest pride, or at least your affinity for beets, with these adorably agricultural block-print tees. Made by local artists inspired by the beauty of nature and nourishment.
$25, Hand Goods, 3627 Main St., Occidental, 707-874-2161, handgoods.net, and katziart.com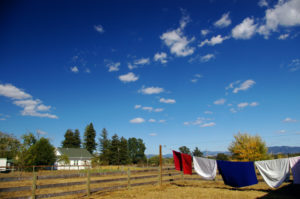 Line-Dried Laundry Art Prints
Artisan cheeses and homemade beer are so last year. The cool kids are going old school with line-dried laundry, giving neighbors a chance again to spy on their unmentionables and children the opportunity to run through sheets waving in the autumn breeze. Though it may seem self-explanatory, a Sebastopol couple, Laura Shafer and Paul Schwebel, are teaching a new generation the pleasures of clothespins and clotheslines, and even creating custom redwood trellis clotheslines. Get inspired by Shafer's colorful photo prints of clothes and sheets hanging to dry in the sun among vineyards and farms. You might just find yourself converted.
$10, Made Local Marketplace, 531 Fifth St., Santa Rosa, 707-583-7667, madelocalmarketplace.com and linedry.com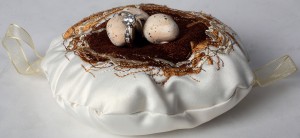 Wine Country Wedding Ring Bearer's Pillow
Three things you can't escape in Sonoma in the fall: grapes, heirloom tomatoes and brides. Keep a memory of the wedding day with a personalized ring bearer's pillow, hand-embroidered in Santa Rosa by Elizabeth Allen. For quirkier brides, there is a satin "bird's nest" pillow with clay "eggs" holding the rings. Not the marrying type? We're also huge fans of her embroidered totes with a steampunk octopus or a garden of flowers (prices vary).
$45-$60, etsy.com/shop/EtsyBessieFiber
FOOD YOU'LL LOVE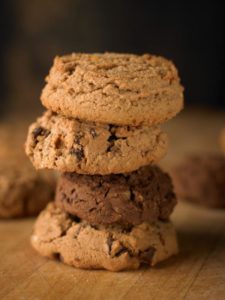 Grape Flour Oatmeal and California Currant Cookies
The short story: Sonoma County's Whole Vine has created a gluten-free cookie line that uses grape skin and grape seed flours as their base. Behind these tasty cookies is one heck of a recycling project. Using the byproducts from winemaking (namely seeds and skins), the company produces a variety of nutrient-rich, naturally gluten-free flours and oils that are beginning to grab hold in the culinary world.
$6, Shelton's Natural Foods Market, 428 Center St., Healdsburg, 707-431-0530, sheltonsmarket.com and wholevine.com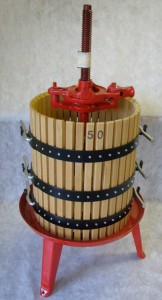 Personal Grape Press
OK, so grape stomping in your bare feet isn't your thing. This 7-gallon, hardwood and steel grape press is just as nostalgic, hailing back to the days when families made their own backyard blends using simple hand-powered machines like these. Press up to 100 pounds of grapes for tasty juice or as a start to making your very own wine. Just be prepared to use a little elbow grease to get that fruit a-flowing.
$375, The Beverage People, 1845 Piner Road, Suite D, Santa Rosa, 707-544-2520, thebeveragepeople.com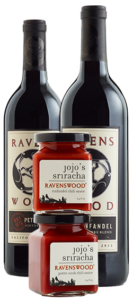 Jojo's Sriracha Ravenswood Zinfandel Chili Sauce
Spicy Thai chiles plus booty-kickin' old-vine Zinfandel equal a condiment that isn't afraid to smack your taste buds silly. Condiment queen Jolene Collins has paired up with Ravenswood Winery to create small batches of spicy hot chili sauce infused with the flavors and quirky personality of one of Sonoma's favorite Zinfandel makers.
$14, Ravenswood Winery, 18701 Gehricke Road, Sonoma, 707-933-2332, ravenswoodwinery.com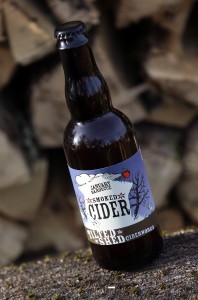 Small-Batch North Bay Ciders
It's hard to choose just one of the incredible ciders made in our parts, and not just because of their deep apple flavors and off-dry tastes. Three cider houses are also helping to support the North Bay's historic apple farms, many of which were in danger of being lost to vineyards and development. Tilted Shed and Devoto Orchards, based in west county, use heirloom orchards (the Devoto family grows nearly 100 varieties of apples). The Boonville Cider House's Bite Hard makes use of Anderson Valley apples, which grow alongside Pinot Noir grapes.
$8-$13, BeerCraft, 5704 Commerce Blvd., Rohnert Park, 707-206-9440, beercraft.com
Have a Sonoma product you'd like to see featured? Email shop@sonomamag.com
Subscribe to Our Newsletters!