Imagine for a moment leaving your home and country to rebuild your life in an entirely new place. Refugees face the challenge not only of dealing with the trauma of the circumstances under which they were forced to flee, but also learning new customs, a new language, finding work, missing family and friends— and worrying for the ones left behind.
Sonoma County has become home to hundreds of refugees over the past few years. They become our friends and neighbors, classmates and coworkers, and their points of view enrich our wider community. Here are three of their stories.
Sitting together on the living room floor in a townhouse in southeast Santa Rosa, five adults from a tight-knit Afghan family enjoy a home-cooked meal of kosher chicken and traditional Afghan bread dipped in sauces, savoring a moment of quiet and togetherness. Family matriarch Zakia Sayed Osman, while grateful for the safe harbor she and six of her nine children have found in the greater Bay Area, worries for her daughter, son-in-law, and two grandchildren still in Afghanistan. Their absence weighs heavily.
"My dream is that my children will all be here, and we will live together," Osman says, holding a wedding portrait of her daughter, whose glamorous makeup and colorful Afghan wedding dress stand in contrast to the stark, anxious life she currently leads under Taliban rule. Osman is trying to obtain visas for her daughter's family to join her other children in the U.S., but current policy only allows family reunification for girls under the age of 18. "Being a woman in Afghanistan is very hard. You cannot have any freedom," she says, as one of her sons translates.
"They should have some options regardless of age," says Osman's eldest son, Roman Zemari, who has lived in the Bay Area for over a decade. "She's still my sister."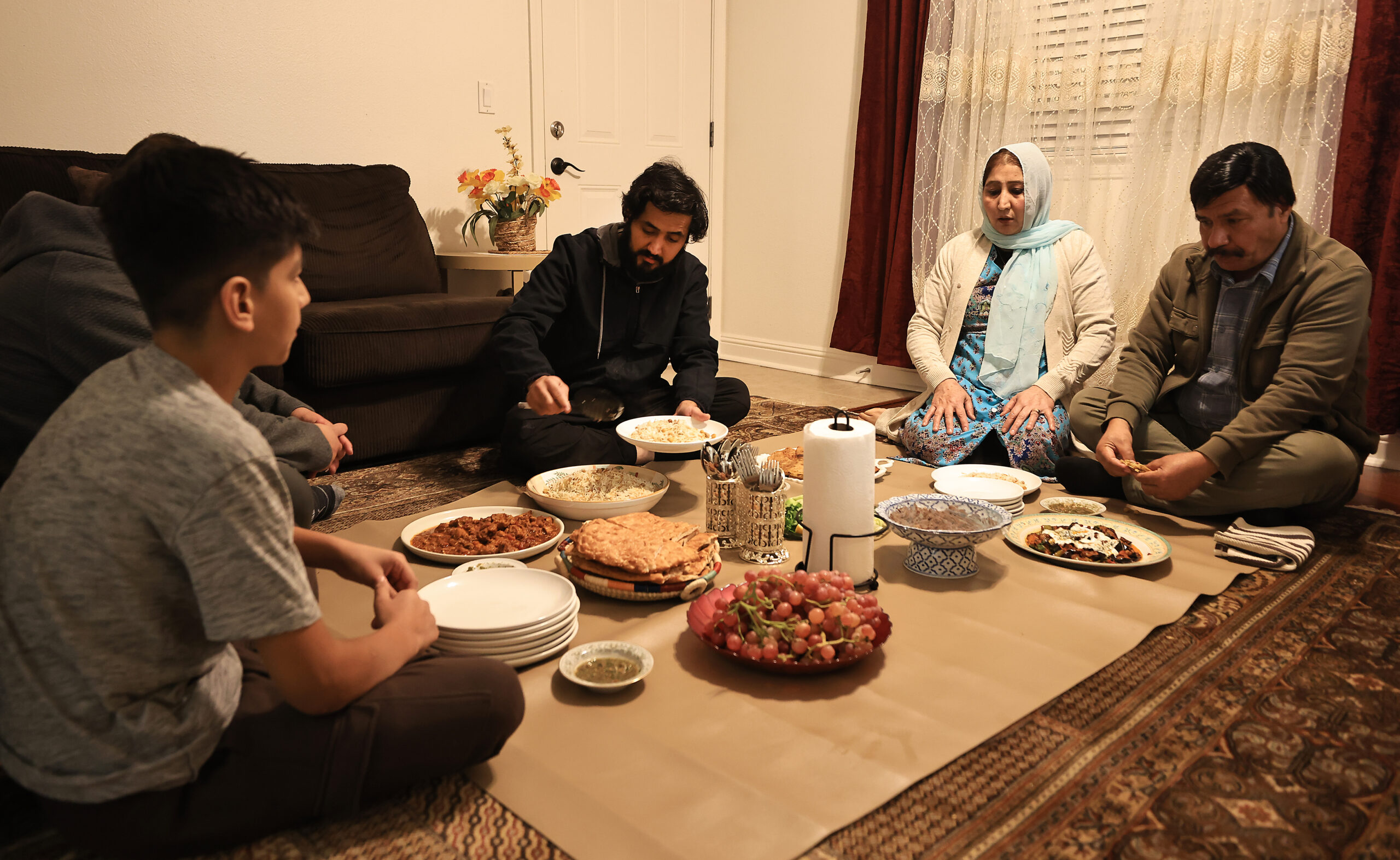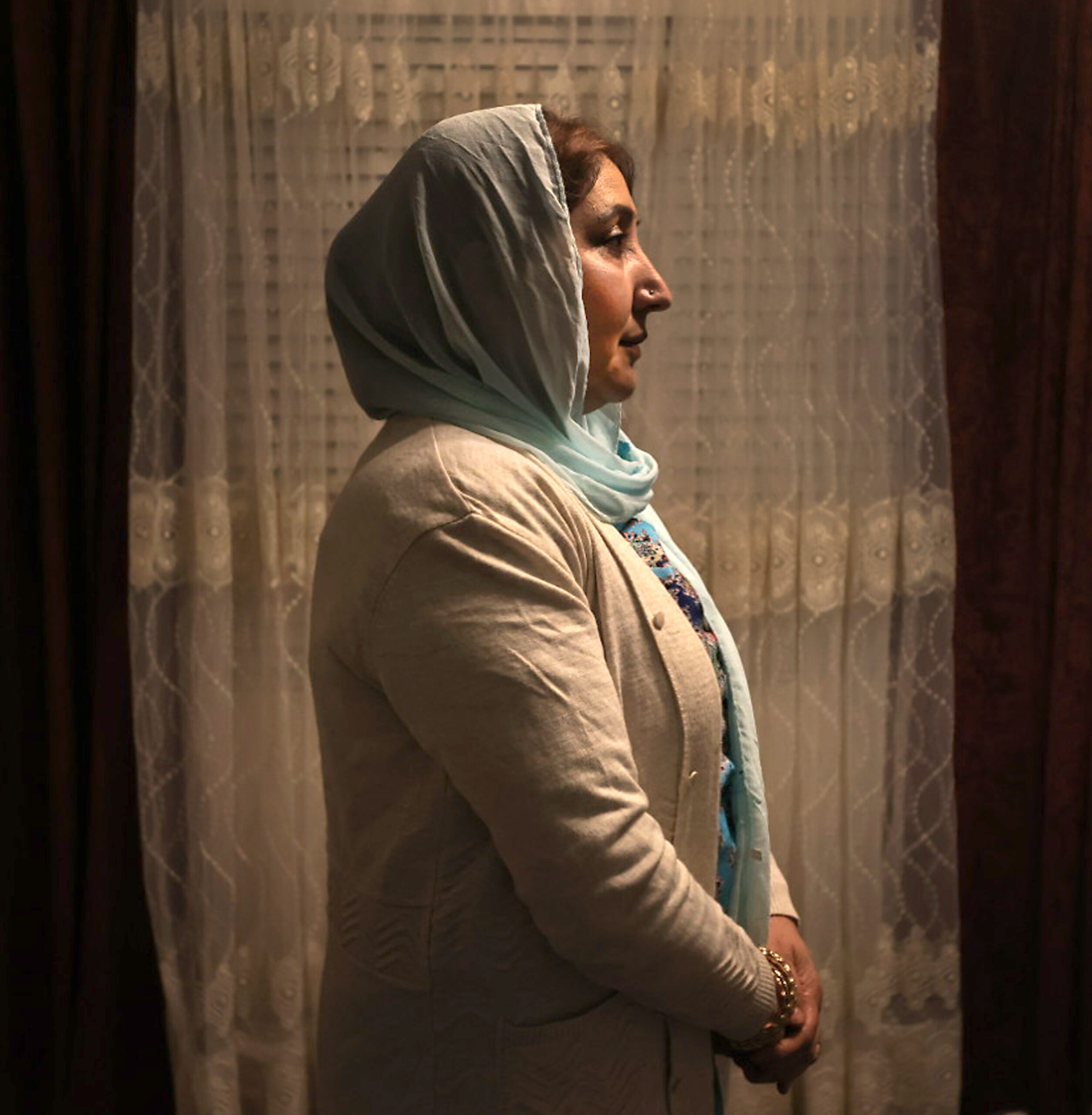 Zemari was the first of Osman's nine children to relocate to the U.S., arriving in 2013. Initially, he took a job mopping floors at a gas station in Hayward, where he says he experienced culture shock as customers placed orders in a language he barely understood.
Osman and her husband joined their son in the U.S. six years later, in 2019. But the matriarch of the family, though safe in the U.S., missed her remaining children in Kabul. "She was so sad all day," says Zemari. Osman traveled back to Afghanistan twice over the years to visit family. On her second trip to Afghanistan, in the summer of 2021, the political situation in the country shifted rapidly as the U.S. announced a pullout of troops and the Taliban moved to seize the capital city of Kabul. Stuck in the capital, Osman and her family faced the difficult prospect of trying to escape alongside tens of thousands of other Afghan citizens.
"Every dream of every Afghan was squashed," Zemari says of the Taliban takeover. "We say that the whole country is destroyed. There's nothing left behind. Most educated people leave the country."
Suliman, 21, and his brother Ibrahim, 19, who were still living in Kabul, recalled the chaos at the airport as the city fell and the family tried to flee. He described fighting and pushing as Afghan citizens clashed with members of the Taliban, and U.S. soldiers tried to keep order. Sounds of gunfire were common. At one point, a Taliban soldier started rapidly firing shots into the crowd and into the air. Ibrahim, desperate to get the family onto an evacuation flight, spoke sharply to the soldier. "I tell him, 'You can't do that, [my mother] is scared,'" Ibrahim recalls. For that, he received a slap in the face from the butt of a gun.
Every dream of every Afghan was squashed. We say that the whole country is destroyed. There's nothing left behind. – Roman Zemari, Afghanistan
Because their mother held a green card, Suliman, Ibrahim, and their parents managed to escape on a flight to Qatar, then to Germany, and finally to the U.S. Suliman and Ibrahim now have temporary protection and have filed for asylum. The brothers live in Santa Rosa and run ZamZam, a small takeout restaurant tucked in the back of a gas station convenience store serving Muslim and halal specialties. In their free time, the brothers, both gifted athletes who were members of the Afghan national soccer development team back in Kabul, try to play a bit of soccer on local fields.
Every member of Osman's extended family says they are grateful for their new lives in the U.S. and for the kindnesses they have received. "That's one of my best choices ever–coming to Sonoma County," says Roman Zemari. "I will never leave this county."
For family members like Ibrahim and Suliman, who arrived in the U.S. more recently, the change in culture has come with challenges. "Afghanistan is beautiful," says Ibrahim. "We left everything out there, our friends especially. We miss playing soccer with our teammates, everything about our culture." He hopes to enroll at Santa Rosa Junior College to resume his technology education and join the soccer team.
Zemari says his dream is to reunite with their other siblings, including his younger sister and her children still in Kabul. He also dreams of opening a larger restaurant in Santa Rosa, somewhere guests can "sit down, eat, and feel welcomed," he says.
"There's bad and good people everywhere in the world," says Roman Zemari. "In Afghanistan, I make breakfast. I clean and cook for my wife."
"We are humans, too. Don't feel sorry for us, feel proud."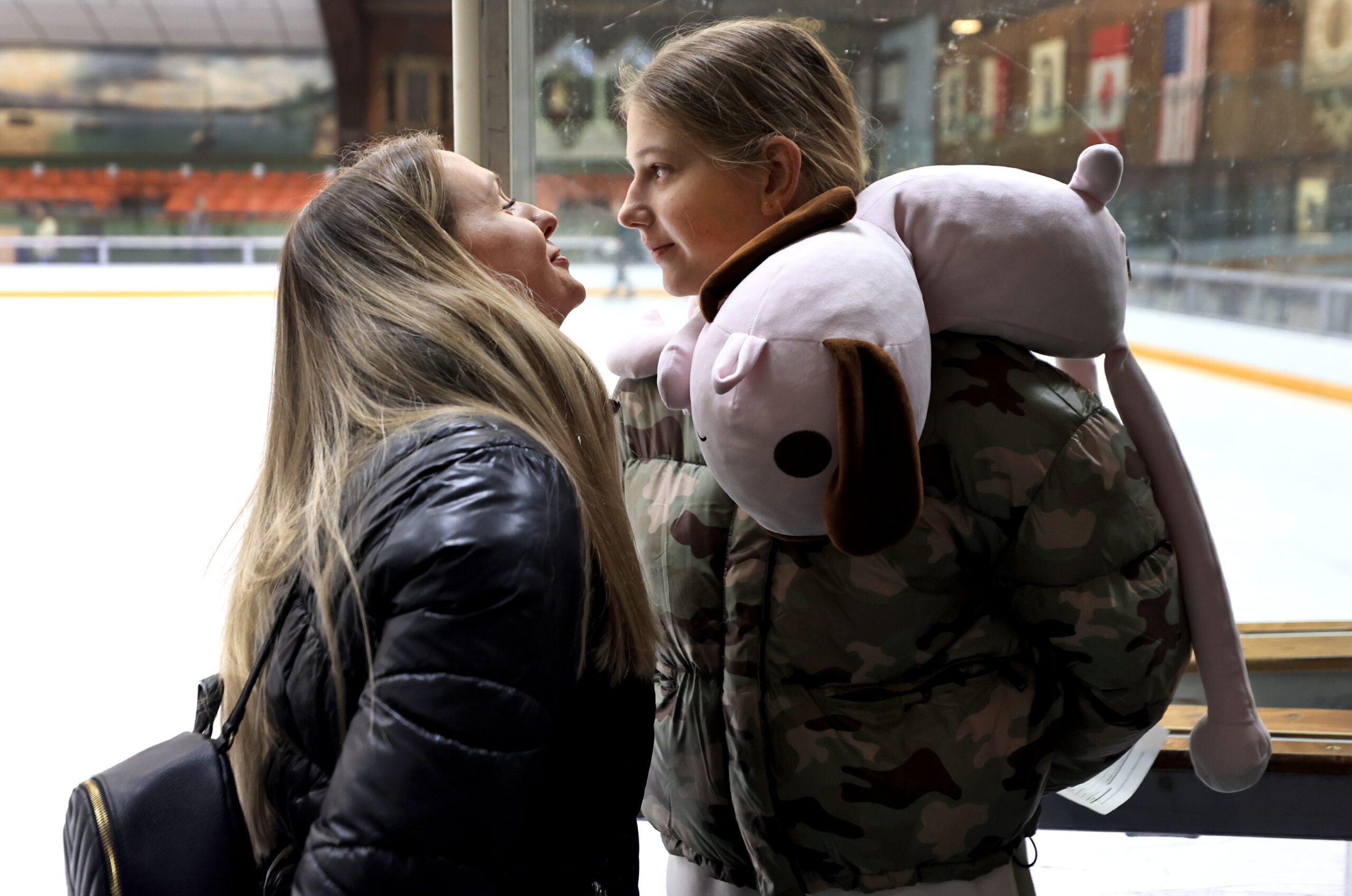 Anna Tereshchenko stepped onto U.S. soil for the first time at San Francisco International Airport on August 31, 2022. She held tightly to the hand of her 12-year-old daughter, Yeva, who was carrying a pair of rollerblades.
Mother and daughter were headed to meet for the first time the Santa Rosa woman who had signed up to be their sponsor—a woman whom they'd only seen pictures of online. "We felt a little nervous because we were going to be living with new people. But the moment I saw her, I feel like we've known each other for so long," says T ereshchenko. Her sponsor, Mary-Catherine Oxford, a dean at Santa Rosa Junior College, felt "a flood of emotions" as she waved a small Ukrainian flag made by her 8-year-old daughter, Emerald, to help welcome the family.
Until that day last August, Tereshchenko had lived in Dnipro, a city in eastern Ukraine that has been the site of severe shelling and missile strikes. Before the war with Russia, Dnipro was a bustling city of nearly 1 million residents. Tereshchenko worked as a product manager at a dating app company, while her daughter balanced art school, computer studies, modeling, and a busy social life. Tereshchenko says she and her daughter had built a wonderful life, with her favorite job and favorite friends in her favorite city in the world. "I was a successful person in Ukraine, and coming here I had to start everything all over," Tereshchenko explains. "That feeling of hopelessness is very uncomfortable, and it feels very heavy—almost like a child starting all over."
Tereshchenko, a single mother, and her daughter first fled Dnipro just days after Russia invaded Ukraine in February 2022. They arrived in Turkey in May but decided to return home in June during a lull in fighting—a decision they felt was safe enough at the time. But returning to a city under constant attack proved as difficult as one could possibly imagine, says Tereshchenko. Their lives revolved around sirens, phone alerts, and explosions. "It was terrible," Yeva says, hiding her face in her hands. "I (was) tired to go to the basement like 10 times a day, sleep in clothes, stay at home, run."
They decided to leave again, this time on a more permanent basis. In July, Tereshchenko applied to Uniting for Ukraine, a program launched by President Joe Biden. Administered by U.S. Citizenship and Immigration Services, the organization provides eligibility information, visas and other relocation resources for families fleeing the country.
Host Mary-Catherine Oxford applied to Uniting for Ukraine on July 18 and matched with Tereshchenko just one day later.
"I was nervous a little," Tereshchenko says, explaining that there are a lot of scammers and traffickers who might take advantage of refugees from countries experiencing a crisis. Tereshchenko scrutinized a photo of Oxford and her husband, taken in front of Windsor's Martinelli Winery and uploaded as part of their host application onto the Uniting for Ukraine website. It was almost like examining a profile on a dating app, Tereshchenko says, drawing a parallel between her previous career and this urgent new decision she faced. "I could tell [the photo] was real and not fake," she says.
Coming here, I had to start everything all over. That feeling of hopelessness is very uncomfortable, and it feels very heavy—almost like a child starting all over. – Anna Tereshchenko, Ukraine
Oxford became the family's anchor to a new way of life. Arriving in Sonoma, Tereshchenko says she was surprised to take in a landscape of rolling hills and oak woodlands, which remind her of home. She had imagined California as something out of a movie—more tropical, perhaps, with lots of exotic plants.
Tereshchenko says small, thoughtful acts of kindness have meant the world to her and her daughter as they build a new life together. Oxford has hung a Ukrainian flag in their shared home and taken the family to Grossman's Noshery for comfort food like pierogies. Oxford also arranged for ice skating classes at Snoopy's Home Ice for Yeva and Emerald. Their mothers agree it has been amazing to see a sisterhood develop between the two girls. "It's definitely a lot more lively than it was before, and a lot more snacks in the cupboard," Oxford jokes.
Tereshchenko is currently taking English classes at SRJC and is hoping to find a job in the tech industry, while Yeva is attending a local middle school. The two still experience moments of anxiety, even as they move forward with their new lives. For a while, Yeva worried each time she heard an airplane overhead, on approach into the local airport in Windsor.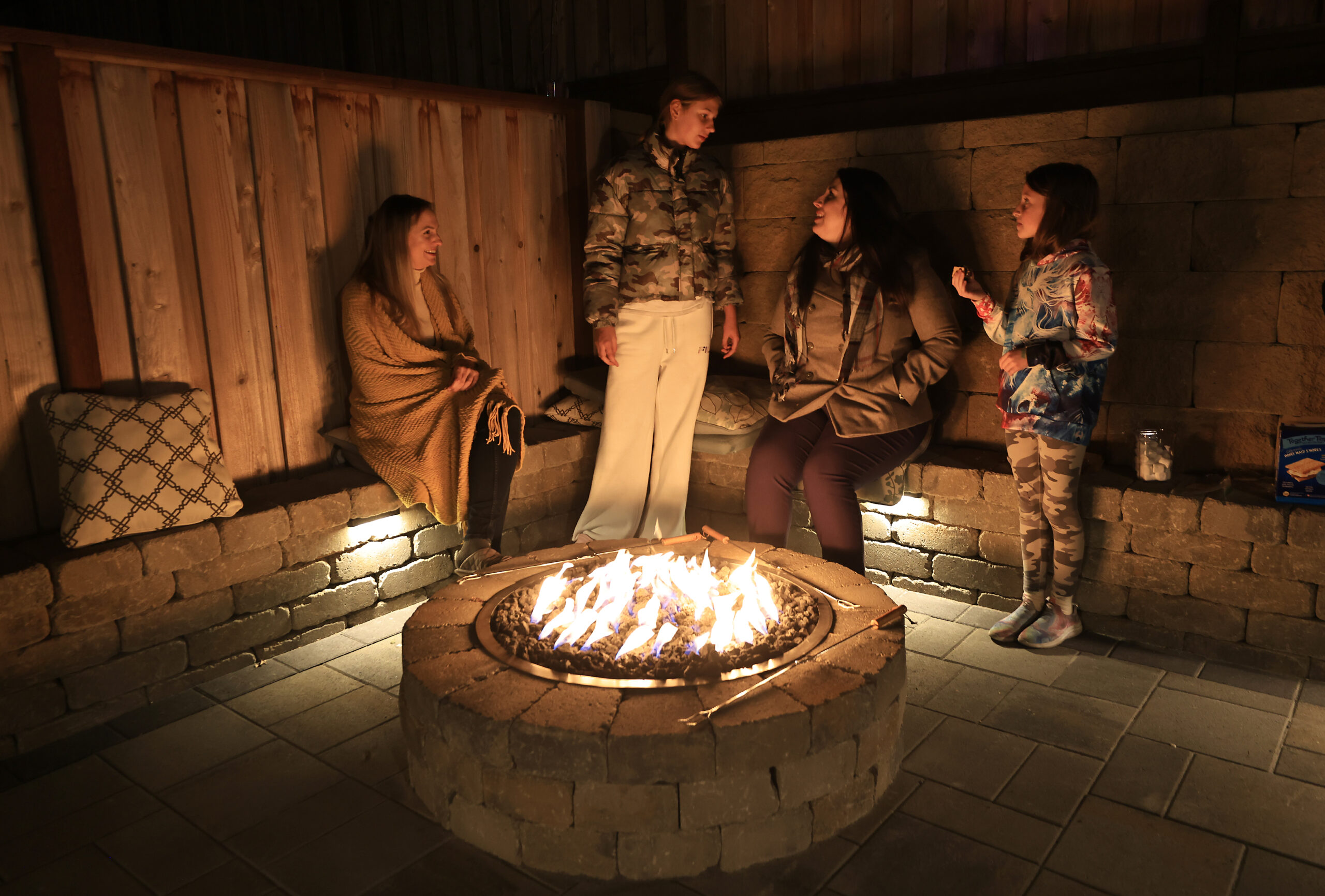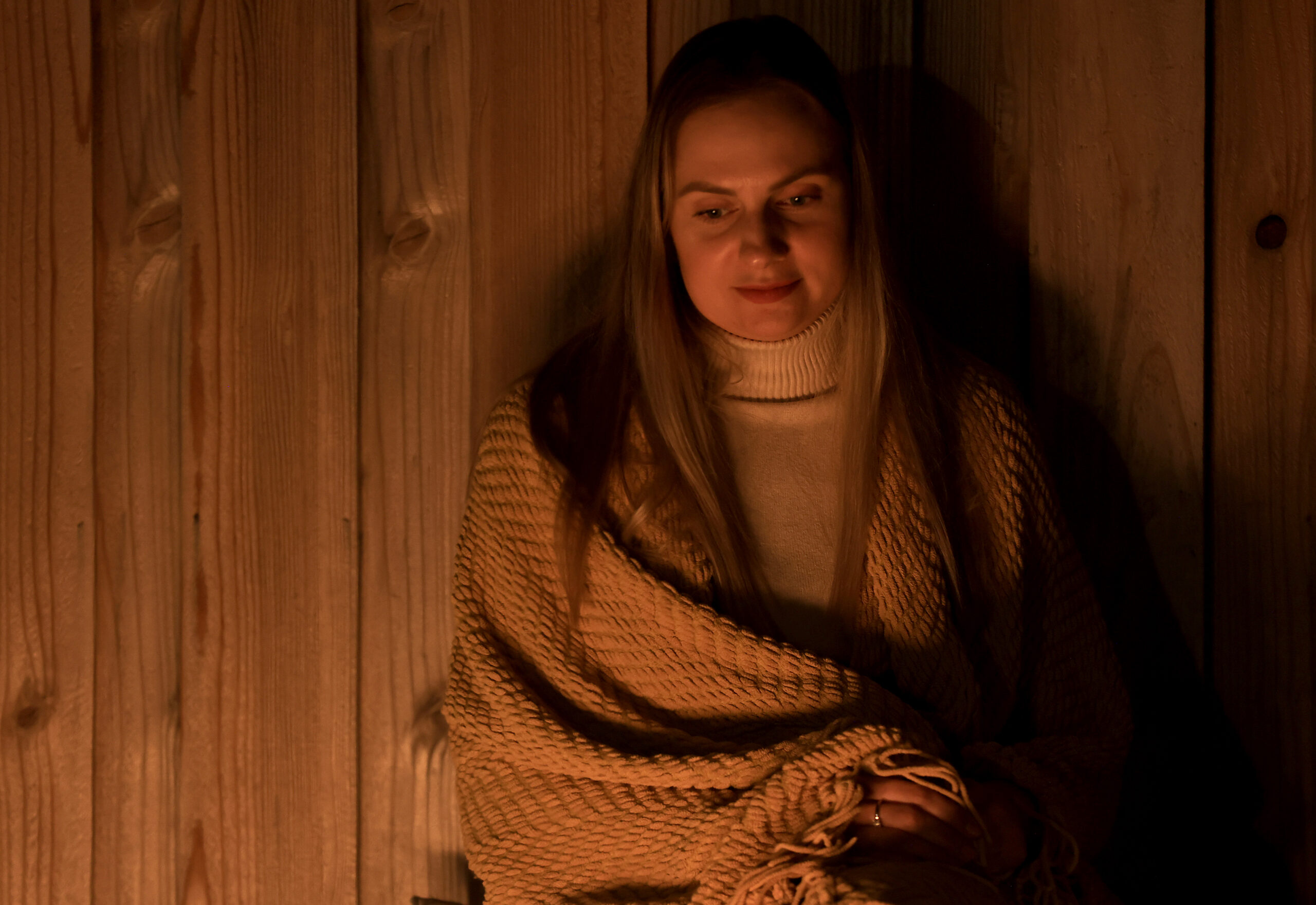 Oxford had never given the airplanes a second thought. "I realized I was so ignorant of many things," she says. "I was whining to her about a hard day at work one day and then I stopped, looked at the two of them, and said, 'Oh, never mind.'" Tereshchenko found herself longing to create new ways to find balance in this stage of her life where old ways now seem open to reinterpretation. "In Ukraine, you have a career and you're busy, busy, busy," Tereshchenko says. "I always thought it was impossible to have both, but in my host family, I've seen such a good example. Mary-Catherine is balanced and is working, but she intentionally spends a lot of time with family."
Back home in Ukraine, New Year's Eve is one of the country's biggest holidays, says Tereshchenko. As in the U.S., it's seen as a time to set goals and take stock of what is important. Tereshchenko says her biggest goal for 2023 is to find a job and to see her daughter feel comfortable at school, with a good circle of friends—goals that are not so out of place with those of any loving parent.
Guadalupe Yesenia Espinoza and her husband Julio Peña smile proudly as they watch their two children pass a ball back and forth at a soccer field in Healdsburg. The ball they play with is one of the few possessions the family brought with them after fleeing their hometown in Mexico. For the family of four, the simple act of playing outside brings up feelings they haven't experienced in years: the freedom to learn, play, and work. To simply exist without fear.
The family, who were recently granted asylum in the U.S., are learning to trust again after several terrifying years living under the threat of cartels that laid siege to their smalltown community in the Mexican state of Michoacán. "It's just like a war and we're just the civilians in the middle," Espinoza explains, sitting in an office at Corazón Healdsburg, the nonprofit that is helping the family.
On one side, we're leaving our family behind. At the same time, we're really happy, because it is very important for us to take our children here. – Julio Peña, Mexico
Before the uptick in violence, Espinoza described their lives as pleasant. She and Peña ran a small taco truck business, and their children attended the local school. Their hometown, nestled in the Tierra Caliente, a region known for its hot, desert climate, was surrounded by beautiful hills covered in native cacti. "There used to be a lot of fun. We used to have soccer games, schooling. There were really great holidays," says Espinoza, remembering the way her family celebrated Día de los Muertos, Día de la Revolución, and other traditional cultural events.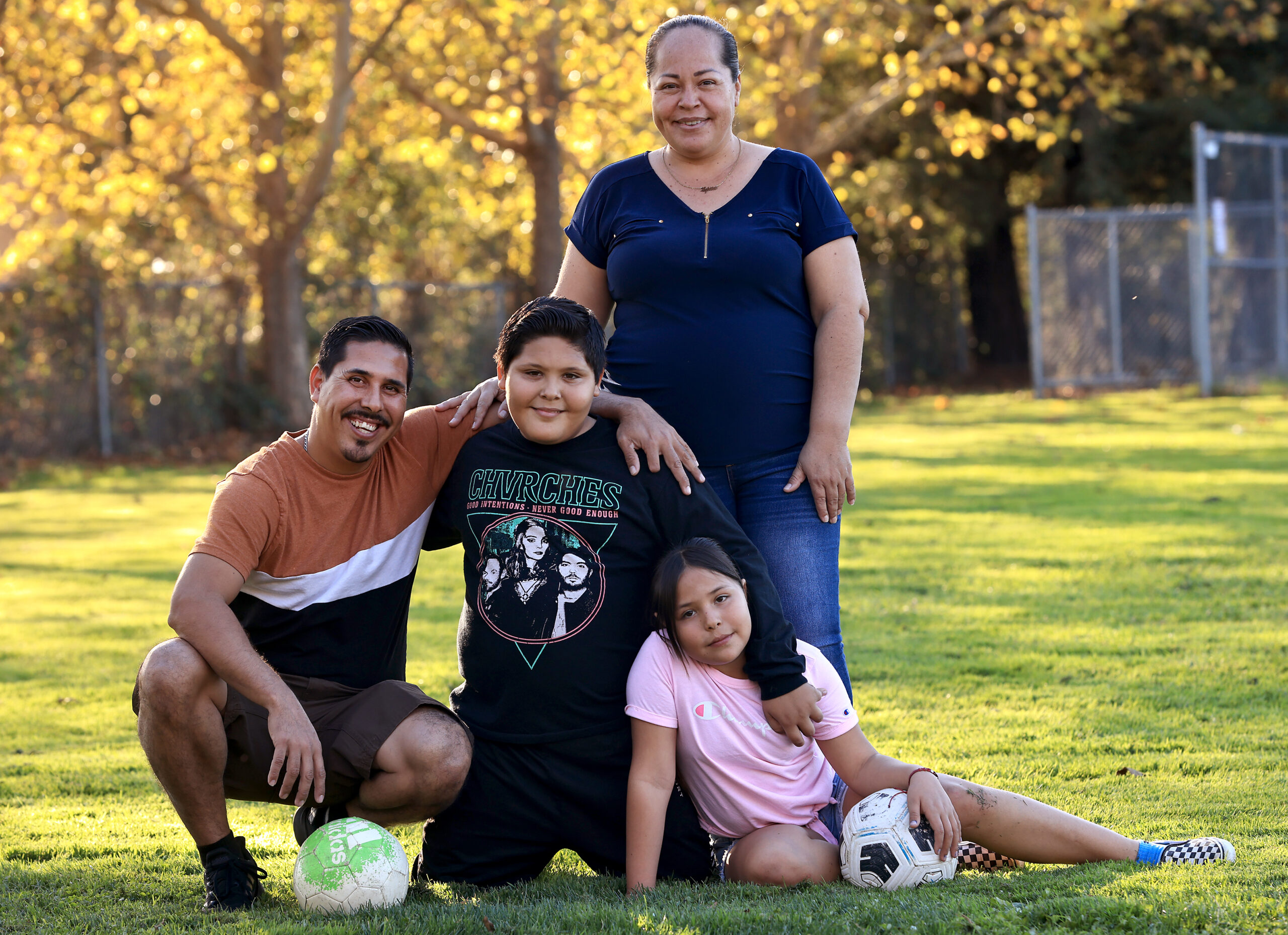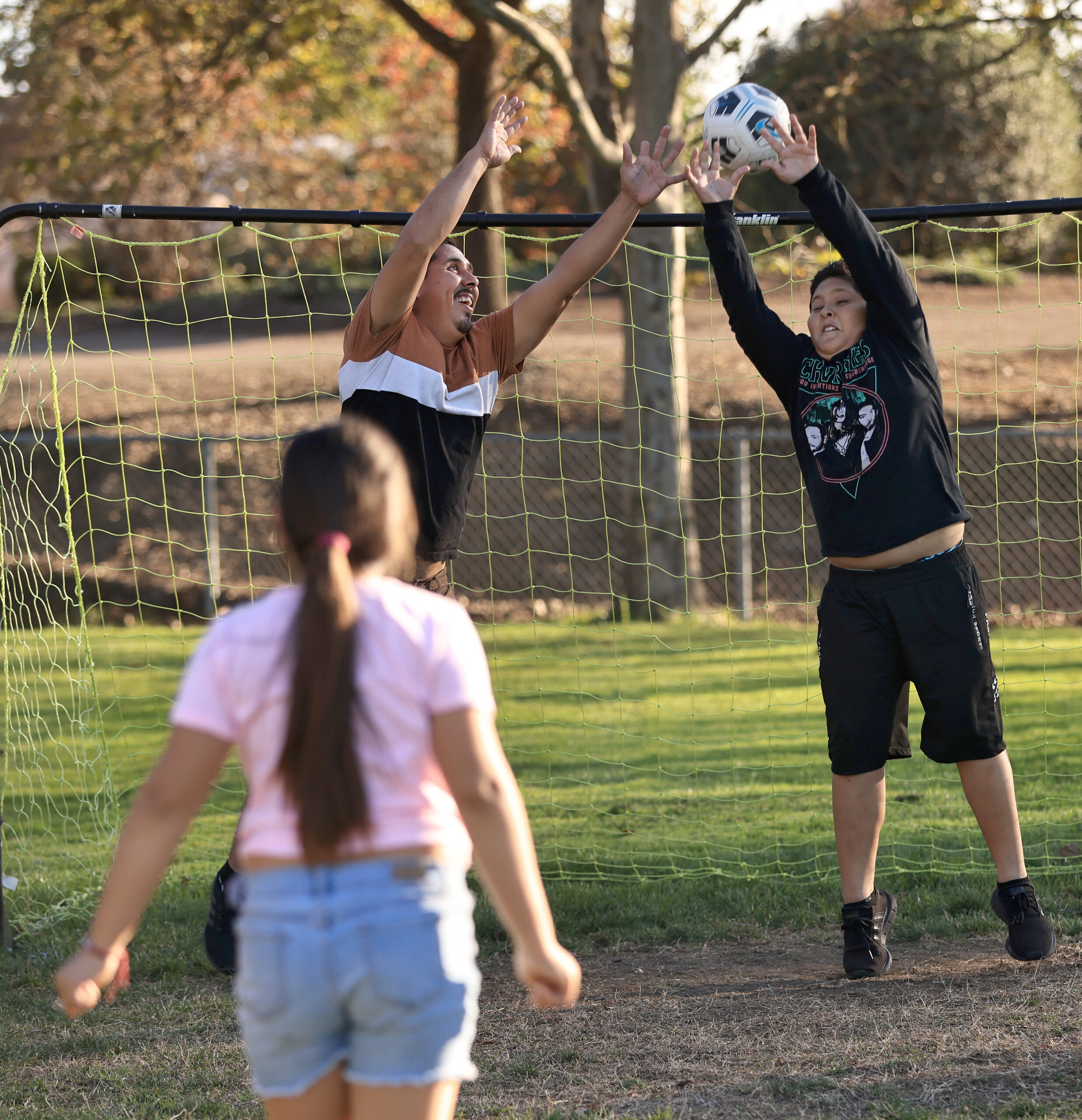 An uptick in violence brought those happier times to an abrupt halt, as warring cartel leaders made public threats, shut down local businesses, and closed schools. Espinoza says cartel drones dropped bombs in their town, and over a dozen civilians were killed in the fighting. As the situation worsened, their children stopped attending school, and Peña and Espinoza were forced to stop working. Things reached a breaking point after their 10-year-old daughter was confronted by a stranger in a truck while she was biking to church. Espinoza and Peña were horrified. They immediately reached out to an immigration lawyer to seek asylum in the U.S.
On October 13, 2022, they drove across the U.S.-Mexican border, asylum paperwork in hand.
Now living with Peña's sister in a home with three other families in Healdsburg, conditions are crowded and a bit chaotic. But they're happy their children are safe and settling into their new school. Peña says he and his wife share some mixed emotions about settling in the U.S. "On one side, we're leaving our family behind," he explains. "At the same time, we're really happy, because it is very important for us to take our children here. We are not getting any younger, and they are just starting their lives."
Just a few months into their time in Sonoma, Peña says he sees a lot of opportunity. "I see a lot of businesses open, and everybody owns a business. I really see a better life, a better future…We always dreamed about having a taco business here."
Their goal for 2023 is to raise enough money to move out of P eña's sister's house. Eventually, once they secure work permits, they'd like to open a taco truck like the one they ran back home in Michoacán. They say they're grateful for the welcome and help they've received. "We feel happy," Peña says. "We feel safe. My children can go to the park without any fear."
Sponsoring a refugee family
Last summer, John Namkung, a retired special education administrator, gathered a group of his Sebastopol neighbors to sponsor a family of four from Ukraine. The mission has been eye-opening, he says. "It's really gratifying to see the family, starting from the moment when they got off the plane to where they are three months later," Namkung says.
The most challenging part of the entire process, he says, was getting the family's small dog, Fara, to the U.S., which entailed a long waiting period and plenty of extra paperwork. If not for the dog, the entire process would have taken about 7-10 days. "So if anyone, readers, are thinking of wanting to be a sponsor, if everything goes smoothly and there's no animals involved, that can happen pretty quickly," Namkung says.
Namkung recommends anyone who would like more information on sponsoring a Ukrainian family spend time exploring the website for Uniting for Ukraine (uscis.gov/ ukraine), administered by U.S. Citizenship and Immigration Services. A separate program, Welcome.US (ukraine.welcome.us), helps Ukrainians match with sponsors in the U.S.
Mary-Catherine Oxford of Santa Rosa, who also sponsored a family through Uniting for Ukraine, says she was previously frustrated by the way most programs were run. "So when this program came out, it was exactly what I always thought refugee support should be like," Oxford said. "Individuals in America are willing and able to support people, and people in a moment of need, where they can be helped."
John Namkung worked with a group of friends and neighbors to welcome his family, meeting regularly over Zoom to raise funds and divide ongoing responsibilities. They organized into two working groups: a planning committee and a financial committee. "It's pretty amazing when you think of how many people in Sonoma County have been so generous," Namkung says. "The unanimous reaction I've gotten is 'Thank you for allowing me to help.'" "It's very, very satisfying to know that we've made a difference in the lives of one family forever," Namkung says. "I mean, the whole trajectory of their lives has changed."
Local refugee aid organizations
Corazón Healdsburg: A nonprofit human rights organization that specializes in outreach and advocacy for Latino families in Sonoma County. corazonhealdsburg.org
The Lone Pine Group: Sebastopol resident John Namkung and the Lone Pine Ukrainian Family Aid program raise funds to benefit the Ukrainian family of four that they sponsor. gofundme.com/f/lonepine-ukrainian-family-aid
Sonoma County Secure Families Collaborative: A network of organizations that provide legal and social services to immigrant families. sonomacountysecurefamilies.org
Catholic Charities of Santa Rosa: A nonprofit offering shelter, counseling, legal services, and more to local families in need. srcharities.org