A creative pair turns an ordinary ranch-style house into a joyful work of art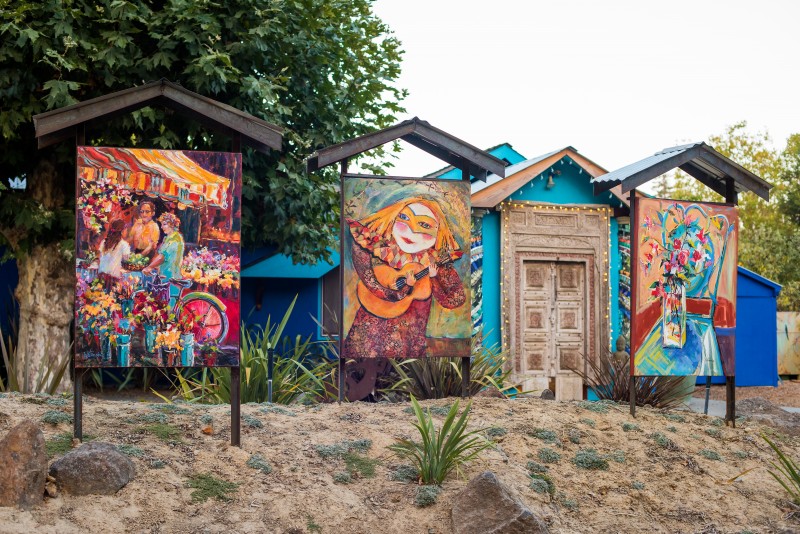 Many travelers on Ragle Road in Sebastopol have done double takes as an unremarkable, 1963 California ranch-style house has been slowly transformed into an astonishing piece of living art.
Called Chez La Vie, it's the home of Carole and Don Watanabe, who bought the place in 2011. Carole is an artist who specializes in vivid colors in a variety of media. She paints, cuts tile, sculpts, builds, and more, with great energy. Don, an architect, brings sense and precision to her flair.
An ongoing project, Chez La Vie is comprised of multiple structures, including the Watanabe home and an attached apartment where Don's 94-year-old father, Don Sr., lives.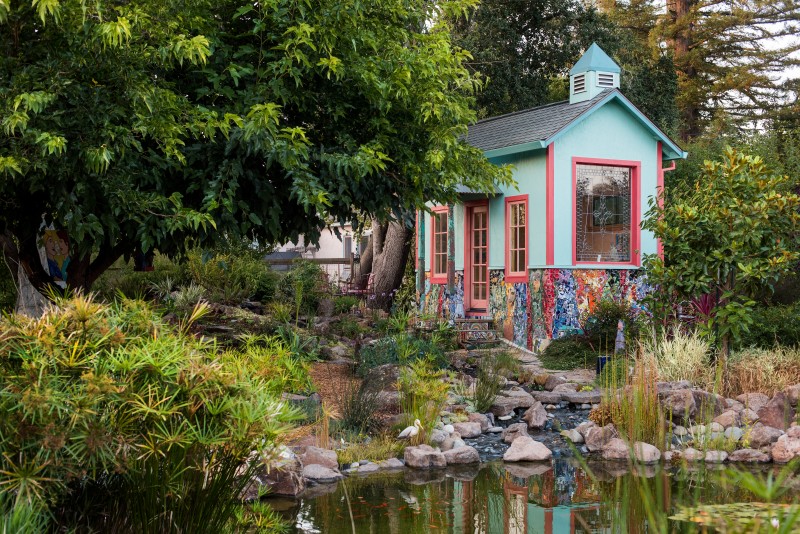 An appealing guesthouse, which Carole named the Art Chapel, has a sleeping loft and a garden view through a huge antique window salvaged from an old cathedral.
A shed subtly painted with birds and flora holds Don's tools. Other structures painted to merge nearly invisibly with the landscape house pumps, firewood and other materials.
A year ago, the Watanabes built an office and woodworking shop on the eastern edge of a new pond. There's an outdoor pizza oven adjacent to the living room, which was the original home's garage.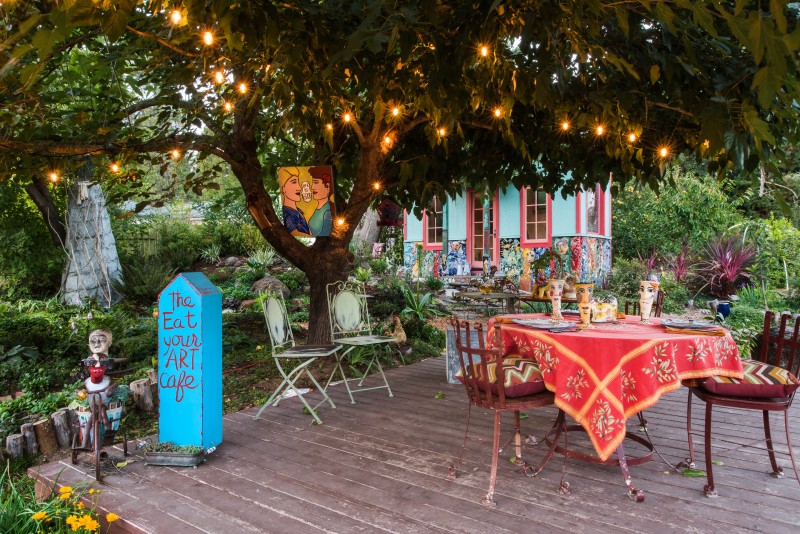 The first thing one notices about the main house is the exterior color, a vibrant ultramarine blue trimmed with deep turquoise and brick red. Part of the back of the house is painted red and trimmed with turquoise, a courtesy shown to a neighbor who did not like the vivid blue.
A wide berm borders the front of the property, with several steel frames — think large picture frames on stilts — nestled deep into the soil and crowned with corrugated aluminum roofs. This is Carole's drive-by gallery. The frames will be filled with paintings on sheet metal, created by local children and to be sold to raise money for school art programs.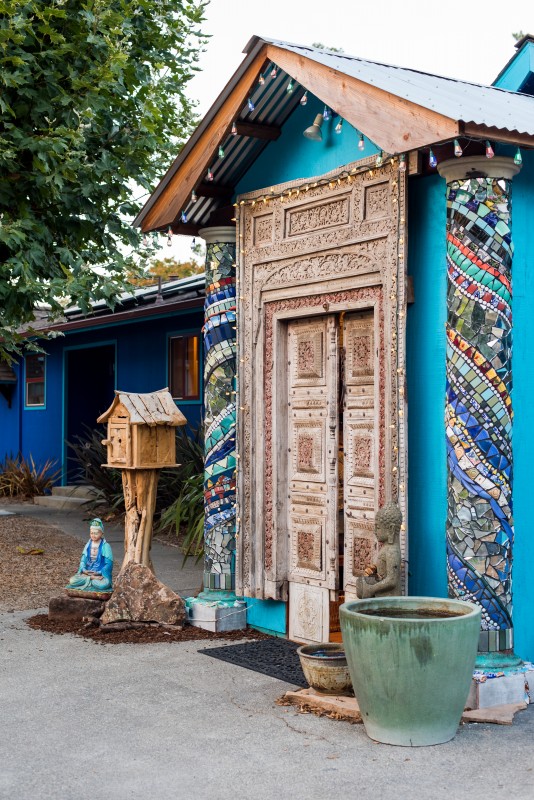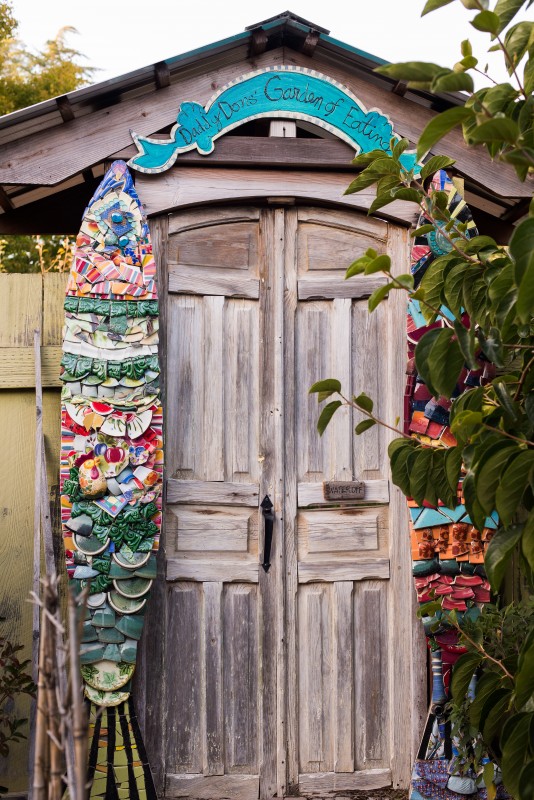 Two enormous antique Indonesian facades made of elaborately carved teak are installed, one at the entrance to Carole and Don's house, the other in front of Don Sr.'s apartment.
Tall columns flank the Watanabe entrance and are covered with colorful spirals that glisten in the sun like a cache of jewels.
Carole created their jewel-box look by using a huge, abandoned mirror and broken ceramics that friends and strangers dropped o. There's a third column inside, on a wall where a desk rests.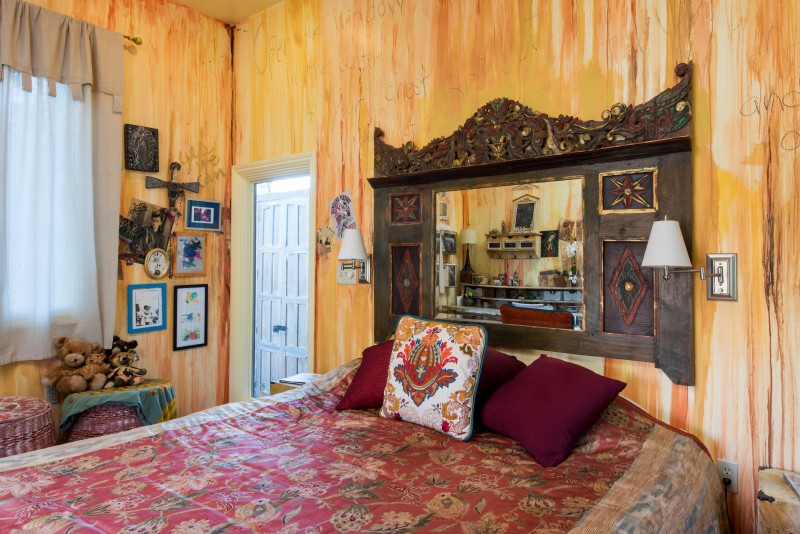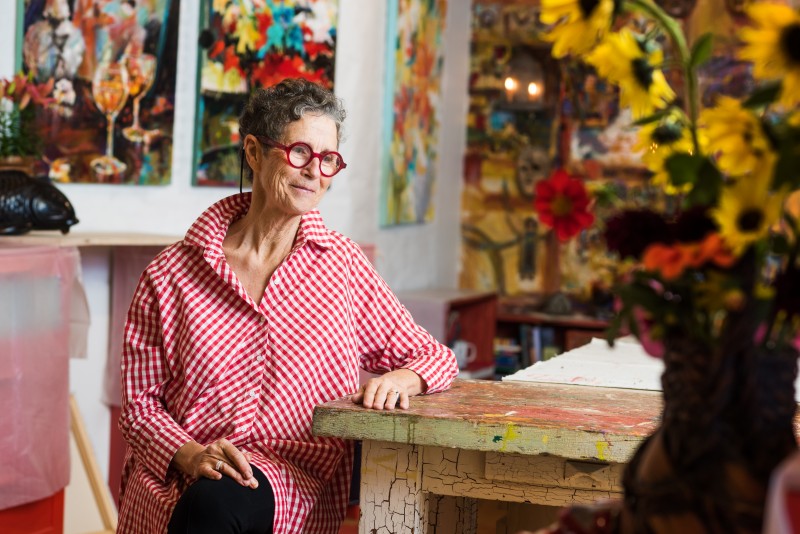 "About 75 to 90 percent of all the materials are found," Carole said, adding that she buys very little. When she does, materials typically come from a Santa Rosa Goodwill store, where "junk" is introduced every few minutes to a waiting crowd. Her typical purchase for a box of treasures: $3.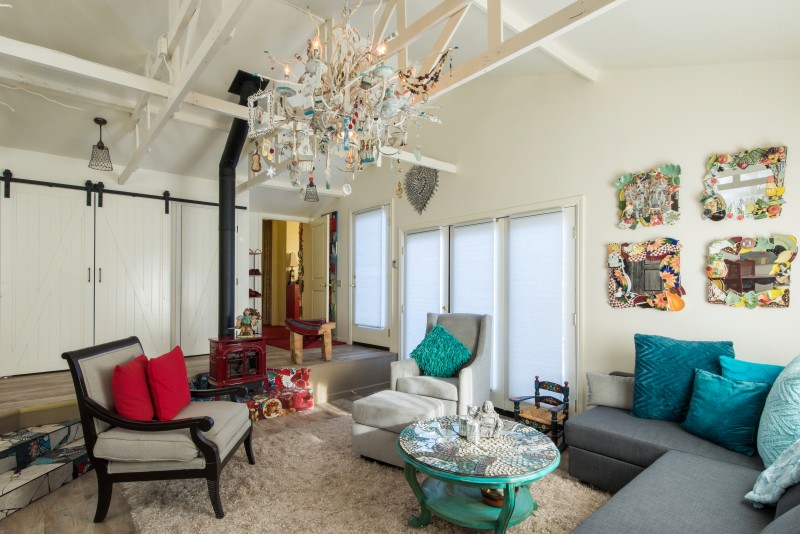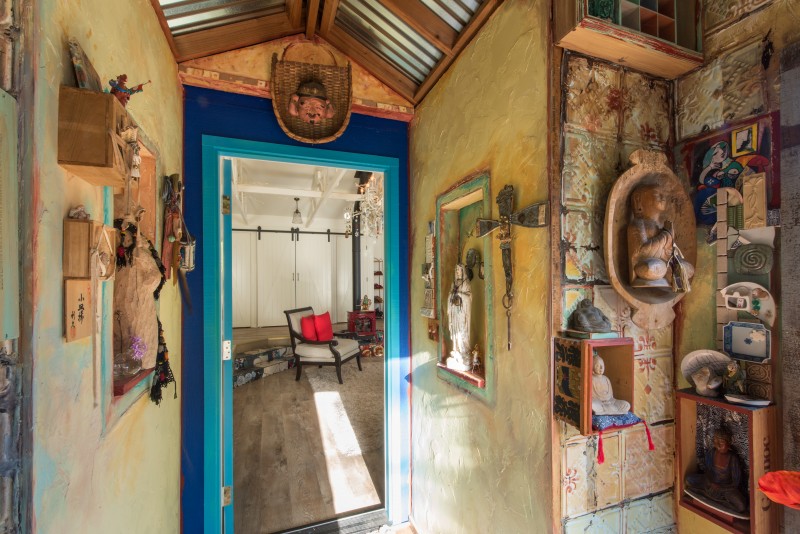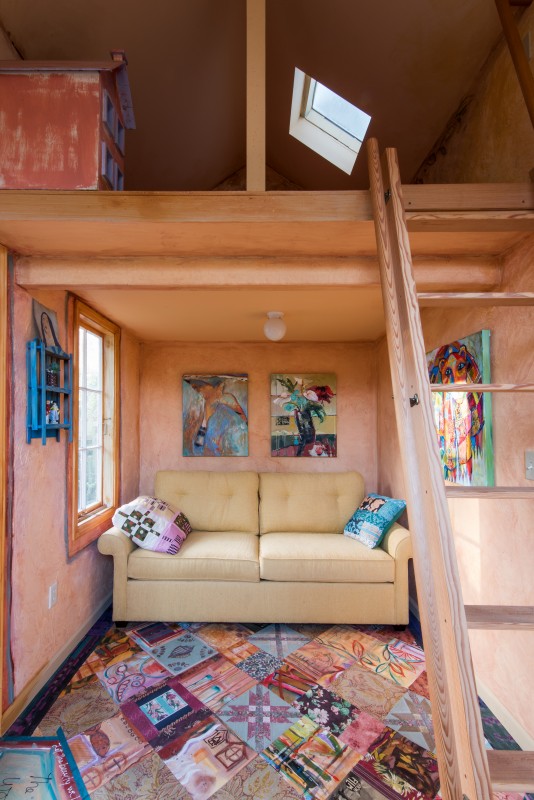 In Chez La Vie's backyard, a stream with two short bridges over it circulates water through the Paradiso Pond, which Carole calls her greatest work. She took a class in pond-making at Santa Rosa Junior College from Jim Wilder, who advised her on her project. A yurt was standing where she wanted the pond, and it turned out that Wilder was looking for just such a yurt. He installed the pump that circulates the pond water and the UV system that keeps it clean, taking the yurt as payment.
To make the pond, Watanabe used a backhoe to dig a 4-foot-deep hole, straight down to prevent raccoons from using it as a pool, and lined it with black rubber. For landscaping, she headed to W. Johnson Ornamental and Building Stone in Santa Rosa for truckloads of rock. She added lilies and other water plants, turning the pond into a Monet painting.
On the western edge of the property is an outdoor fireplace surrounded by random chairs. A table sits under a large tree, oŠering a perfect place for afternoon tea. Painted chairs, tiled tables, carved benches, tiny sculptures, clever mobiles and painted fences are everywhere.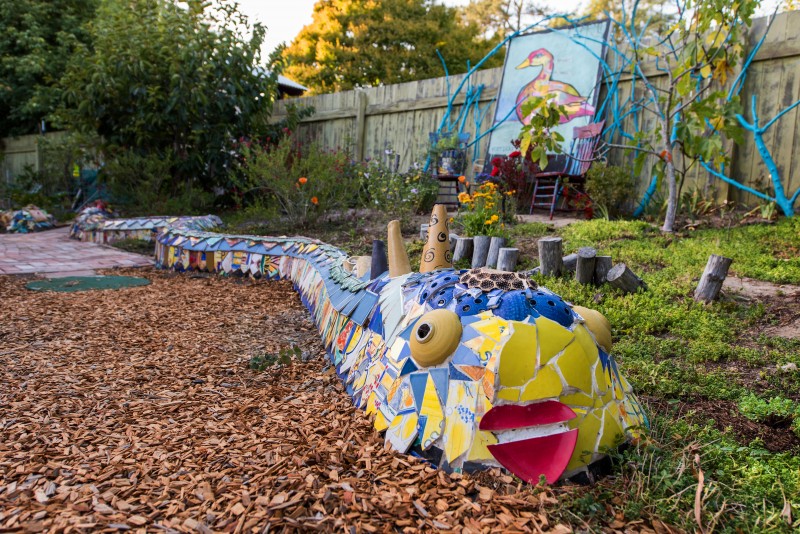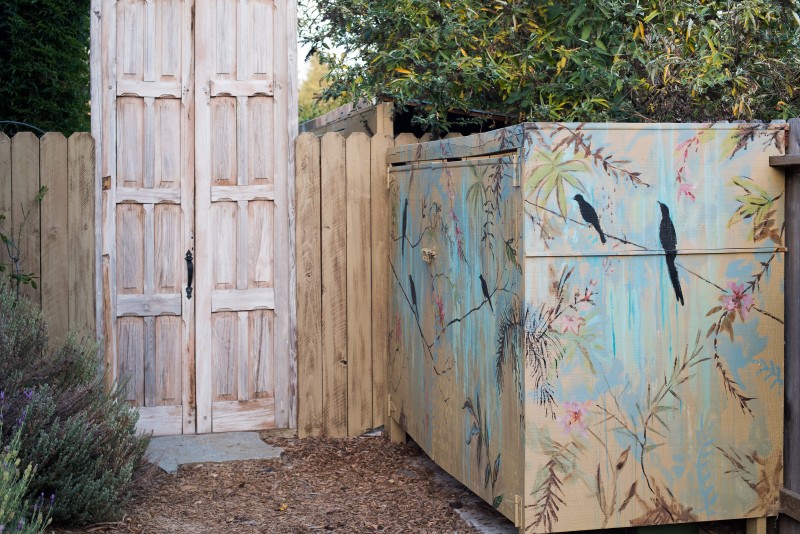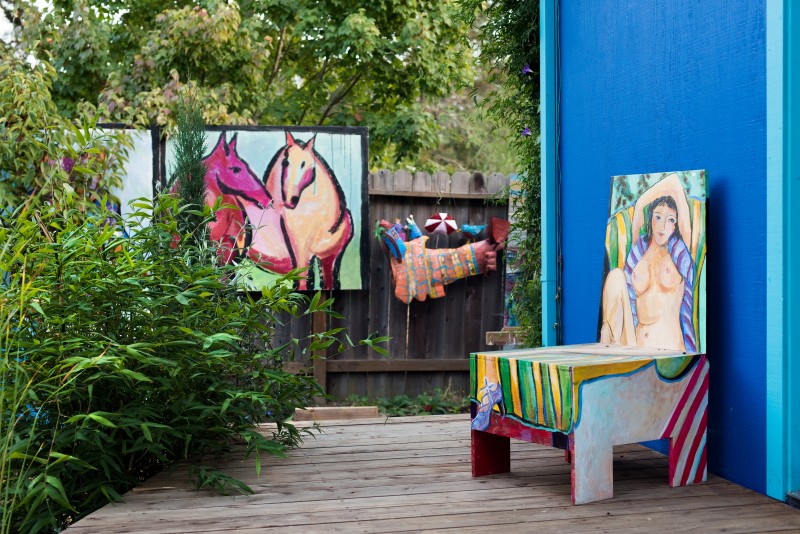 Elsewhere, Carole created a curving dragon of random ceramics. Brick pathways weave through the garden and intersect the dragon, leading to a double-doored gateway through a fence to the neighbor's property.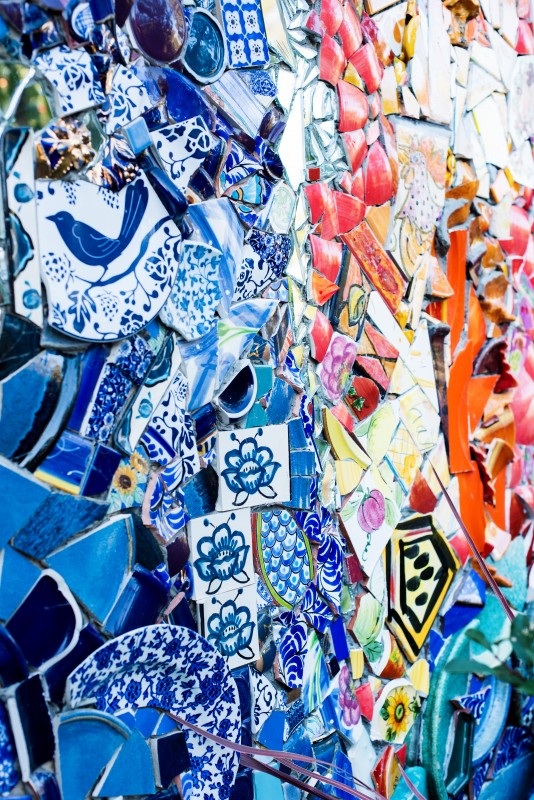 Inside is as whimsical as outside, with furniture crafted from discarded wood and an array of found objects. Walls are accented with writing in Carole's cursive and hung with paintings, drawings and sculptures. There are recessed altars here and there, and mirrors decorated with colorful tiles. Flooring is different in every room, ranging from area rugs to a floor covered with squares of fabric and old photographs, sealed with Varathane.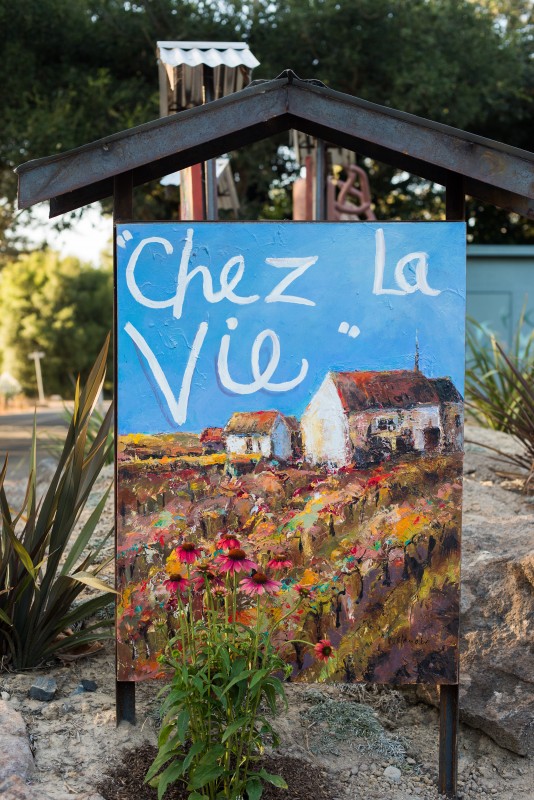 The Watanabes, who think of Chez La Vie as an elder compound where they can grow old, surrounded by what they love, plan to host art openings in the spacious backyard, with the oven fired up so guests can create their own pizzas. Patios and fences will be hung with banners of art, much of it created by kids.
"Eventually," Carole said, "the house, yard and gardens will be an interactive gallery for the public."
Photography by Rebecca Chotkowski.