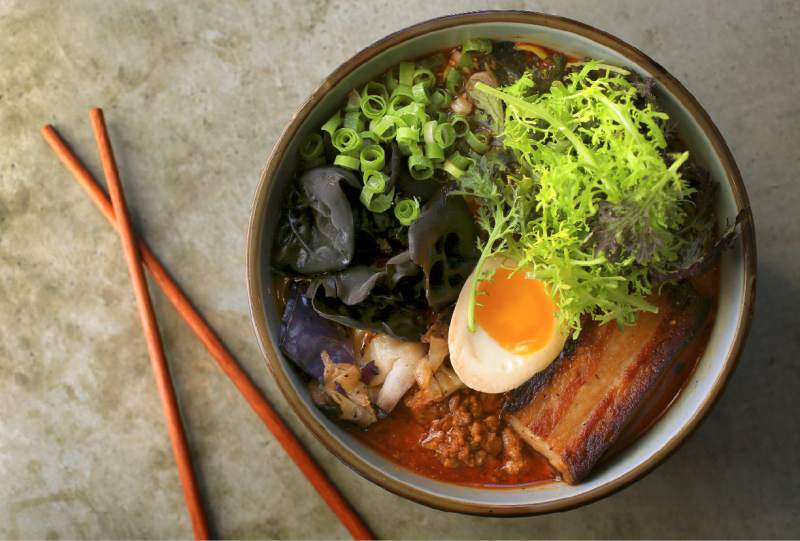 An interesting thing has been happening these past few months when I mention Sebastopol. Faces light up, and people say, "Oh, Ramen Gaijin! I love that place."
There's so much to love about the small town already, but this restaurant seems to be putting emoji hearts in everyone's eyes. More friends suddenly find it convenient to visit me — I live about five minutes from the Japanese izakaya — and I've been drawn into conversations about noodles and pickles with perfect strangers.
The food is great, and part of the joy comes from cheering for the little guy. The eatery began life in July 2014, as a once-a-month pop-up inside Woodfour Brewing Company at The Barlow. On the first evening of business, first-time restaurateurs Matthew Williams and Moishe Hahn-Schuman sold 120 bowls before running out of soup.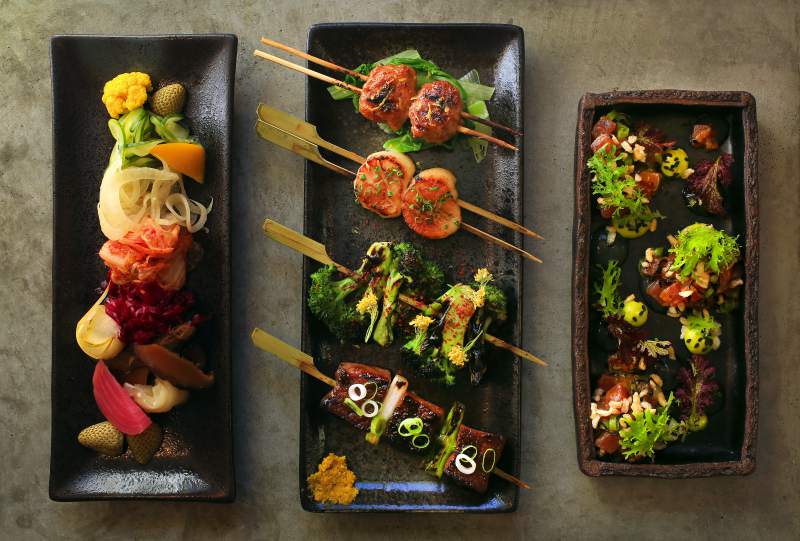 Success, indeed — five months later, the shop relocated to a larger space inside Forchetta/Bastoni restaurant just across the street, and then, exactly one year later, the Japanese eatery took over the entire two-story building.
It was all roses, except Forchetta/Bastoni's closure included some state problems, including their hard alcohol license being suspended. Williams and Hahn-Schuman considered relocating, and even after they got the license settled, they faced extensive renovations to the former Asian/Italian space.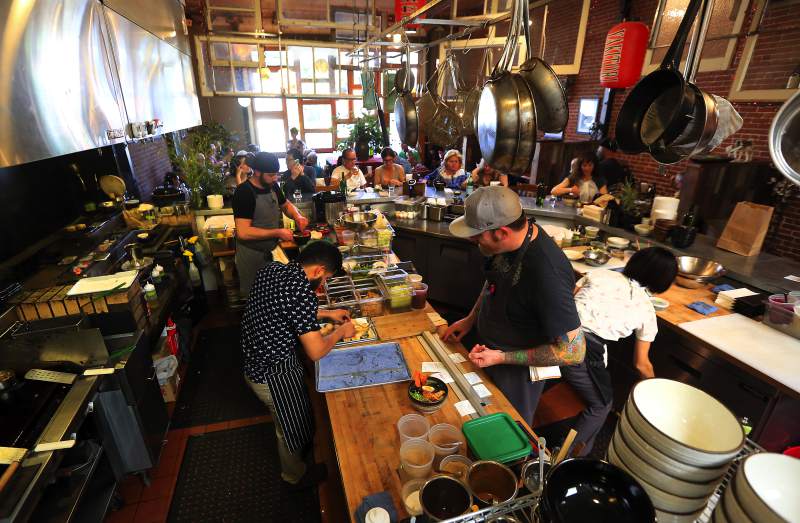 This past December, Ramen Gaijin closed, finally reopening in March with a new look including concrete and undulating redwood bars backed by reclaimed barn-wood paneling, Japanese hanging lanterns, izakaya pub interior signage, old school Japanese paintings updated with modern day superheroes, and a cute, tiny Godzilla bonsai garden on the eat-in counter overlooking the new kitchen.
It was worth the wait. While Japanese food is all the Wine Country rage these days— think the new Miminashi in Napa, Persimmon in Healdsburg, the soon-to-open Two Birds One Stone in St. Helena and the up-coming Single Threat in Healdsburg — Ramen Gaijin shines among the best dining I've enjoyed anywhere.
Attention to detail is brilliant, with a simple donburi bowl ($13) boasting authentic Japanese Kewpie mayo, a rice vinegar-based sauce that's richer and creamier than standard USA issue. Here, it's infused with yuzu before being dolloped on a bed of rice topped in pork belly, farm egg, tobiko, kimchee, bonito, pickled red onion, Bull-Dog tonkatsu sauce and goma furika seasoning of toasted sesame seeds, chopped seaweed, sugar and salt.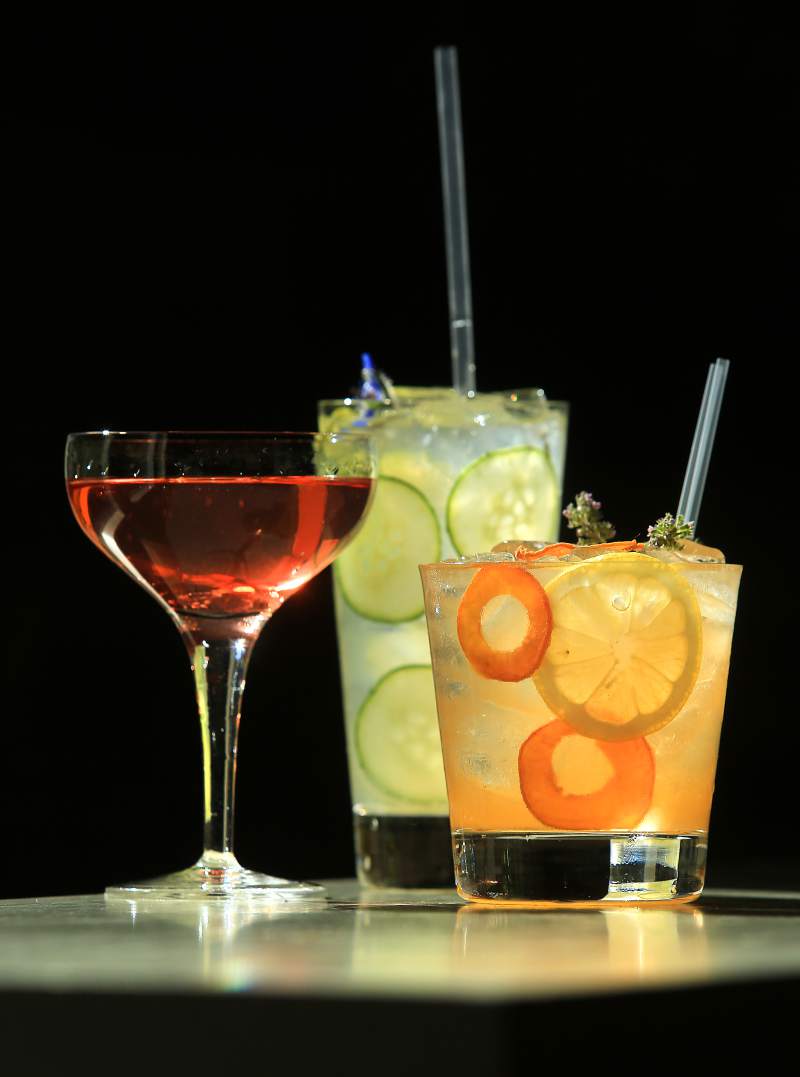 The effort is all the more impressive considering the duo had been cooking for their entire professional lives, but really didn't know the first thing about specialties like the skinny noodles called chūka soba. The word gaijin, notably, is the Japanese term for a non-Japanese person, and it took the chefs nine months to figure the perfect ramen recipe, based on handcrafted rye noodles that are toasted for even more aroma and a firmer chew. They tested many miso recipes using a variety of sprouted grains and legumes, and pickled everything they could get their hands on.
Years of living in Japan made me a ramen fanatic, and this team has nailed it. Tender noodles have the perfect, slightly rubber band texture, and the shoyu broth is deep, savory and just-right salty with notes of kombu, garlic and ginger amid the silky emulsified fats from whole chicken, pork neck and smoked hocks.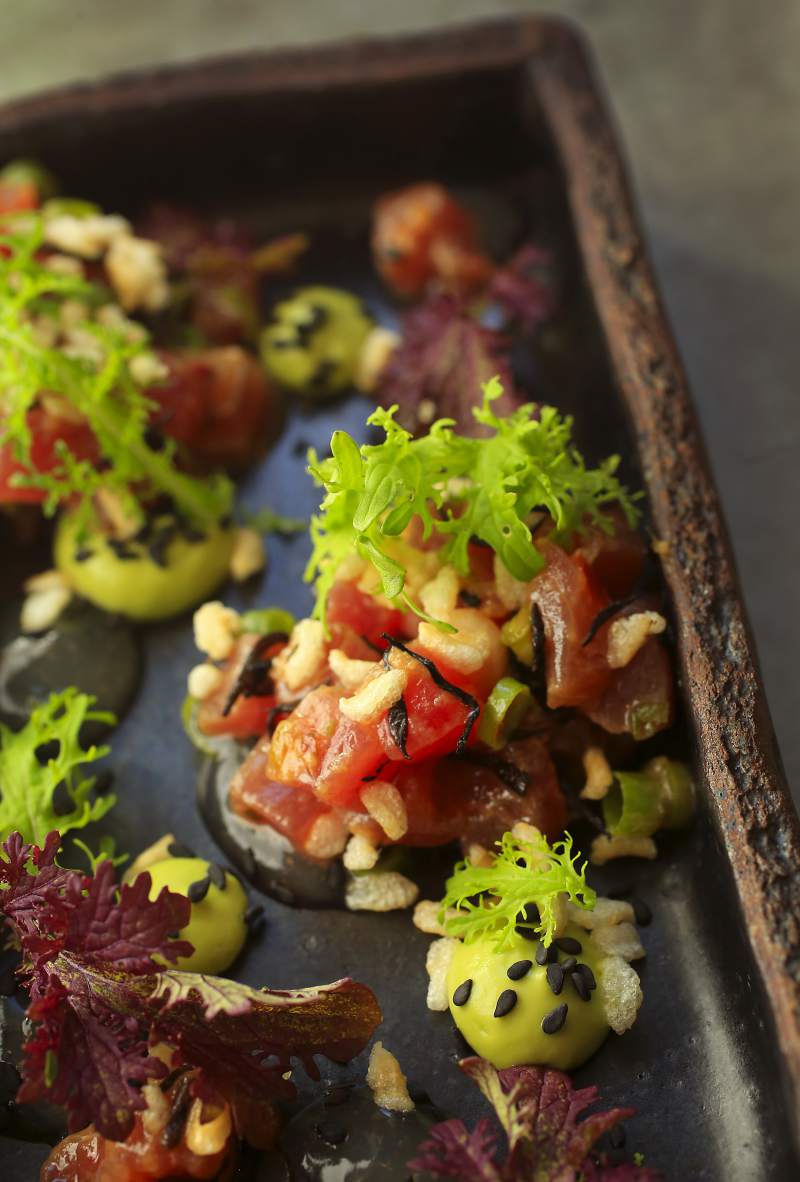 Shoyu ramen ($15) showcases the commitment to pristine ingredients, stocking that elegant broth-noodle bowl with slippery curls of wakame (soft seaweed), big flaps of meaty wood ear mushroom, shaved leek, tender menma bits (fermented bamboo), a halved six-minute egg cooked to perfect runny custard yolk, and a rich crown of pork belly chashu that's the best bacon in the universe for its slow roasted browned texture and rich but clean tasting marbling. It pains me to write about the soup now, with no leftovers to eat.
A shiitake miso vegetarian broth version ($15) is nearly as flavorful, boasting fried tofu, bok choy, woodear mushroom, wakame, scallion, and crunchy togarashi roasted carrots. My companion doesn't care for egg, but I adore it, so the kitchen politely placed her serving in a prettily little pottery side dish for me.
Still, my favorite is the spicy tan tan ramen ($15), with the rust-red broth packing wonderful heat that sneaks up slowly. Delicious fat tempers the burn, delivered via thick slabs of slow roasted pork belly chashu, crumbled spicy ground pork and egg. Plus, as a special one day, the chefs had rolled more chashu, then sliced it nearly as thin as carpaccio ($3 add-in), bringing even more pork flavor against charred cabbage, woodear mushrooms, mustard greens, sesame and scallion.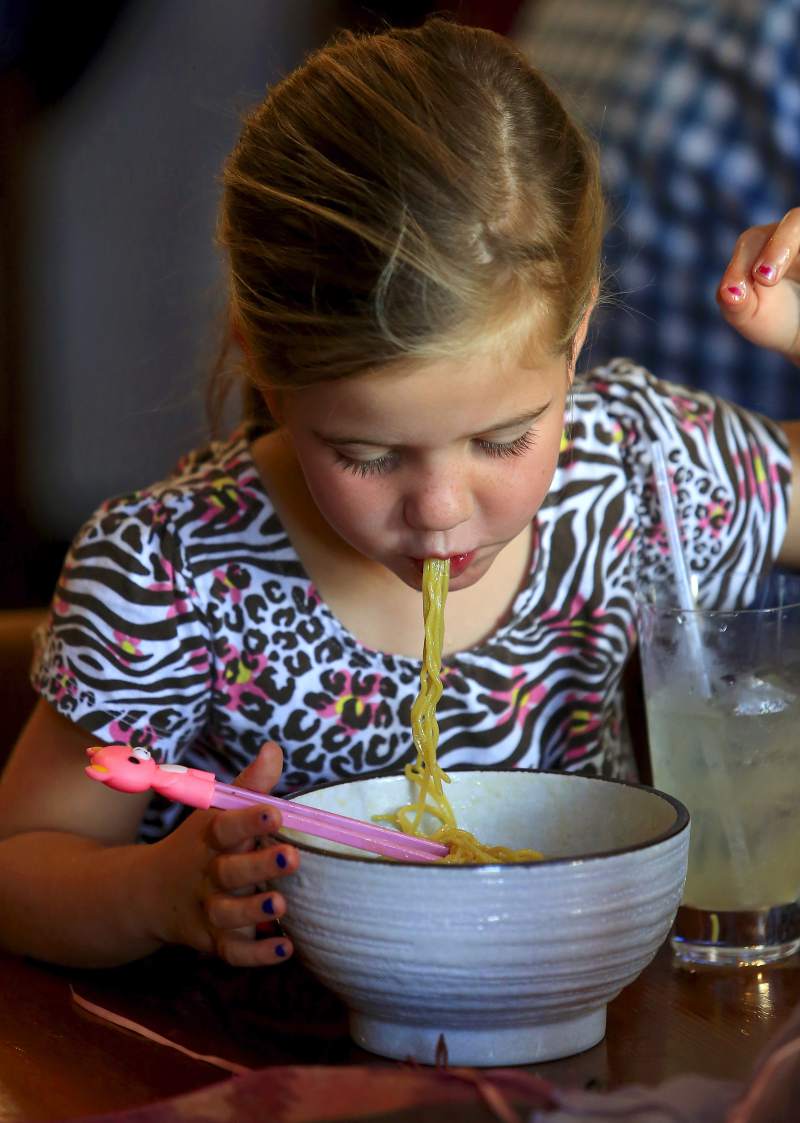 The perfect meal also includes a crisp salad to refresh the palate. Daikon no sunomono ($8) is a delicate toss of amethyst and white daikon curls, julienne Nantes carrot, shiso, and whisper light curls of katsuobushi (dried, fermented, and smoked skipjack tuna). The idea is to get a bit of each ingredient in your chopsticks, and stir to the bottom of the bowl for a sop in sanbaizu, a brisk, sweet vinegar dressing.
Each vegetable on the pickle plate ($7), meanwhile, has bathed in an individual brine, delivering highly spicy turnip, sweet-tart white strawberries, tangy shiitakes, fiery kimchee, ginger, fennel, cabbage, cauliflower, cucumber and watermelon radish. Contrasting flavors, colors and textures are marvelous.
The chefs offer artistry extends to maguro poke ($14), with tiny cubes of line caught ahi arranged in multiple small mounds on a rectangular pottery plate, scattered with crispy puffed brown rice, and topped in frilly mustard greens. Here and there are large and small spoonfuls of avocado cream, and tiny bits of hijiki (black seaweed). As our server checks back often to make sure we're happy, our smiles say it all.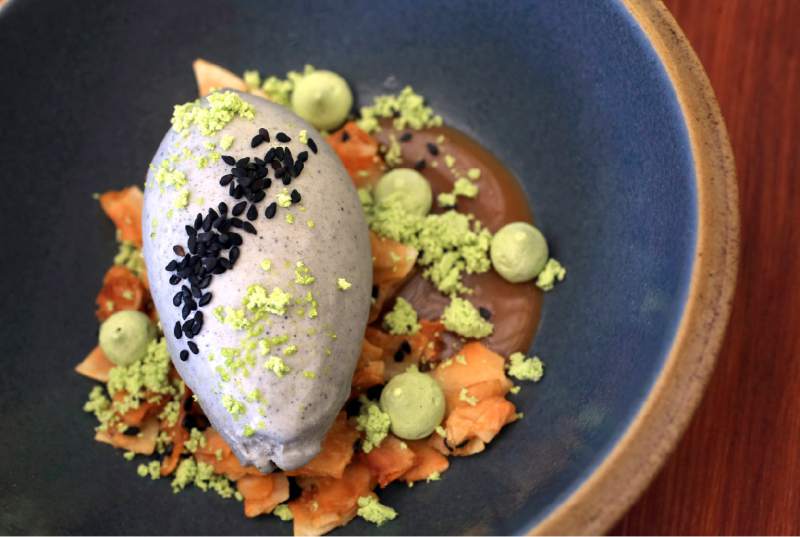 At night, Ramen Gaijin expands with a longer izakaya menu, though keep the mood distinct, the full izakaya menu is not available on the main dining room side, and ramen isn't served in the izakaya bar.
It's delightful to nestle at the bar, eating chile vinegar dipped pork shoulder-scallion gyoza ($10) and kaarage (juicy fried chicken thigh nubbins, $8), while sipping sakes, beers and wines on tap, or seasonal artisan cocktails created by celebrity mixologist Scott Beattie.
A Root Down marries Blade Gin with homemade Nantes carrot shrub, lemon, pickled root vegetables and coriander ($11) for a crisp, layered quaff, while Japanese highballs are made with kashi Whisky infused with Samovar Japanese teas like Sencha green tea plus a bit of seltzer ($13); even the ice is art, crystal clear and hand-cut into spears.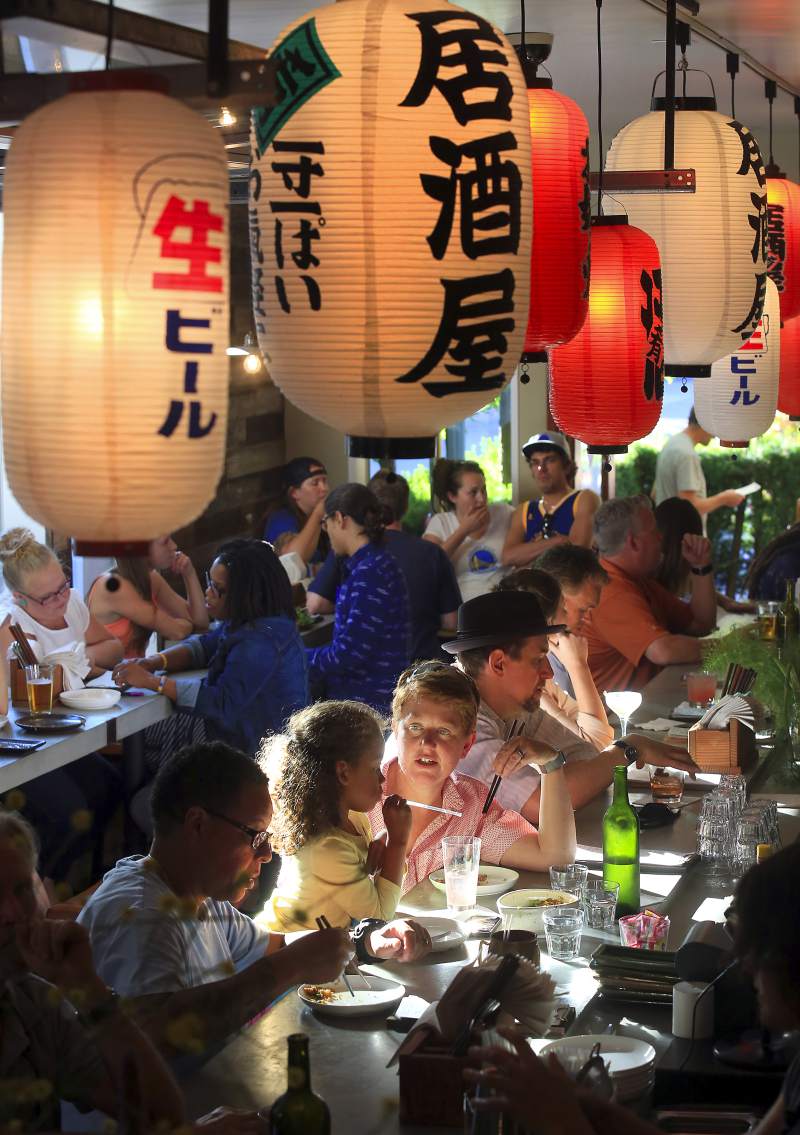 Yakitori is elevated beyond pub food, as well. Besides the traditional robata grilled chicken thigh marinated in Sonoma County-crafted Bachan's teriyaki sauce ($4), there is the Wagyu-style short rib topped in Meyer kosho, a citrusy Japanese hot sauce ($8), and succulent Hokkaido scallop kissed with barrel aged sake and chives ($6).
Japanese dessert aren't often stars, except here, the chefs think through each ingredient, resulting in intriguing flavors like black sesame ice cream, the charcoal gray creamy mixture set atop coconut granola with a puddle of miso caramel and little puffs of matcha meringue ($7). It's a big, earthy mix, and begs for a cocktail alongside. Perhaps the Ashimagari ($11), a pale purple quaff of Torikai shochu, shiso plum liqueur and a delicate lily pad of purple nori.
Lucky Sebastopol. Lucky us.
Ramen Gaijin: 6948 Sebastopol Ave., Sebastopol; (707) 827-3609, ramengaijin.com.
Photography by John Burgess.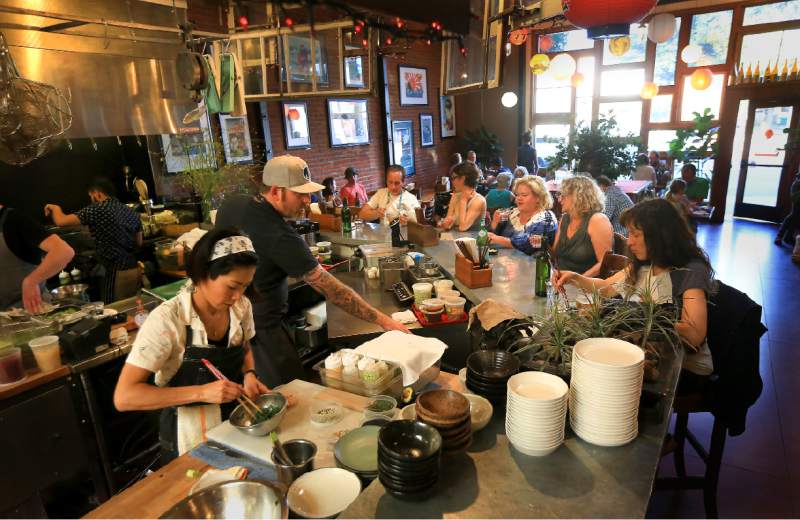 Carey Sweet is a Santa Rosa-based food and restaurant writer. Read her restaurant reviews every other week in Sonoma Life. Contact her at carey@careysweet.com.
---