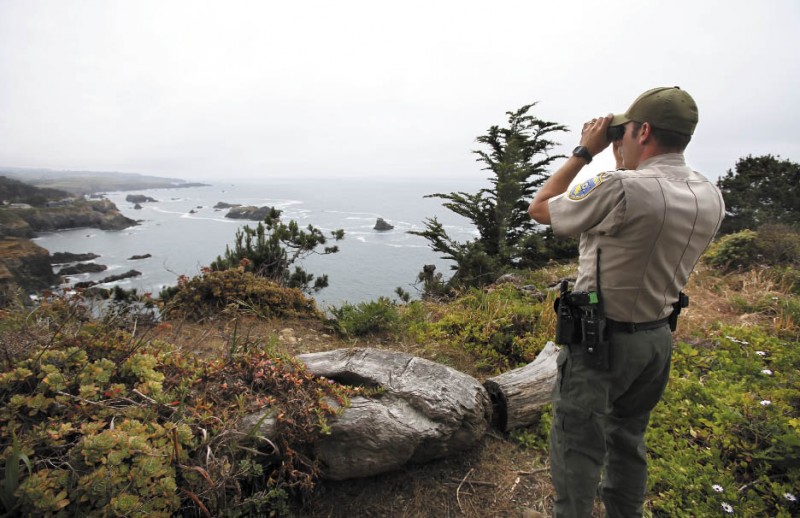 Don Powers was belly-down in high, wet grass, his head shrouded in camouflage and binoculars trained on a pair of divers in the cove 50 feet below, when he noted a detail that provoked his interest: mesh game bags.
Peering over the edge of a sheer bluff at the Caspar Headlands, the state Fish and Wildlife officer could see that both men had the nylon-covered float tubes commonly used by abalone divers to store sea snails pried from the ocean floor until it's time to tow them ashore.
But the men also had brightly colored bags hanging from their floats below the water's surface, mostly out of view except when they fumbled at them with their neoprene-gloved hands. Powers, a game warden with a reputation for energetic enforcement of state fishing and hunting codes, suspected the men were concealing illegal conduct, flouting strict rules imposed on abalone hunters to conserve the shellfish. His hunch would eventually be borne out by the men's own admissions.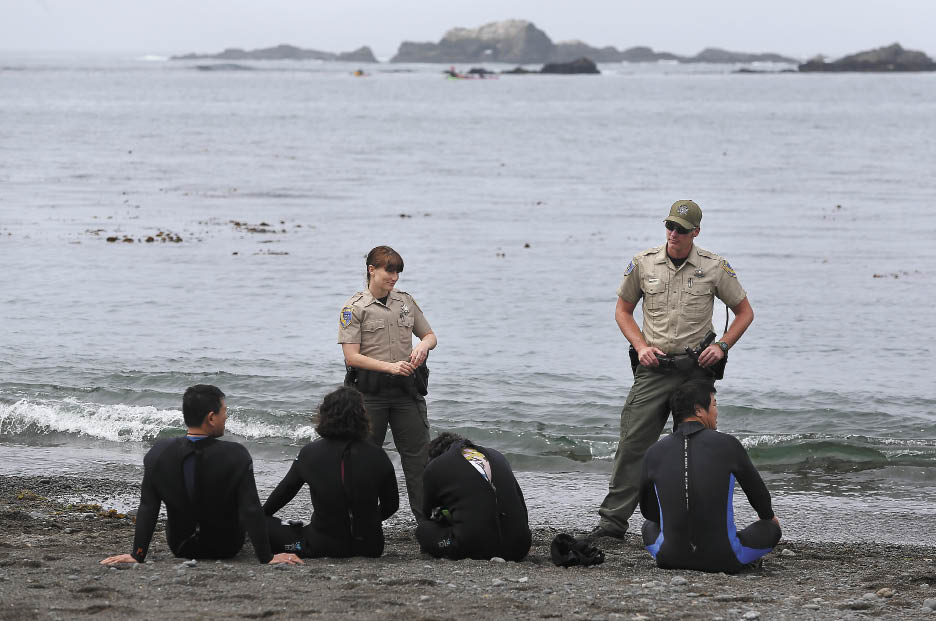 Along the North Coast, the state's attempt to protect the red abalone fishery has come down to this: spying and undercover work.
Though the vast majority of those engaged in the hunt for the delectable mollusks are law-abiding people who do their best to comply with ever-stricter rules, poachers driven by greed and profit continue to wreak havoc on diminishing abalone stocks.
Most are casual scofflaws, scamming a few shellfish over limit here and there, officials said. Powers said he'd nabbed more than 40 such hunters in the first month of abalone season this year.
Rarer are the black-market profiteers, close-knit associates who take scores of abalones at a time, often operating like common street criminals, with getaway cars, drop-off points and elaborate schemes for hiding shellfish known to fetch $100 apiece or more.
Fish and Wildlife assistant chief Bob Farrell, who until last August was head of the agency's covert investigations unit, said illegal commercialization of red abalone demanded more time and resources from wildlife investigators than any other issue, edging out caviar poaching from endangered sturgeon.
Abalone poaching "is a global problem," Farrell said, driven in large part by demand from Asian countries and communities, affecting disparate regions, including New Zealand, South Africa, Australia and British Columbia.
Wild abalone cannot be harvested for sale in Northern California but the mollusks make their way to market nonetheless, in the United States and abroad.
Mostly, they're sold within a few hours' drive of the North Coast, in places such as Oakland, San Francisco and Sacramento, though some make it as far south as Los Angeles, said warden Joel Hendricks, supervising lieutenant for the Mendocino Coast.
A certain portion find their way into restaurants or markets, but "You aren't going to find abalone on a shelf," Farrell said.
"It's more of an underground distribution network. People know who to go to. It's very similar to a drug deal."
Investigators used phone records from a trio of poachers nabbed in fall 2014 to bring criminal charges against a San Francisco restaurateur in May, but it's otherwise rare for authorities to be able to develop the kind of evidence needed to prosecute buyers.
More often, it's the poachers who get the attention because of something questionable about their behavior or because of a tip from the public.
In one notorious 2004 case, two Southern California men who had aroused suspicion during frequent trips to the Mendocino Coast were caught with 468 abalone in the hold of their commercial urchin boat. One of them later told Fish and Wildlife they'd made five previous trips to the North Coast and sold their catch in Mexico, authorities said. At the time, the daily limit was three red abalone per day per person, with a season limit of 24.
Poaching cases that involve multiple subjects working together are prosecuted as felony conspiracy cases, with potential prison sentences. But most fish and wildlife violations are misdemeanors and do little to deter would-be poachers, said Mendocino County Deputy District Attorney Tim Stoen.
Stoen, who files more than 100 abalone cases each year from the county's Fort Bragg office, has sent just three subjects to prison for poaching-related offenses.
Some cases involve repeat offenders who resume poaching even after they've been caught and fined, lost their diving gear and fishing licenses to authorities, and had their vehicles seized.
"It's clear there's a pretty significant profit motive to continue poaching," said state Fish and Wildlife Capt. Patrick Foy. "Though not as numerous as those who are just poaching on a personal basis, the amount of damage that a single person who is poaching for profit can cause, or just a partnership of two or three, just in a day, can be devastating to a small population of abalone in a small cove somewhere."
In addition to uniformed wardens on regular patrol, Fish and Wildlife occasionally brings in inland wardens to help with saturation patrols and roadside checkpoints. The stepped-up efforts are typically scheduled during minus tides, when greater accessibility to nearshore areas means a high volume of abalone is being moved off the coast.
The North Coast also is patrolled routinely by about a dozen uniformed personnel such as Powers, whose daily surveillance includes darting around trees and rocky outcroppings to spy on divers below. Certain cases can only be made through patient observation, and sometimes dirty work.
"This is low-crawling through bushes, running through poison oak, hanging off the sides of cliffs," said Hendricks, the Mendocino warden. "I get poison oak every year."
The sprawling coastline and the limits of law enforcement staffing give poachers the advantage.
"We don't have the assets to provide eyes and ears 24 hours a day, seven days a week, on the coastline," Farrell said, "and it's unreasonable to think that we're ever going to get that."
But many good cases, including some of the larger ones, have come to light because bystanders and anglers witnessed something and reported it to authorities for investigation. Citizen watch groups including the Sonoma County Abalone Network and Mendocino Abalone Watch also work to support law enforcement and prosecutors, keeping tabs on divers at times and participating in policy discussions about abalone.
"Without community involvement," Farrell said, "without people caring about this, then we're never going to get to the other side of it."