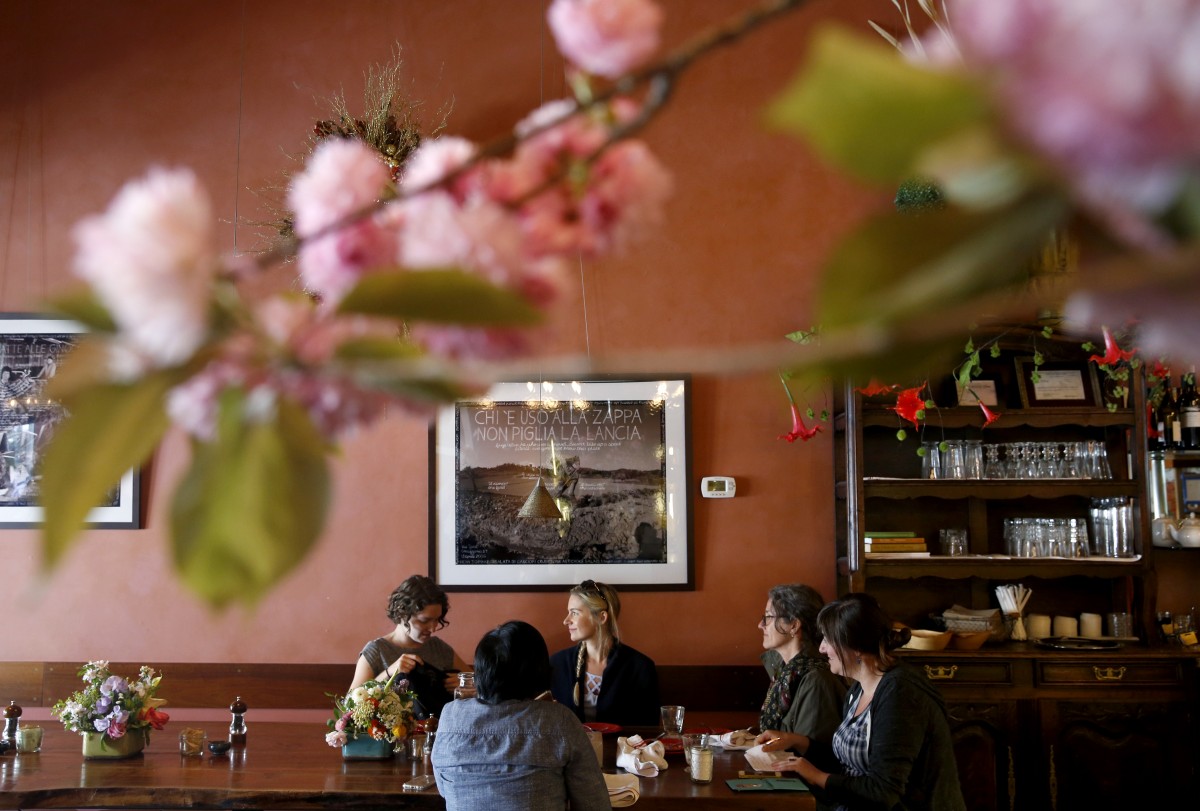 At the beginning of the year, Della Fattoria quietly announced plans to introduce regular dinner service and an expanded dining room, starting with periodic pop-up dinners.
Currently, Della has upgraded from the occasional prix fixe dinner to a full-blown dinner menu Fridays through Sundays. Every three weeks, the menu changes in order to fine-tune the fare and continue running Della's kitchen through the necessary paces to ensure smooth operation once they scale up full-time.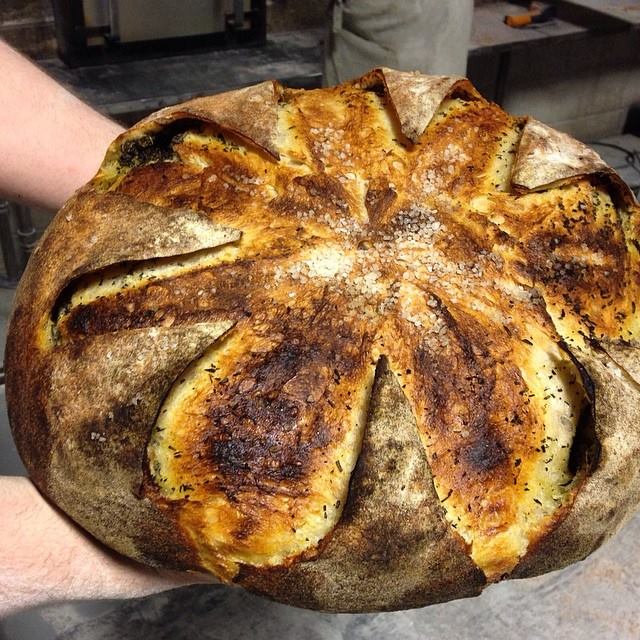 Already famous for features such as their Meyer lemon rosemary bread and honey lavender lattes, offering the ever-challenging dinner service might seem like an arduous task for an already busy bakery. But with a pedigree including stints at The Sonoma Mission Inn, Babette's and The French Laundry, and award-winning breads, pastries and sold-out Della farm dinners, tapping deeper into Chef Aaron Weber's talents is the best thing to happen to Petaluma's culinary credentials since Lagunitas opened its doors.
Della Fattoria started when Edmund Weber built wife Kathleen Weber a wood-burning oven outside the kitchen door of their Petaluma ranch. Today, alongside son Aaron Weber and daughter Elisa Weber, photographer and website, farm, and event manager, the Weber's breads and pastries garner world acclaim. They were even named Bon Appetit's Top Ten Best Bread Bakeries in America.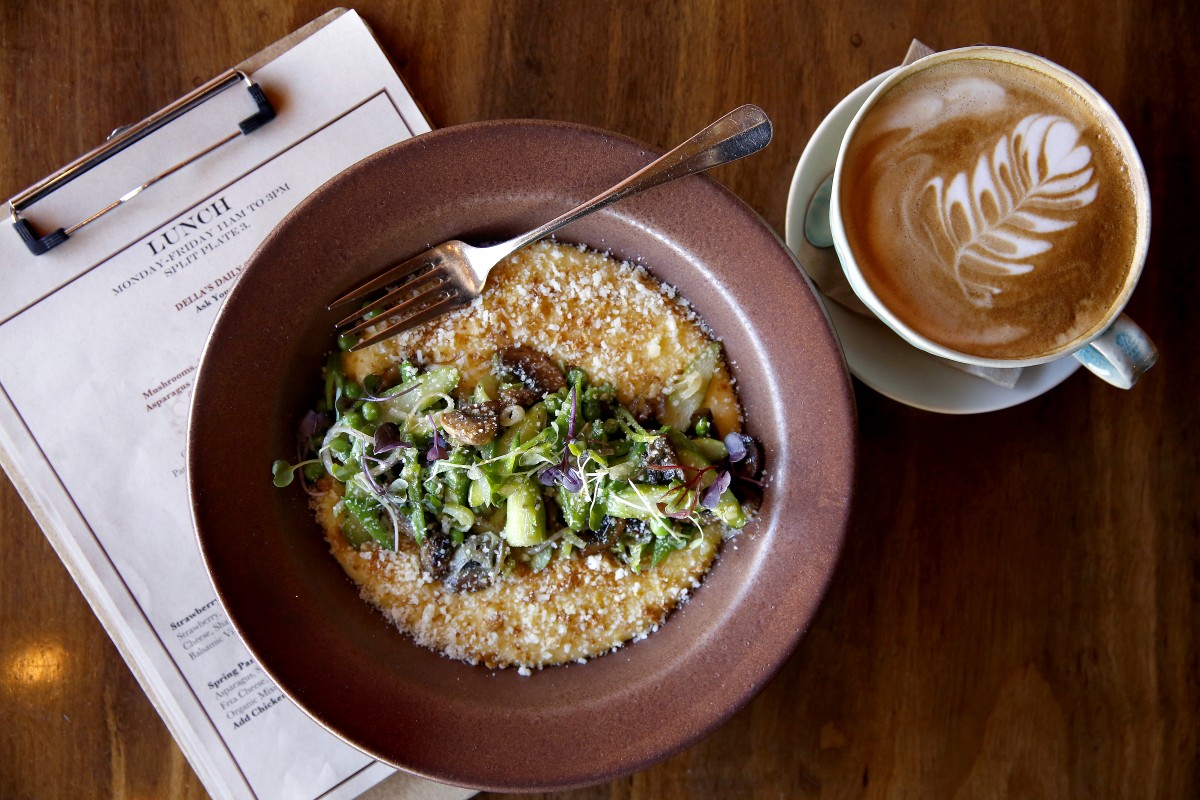 Chef Weber relies on ingredients of unparalleled quality and what he creates with those fundamental elements is impressive. Add in Della's excellent and affordable local wine list, servers that are always at the ready but never in the way and authentic down-home ambiance, and it is likely that most diners will become enthralled with Della's delicacies. But take the whole family, because ordering anything less than the full menu is an injustice to your taste buds.
Paying homage to the Webers' baking roots, the meal is sandwiched by bread. It starts with a selection of breads, coupled with salted butter. At the conclusion of the meal, each guest receives a take-home gift of a small bundle of salted bread sticks, which adds a friendly touch to an already incredible experience.
One of my dinner companions pointed out that anyone can make mushy; it takes attention to detail to cook it up properly. Al dente is the perfection of pasta, and I have never tasted better handmade pasta than Della Fattoria's.
Another in my group pointed out that there is usually at least one dish on a restaurant's table that we could have cooked better at home. However, not only was the kitchen's timing impeccable, with all plates arriving together, beautifully prepared, and perfectly cooked, but every dish was so well thought out, with textures complementing flavors, that our attempt at replication would have surely insulted our palettes.
Last, but certainly not least are the desserts, another of Della's specialties. The lemon moon is such a surprising balance of savory and sweet that we had to order a second just to confirm its unique and spectacular flavors.
Chef Weber respects his ingredients, but is not afraid to add touches of whimsy to his plating, such as the pretzel-tied green beans that came with our Salmon. Nothing is contrived or over the top. Instead, he lets the bold, fresh ingredients and flavor combinations speak for themselves. Weber's attention to detail certainly sets Della apart from its local counterparts, and well within range of the region's pinnacles.
In the world of restaurants, and especially food writing, it is rare to stumble upon the inception of something as spectacular as Della's dinner service. For the most part, our search for great food, whether familiar or fancy, is a well-beaten path. Nothing seems undiscovered anymore. But Petaluma's newest dining experience may be more than merely a diamond in the rough. Della's new dinner service is quite possibly the crown jewel of farm-to-fork locavore cuisine.
Yelp, TripAdvisor, The Food Network, Zagat, Fodor's or Michelin? It is anyone's guess which will be the first to "discover" Della's incredible dinner menu, but they will all likely clamor to make that claim. In the meantime, we can enjoy one of the best meals on the planet, created with whole and hearty ingredients by a family with an unpretentious passion for their work and a commitment to quality cuisine, coupled with down-home friendly service and ambiance.
Della Fattoria is all about the Weber family's passion for using homegrown ingredients and offering the best dining experience possible. There is nothing garish or gaudy about Della's food, presentation or service. Nothing is artificial.
Della offers as authentic and genuine a dining experience as one finds at a countryside bistro in Provence, a Trattoria in the hill towns of Tuscany or a neighborhood pub in Ireland. It is elegant and delicious, while remaining approachable and unpretentious, just like the Weber family themselves.
Subscribe to Our Newsletters!