It's hard to see the address from the street, but there's no mistaking Charlie Musselwhite's house outside Healdsburg. The giveaway is the van parked out front with a bumper sticker that reads, "Old School Means Real."
Old school, as in being born in 1944 in the Mississippi Delta and raised in Memphis, where Musselwhite learned to play harmonica on the streets.
Old school, as in playing and living the blues for decades, drinking two quarts of bourbon a day before quitting cold turkey, living to tell about the gun held to his head one night, and surviving a collision with a big rig in Mexico.
It's that same old school that singer-songwriter Ben Harper was looking for when he tapped Musselwhite to collaborate on "Get Up!", the hard-charging, spirited song cycle that won the Grammy award for best blues album in January.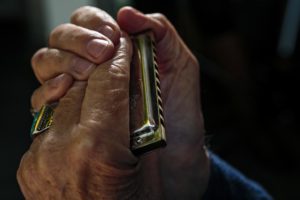 "Chemistry" is the word nearly every reviewer used to describe the connection between Harper's hybrid next-generation blues and Musselwhite's passionate, soulful harp. Adored by critics, the album was a huge hit not only with blues crowds but also on the festival circuit, where it transcended genre lines. It meant that at 69, Musselwhite (he turned 70 in January) suddenly embarked on one of the biggest years of his career in 2013, touring the world, from the U.S. to Australia, Brazil and all over Europe. Along the way, he and Harper hit every late-night TV show: David Letterman, Jay Leno, Jimmy Kimmel and Jimmy Fallon.
"It's been a great ride," Musselwhite said in his soft Southern accent, his hair slicked back and his 6-foot-plus frame leaning back in a sofa in his living room. "I'm hardly ever home these days. If I'm off a week, it's almost weird."
When he is home, his daily ritual often involves a morning walk through vineyards or along the Russian River.
Across the room is a framed photo of Musselwhite and his wife and manager, Henrietta, with President Barack Obama and the first lady. It was taken when he played at the White House last year as part of the "Soulsville, USA: The History of Memphis Soul" program hosted by Michelle Obama. On another wall is a gold album on which he collaborated with singer Bonnie Raitt.
"If I'd known where all this was headed, I would've paid way more attention," he said, looking back on his five-decade career. "I don't even remember the first time I heard the blues. It was just part of the environment: blues, gospel, hillbilly."
Musselwhite's grandmother, Bessie Love, played piano in a Baptist church. His mother, Ruth Miller, who grew up on a Mississippi plantation adjacent to the Stovall Plantation where blues great Muddy Waters was born, also played piano. And when his father, Charlie Musselwhite Jr., wasn't playing guitar or a mandolin he built himself, he was calling square dances.
As a kid in Memphis, the son made his first musical instruments out of a cigar box with rubber bands or a metal ammunition box strung with fishing line and played with a stick, almost like a slide guitar. At 13, his dad gave him his first guitar.
"I still remember making my first E chord, and then adding my little finger to it to make an E7," Musselwhite said. "That was it, I was hooked."
Growing up in segregated schools, he would question the Southern status quo.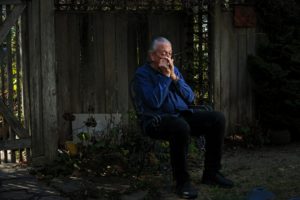 "That's the way my mother raised me," he said. "She would say, 'We're all God's children and if you disrespect somebody, you're disrespecting God's work.' And I'd say, 'Well, what about the separate water fountains?' and she'd say, 'We're just a victim of circumstances.'"
As a teenager, he learned auto shop, machine shop and welding skills at Memphis Tech, which he remembers as "the only school you could go to if you got kicked out of all the other schools."
It was on Beale Street in Memphis that he got hooked on the harmonica, watching street musicians and later picking up tips from country blues and jug band pioneers including Furry Lewis, Gus Cannon and Will Shade. As mechanized farming took over the South, Musselwhite joined the northward migration along Highway 51, heading to Chicago in 1962 when he was 18 to look for work, landing his first job as a driver for an exterminator.
"I didn't even have a goal or a dream to be a musician," he said. "I just loved the music and played it for my own satisfaction."
One night, as Muddy Waters was leading an after-hours jam at Pepper's Lounge, recalled Musselwhite, "A waitress I'd gotten to know said to Muddy, 'You oughta hear Charlie play harmonica.'"
His life would never be the same. Soon he was playing gigs around Chicago with Robert Nighthawk and Big Joe Williams. He was one of a handful of white kids hanging out in South Side blues bars, along with musicians Nick Gravenites, Elvin Bishop and Paul Butterfield.
"I had more in common with the black people from the South, in Chicago, than with the white people in Chicago," he said.
His first album, "Stand Back! Here Comes Charley [sic] Musselwhite's Southside Band" in 1966, sold well and brought him instant recognition. It's the same album Ben Harper points to in the "Get Up!" making-of video, when he talks about how his grandfather wore out the grooves in "Stand Back!" by playing it all the time in their house while Harper was growing up.
Musselwhite was eventually lured to the West Coast by receptive radio stations, a wealth of gigs and an audience that loved the blues. Over the years, he's collaborated with John Lee Hooker, Cyndi Lauper and The Blind Boys of Alabama, to name just a few. That's his harmonica you hear on INXS's "Suicide Blonde" song and on Tom Waits' "Chocolate Jesus." Actor Dan Aykroyd has said that Musselwhite was the inspiration for his character in "The Blues Brothers" movie.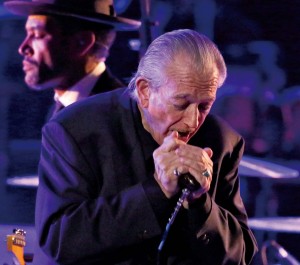 Now with a Grammy under his belt, which Musselwhite finally won after eight prior nominations, he's been honored with nearly every award in the book, along with 14 W.C. Handy awards, given by the nonprofit Blues Foundation for the best in blues music every year, and induction into the Blues Hall of Fame in Memphis.
His latest solo album, "Juke Joint Chapel," was recorded live in 2012 in Clarksdale, Miss., not far from where he was born in Kosciusko. This summer, he hits the road again with Harper and they're already talking about collaborating on another album.
But Musselwhite hasn't forgotten about his local fans. Sonoma County will be treated to a rare show at the end of May, when he kicks off the Healdsburg Jazz Festival with a two-day celebration of the blues and its influence on jazz. The first day, Musselwhite teams up with old pal Elvin Bishop and Guy Davis for the first set, and then he revisits the Cuban phrasings of his 1999 album, "Continental Drifter," for a second set with John Santos Y Sus Soneros. The next day, he plays a set with jazz saxophonist Joshua Redman and his band, then Redman joins in with Musselwhite's band.
"If you can play blues and you can play with that feel, that's gonna color whatever else you do, no matter how much you advance to something else, like jazz," he said. "If somebody comes out of a classical background and doesn't have that, it's real apparent in their music. They don't have that grease in there."