Outside of Bohemian Creamery in Sebastopol, a herd of goats grazes and gazes over the grassy plains of the Laguna de Santa Rosa, all the way to the sloping shoulders of Mount St. Helena.
But inside the former milking barn, cheesemaker Lisa Gottreich doesn't have time to enjoy the panorama. She is too busy monitoring the stainless steel cheese vat, where 220 pounds of coagulated cow's milk wait to be cut by hand.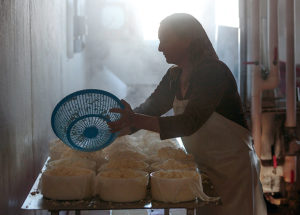 "This is the only time you see a cheesemaker move," Gottreich said, carefully lowering the curd knife — a large paddle with horizontal wires — in order to cut the curds and extract the solids from the whey.
Over the course of the next few hours, the 52-year-old never seems to stop moving, her hands a blur of molding and draining, rinsing and mopping.
"I used to have a desk job, so I'm sick of sitting," she said. "I like scrubbing the floor because you get instant results. It's not like making cheese, which takes months and months."
After the curds are sliced vertically, Gottreich and her assistant quickly scoop them into colanders and plop them down on stainless steel tables, where the liquid whey runs off into buckets.
That evening, the solid curds will be pressed, then flipped and pressed again, all to extract as much whey as possible, before going into a brine bath for the next two months.
That's when this batch of soft, rich Boho Belle cheese, reminiscent of the Bel Paese cheese of Lombardy, Italy, will emerge at the Healdsburg Cheese Shop and at restaurants all over the Bay Area.
While most chefs serve Bohemian Creamery cheeses on cheese plates, some, like Berkeley's Chez Panisse, use them in dishes, from French onion soup to ravioli.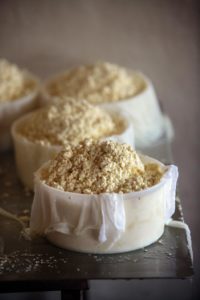 "What I love about Lisa is that she is very creative and passionate," said chef Dustin Valette, who showcases Bohemian Creamery cheeses at the Dry Creek Kitchen in Healdsburg. "She's a chef's cheesemaker."
Gottreich is part of a new wave of Sonoma County cheesemakers joining veterans such as Bellwether Farms and Redwood Hill Farm in raising the bar for the North Bay's array of cheeses.
Like a Wine Country chef, Gottreich will give a classic cheese her own twist. Her first cheese, Capriago, is a play on Italy's semifirm Asiago cheese, but made with goat's instead of cow's milk. Her sweet and nutty Cowabunga showcases a thin ribbon of cajeta (goat's milk caramel) running through it.
"I'm using Cowabunga right now at the restaurant," Valette said. "It's a sweet, sticky goat cheese inside, and a fresh, briny cow's milk flavor on the outside."
Gottreich uses Russian River Brewing Company's Consecration, an ale aged in Cabernet Sauvignon barrels, to wash the rinds of The Bomb, a sheep-goat blend fashioned after France's stinky Epoisses cheese. HolyMoly, a soft-ripened goat cheese with lots of eyes (holes), also gets a Consecration wash.
Like many cheesemakers, Gottreich fell into the field by accident, after pursuing a string of careers. "I'm basically unemployable," she said. "Whatever I do, I have to do it for myself."
The daughter of immigrants from Hungary and Sweden, Gottreich grew up in Bolinas in West Marin, surrounded by goats and other farm animals.
She majored in economics and philosophy at UC Berkeley, studied abroad in Padua, Italy, then returned to Italy to work in film. After graduate studies in European Integration in Washington, D.C., she worked on trade issues with the U.S. and the European Union.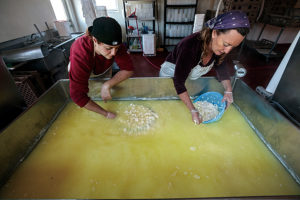 All the while, she was exploring cheese, eventually taking the plunge into production after a sudden divorce left her with two kids to raise.
"I like it because it's multifaceted," she said. "I take care of my goats for a while, then I make cheese, and then I schmooze with chefs."
Starting out in 2008 with a leased vat in the town of Bodega, Gottreich expanded two years later to her current Sebastopol digs, just a minute from her home. She credits her creativity to her ingrained "stubbornness."
"I ask, 'What can't be done?'" she said. "And then I try to make it happen."
One of her new experiments involves a "surf and turf" cheese, featuring dried, toasted seaweed culled from the Sonoma Coast.
Also in the works is a tasting room where visitors can purchase her cheeses and take a tour of the aging rooms, where Gottreich works her magic in the mysterious ripening process known as affinage.
"If you're a piece of cheese, it's in your intent to grow old," Gottreich said. "It's nice to work with something where age is respected."