Two of the North Bay's newest cheese producers made striking debuts at international competitions in 2013. If the world's cheese aficionados didn't already know that Sonoma and Marin make great cheese, they do now.
Fat Bottom Girl from Bleating Heart Cheese in West Marin won super gold at the 2013 World Cheese Awards in England in November, and Bollie's Mollies from Pennyroyal Farmstead in Boonville was awarded a gold medal at the 2013 International Cheese Awards, also in England, in July.
Here is a taste of the passion that drives these rising stars: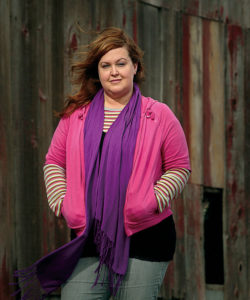 Seana Doughty launched Bleating Heart Cheese in 2009 with milk purchased from Barinaga Ranch in Marshall. That's when she created Fat Bottom Girl, a creamy, buttery round made from raw sheep's milk.
"The name always draws people in, and that can open the door," Doughty said. "But they keep coming back because it tastes good."
To ensure a stable supply of milk, Doughty bought a starter flock of sheep in 2010. Then she partnered with ranchers Rex and Kerry Williams to help milk and take care of the sheep.
Her second sheep's milk cheese, the ivory-centered, tangy Shepherdista, hit the market in 2011. This versatile cheese — delicious on its own or melted in a panini — became an instant hit with local chefs.
"We adore the Shepherdista with our Black Pig Bacon Pan Forte," said Duskie Estes of Zazu Kitchen + Farm in Sebastopol. "Seana is now making a sheep's milk blue called Ewelicious that might be one of my favorite cheeses of all time." Ewelicious, mild and balanced for a blue cheese, launched in October and was sold out by Nov. 20. But cheese lovers can expect a more generous supply of Bleating Heart cheeses (priced at $30 to $40 a pound) in the future.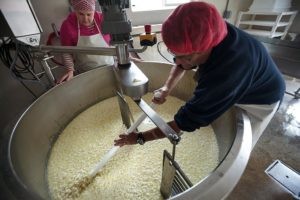 After renting from five other creameries, Doughty finally settled in 2013 into a creamery of her own, built by her husband and business partner, Dave Dalton, in an old milk house he renovated on the Thornton Ranch near Tomales. As a bonus, that ranch also has a sheep dairy, enabling her to double her milk supply this year.
"I am now doing cheese full time," said Doughty, who quit her day job in December. "It's such a game changer."
This year, Bleating Heart also plans to release a new raw cow's milk blue cheese called Moolicious, made with Jersey milk from up the road.
"It's an American original," Doughty said. "I have never been interested in modeling after European cheeses."
To find Doughty's cheeses, visit bleatingheart.com.
—
Sarah Cahn Bennett grew up at Navarro Vineyards in Philo in Anderson Valley, which her parents founded in 1973. While studying viticulture and enology at UC Davis, she befriended cheesemaker Erika Scharfen.
"She was working in the goat barn, and she had done some cheesemaking in France," Bennett said. "We started out tasting cheeses and wines."
As an offshoot of the Navarro winery, Bennett and Scharfen launched Pennyroyal Farmstead in 2012 at a new creamery built in Boonville, where they make cheese daily from a flock of pampered goats and sheep.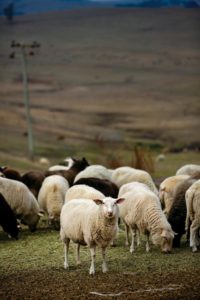 "We milk 99 goats and 32 sheep," said Bennett, who named the farm after an aromatic plant that grows like a weed in Anderson Valley. "That sounds like a lot, but the milk is equivalent to about 10 cows."
The farmstead's cheeses include Laychee, a popular, fresh goat cheese ($9 for a 6-ounce tub); Bollie's Mollies, a firm, white cheese that ripens with a gray-blue surface mold ($10 for a 4.5-ounce round); Boonter's Blue, a raw, mixed-milk cheese that won a blue ribbon at the 2013 American Cheese Society Competition ($13 for a 7-ounce wedge); and Boont Corners, a raw sheep's and goat's milk wheel released at two months of age ($9.50 for 6 ounces), four to six months ($15) and seven to 10 months ($17).
"We just released Velvet Sister," Bennett said of the Camembert-style, 10-ounce wheel ($19). "And we're building a tasting room onsite."
This summer, Pennyroyal also plans to offer tours and release the first of the Pennyroyal wines, made by Bennett.
"There's a 2012 Pinot and a 2013 Sauvignon Blanc," she said. "I made a little bit of rosé as well."
The cheeses are available at Oliver's Markets in Santa Rosa and Cotati, The Cheese Shop in Healdsburg, at the winery, and at navarrowine.com.