At DaVero Farms and Winery, the grays of winter give way to spring's unfolding palette. First come yellow acacia flowers and red-breasted robins on sloping green hillsides, followed soon by pussy willows at the edge of the pond, a snowy white frenzy of wild plum blossoms and the soft hues of narcissus, hyacinth and lilac. They all evoke memories of DaVero co-owner Colleen McGlynn's childhood in Wisconsin, where every farm has a row of lilacs and day lilies.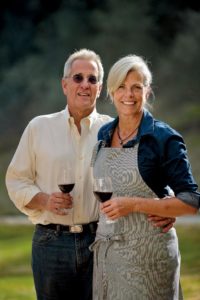 "You can spot the bones of old farms by the flowers," she said.
DaVero, near Healdsburg, stepped onto the culinary stage in the mid-1990s with the release of an extra-virgin olive oil, a blend of five varieties imported from Tuscany. Over the years, other DaVero products — olive oil soap, condiments from estate fruit, an estate Meyer lemon olive oil and a selection of wines from purchased grapes — joined in and before long, a small vineyard of Sagrantino was added above the olive orchards.
A few years ago, DaVero opened a tasting room on Westside Road in Healdsburg, and in 2013 completed construction of a small winery adjacent to the tasting room. There are herb and vegetable gardens, an orchard of Meyer lemon trees, white Alpine strawberries, persimmons, hens for eggs, sheep and a few pigs. What began as a foray into the world of olive oil has blossomed into a diverse family farm.
With all the pruning done and bud break in the vineyards likely still weeks away, there's a bit of leisure. Tiny olive blossoms will begin to appear soon, but there's little to be done except to hope it doesn't rain during pollination. DaVero's monthly Sunset Suppers start on the final Friday of May. These dinners, open to club members and the public, are sweet and intimate, with about 30 guests sitting at one long table in the tasting room, savoring estate wines and the garden's bounty, along with ranch eggs, estate pork and lamb, and seafood from the coast. (Dinners typically cost $85, with discounts for club members.)
"You can plan your day a bit," McGlynn said of this time of year, "and, if you're lucky, take time for dinner."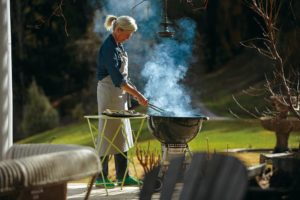 Dinner is often with Loretta Keller, owner and chef of San Francisco's Coco500 restaurant. Keller is a longtime friend of McGlynn and her husband and DaVero co-owner, Ridgely Evers, and has a cabin near their ranch. She comes up frequently from San Francisco to relax and enjoy the season.
"Because everything is budding, you can feel the garden and the woods stirring under your feet," Keller said of spring in Sonoma. "It is so full of promise. And the first asparagus, sweet and tender in an omelet!"
With spring afoot, the braises of winter and McGlynn's beloved clay pots give way to lighter techniques, though fire is still central to her style. She'll fire up the wood-burning grill for fresh favas, garlic scapes, asparagus and, perhaps, a butterflied leg of lamb massaged with spring herbs. The living room fireplace has a Tuscan grill. Evers, whose business resume includes leading the team that developed the QuickBooks bookkeeping software program for Intuit, can be found at the grill, turning homemade bread for bruschetta or cooking a spatchcocked (butterflied) chicken. An outdoor wood-burning oven, built on the north end of the farmhouse's wrap-around porch, is at the ready when more than the two or three gather around the table.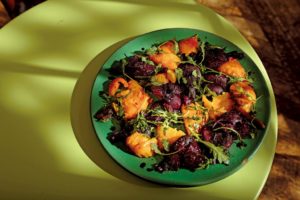 The farm fills most produce needs year-round, along with eggs from hens that roam freely and the occasional lamb from a small flock of sheep that keeps weeds in the olive orchard and vineyard in check.
The gardens, overseen by Mary Foley, are not quite a full acre, with one patch at the farm and another at the winery, about an eighth of a mile away. A mix of perennials, vegetables and herbs, the gardens produce enough for McGlynn, Evers and their employees, who are free to harvest what they like. Some of the bounty goes to local food banks, and now and then the harvest makes it into the tasting room, where it used for the monthly suppers and sometimes sold to visitors.
"An onion is a hard sell," McGlynn said, "but tourists can manage ripe tomatoes. They don't typically have kitchens (where they stay) but can imagine taking a ripe, juicy tomato on a picnic."
The tasting room at DaVero Farms and Winery is open 11 a.m. to 5 p.m. daily. 766 Westside Road, Healdsburg, 707-431-8000, davero.com.
—
SPRING VEGGIES
Not long after those first brave shoots of asparagus poke their tiny tips through the warming soil, spring's harvest begins to unfold. Soon there are piles of spring onions and garlic, garlic scapes (the curly green tops) and tender fava beans begging to be shelled.
Cooking becomes simpler than in the dead of winter and when it comes to seasonings, chef Colleen McGlynn relies on little more than her DaVero Estate Extra Virgin Olive Oil, fresh lemon, crunchy Maldon sea salt and herbs from the garden. Here are some of her favorite ways to enjoy the delicate harvest of spring:
Artichokes: Braised, with peas, mint, lemon and olive oil
Asparagus: Grilled ("Of course," she says.)
Fava beans: Grilled whole, in their pods, drizzled with olive oil, lemon and Maldon salt; shelled, in risotto, with peas and pea shoots
Baby beets: Roasted, slightly smashed, with a splash of balsamic vinegar
Baby fennel bulbs: Braised in olive oil; shaved into a salad
Garlic scapes: Grilled, drizzled with olive oil, lemon and Maldon sea salt
Spring herbs: Green Goddess dressing with mint, tarragon and parsley over Little Gem and butter leaf lettuces; massaged into leg of lamb
Nettles: Pasta with nettle pesto; soup
Spring onions: Grilled
Pea shoots: Wilted; in pasta; in stir-fry; in risotto
Sorrel and spinach: Sauteed with shallots and spooned onto grilled bread; in soup
Radishes: Shaved, lightly dressed and topped with soft-boiled farm eggs
Rhubarb: With strawberries, in pies and galettes
—
WINES
When Ridgely Evers planted olive trees in the late 1980s, he didn't do a lot of advance analysis.
"It felt like Italy," he reflects now about Dry Creek Valley, "and so I planted Italian varieties."
The trees flourished and, since their first harvest, have yielded an extraordinary olive oil. It was this success that sent Evers down a Mediterranean path when he decided to add vineyards to the farm. Mediterranean plants enjoy natural success in this climate, he says, and so he looked to Italian, not French, grapes.
To illustrate his point, he's in the habit of picking up a laminated map that sits on the bar of the winery's tasting room and pointing out that Northern California rests at the same latitude as Sicily.
Come spring, Evers and his wife and business partner, Colleen McGlynn, pour these favorites for themselves, their friends and visitors to the winery.
Estate Malvasia Bianco: This white-wine grape, one of the first varieties cultivated by humankind, thrives throughout the Mediterranean region but does not produce wine-quality grapes in more northern areas.
Vermentino: The grapes come from a vineyard in Lodi, in the Cosumnes River viticultural area. The variety thrives along the Tuscan coast, in Sardinia and in Liguria, and the wine is good, Evers says, with seafood, especially spring oysters.
Sangiovese Rosato: Made separately as a rosé — not with run-off juice from a red-wine fermentation — this limited-production wine, fermented with natural yeast, is subtle, layered and remarkably food-friendly.
Sagrantino: DaVero's flagship wine, it's a lush red made from a grape variety rarely grown outside of Italy's Umbria region, with aromas of rose petals and blueberries.
Subscribe to Our Newsletters!