Art with a side of wine, anyone? Or is it wine with a side of art?
In a mix of culture and viticulture, a number of local wineries have impressive art and sculpture collections that are accessible to visitors, and spring is an ideal time to visit. It's an opportunity to appreciate artists' palettes while indulging your own palate.
Imagery Estate Winery
Imagery Estate says it is home to the largest single-themed art collection in the world, with every painting featuring the replica of the Athens Parthenon that stands at the nearby Benziger Family Winery.
Imagery owner Joe Benziger invites artists from around the world to send their artwork to the Glen Ellen winery for possible use on a wine label. The catch: the Parthenon replica must appear in the painting. There have been some inventive renditions over the years, and many of the label paintings hang in the tasting room.
Imagery has two patios and a "varietal walk" that provides information on various grape types. A mesmerizing wind sculpture by Lyman Whitaker changes with every breeze.
Imagery Estate Winery, 14335 Highway 12, Glen Ellen, 800-989-8890, imagerywinery.com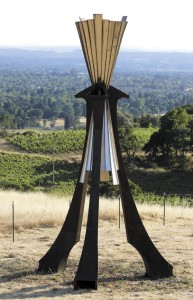 Paradise Ridge Winery
At this winery estate in northern Santa Rosa, lively sculptures dot the hills and valleys like exotic animals on a wildlife preserve. A "sound work" by Peter Hess is audible on arrival, beckoning visitors into the woods and sculpture grottoes, where the works run a stylistic gamut.
Some installations are transplants from the Burning Man festival in Nevada, including "LOVE" by Laura Kimpton, visible from the perched tasting patio, and the interactive "Temple of Remembrance" by David Best, a tribute to those loved and lost. Visitors are encouraged to write names of loved ones on ribbons; once a year, the ribbons are taken to Burning Man for inclusion in the fire effigy.
A new exhibit, "Conversations in Sculpture," opens June 20, presented by the Voigt Family Sculpture Foundation. And don't miss the Wine and Sunsets events, held every Wednesday at 5:30 p.m., May through mid-October. Food vendors and live music join the art and wine mix ($8 in advance, $10 at the door).
Paradise Ridge Winery, 4545 Thomas Lake Harris Drive, Santa Rosa, 707-528-9463, prwinery.com
The Hess Collection Winery
This Napa winery is home to a jaw-dropping collection of works by luminaries of the art world, many acquired by owner Donald Hess before the artists achieved their fame.
Over several decades, the Swiss-born Hess has nurtured friendships with the 23 artists whose works are on exhibit at the winery's contemporary art museum, including Frank Stella, Francis Bacon, Robert Motherwell and Andy Goldsworthy.
Stroll the sculpture garden while sipping Small-Block Series Merlot and discuss brushstrokes or realism under a canopy of fragrant wisteria. Share the shady garden with a large bronze by Armando called "The Campaign" and an abstract Buddha by Joseph Cornell.
Guided tours of the collection ($30) are offered at 10:15 a.m. daily, with reservations strongly suggested.
The Hess Collection, 4411 Redwood Road, Napa, 707-255-1144, hesscollection.com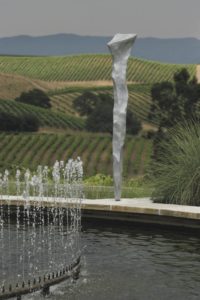 Artesa Vineyards & Winery
Artesa is graced by the majestic architecture of Spanish architect Domingo Triay, whose visitor center blends into the natural surroundings of Napa Carneros. The wraparound terraces offer panoramic views and a peek at the top portion of a 65-foot Samuel Yates sculpture of stacked metal drawers installed below at the di Rosa preserve. Artesa has its own collection of outdoor sculpture, thanks to artist- in-residence Gordon Huether.
His most arresting work is a series of six monolithic spikes made of resin, fiberglass and powdered aluminum that form a semicircle around the enormous fountain visitors pass on their way to the tasting room. A few steps beyond, Huether's metal and glass sculpture, "Reflections," catches the light in prismatic colors. More of his work adorns the walls inside the winery.
Artesa Vineyards & Winery, 1345 Henry Road, Napa, 707-224-1668, artesawinery.com