Clocking the moments on our watches, knocking out a few Tweets as we ignore the scenery around us, stuffing down dinner without really enjoying a single bite … it's no wonder we often come up blank when we try to remember a special night out.
Make the journey the destination.
Here are five restaurants where the drive is as much a part of the experience as the dining. From winding coastal roads to relaxing forays into the heart of dairy country and past world-famous vineyards, these are opportunities to relax, unplug and be part of a moment. Your inbox can wait. At least until you get home.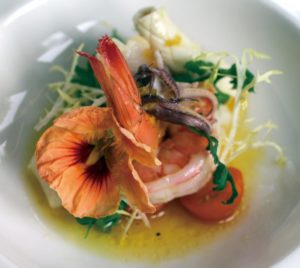 Farmhouse Inn: 7871 River Road, Forestville, 707-887-3300, farmhouseinn.com
This cozy inn run by the brother and sister team of Joe and Catherine Bartolomei is tucked among the vineyards of the Russian River Valley. The space was converted from a rundown motel into a luxurious collection of cottages, suites, spacious barn-house rooms and a Michelin-starred restaurant (the jewel of the location). Chef Steve Litke has reigned over the kitchen since before anyone can remember, creating signature dishes such as Rabbit, Rabbit, Rabbit (local rabbit served three ways), Dungeness crab and seared duck breast, paired with one of the best wine lists in Northern California (chosen by wine director and Master Sommelier Geoff Kruth).
The drive: The 7.5-mile drive west along River Road from Highway 101 winds past some of the most scenic vineyards in Sonoma. Watch for Martinelli Winery & Vineyards about three miles in, a pioneering family business. Farther along, you'll pass Pinot Noir and Zinfandel producer Woodenhead Vintners. Soak up the miles of vineyards, wildlife and groves of eucalyptus and redwoods along the way.
Café Aquatica: 10439 Highway 1, Jenner, 707-865-2251, cafeaquatica.com
Perched on a rocky knoll just above the Russian River estuary, this casual beach shack is an insider's secret. Not only does the café micro-roast its own coffee (with excellent pour-overs), but also makes its own soups, breads and other baked goods using organic and non-GMO ingredients each morning. The food is ridiculously good, especially when you're sitting outside watching paddleboarders float by.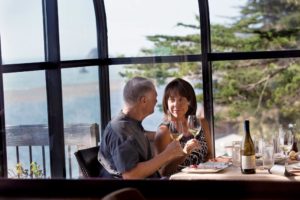 Looking for something a bit more upscale? Just up the road is River's End Restaurant, with haute coastal dining and a seasonal Dungeness crab tasting menu. 10048 Highway 1, Jenner, 707-865-2484, ilovesunsets.com
The drive: Head north on Highway 1 from Marin for a scenic ocean drive, or along Highway 116 through Guerneville and Monte Rio, following the Russian River. The latter takes you past historic F. Korbel & Bros. winery, groves of redwoods and the tiny hamlet of Duncans Mills, where you can visit galleries, Mr. Trombly's Teas and Sophie's Cellars, a wine purveyor favored by some of the businessmen and celebrities who stop by during the annual Bohemian Grove gathering.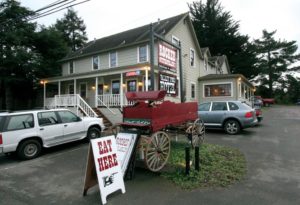 Rocker Oysterfeller's: 14415 Highway 1, Valley Ford, 707-876-1983, rockeroysterfellers.com
As the restaurant's name implies, local Tomales Bay oysters are a specialty at this quaint Valley Ford spot, served on the half shell, baked with bacon and cream cheese, or with a little garlic butter. But this isn't just an oyster shack. Owners Shona Campbell and Brandon Guenther serve up some serious grit-kicking Southern flavors, including buttermilk-fried chicken, oyster po' boys, cheese grits and collard greens, along with plenty of seasonal specialties. There is a full bar and weekend brunch.
The drive: From Petaluma, take Bodega Avenue west to Valley Ford Road. The next 10 miles wind through the center of North Bay dairy country, with rolling hills and family-run ranches as far as the eye can see. The vineyards are fewer, and sheep, cow and chicken sightings are plentiful. Along the way to the restaurant in "downtown" Valley Ford, you'll pass Bellwether Farms (known for its sheep's-milk cheeses and yogurt) and Bloomfield Farms, which has you-pick produce and casual brunches in the fields during spring and summer months.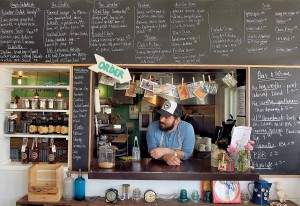 Fremont Diner: 2698 Fremont Drive, Sonoma, 707-938-7370, thefremontdiner.com
The Fremont Diner, hidden away among Sonoma's grapevines and pastures, is the sort of place every traveler dreams of stumbling upon, but rarely ever does. Oozing "nouveau decrepitude," a heavy dose of John Deere chic and the irresistible lure of a butter- and pork-soaked menu that would bring a tear of recognition to grandpappy's eye, the diner is everything good about, well, roadside diners. Here, "Praise the Lard" isn't just a quirky tagline but a mission, from 7 a.m. to 4 p.m. daily.
The drive: It's a roughly 35-minute drive from Petaluma to the diner. There are faster ways to get there, but take the winding drive from Lakeville Highway to Frates Road, which ends where it hits Adobe Road. There you'll find Green String Farm, a Biodynamic farming project that has incredible local produce year-round and a quaint market open most days. Continue southeast on Adobe Road, which becomes Stage Gulch Road. When you come to Arnold Drive (Highway 116), turn right, and then take a left on Fremont Drive (aka Highway 12/121). On the way, you'll meander through pastures, vineyards, wetlands and some of Sonoma's lesser-traveled back country. If you continue past the diner (corner of Fremont Drive and South Central Avenue) a few more miles, you come to Highway 29, which takes you up the Napa Valley.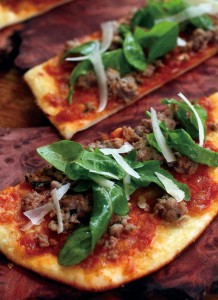 Backyard: 6566 Front St., Forestville, 707-820-8445, backyardforestville.com
Unlike a thousand other restaurants with twee Mason jars and artisan farminess slathered all over their menus, Forestville's Backyard restaurant gets its dirt cred authentically. Chef-owner Daniel Kedan sources from his own backyard culinary gardens and those of his ranch and farming neighbors. The alum of Ad Hoc in Yountville has created a friendly, community-focused restaurant that relies on seasonal produce, foragers and whole-animal butchery as its foundation.
The drive: From Sebastopol, drive north on Highway 116. Before you leave town, be sure to check out The Barlow, recently converted from an old apple-processing plant to a shiny new artisan food mecca. There are distilleries, breweries, wineries, restaurants and coffee roasters, as well as a large community grocer. As you drive along the highway, you'll see apple orchards, some of which are now being used for the region's burgeoning cider production. Merry Edwards Winery and Paul Hobbs Winery are among the noted producers you'll pass along the way. At the intersection of Guerneville Road and Gravenstein Highway, stop in at Mom's Apple Pie for a flaky, fruit-packed treat or grab a quick takeout order of fried chicken at Red's Apple Roadhouse next door. Turn onto Ross Station Road for a side trip to Iron Horse Vineyards or stop at nearby Kozlowski Farms for its great gift store featuring the family's jams, pies and sauces.
Subscribe to Our Newsletters!