Shopping: Great finds for the coast, garden and trail.
AT THE BEACH
The beach is a weekend retreat for many in Sonoma, and the journey through redwoods and shady eucalyptus knolls, along winding rivers and rolling coastal hills, is part of the fun. Here's how to enhance your adventure.
Clos du Bois Cruiser
What's better than a hot-pink bike? A hot-pink bike outfitted with a picnic basket. This limited-edition, C-Wonder beach- and city-ready cruiser is a natch for lazy-day rides. It comes with a bottle of Clos du Bois wine, shatterproof wine glasses and a corkscrew; just add local cheeses, a stick or two of salumi and start pedaling. $350, Clos du Bois Winery, 19410 Geyserville Ave., Geyserville, 707-857-3100, closdubois.com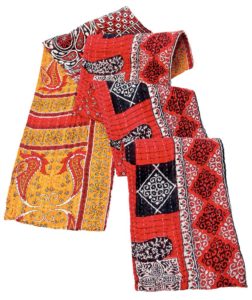 Vintage Sari Scarf
Brilliantly colored pieces of women's saris are sewn together into a patchwork scarf that's both soft and warm. To boot, you're helping save the world with this fair-trade garment. $34, One World Fair Trade, 104 Matheson St., Healdsburg, 707-473-0880, oneworldfairtrade.net
Wood Slingshot
Give a little boost to skipping rocks with your handmade slingshot. Yes, it's silly, but the suede projectile pouch, latex band and strong Y-branch are so much more satisfying than trying to actually make your own rock launcher. $27.95, Healdsburg Shed, 25 North St., Healdsburg, 707-431-7433, healdsburgshed.com
Eddyline Fathom LV Kayak with Skeg
This sleek paddler is ocean-worthy and streamlined enough to cut through the waves like butter. Hatches hold all your gear safe and dry.
$2,699, REI, 2715 Santa Rosa Ave., Santa Rosa, 707-540-9025, rei.com/stores/santa-rosa
GARDEN PARTY
Spring is in the air, even if there are a few sprinkles dampening the outdoor festivities. Get a head start on your little patch of heaven with a few of these items.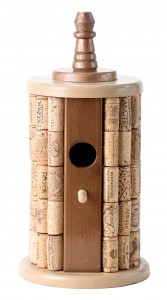 Cork Birdhouse
It's a house party for your feathered friends with this wine-cork casa. Big enough for a small nest, it's a Wine Country refuge your winged friends will appreciate. $50, Urban Garden, 2313 Magowan Drive, Montgomery Village, Santa Rosa, 707-543-7037, myurbangarden.com
Heirloom Seeds
Want to taste a ripe tomato, strawberry or bean like your great-grandmother remembers? Baker Creek Seed has collected thousands of heirloom, non-GMO seeds that grow into fruits and veggies that taste good, rather than just ship well. Start your own heirloom garden with the Home Gardener's Collection. $40, Petaluma Seed Bank, 199 Petaluma Blvd. North, Petaluma, 707-773-1336, rareseeds.com
Modern Farmer Magazine
From how to chop wood and brew compost tea to making your own natural dyes, this fresh new take on the farm life is a fascinating DIY read (whether you have a farm or not). $19.95 subscription (four issues), modernfarmer.com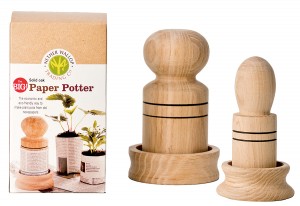 Paper Potter
Sure, you can use an old can, but these stylish English hardwood dowels let you fashion perfect recyclable pots for your seed starts. Simply wrap newspaper around the post, creating a small seed pot, fill with dirt and start gardening. $24.50, Healdsburg Shed, 25 North St., Healdsburg, 707-431-7433, healdsburgshed.com
Herbal Tea Garden Bonbons
Though they look good enough to eat, you may be disappointed at the dirt taste. Your garden, however, will benefit from these eight garden truffles that contain seeds, clay and compost to grow chamomile, lemon balm and anise for your teapot. $16.50, Urban Garden, 2313 Magowan Drive, Montgomery Village, Santa Rosa, 707-543-7037, myurbangarden.com
HIT THE TRAILS
Time to get those boots on the ground and a hiking pole in your hand as Sonoma's trails warm up for the season. Here's what to bring.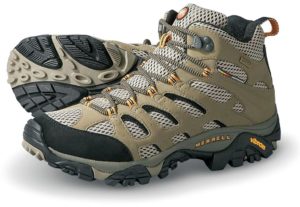 Merrell Moab Hiking Boots
A good pair of hiking boots is worth every penny when you're scampering along wet, mossy, rocky trails. Proven winners are the Merrell Moab waterproof hikers. No breaking in required, they have anti-stink technology and great ankle support for uneven terrain. $120, Sonoma Outfitters, 145 Third St., Santa Rosa, 707-528-1920, sonomaoutfitters.com
Specialized Stumpjumper Comp HT Bike
In this mountain biking paradise, the right equipment is critical. Get on this lightweight yet sturdy, carbon-frame bike and claim the trails as your own. $2,000, NorCal Bike Sport, 425 College Ave., Santa Rosa,707-573-0112, norcalcycling.com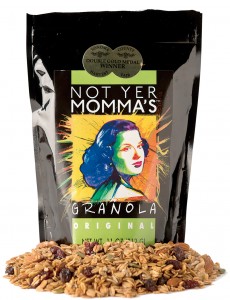 Not Yer Momma's Granola
Made in Santa Rosa, this granola has the perfect ratio of oats, nuts, fruits and seeds. There's no sugar, dairy, salt or other gunk, and flavors include cardamom apricot, blueberry ginger and apple cinnamon. $8.95 for 11 ounces, sold at local farmers markets and at notyermommas.com
Tote-Able Sonoma Beverage Bag
We're not telling you what to put in this smart beverage bag, but it can hold more than water. Whether it's wine, iced tea or a fruit smoothie, fill this portable, lined container with your favorite beverage and leave the glass and cans behind. $32, Oakville Grocery, 124 Matheson St., Healdsburg, 707-433-3200, oakvillegrocery.com
Subscribe to Our Newsletters!