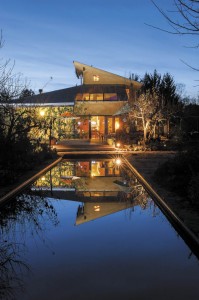 If there is an Eden, it might just be in the high hills northeast of Occidental, where one of the first straw-bale dwellings in Sonoma is tucked away on a country lane.
Enter the 6-acre property through a spectacular iron gate and a curved roof in the distance teases the imagination. It signals an adventure in design in its definition of space, of inside and of outside.
A stone pathway curves through archways, one covered with kiwi vines, one with wisteria and another with an old grapevine. The path ends at a broad deck and two enormous doors, nearly as big as a double garage. Despite their size, the doors are elegant and distinctive, opening outward, not upward, into the home of Annie Scully and Patsy Young, who built the house with the help of a contractor, an architect and an array of specialty artisans 17 years ago. The inspiration came from a straw-bale home Scully had visited in Mendocino County. When she and Young found their spectacular little Occidental property, they set out to learn how to craft a new home with a similar feeling.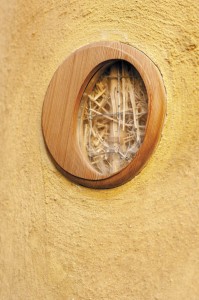 "It took us nine and a half months just to get the plans through the county," Scully recalled. The home is something of a hobbit house, with gentle curves and alcoves everywhere, few angles, whimsical touches and a comfortable warmth that never wavers. On a cold day or in the midst of a sizzling heat wave, it's about 70 degrees inside. Straw-bale walls don't just provide structure, they provide insulation and, in a subtle way, breathe, keeping the air within fresh and pure.
"Our architect positioned the house, which faces south, so that the summer sun is directly overhead and never shines through the windows," Scully explained.
In the winter, the sun, lower in the sky, heats the passive solar floor, which both radiates and retains heat. The thick straw-bale walls help maintain the steady temperature. For extra warmth, there is a wood stove with a beautiful hearth made of cob, a blend of straw, mud and aggregate.
Outside the broad, south-facing windows is a large, unfinished pond that will be used to collect rainwater. Beyond it are trees, some from the property's past as an apple orchard and some recently planted, including Scully and Young's Christmas tree from their first year here in 1998, which now stretches taller than the house. They plan to finish a gray-water system, which collects water from sinks, showers and washers for reuse on the land, sometime this year. The goal from the beginning has been to create a home with the smallest ecological footprint possible, by using recycled and chemical-free building materials, solar heating and, eventually, gray water and rainwater.
A stairway between the k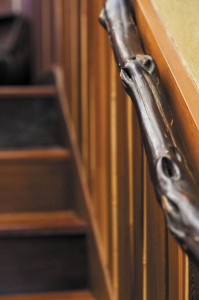 itchen and living room leads to a second level, with a tiny balcony that looks down on the living room. The staircase is made of recycled redwood and bamboo, with curving manzanita banisters. Upstairs, the sitting area merges seamlessly with a bath, where an old claw-foot tub is positioned to give the bather a perfect view of the hills and woods. Another little staircase, flanking the bath, leads to the couple's sleeping loft.
The wall that separates the kitchen from the staircase is finished with American Clay, a natural clay-based veneer that is as smooth as satin and stunningly durable. Nicks vanish with a wipe of a damp cloth and the finish shimmers in the day's changing light.
Downstairs there is a mudroom with a washer and dryer, a tiny pantry, a kitchen counter made of what looks like granite but is actually Vetrazzo (made of recycled glass including beer bottles), and a deep copper sink.
Then comes the dining room, with its breathtaking view of the deck and the lap pool. A north-facing window is covered with bamboo curtains that suggest falling rain. There's a little alcove filled with river rocks, and as you turn to face the kitchen, you notice a signature element that is a part of all straw-bale structures. It is a "truth window," a view into the interior of the wall showing straw encased in chicken wire and supported by bamboo.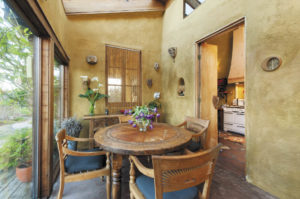 Today, the house is 1,200 square feet. When budget allows, the dining room will be expanded with a pizza oven, and north of the deck, a master bedroom will be built. When it's finished, Scully and Young will move into it from their little sleeping loft.
The property includes two other straw-bale buildings, one a tiny cottage with an upstairs sitting area that looks down on a gazebo made of braided mulberry trees. Scully and Young plan to expand it and turn it into a bed-and-breakfast cottage.
The other is the Moon House, originally built for Young's parents and now occupied by a friend of Scully and Young. It is shaped like a crescent moon, with high straw-bale walls forming the outer curve and floor-to-ceiling windows creating the inner curve. The space, at just 850 square feet, feels roomy, in part because the curve of the crescent gives a feeling of inclusion, of being part of the outdoors.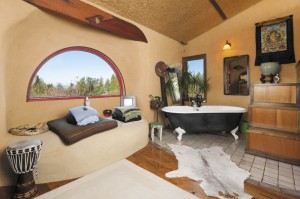 As beautiful as they are, these homes are also practical and durable. Rice straw, which is used in many straw-bale buildings, is so durable that the Environmental Protection Agency has strict regulations on what can and can't be done with it. It cannot be buried or burned, and it's useless as compost, as it breaks down at a glacial pace. Large rice producers such as California's Lundberg Family Farms pile up tons of rice straw, so its use as a construction material can help house the world.
Other types of straw, wheat, oat, barley and rye among them, can also be used, but rice is notable for its durability.
The main house has a stick frame that does most of the weight-bearing. The foundation has 32 piers, 11 feet deep and 2 feet wide, and the perimeter is surrounded by cement. All the materials, from the straw to the recycled redwood, are organic and chemical-free. The straw bales are encased in chicken wire, with bamboo poles weaving them together.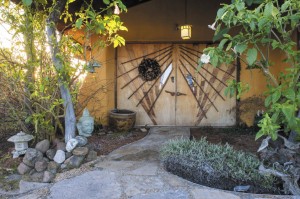 "It is like sewing," Young said.
The walls are finished with stucco and plaster. Natural lime kills any bacteria that may be in the straw. The high ceiling is made of ground straw and other ingredients, produced by a man who lives in Oregon and refuses to share his recipe.
The Occidental home has taken shape slowly and continues to grow as finances allow. Young teaches Spanish at Santa Rosa Junior College and Scully is a teacher at Elsie Allen High School in Santa Rosa, where her partner also taught for a decade. When the workday is done, they head to their enchanting little home, where the sounds of nature, and not of electronics, furnaces or water heaters, fill the air.
Often there is only a sweet, warm silence. It's an Eden Scully and Young have created for themselves.