It may now be a vacation getaway they visit for a blissful week or weekend here and there. But for Ron and Toni Andrews, their freshly remodeled cabin along the Russian River in Healdsburg is home. The place where their clan and friends will gather for good times. The house where their children will bring the grandkids they're counting on. And the house the peripatetic couple will keep, no matter where they land.
"We're originally from Georgia. But we've moved 14 times in 29 years of marriage," said Toni, with no trace of complaint. "We were corporate nomads."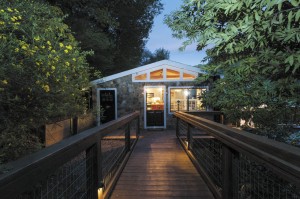 More "Steel Magnolia" than "Georgia Peach," as her husband put it, the petite Toni has bravely packed up every time her husband's career in genetics research and medicine called them to a new location. But the last move, from Danville to Orange County, finally got to her. She broke down and cried.
It was not just uprooting their three kids: Ryan, then a senior in high school and now 24, Kat, now 21 and Rhett, 17. It was also leaving dear Danville friends like Barbara and Dennis Hyland.
So when Barbara's sister, Patti Hughes, announced she wanted to sell her cabin on Fitch Mountain, around which the Russian River flows to the ocean, Toni, by now a master at turning any house into a home, saw an opportunity. With fond memories of get-togethers at the cabin with their friends and all the kids, she figured she and Ron could buy it and keep it within their "friend family."
But Ron wasn't seeing it.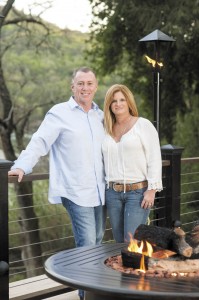 While Hughes had made a valiant effort to keep the house up — reinforcing it and upgrading the infrastructure, adding a parking platform on the road and building a long "Swiss Family Robinson" deck walk with multiple switchbacks from the road to the front door — she hadn't had a chance to do much to the interior. Her husband died suddenly and she lost interest in the project.
While Ron loved the location, with beach access to the Russian River where they could put in their kayaks for lazy floats, the house itself seemed dark and uninviting. Although it was built in 1925, any old features that might have given it some architectural charm had been remodeled away.
"Being from the Deep South, there's a certain warmth we want in a house and that we've been used to," he recalled. "I didn't think they could pull it off. Could we really make this a place where we're going to want to come and stay instead of just for a weekend?"
Toni wasn't dissuaded. She and Ron had just finished remodeling a house in the exclusive gated community of Coto de Caza in Orange County. The river cabin wasn't much to the eye when the Andrewses purchased it in summer 2014. But she found a kindred spirit in Amanda Bloom of Amanda Bloom's Decorative Designs & Remodeling in Cota de Caza, who not only had creative ideas, but could get them done. The two women collaborated well.
"The property itself is magical," Bloom said of the nearly 2 acres of riverfront, complete with vegetable gardens, a guest cottage and boathouse for canoes and kayaks. The Andrewses had their own private beach until a landslide caused by late 2014's torrential downpours obliterated it. So plans are in the works to engineer a new access, perhaps with a floating dock.
"It's one of the most unique properties up here," Bloom said. "Nobody has this park-like setting. There are peach trees and plum trees and apples."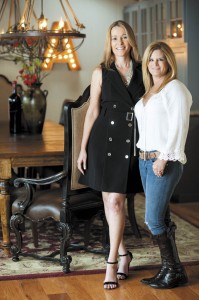 The 958-foot-high Fitch Mountain is a jumble of rustic cabins, large homes and vacation rentals for those who enjoy the forested shade and swimming in the Russian River in summer, and endure what can be frequent storms in non-drought winters. A popular retreat since the late 1800s, its summit is a mere 3 miles from downtown Healdsburg, yet a world away with its hiking trails, oaks, madrones and spectacular views.
Ron was on a long-distance flight when he received a file on his computer with real estate sale papers to sign for the Fitch Mountain house. Like it or not, he was in. But this wine enthusiast, who had been looking for a getaway home in Wine Country, has no regrets.
"Every time we looked, even though I didn't necessarily want this house at the time, I tended to want to be up here, because of how quiet and serene it is," he said of the Healdsburg area. "We loved the little town. This just seemed to be the place. It was about the serenity and the people."
Quiet is something he particularly craves in his down time after years as an executive in the medical diagnostics industry and founder of his own international company.
After years working for Roche Diagnostic Corp., which at the time was working on genetic mapping of HIV, Andrews saw the possibilities for using the same technology to fight breast cancer, which had plagued his grandmother and eventually claimed her life.
He took over a foundering medical device company and built it into Clarient, a comprehensive cancer diagnostics company that tests for special molecular pathways to help doctors personalize treatment for breast cancer patients.
He's also working with some of his former colleagues on a for-fun wine venture called Vinome, which would similarly map the taste receptor genes for individual wine drinkers to help them determine their best taste preferences. He anticipates it also could help wineries and sommeliers market with more precision to consumers.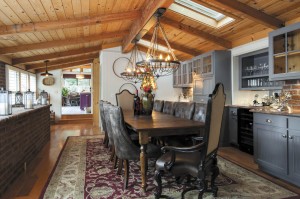 In the cabin, Bloom turned a forgotten storage room into a snug wine cellar with stone floors, a chandelier and wood and wrought-iron elements to hold the couple's Sonoma bottles. But more enticing for wine tasting on a sunny day is the deck overlooking the river. Bloom made it an extension of the kitchen by replacing a wall with 13 feet of folding glass doors that open entirely and help bathe the room in light.
To the deck, Bloom added porcelain tile that looks like wood. It serves as a waterproof roof for the second deck below, creating a year-round recreation room for table tennis and other games.
The project is an object lesson in how an ordinary house can be transformed with a minimally invasive facelift. Bloom worked within the existing footprint, which included a kitchen, dining room and living room, all spread out in a line looking out to a massive deck with river views. The bottom floor has three bedrooms, two bathrooms and a laundry room similarly strung in a line facing the river.
The 2,800-square-foot house at some time, probably in the 1980s, had been paneled in pine virtually floor to ceiling. It was too much, Bloom said. She saved some of the pine, but incorporated other surface materials and color that reflected the outdoors to break up the visual monotony.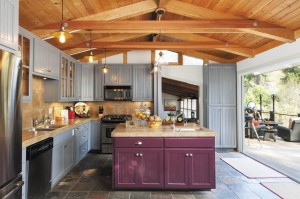 She created a more inviting entrance by covering the exterior wall of the house in stone and replacing the ordinary front door with a cute Dutch door.
Bloom kept the existing cabinets, but updated the kitchen by removing a built-in breakfast nook and adding a warmly sophisticated color scheme of burgundy and gray. This is Toni's turf, the place where she makes fresh risottos from the garden and Southern specialties, from stewed tomatoes and homemade cornbread cooked in seasoned skillets to fried okra and garlic mashed potatoes.
Outside, Ron is the barbecue king, with favorites such as cedar plank salmon and beef loin bathed for hours in a special rub of espresso, brown sugar and chipotle powder.
When they're not dining alfresco, they can all gather in the dining room, which Bloom dramatically transformed by painting the plain pine cabinets a soft gray, installing a contrasting brick backsplash and incorporating a wine-serving area. Vintage wrought-iron lighting floats above the aged and repurposed dining table. The old brickwork is repeated on the opposite wall by the stairwell to the sleeping area.
The designer similarly brightened up the living room and opened the view by cutting windows into a side wall along with a Dutch door that matches the one in the kitchen, to bring in cross circulation.
Downstairs, small changes also made the dark, dated sleeping area more inviting.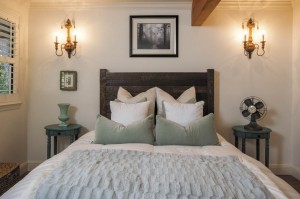 At Toni's suggestion, part of the hallway was incorporated into the master bedroom, creating a little entry and space for a master bath. Carpets were ripped out and replaced with oak floors. A ventless fireplace was installed for coziness and French sconces for romance. The formerly drab brown space was infused with color, in a palette of crisp white, mint, burlap and robin's-egg blue.
The overall effect is classy but comfortable, in that casual way that characterizes Sonoma Wine Country. The Andrewses want it to be inviting.
"It's a legacy to leave our kids, a gathering place for our family," said Ron, a gregarious man with a soft touch. "We want to leave our children great memories of us. And we want to leave our grandchildren great memories of us. The values we had growing up, we want to extend to them. We can do that here.
"As long as the sun keeps shining and the water keeps running and there are grapes in the valley, we'll be up here."